Style, performance and horsepower, these are just some of the attributes of the popular Nissan GT-R sports car. It seems all too natural that a top-end manufacturer would create a radio control version of this too-hot-to tame, full-sized dream car. It's here! The creative minds over at Duratrax have just released a 1/10-scale version of the Nissan GT-R. Going way beyond a nicely painted, well detailed body, Duratrax has made their scaled down version fast and easy to work on and they nailed the price point so just about anyone can take one home.
WORDS: Dean Berry PHOTOS: Walter Sidas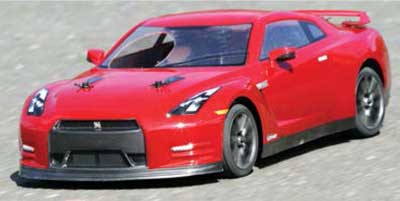 AT A GLANCE
WHO MAKES IT: Duratrax
WHO IT'S FOR: Everyone
HOW MUCH: $299.97
BUILD TYPE: RTR
PROS
• Looks fantastic
• Powerful engine
• 2-speed gearbox
• Simple, straighforward design
CONS
• Throttle and steering were reversed out of the box
• Fuel takes off the body paint a bit too easily
REVIEWER'S OPINION
It does not matter if you are a fan of the full-scale Nissan GT-R or not; this release from Duratrax is a
massive hit for its price point. Looking fantastic and with performance to match, I see no reason why
anyone would pass on this mean street machine!
FACTS
• Let me start with the most obvious, the Duratrax Nissan GT-R looks fantastic! It is well detailed, extremely realistic with side-view mirrors, and is available in red, deep blue and gun metal. The decals add accents like exhaust, lights and vents to the body. Quite simply, Duratrax paid very close attention to even the smallest detail.
• Once the body was removed, the first thing that caught my eye was the Duratrax ST18-S .18-size (2.9CC) nitro powered engine. It features a sharp-looking, black cooling head and is fired up using a roto-style Super Start hand-held starter. The Super Start required a six-cell NiMH or NiCd pack so I went with a Duratrax Onyx pack. A dual chamber plastic tuned pipe gives the Nissan GT-R that characteristic nitro sound.
• An adjustable, two-speed center gearbox gives the Duratrax Nissan GT-R an added boost of speed. When the second gear kicks in, the Nissan GT-R really takes off and it is super fun to drive. The metal clutch bell gears perfectly mesh to the plastic spur gears for friction free operation, too.
• Did I mention that the Duratrax Nissan GT-R is 4WD? Well, it is and it features a smooth, shaft driven drivetrain. The 4WD makes it easy to drive the Nissan GT-R very hard into and out of corners.
• The front end of the Duratrax Nissan GT-R features a pillow-ball style front end. This type of front end makes tuning very painless and is also very durable. Oil-filled shocks are found on all four corners and provide plenty of dampening. Preload is adjusted by adding or subtracting plastic spacer clips.
• Duratrax gave the Nissan GT-R a 2.4GHZ T24OF radio system for precise control. It is made for Duratrax by Futaba and has the basic features like steering and throttle trim as well as steering dual rate adjustment. The receiver and receiver pack are kept safe in a sealed radio box while steering and throttle duties are handled by a pair of SX100 servos.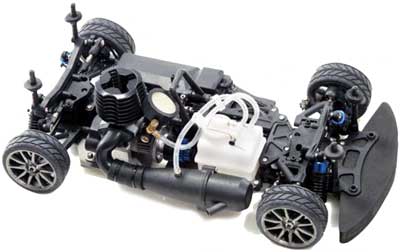 NEEDED TO COMPLETE
• Fuel
• Glow starter
• Fuel bottle
• Receiver batteries
ITEMS USED
• O'Donnell 20% Speed Blend Fuel (ODOP4520, $9.99)
• Duratrax Rapid Heat Glo-Starter and Charger (DTXP3000, $15.99)
• Duratrax Fuel Bottle (DTXP0150, $6.99)
• Duratrax Onyx 2000mAh 6-Cell battery pack (DTXC2034, $14.99)
PERFORMANCE
STEERING: Neutral
The 4WD gives the Duratrax Nissan GT-R exceptional steering. While there is a mild push entering corners, this makes it very predictable and easy to drive. A tap of the brakes entering a corner will make the GT-R turn on a dime and staying on the throttle hard all the way around a corner will cause the rear tires to kick out just like a drift car.
ACCELERATION: Excellent
Because the Duratrax Nissan GT-R is so light and has a plenty powerful .18-size engine, it gets going in a hurry. The GT-R runs through first gear in a jiffy and when second gear hits, look out! Even better, it accelerates straight as can be, not pulling to one side or another when accelerating, and in a wide open space it feels like it has even more power to give.
BRAKING: Very Good
The single disk brake that attaches to the center differential does a good job of slowing the GT-R down from slow to medium speeds without issue. It has a progressive, predicable feel and the stock adjustment out of the box seemed spot-on. When the GT-R is at full speed it needs more room than I thought to slow down adequately. This caused me to smack the boards at the end of the straightaway on my first few laps around the asphalt track at R/C Madness in Enfield Connecticut.
SUSPENSION: Excellent
Since it is so light and it's an on-road machine, the GT-R does not need all that much suspension travel. The stock oil and spring combination seemed near spot-on out of the box. The GT-R had almost no body roll whatsoever so it was able to transition from corner to corner with ease. The chassis remained relatively scrape free, meaning it was not rubbing on the ground.
DURABILITY: Excellent
This nitro powered on-road machine is one tough customer. I test drove the Nissan GT-R at the freshly paved asphalt track for three full tanks. During that time the car smacked off more than its fair share of wooden barriers. While some of these mishaps came at or near full speed, nothing broke. I did need to readjust the front end a few times but adjustments like this after a hard smack against the wall are normal.
THE LAST WORD
Although not designed to be a race vehicle, the Duratrax Nissan GT-R is still in a class of its own. It is fast, durable and smooth and performs exceptionally well. It has plenty of adjustments so people like me, who like to fine-tune their vehicles, will be quite happy. Best of all, it looks fantastic! Duratrax really pulled out all the stops for scale realism. Best of all, it is delivered at a phenomenal price point, just $299.97, making it one of the most affordable vehicles in its class. If you are looking for an all-around fun nitro-powered parking lot machine, the Nissan GT-R might be your best bet.
LINKS
Duratrax, www.duratrax.com
O'Donnel, www.odonnelracing.com