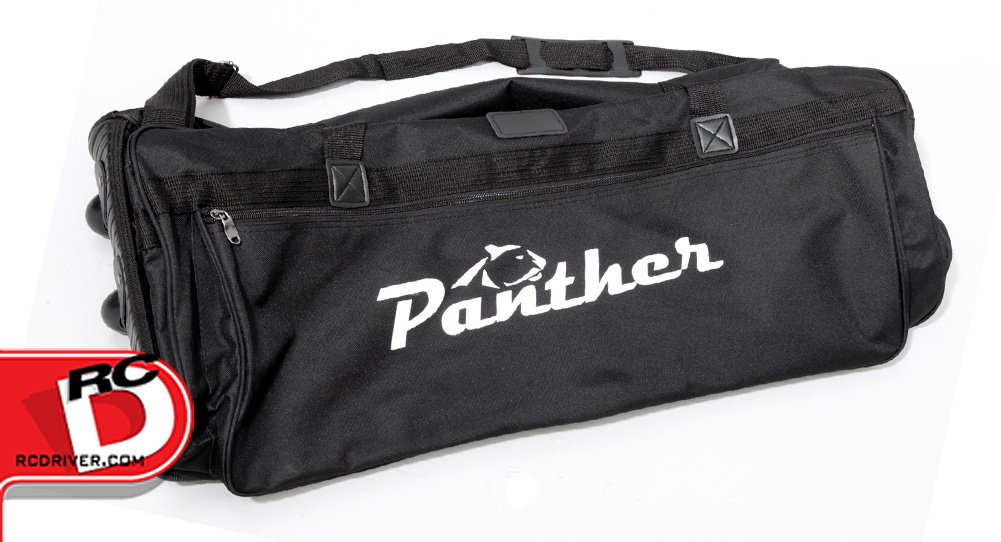 I just made my way back from the 2014 East Coast Large Scale Nats last week and, while packing for this trip, I was in need of a bag to haul all my 1/5-scale tires. I searched high and low around the office for a suitable case but only came across some cardboard boxes and plastic bins. Both would have worked, but this is the Nationals…I can't be looking all pro showing up with my tires in those things. Greg walked in my office a few minutes later with a box and told me to give this a try; Panther's new rolling cargo bag. While most of you would probably not use this bag for that purpose (unless you race 1/5-scale, like me), it did appear to be big enough to house quite a few tires so I thought I'd give it at try.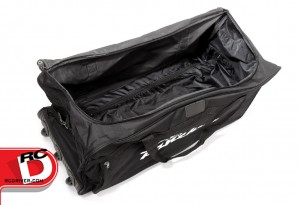 SPECS
Made by: Panther
Made for: Hauling just about any RC equipment
Material: 600 Denier nylon, luggage-quality zippers, center handle, shoulder strap
Cost: $75
The Design
The Panther Rolling Cargo Bag is a sizeable 33 x 14 x 12 inches and features a large, white Panther logo on the front. A pair of strong, luggage-quality zippers open and close the main compartment's U-shaped flap to reveal its innards. The outside features a large front zippered pocket, as well as a pair of extremely strong handles that meet in the middle and can be combined to make carrying easier (via a Velcro strap). A shoulder strap also runs from end to end to make shoulder transport a possibility, leaving your hands free to carry something else. A small handle on one end allows you to lift the bag up on it's three casters for easy movement. For you taller guys, a telescoping handle gives you even more pulling angle! The 600 Denier nylon is water-resistant and can take quite a beating. Trust me, I know!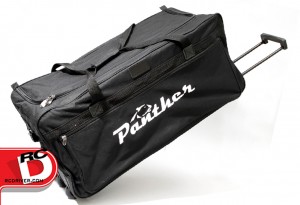 Testing
My trip to the 1/5 Scale Nationals consisted of a 9ish hour drive from Connecticut to North Carolina in a somewhat small Honda CRV. Yes, it is a bit small but this story gets better. I was also bringing along three 1/5-scales, support gear, my wife and my dog. The packing that needed to take place here was next level, but that's another story. Basically, I had to put the three 1/5-scales on the roof along with the Panther Cargo Bag. I opened up the bag and started strategically stacking my tires in the bag. These tires, for the unfamiliar, are roughly 7 1/2″ tall (depending on tread pattern). I was able to fit 24 mounted tires in the bag (eight stacks of three) PLUS two full sets of unmounted tires squished in the middle. On top of that, I crammed in my 2-stroke fuel-mixing container, a container of white grease, a tire puncture tool and a pit towel. Closing this was a bit of a chore but thankfully, the luggage-quality zippers held the bag closed tight, especially since this bag was going to make the trip on the roof, along with the cars! Throughout the trip I was able to successfully test the tote, shoulder-carry strap and rolling ability of the bag through dirt, grass and gravel. By far, my favorite was the shoulder strap, as it left my hands available to pull my rolling hauler bag and carry my fuel.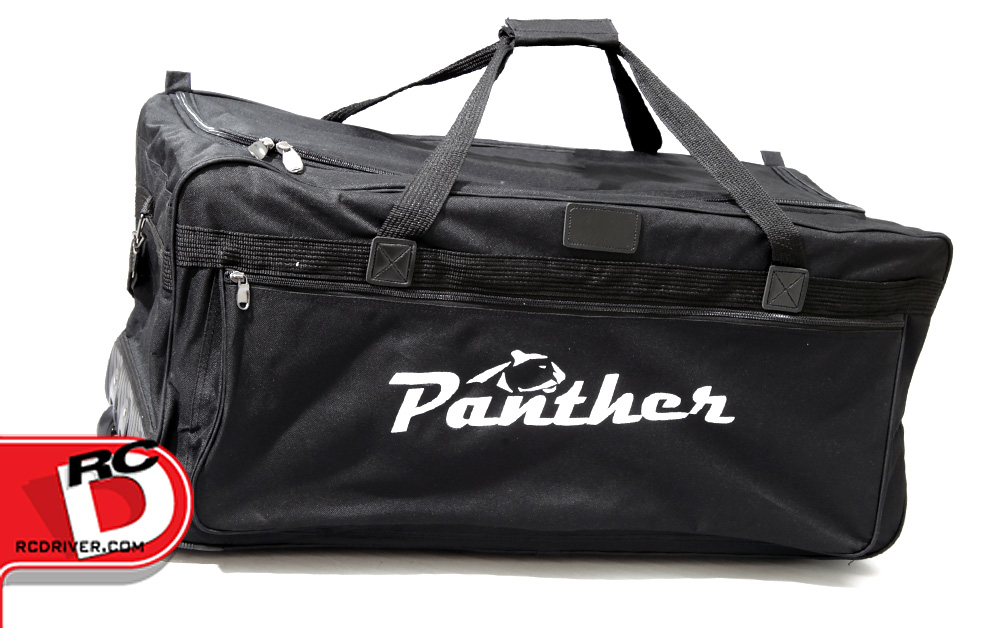 Wrap Up
Again, knowing that most of you won't use it for this purpose, I must say that this bag does carry quite a bit of stuff. I gave it a pretty major workout, even testing the water-resistant qualities on the way home (we hit a little bit of rain but everything stayed dry in the bag). Also, because of its 33″ length, it rarely hit me in the back of my leg when pulling it…a major plus since that is one of my all-time pet peeves with roller bags. If you're looking for a great rolling cargo bag that is priced a bit better than some of the others on the market, check out Panther's. Now that the Nats are over I'll be removing my big ole tires and getting it ready for the outdoor season!
LINKS
www.panthertires.com