Can You Dig It?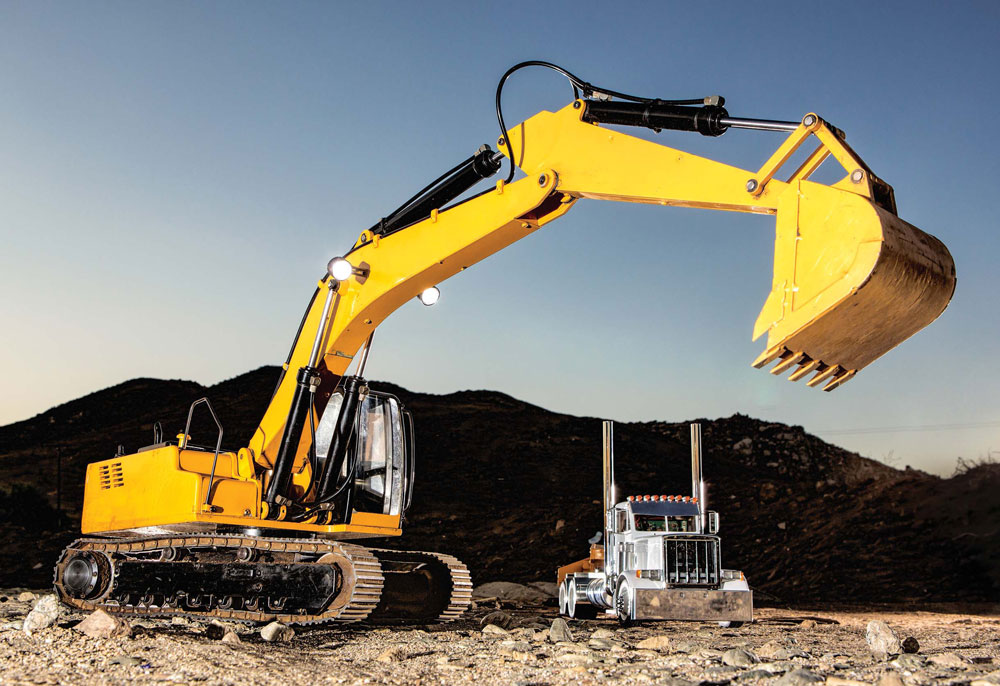 Words: Jason Boulanger
Photos: Jason Boulanger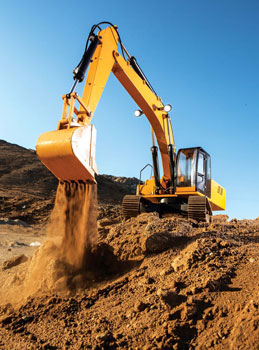 AND NOW FOR SOMETHING COMPLETELY DIFFERENT: It's the Earth Digger 4200XL! Admit it: your 10-year-old self would have freaked out at the sight of this thing. Built by JDCustoms and distributed by RC4WD, this 1/12-scale excavator comes pre-built and nearly ready to run, making it easier than ever to get yourself behind the wheel (or sticks, rather) of some heavy-duty construction equipment. It's certainly different; in a hobby that's currently dominated by short course trucks and nitro buggies, how often do you see an RC vehicle that belongs on a construction site instead of a racetrack, has a fully-functioning hydraulic system, and despite being "just" 1/12-scale weighs nearly 45 pounds? Channel your inner child and come with me as we take a closer look.
AT A GLANCE
WHO MAKES IT: JDCustoms, distributed by RC4WD
WHO IT'S FOR: Advanced scale RC enthusiasts
PART NO.: VV-JD00002
HOW MUCH: $2,699.99 (+ $400 for shipping)
BUILD TYPE: RTR
PROS & CONS
+ Awesome scale looks and functions
+ Nearly all-metal construction
+ Full 360 degree cabin rotation
+ Impressive digging ability
+ (Almost) ready to use out of the box
– Price
– Inherently complex
– Radio box is a mess (figuratively and literally)
– Generic electronics
Author's Opinion:
With its realistic looks and fully-functional (and quite capable) digging action, the Earth Digger 4200 XL is undeniably cool. Its high price point and level of complexity means that it's not for everybody, but for the advanced scale-RC enthusiast that's willing to deal with the inherent intricacies of a vehicle with four motors, four speed controls, four servos and a hydraulic system, the Earth Digger is a great addition to any fleet.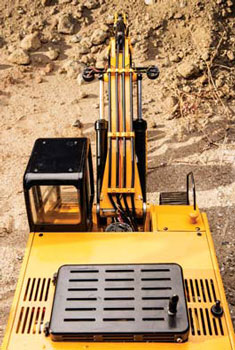 FEATURE BREAKDOWN
• No matter how big or small, any construction vehicle needs to be sturdy enough to withstand heavy use. There's very little plastic in the Earth Digger; the house, boom, and stick are made of yellow powder-coated aluminum. The cab comes empty, but has enough space to add a scale seat and operator, or even a small camera to make first-person POV videos of the digging action. Directly behind the cab is the house (or in this case, the radio box), which (you guessed it) houses the hydraulic pump, valve block and fluid reservoir, along with the brushless pump motor and ESC, the swing motor and ESC, the receiver and the battery. Next to the access hatch is a covered on/off switch for the pair of lights on the boom.
• Moving on to the arm, you'll find lots of machined-aluminum pieces, neatly routed 4.5mm nylon hoses and four beefy hydraulic rams: two for the boom (lower arm), one for the stick (upper arm), and one for the bucket itself. The bucket is a sturdy one-piece affair, held to the stick with solid hinge pins. Five teeth adorn the bucket, giving it the bite needed to dig into the dirt. Two 3-watt lights on the boom enhance the scale looks of the Earth Digger, as well as light up your work space. One feature worth noting is that the arm and house can rotate continuously through a full 360 degrees, giving you maximum versatility in positioning the bucket.
• The undercarriage of the Earth Digger houses two independent brushed motors, each with its own ESC. Attached directly to each motor is a gearbox with a whopping 333:1 reduction factor, dropping the output of each motor from 5,000 rpm to 15 rpm. While the top speed of the Earth Digger is rather unimpressive, this ridiculously short gearing provides the gobs of torque needed to move its 44-pound heft around your construction site. Each motor drives its own independent steel track, enabling tank-style steering. The tracks ride on sealed bearings for smooth operation. There's no real suspension to speak of, but the semi-flexible tracks allow the excavator to handle any surface imperfections.
• It takes four motors and ESC's, four servos and eight channels to run the 4200 XL. A 125 amp ESC drives a high-torque 350Kv brushless motor, which in turn runs the all steel hydraulic pump at just under 300 PSI. A shoulder switch on the included radio turns the pump motor on and off, so you don't have to have it running while driving the excavator from one spot to the next. There are four servos on the valve block, with three of them routing the fluid needed to move the boom, stick, and bucket independently. The last servo is tied to the radio's eighth channel and controls a valve that regulates the pressure of the system, but it comes set from the factory and is not meant to be adjusted by the end user. Three brushed motors, each with its own ESC, handle driving the tracks and rotating the house. The 2.4GHz radio system is made by Fly Sky and boasts eight channels. The transmitter runs on eight "AA" batteries and a replacement LiPo battery is offered by RC4WD.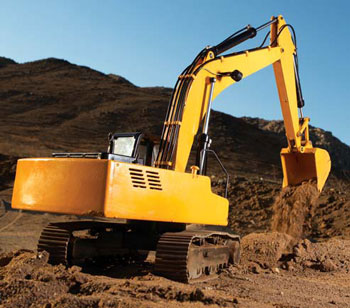 ITEMS NEEDED
• 11.1V LiPo Battery with bullet connectors
• Charger
• Funnel
• 8 "AA" batteries
ADDITIONAL ITEMS USED
• RC4WD 11.1V 6500 mAh 25C LiPo
• Duratrax ICE charger
TOOLS AND ACCESSORIES INCLUDED
• Hydraulic fluid
HOP-UPS WE RECOMMEND
• LiPo Battery Buzzer Alarm – VVV-E0001 – $9.99. It's hard to tell when the battery is dumping, so it would be wise to add an alarm to help prevent the battery voltage from getting dangerously low.
• Brushless Track Upgrade Kit – VVV-S0040, $349.99. Brushless reliability and three times faster than stock? Sold.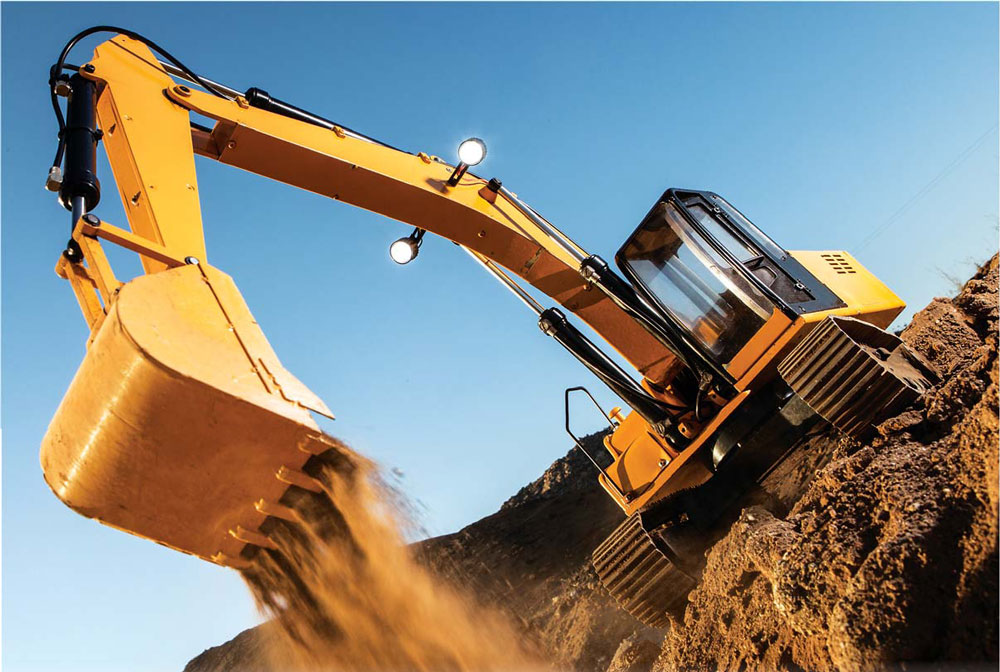 THE BIG DIG
Given how complex the Earth Digger 4200XL is, I was pleased with how little work it took to get the excavator up and running. Out of the box, all you have to do is fill up the reservoir with hydraulic fluid (included) using a funnel (not included), install 8 "AA" batteries into the transmitter, and slip a charged 3S LiPo pack through the access hatch into the house and plug it in. As much as it pained me to hold back, I first took the time to familiarize myself with the layout and controls, as this is just a bit more complex than your average RC car. After connecting the 3S 6500 mAh LiPo pack to the main ESC in the house and flipping the power switch on the transmitter, I was greeted with…silence. The hydraulic pump motor can be turned on and off with a shoulder switch on th e transmitter, and before turning it on, I practiced driving the excavator around. With the two independent tracks, the excavator drives like a tank, and is even capable of rotating in place. Once you've got the excavator positioned where you want it, you can swing just the house left and right.
With the basic controls out of the way, it was time to get down to business and fire up the hydraulics. After flipping the right switch on the transmitter, the pump came to life with a rumble, and I was now able to control the boom, stick and bucket. The controls aren't complicated, but there is definitely a bit of a learning curve. After practicing in the air for a little while, I felt ready to hit the dirt.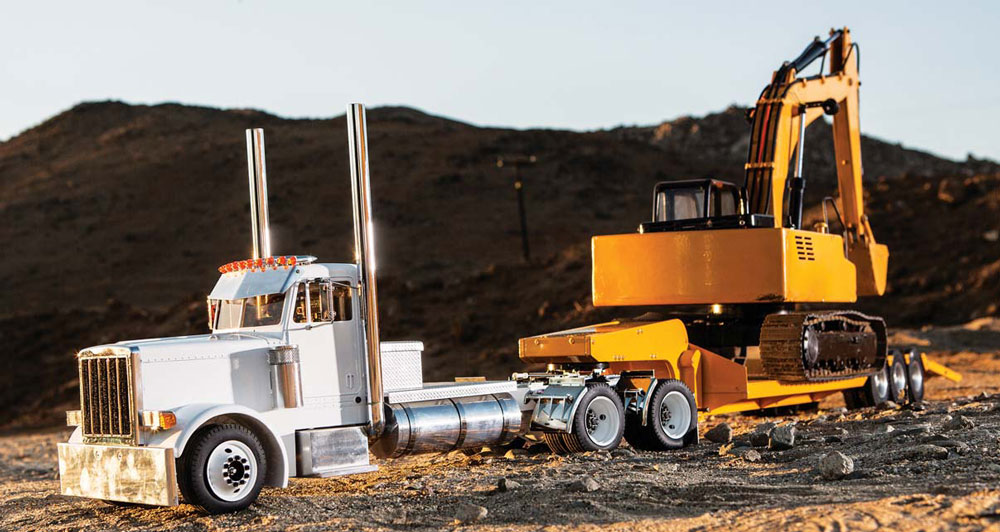 Having picked a suitable mini construction site and deciding that there was some dirt that needed to be moved, I gave both tracks full throttle ahead. The 4200XL is not going to be setting any speed records, but the beefy tracks and copious torque took it right over anything in its way. Steep inclines were about the only thing that could stop the 4200XL – this is a tall vehicle, and gravity has a nasty tendency to topple tall vehicles when tilted too far. Still, the little excavator labored on and eventually reached its goal, ready to begin digging. I started with loose dirt first, which was scooped up without incident. Powered by the high-pressure hydraulic rams, the bucket tore right into the dirt, and as long as I didn't go all dumb-thumbs with the transmitter (there's that learning curve again), I could pick up and dump the dirt exactly where I wanted with ease. I was impressed with how much lifting power the boom had – I could fill the bucket with a heaping mound of dirt, and the hydraulics would only slow down slightly. Unless you're using your 4200XL to move around piles of lead (which seems like a rather eccentric way of getting your lead from point A to point B, but I digress), it'll pick up just about anything that will fit in the bucket.
Enough of the simple stuff; I really wanted to see how well the Earth Digger would handle dense, hard-packed dirt. I found a patch of compacted earth, touched the teeth on the bucket to the surface, and lowered the boom. The Earth Digger is strong enough to pick the front of its tracks up off the ground, which focuses the bulk of its weight on the bucket. Much to my amusement, those pointy teeth, now bolstered by the excavator's heft, dug right in. It took a little more effort from the hydraulics to free this load from the ground, but once again, the little excavator impressed me with its digging prowess. As long as you can get it into a position to let it put its weight into it, there's little it can't tackle.

In fact, the only thing that didn't impress me was the way in which the electronics and hydraulics were situated in the house/radio box. For starters, there's nothing holding down the battery. This isn't too big of an issue since the low speed of the excavator keeps it from moving around, but it would have been nice to have a way to lift it off of the floor and secure it. At the very least, I would put it in a plastic baggy, as the bottom of the radio box was perpetually covered in a light film of hydraulic fluid, something I've been told by the manufacturer is normal for how the system operates. The other problem I ran into is radio reception: there were several times that the excavator wouldn't respond to my input unless I held the radio perfectly perpendicular to the ground. I would simply attribute this to the fact that the receiver is stuck inside a closed metal box with a bunch of moving steel parts, other electronic components, and enough wiring for a small house, all of which can cause interference. It's a minor problem for sure, but something to be aware of.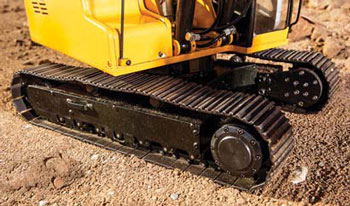 SPECS AND TUNING OPTIONS
DIMENSIONS
Length (Arm fully extended): 45 in. (1150mm)
Width: 9.8 in. (250mm)
Weight: 44 lbs. (19.96 kg)
Boom Length: 19.75 in. (501mm)
Stick Length: 13.5 in. (343mm)
Body, Wheels and Tires
Body: Yellow powder-coated aluminum
Tracks: Steel links
STEERING
Type: Independently-controlled tracks
DRIVETRAIN
Type: Dual track
Transmission: Motor-mounted
Gear Ratio: 333:1
Bearings: Metal-shielded bearings
WRAP UP
Getting into a vehicle like this is definitely a bigger commitment than your average RC car, but RC4WD is making it easier. The Earth Digger 4200XL is fully assembled and nearly ready to run out of the box, and is backed up by a 30-day warranty and parts support from RC4WD. There's a saying that men never stop playing with toys, but that their toys just get bigger and more expensive. I've heard this applied to many hobbies: motorcycles, boats, real cars, and of course, RC. Sure, it's a bit of a cliché, but it was something that stuck in my mind the whole time I was running the Earth Digger. It's hard not to have a big grin on your face when you're playing with what is essentially a Tonka truck on steroids.
LINKS
RC4WD rc4wd.com, support@rc4wd.com