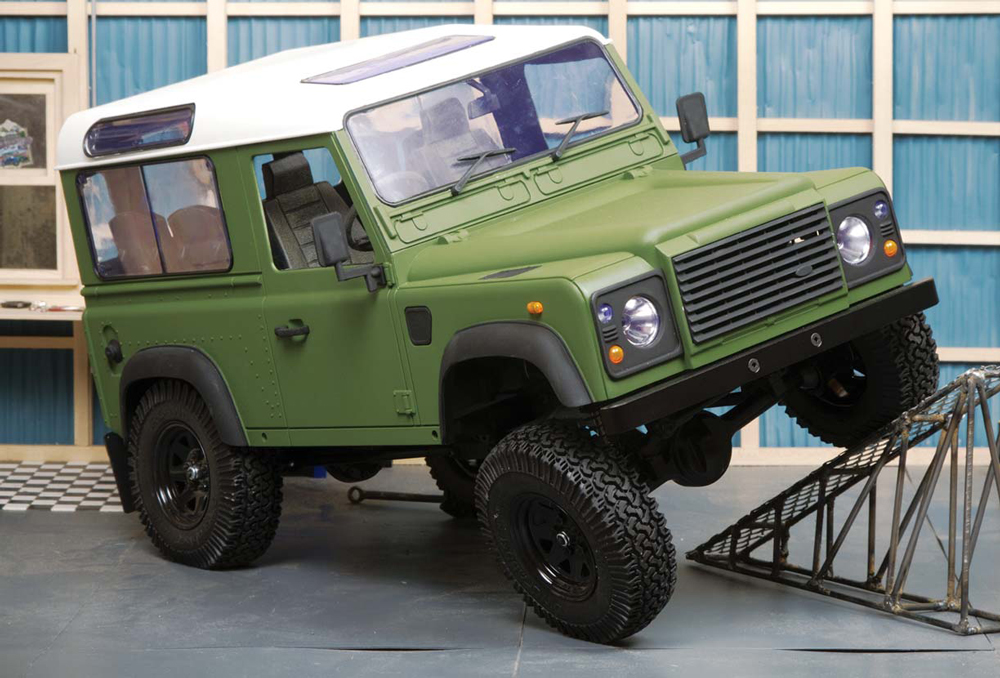 Words and Photos: Ty Giebel
Let me start by saying that the Land Rover Defender 90 (D90) is my favorite off-road vehicle of all time. The timeless design is so simple and clean that not even Land Rover has bothered to really change it in the last 30 years. RC4WD has stayed true to the spirit of the Defender 90, keeping it simple-looking and perfectly scale. Back when the Camel Trophy Event was still running, there were fleets of Land Rovers tackling forests all around the world. With this new scale vehicle, it is possible to live those moments and tackle your very own Camel Trophy, living all the great water crossings and rock sections that your mind can come up with. The Gelande II platform is the ultimate in scale.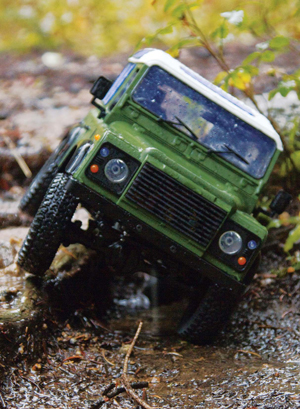 AT A GLANCE
WHO MAKES IT: RC4WD
WHO IT'S FOR: Scale enthusiasts and crawlers
PART NO.: Z-K0001
HOW MUCH: $399.99
BUILD TYPE: Kit
PROS & CONS
+ The metal axles add scale realism that is unparalleled
+ The kit comes with all the crucial drivetrain components assembled
+ The details of the ABS D90 body rival any other body in RC
+ The tires come pre-mounted on the beadlock wheels
+ The drivetrain is very robust for a production vehicle
+ The receiver box is easily waterproofed to let this rig go anywhere
+ It is incredibly easy to detail this vehicle and make it unique
– I wish the price were just a little lower
– The shocks are a little sticky
Author's Opinion:
Call this what you will, scaler, rock crawler, model, whatever! This vehicle can tackle the terrain you put in front of it. From the moment I pulled the parts out of the box I was in love. The scale details are unrivaled and the drivetrain operates smoothly and frankly it looks amazing. RC4WD saves you some build time by having the drivetrain, shocks and tires/wheels assembled and ready to go. And in return, you get to dedicate more time to making the body unique and detailed.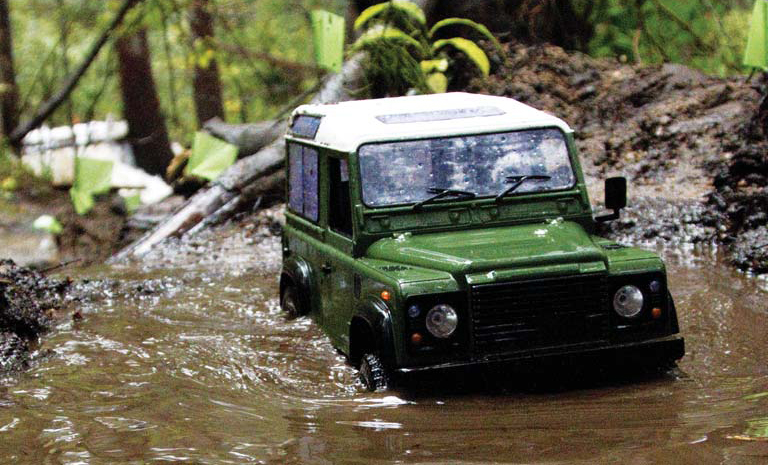 FEATURE BREAKDOWN
• The Ladder frame chassis of the Gelande II is based off of a factory Land Rover Defender 90. The rails and cross braces of the chassis are solid aluminum, keeping the weight down and adding to the scale realism. In between the frame rails are braces that add to the sheer strength of the chassis design. They are slotted into the frame rails to make the chassis work as a cohesive unit once assembled.
• The front of the Defender has a traditionally linked panhard setup with coil over shocks in the corners. This has always been very efficient and effective link geometry for scale solid-axle vehicles. While a 4-linked front maybe a smoother operating system, in some cases with the chassis mounted steering this is really the only option to eliminate bump steer. In the rear is a traditional triangulated 4-link suspension, again with coil over shocks in the corners. This suspension system offers smooth suspension up and down travel all the way through the stroke of the shock.
• The steering servo is mounted on the chassis with a tie rod and drag link connecting to the steering knuckle of the front axle, besides a steering stabilizer it really doesn't get much more scale for an RC vehicle. The chassis-mounted steering works well in conjunction with the panhard link set up. These two systems work together to eliminate bump steer and allow the steering to function properly.
• The drivetrain of the Defender 90 is another contributing aspect of the scale realism. The motor is mounted under the hood to a planetary transmission. This in turn is connected to a fixed shaft that connects to a centrally mounted transfer case, and from here the power is transferred to the axles via driveshafts. Inside all these moving parts are steel gears with ball bearings helping them rotate efficiently. The drive shafts are a traditional plastic shaft design, but with a slight improvement, there are metal collars at the yokes of the shafts to keep the plastic from popping off in high torque situations.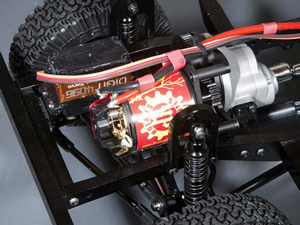 ITEMS NEEDED
• High-torque steering servo
• 540-can brushed or brushless motor
• ESC to handle motor choice
• External BEC
• Battery
• Transmitter and receiver
• Paint and Shoe Goo
ITEMS USED
• Savox SV1270TG (SAVSV1270TG)
This servo defines power. At 6 volts, it has an impressive 361 ounces of torque, but at 7.4 volts it has a remarkable 487 ounces of torque and a lightning speed of 0.11. These impressive numbers may be hard to understand but are more than enough for any vehicle you can think of. When it's time to steer through a tricky rock section and turn sharp through tight spaces, this servo will never let you down.
• Castle Creations BEC (CSEM0005)
This item has become a staple of the rock crawling community or any vehicle that requires high torque servos. It allows power to the servo, winch, lights, and/or receiver without taxing the ESC's internal BEC to the limits. Castle Creations includes wiring diagrams with the BEC, so if you have some reluctance to one of these units fear not, because Castle Creations has it covered.
• Holmes Hobbies BRXL ESC (HH-TMBRXL-WP)
This brushed only ESC has become one of my favorite items to have on a vehicle. It can handle virtually any battery that you throw at it and has PC-programmable features that allow easy programming for just about any type of vehicle you can think of. With the capabilities to handle 2- to 6-cell LiPos and no 540 motor limit, this ESC is the perfect combination for your crawler, trail rig, rock racer and anything else you can come up with. LiPo cut off, drag brake and reverse control are just some of the features that can be tuned using Castle Creations software through a PC.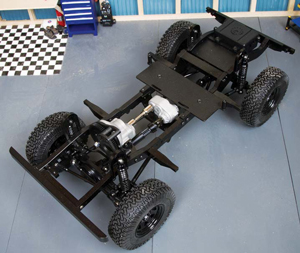 • Holmes Hobbies CrawlMaster sport 13T motor (HH-TM-SP-565)
This is a budget motor you can be confident in and relax when it's time to get wet. With the cost-effective price point, it's no sweat putting it in the D90 and exposing it to rocks, water, mud and sand. The standard 540-can design allows this motor to be fully rebuildable. Even so, after hours of punishing this motor through mud and rocks, it has held strong and keeps wanting more. The strong magnets and resilient brushes allow this motor to have a strong drag brake and lots of torque.
• Racers Edge 7.4 volt 25c 2800mAh battery (RCELP2S2800D)
I must admit I was reluctant to run anything but a 3-cell LiPo in the Defender at first, but I went ahead and tried this battery. I am glad I did. The amount of punch was perfect and the run time was surprisingly great as well. My run time has been around two hours through the last couple of batteries through this rig, with consistent punch and great low-end control.
ADDITIONAL ITEMS USED
• Futaba R2004GF receiver (FUTL7617)
• Tamiya Light Green (86523)
• Testors Enamel White (12580)
• Testors Enamel Flat Black (11490)
TOOLS AND ACCESSORIES NEEDED
• Hex drivers (1.5mm, 2mm, 2.5mm)
• Long nose pliers
• Thread Lock (Blue)
• Cross wrench or nut driver (4mm, 5.5mm, 7mm)
• Craft knife
• Instant glue/ Shoe Goo
• Philips screwdrivers (small)
HOP-UPS WE RECOMMEND
• XVD axle for G2 axle, Z-S0823, a stronger axle that will also increase steering angle.
• Gelande rock sliders, Z-S0137, will add a tougher look to the body and decrease body damage.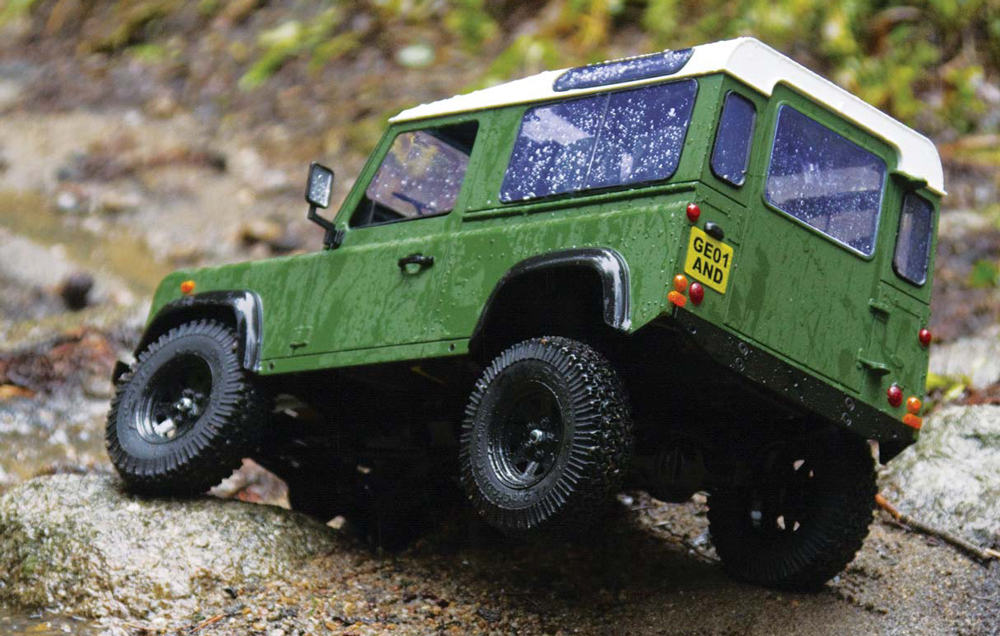 ON THE TRAIL
Competition comes in all forms nowadays; the RC4WD Gelande II Defender 90 is no exception. This vehicle is a perfect candidate for a scale rock crawling class known as class 1. This class was designed for vehicles that, for all intents and purposes, appear stock. It allows the driver to build something that most would have to do a double-take when they see it for the first time. The courses are built around a W.E. rock-style format, where drivers have to maneuver through cones and up obstacles without accruing penalties such as reversing or hitting gates. The Gelande II is the perfect candidate for this class, the scale performance matched with the realistic appearance allows this rig to drop right into the class and feel at home with Toyota trucks and other custom-made vehicles.
At first I was reluctant about the capabilities of the D90. With the short wheelbase and detailed but heavy body, I thought it would be doomed to be more show than go, but once again, RC4WD has proven me wrong. This is an incredibly capable vehicle, able to hang with heavily modified vehicles right out of the box. Maybe it is the 3.85-inch-tall tires or the heavy frame rails that keep the center of gravity low and the traction on the ground that allow this vehicle to keep going where other vehicles have to stop. Before I hit the trail, I waterproofed the electronics with silicone; I coated the outside of the servo in it and also the CC BEC, and the receiver box. The Holmes Hobbies waterproof BRXL ESC and the CrawlMaster sport 13 turn motor didn't need any special treatment as they were made for the severe conditions they were about to tackle.
Here in Colorado, we were struck by a rainstorm that lasted a full week and flooded most of the area and I didn't see the need to sit inside and not go play in the rain, so I headed out to a spot in the mountains for an event during the storm. The rain was constant, never letting up for a minute. But the rain couldn't stop the Gelande II; running through puddles and down muddy trails, the Defender 90 was at home. Slipping and sliding down the trail with a little bit of wheel speed was not only fun, it felt like I was right there on a Camel Trophy adventure. The truck splashed and jumped through the terrain with nothing more then a side mirror taking the brunt of the force. A couple days after the D90 dried out, it was time for a little desert adventure.

Following a long trail though sand and slick rock terrain, the Defender tackled the other spectrum of the trail riding adventure. The arid desert climate played on the opposite side of what these vehicles can do. The wet forest adventure was great fun, but the slick rock showed what this vehicle was truly capable of. Fighting steep ascents for tracking, the Gelande II bounced and articulated to tackle the next mountain in front of it, articulating and floating the tires over gaps in the rock. Descending down the steep slick rock faces had me worried, but I put my trust in this little truck and watched it slowly creep down to safer terrain. In between the technical rock sections were bumps in the road; while this vehicle was never intended to jump that really didn't stop me. Backing up to get a run up, I watched the suspension unload and the Gelande II gently land, proving once more that this vehicle really can tackle any condition.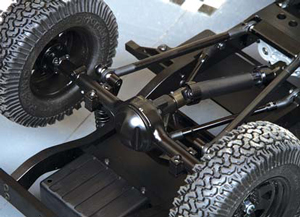 SPECS & TUNING
DIMENSIONS
LENGTH: 423mm (16.6 in.)
WIDTH: 220mm (8.7 in.)
HEIGHT: 254mm (10 in.)
GROUND CLEARANCE: 55mm (2.2 in.)
WHEELBASE: 275mm (10.8 in.)
FINAL DRIVE RATIO: 31.9:1
WEIGHT: 5.58 lbs./ 2.533 kg
BODY, WHEELS AND TIRES
BODY: ABS plastic, needs paint
WHEELS: 1.9 steel 5-lug wagon wheel bead lock
WHEEL ADAPTER TYPE: Pin hub
TIRES: RC4WD Dirt Grabber X3 compound
SUSPENSION
TYPE: 3-link front, 4-linked rear, coil over solid axle
SHOCK POSITIONS: Non-adjustable
CAMBER: Non-adjustable
ROLL: Non-adjustable
WHEELBASE: Non-adjustable
RIDE HEIGHT: Threaded shock bodies
MISC: 80mm threaded metal body shocks
STEERING
TYPE: Tie rod and drag link, tie rod behind the axle
TOE: Non-adjustable
CHASSIS
TYPE: Ladder frame
MATERIAL: Aluminum
THICKNESS: N/A
DRIVETRAIN
TYPE: 4WD
TRANSMISSION: Cast metal housing,
wide metal gears, delrin 32p spur gear
TRANSFER CASE: 3-gear center mounted
DIFFERENTIAL: Ring and pinion
CLUTCH TYPE: Adjustable slipper
GEAR RATIO: Optional pinion gears
BEARINGS: Full set of shielded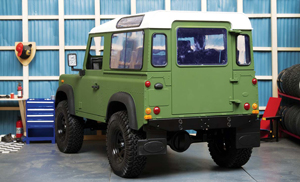 WRAP UP
The world of scale is growing all around us and RC4WD is leading the way with vehicles like the Trail Finder 2 and now the Gelande II. The Gelande II tops the charts with a full 3-dimensional interior, aluminum front and rear bumpers and clear windows all the way around. On top of the magnificent body and its limitless details is the drivetrain that is not only tough but also unbelievably scale-detailed. From the delrin spur gear to the steel gears inside all the moving parts, tough is just one way to describe the Gelande II. While this vehicle is not aimed to be the ultimate in performance, it is no slouch and will follow and lead on the trail to adventure. With its ultra-realistic running gear and highly detailed body, it's no wonder RC4WD is number one when it comes to scale realism. If you have ever dreamed of having a Defender 90, or the most realistic radio control vehicle on the market, this is for you!
LINKS
Castle Creations castlecreations.com, 913-390-6939
Futaba futaba-rc.com, 217-398-8970
Holmes Hobbies holmeshobbies.com
RC4WD store.rc4wd.com
Racers Edge racers-edge.com, 866-855-5566
Savox savoxusa.com, 855-767-2869
Tamiya tamiyausa.com, 800-826-4922
Testors testors.com, 800-837-8677