Just Killer!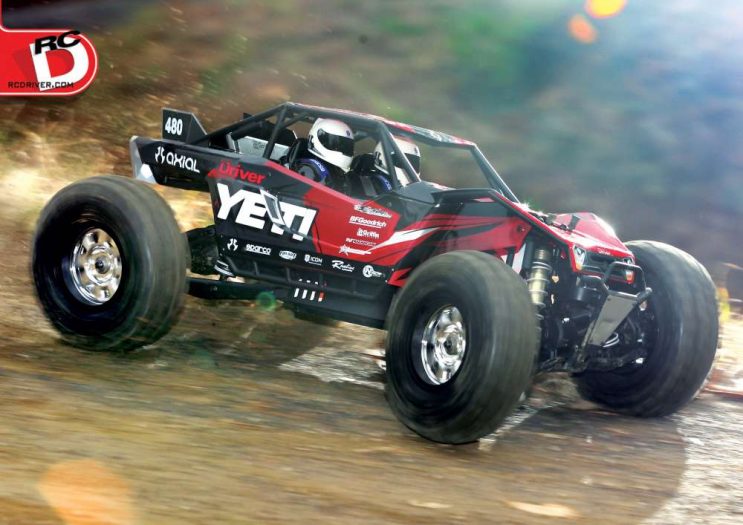 Photos: Walter Sidas
From RC Driver Issue: 134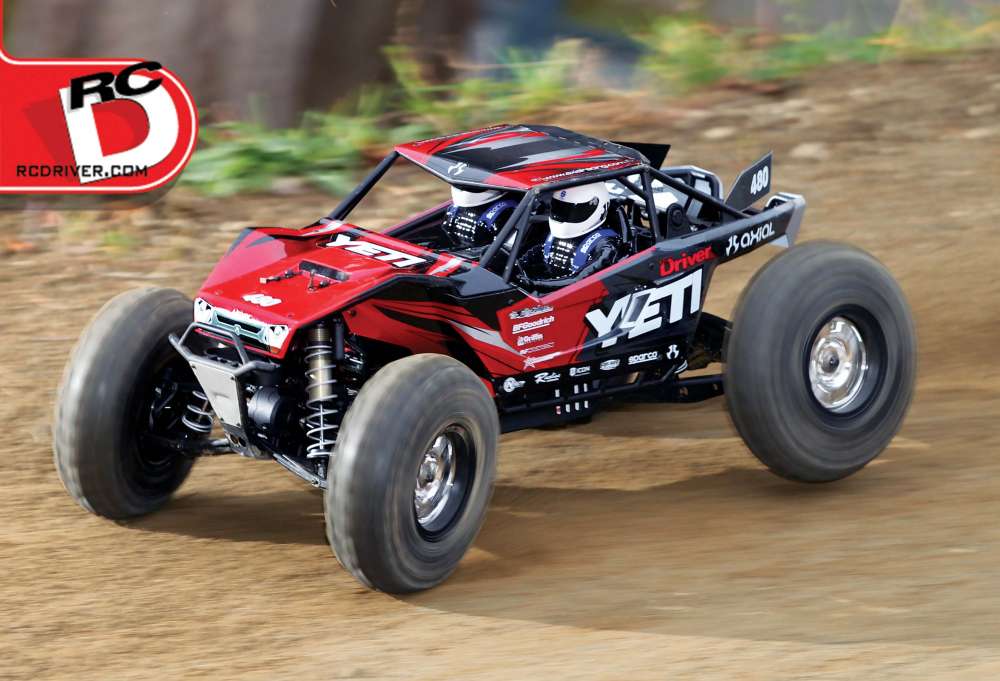 OK AXIAL slow it down now, we're still enjoying the unique fun and excitement of the Yeti and you go and drop a Yeti XL in our workbench. When are you going to invent more time Axial, so we can play with all the off-road goodness you have to offer? OK, rant over and now on to the new Axial Yeti XL. This machine, dubbed a Monster Buggy off-road racer is huge, unlike anything we've ever seen before from Axial or anyone else. Axial is at it again, discovering new niches of the hobby for drivers to enjoy new experiences, adventures and races outdoors. The YXL is 1/8-scale and is larger than many other monster trucks on the market. It's capable of handling a 6S battery set-up for insane power, IFS front suspension to keep the rig stable, it's waterproof to bomb mud puddles and it comes pre-assembled with a wild paint scheme that gets you amped up to put the Yeti XL into maximum action mode.
AT A GLANCE
WHO MAKES IT: Axial
WHO IT'S FOR: Any RC enthusiast looking for monster size action
PART NUMBER: AX90032
HOW MUCH: $699.99
BUILD TYPE: RTR
PROS
• Massive stance certainly grabs everyone's attention
• Powerful brushless system with 6S capability
• Huge aluminum body shocks with threaded collars for damping
• Excellent rock racer styling with details like figures and interior
• Bulky suspension components ready to handle what you can throw at it.
CONS
• We broke a spur and diff bearing on 6S
• Tires pulled from the rims on 6S
REVIEWER'S OPINION
The Yeti XL lives up to its name, it is extra-large, well actually no, it's more like freakin' huge. For the price tag this thing has on it, you are getting what you pay for just in size, but the value doesn't end there. There are a lot of features built into this machine and they result in an XL amount of fun!
TOOLS AND ACCESSORIES INCLUDED
• 4-way wrench
• Optional driver heads
• Misc. shock, body mount and other plastic parts
ITEMS NEEDED
• Charger, Two 2S 7.4V LiPo packs, or two 3S 11.1V LiPo packs and 4 "AA" batteries.
IMAGE
ITEMS USED
• MaxAmps.com 6000XLmAh 11.1V 100C LiPo Packs- These packs have big power and big capacity and they are a tight fit in the Yeti XL but wow, the performance of the rig on these packs is intense!
• TrakPower LiPo 2S 7.4V 5600mAh 60C- TKPC0390- The Yeti XL proved to be a power monster on 6S and is actually a lot of fun on 4S, too. TrakPower's packs have a 60C rating which will supply the right amount of power to the BL system in the rig.
• Hitec X4 Plus Charger- 44167- With four packs on hand for a truck, we selected a charger that can charge four packs. The X4 Plus is a favorite among bashers who want to keep a number of packs powering up for non-stop fun.
ADDITIONAL ITEMS USED
• Duratrax Onyx "AA" Batteries- DTXP4704
HOP-UPS WE RECOMMEND
• At the time of print, no options are available for the Yeti XL, but we can see a wide range of hop-ups coming in the near future. For now we recommend picking up a good bottle of TrakPower or Pro-Line tire glue in case you manage to break the tires free from the rims.
FEATURE BREAKDOWN
• The chassis isn't just an upsized version of the Yeti, this newly designed platform accepts up to 6S worth of batteries; one pack on each side. The center section is littered with cross bracing for an ultra-rigid platform. Then we started looking closer. The lower front plate is stamped aluminum and there is an aluminum plate up top also to
brace the front between the diff case and steering.
• The IFS front end features thick, bulky arms with plenty of support and extra meat around the hinge pin areas since the arms will face off with lots of rocks. Upper fixed links are thick and the steering knuckles, too, have lots of extra bulk for better bashability. But what really caught our eye were the big aluminum 16mm bore shocks with threaded bodies to adjust pre-load and faux reservoir caps to give the dampers a true off-road look. We also peeped standard caps in the spares bag in case you feel like switching. Then we move out back where massive composite links make up the 4-link rear suspension. Here, too, massive shocks damp the rear assembly and the top caps mount to the upper rear composite support frame of the chassis.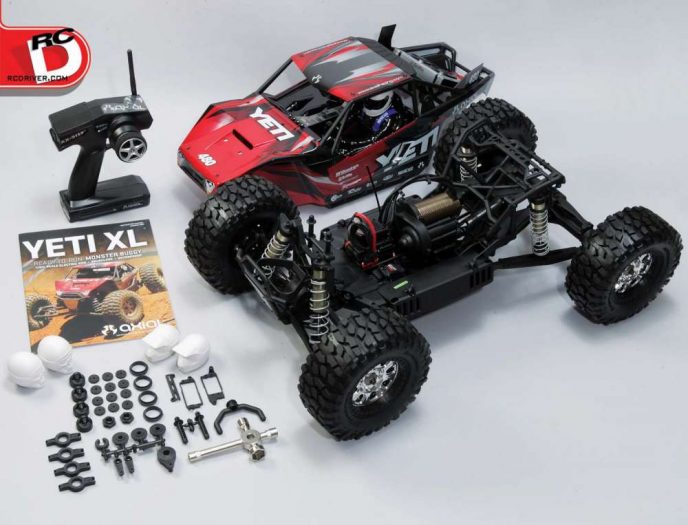 • A Tactic TSX45 metal gear servo is a nice sight to see tucked into the chassis and controlling the steering duties. A fixed link from the servo leads to the dual crank steering. The main crank is well braced to support the servo saver and both cranks rotate on ball bearings. A composite drag link between the cranks is also well braced and captures the rod ends so they cannot pop off in a crash.
• In the drivetrain department, the center gearbox is filled with machined metal gears and has the option to install a two- speed later. A two-speed and
• 6S, can you say ridiculous speed? Can't even imagine what that will be like, but we're looking forward to trying it. A steel spur sits between two slipper pads to protect the driveline. The front receives power from a unique low chatter driveshaft and a fluid filled diff distributes power to the steel CV type universals. In the rear, Axial built a heavy duty AR60 XL axle with lots of bracing to endure impacts while dishing out tons of power. The rear diff is locked and steel shafts here, too, send power to the 17mm wheel hexes.
• A Castle Creations based Vanguard XL speed control takes in up to 6S and delivers the power to a 2200Kv motor. A Tactic Metal gear servo delivers a respectable 151oz.-in. of torque and control duties are taken care of by Axial's worry free AX-3 2.4GHz radio. A pretty impressive electronics package, but it's all put over the top by the fact its waterproof.
• On the rock racer style body, you'll instantly notice some killer graphics and paint on the crisp cut panels. The panels bolt to the cage which is a skeleton of thick composite plastic bars to keep the buggy protected. Inside there is even a detailed cockpit with ABS driver figure heads and optional heads are in the box like its little Yeti brother. Little details like number plates, fuel filler, fire extinguisher and tail light bar all scream Axial as over-the-top details. Moving on, scaled down licensed replica BFGoodrich Krawler TA tires are wrapped around 3.8-inch Raceline wheels and feel like a perfect compound for all terrain use with the right amount of foam support. A narrow skid bumper with aluminum insert not only protects the front end but looks awesome and is effective with its cushion impact upper support.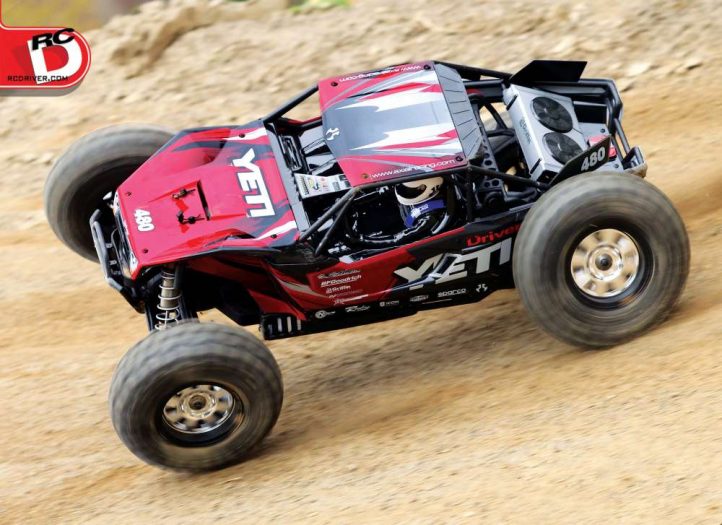 ON THE ROAD
Before the Axial Yeti XL hit the dirt, it was getting lots of attention at the office and at our test site, a makeshift dirt bike track out behind Wolcott Hobby and Airsoft where we test many of our review vehicles. Two powerful MaxAmps.com 3S packs were charged up and forced into the XL's chassis. The fit was tight for these big packs, but we got them in there. I dropped the truck on a big dirt mound and stood back to drive.
One full pull on the trigger and it was like things happened at an alarming rate. Dirt instantly started to roost up ridiculously high in the air, the chassis started to twist and the front right wheel started to lift off the ground as the rig started to accelerate. But the power and pull were insane and before I knew it, the truck was up on its back tires and the chassis continued its twisting motion. Quickly I let off the throttle and the truck settled back in as it was soaking up bumps and rocks with its leftover forward momentum. The words I uttered after watching this amazing display of power from an RC machine cannot be repeated here since we are a family friendly magazine. Our staff photographer did have something to say that I can share, "We have a live one here." Then we went back to see what it could do.
With a grin on my face, I punched the throttle again and watched the Yeti XL rip off once more with the same ferocious power. The Yeti XL acts almost untamed under 6S. The torque twist will take some time to get used to. So on the third pull of the throttle, I thought I was gentle, but apparently I was wrong. The XL ripped up the ground again, but this time I heard a nasty clicking; something let go. After popping the body and the spur cover, I discovered six teeth broke off the steel spur. After all that excitement and in less than a minute of actual run time I was out of commission. So it was back to the computer for me to place an order.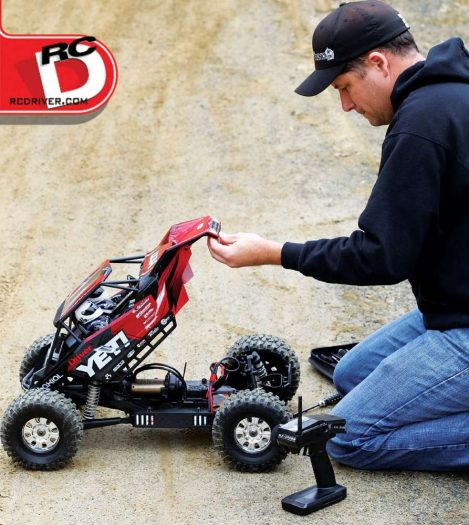 When the Yeti XL was back up and running, I opted to use a 4S battery setup. This battery setup proved to be friendlier for the truck. The torque twist was not as violent and the buggy handled a lot better. The IFS was soaking up a lot of the rough terrain and helped the truck go up and over rocks. Over jumps, the rear did buck up some like its younger brother the Yeti, but this is how vehicles with these types of suspension and axle setups behave. On the track, the actions are a bit tamer, but in a bashing environment, the bucking will take some throttle control to keep the rubber side down. In 4S mode the truck was fun, tearing through loose dirt and sending debris flying in the turns. Back and forth, I sped over jumps, rocks, tall grass and through loose sand and none of them held the rig back; the Yeti XL was delivering on the action, but in one tumble a number plate snapped off the back of the rig which I can see happening because they are held in with one screw.
So it was time to go back to 6S because after all, if it says 6S on the box, you go big and you try 6S, right? Well, I locked the MaxAmps. com packs back in the chassis and pulled the trigger again. This time the truck took off with that hard torque twist and carried the right front wheel in the air for over fifty feet. The hits and tumbles seemed a bit more violent, but man was the action intense. The air time was excellent and the dirt throwing was top notch, but before the end of the pack we heard the cracking of gears again. On the workbench we found that this time a front differential support bearing let go, causing the differential to move and skip teeth; I had to replace the bearings, bevel pinion and ring gear. With another gear issue involving 6S, I spoke with Axial and they have already resolved the issues I dealt with. Our early production test kit did not have the motor clamp screws properly torqued and the bevel pinion was not properly shimmed. All new kits will have these fixes completed when you open the box. Still, use some care when running 6S. The power is as intense as I'm making it sound. But I can say for sure, you'll have a great experience with the Yeti XL on 4S; it's how I ran the XL for the rest of our test sessions.
SPECS AND TUNING OPTIONS
DIMENSIONS
LENGTH: 25.75 in. (654mm)
WIDTH: 16.3 in. (414mm)
WEIGHT: 12.75 in. (5.78kg)
WHEELBASE: 18.5 in. (470mm)
BODY, WHEELS AND TIRES
BODY: Pre-painted rock racer buggy style
WHEELS: Licensed Raceline 3.8 in. Monster wheels
WHEEL ADAPTER TYPE: 17mm hex
TIRES: Licensed BF Goodrich Krawler TA off-road lug type
SUSPENSION
TYPE: IFS Front, Link Rear
SHOCK POSITIONS: (F) 3-tower, 2-arm, (R) 2-tower, 2-arm
CAMBER: Front- Adjustable turnbuckles
ROLL: Front- 4 tower and 2 caster block link points
WHEELBASE: Fixed
RIDE HEIGHT: Adjustable collars on the shocks
STEERING
TYPE: Dual bellcrank
TOE: Adjustable turnbuckles
CHASSIS
TYPE: Tub
MATERIAL: Composite THICKNESS: 2.5mm in most areas
DRIVETRAIN
TYPE: 4WD
TRANSMISSION: Shaft Drive DIFFERENTIAL: Gear diff
GEAR RATIO: Optional pinion gears BEARINGS: Full set of shielded CLUTCH TYPE: Adjustable slipper
RATING TALLY
Opinion: 8
Performance – Acceleration: 10
Performance – Steering: 8
Performance – Handling: 7
Performance – Durability: 6
Feature Breakdown: 9
Overall Value: 8
WRAP UP
So what do we think overall? First, Axial did a great job in hitting us with a machine that breaks away from the trail style of vehicles they've been pumping out. Two, Axial knocked it out of the park in the looks and size department. The capability of the Yeti XL should fit the needs of anyone looking for insane fun in any off-road venue and from what we've seen, the Yeti XL should hold up to intense driving
LINKS
Axial Racing axialracing.com, 949-600-8642
DuraTrax distributed exclusively by Great Planes Model Distributors, duratrax.com,
800-682-8948 Hitec hitecrcd.com, 858-748-6948
MaxAmps.com maxamps.com, 888-654-4450
TrakPower distributed by Great Planes Model Distributors, bestrc.com, 217-398-8970