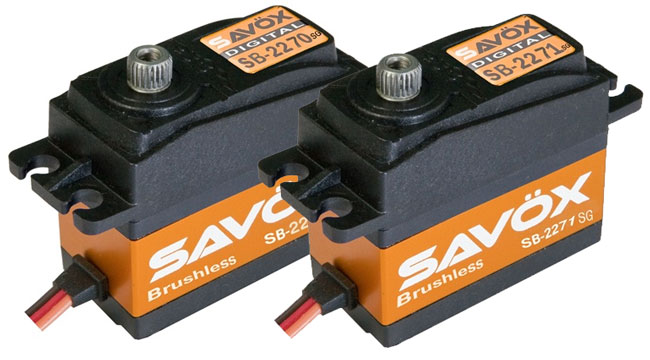 In preparation for the 2012 Short Course Nationals, I decided to do something a little different and race-prep a pair of Losi SC trucks for the event. I have a Losi XXX-SCT RTR from a previous article and a badly beat-up Ten-SCTE from someone else's previous article. Both trucks were rebuilt with fresh parts and competition-level electronics.
The Facts
Dimensions: 40.3×20.2×38.5mm
Weight: 69.0g
Speed: (@7.4v sec/60) .12 (2270), .065 (2271)
Torque: (@7.4v oz-in) 444.0 (2270), 277.0 (2271)
Gear: Unique steel gears
Case: Full aluminum
Bearing: Dual Ball Bearings
To handle the steering duties, I've become quite fond of the Savox line of servos. I have them in everything from my F1 car to my current short course trucks and have not had one fail yet. So, for these SC builds, I decided to contact them and get a pair of high-end units sent my way. I found out that they had just released a set of brushless competition servos that sounded perfect for my application and in no time had a pair of SB-2270SG and SB-2271SG steel geared servos on my doorstep.
The feature list on both of these servos is quite impressive. For starters, both servos are constructed to standard-size specs so there were no issues getting them to fit in either truck (or probably any truck, for that matter). Both use high-speed brushless motors that help them attain a higher 60 degree transit time and monster torque ratings of up to 444oz! As you may or may not be aware, brushless systems produce less heat and don't consume as much power. This makes them extremely efficient; something you definitely want when you need every ounce of horsepower going to your motor and not your servo! As an added bonus, Savox enclosed both servos in an attractive aluminum, dual ball-bearing supported case.
Due to its torque rating, I dropped the SB-2270SG into the 4WD Ten-SCTE and the faster SB-2271SG into the 2WD SCTE. Both servos are fitted with a set of unique steel gears (that are stronger that standard metal gear trains) so I'm not too worried about the stress either of these servos might encounter. Once fitted, I fired up both trucks and gave them a sample "wiggle-test"; man, these suckers are strong and fast! Even on the pit-towel covered bench with sticky AKA rubber mounted, these servos swung the tires around like they were on ice.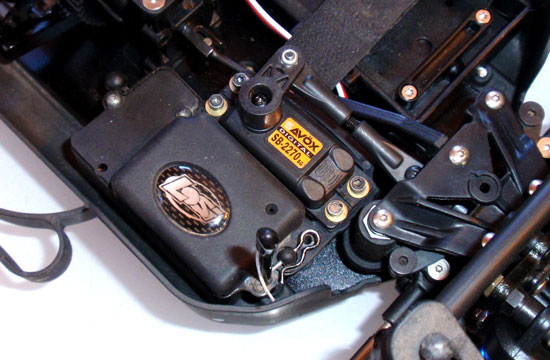 Before heading out to do my torture test, I hit both servos with a quick shot from my TrakPower temp gun. It showed me a base reading of 80.6 degrees. I plugged in my battery packs and took both trucks for a quick spin. As I expected, both servos worked flawlessly as I made my way around the track. The SB-2270SG got a bit more of a workout controlling the heavier 4WD SCTE but, after a full run, came back with only a 12 degree increase in heat. I felt confident I could put the SCTE anywhere I wanted on the track. I never once felt a flutter of stress keeping this heavier truck in line. While the SB-2271SG didn't have to work as hard holding the lighter XXX-SCT in place, I did push this truck a little harder to see if the servo could keep up with my exceptional counter-steering skills. Its .065 second transit speed makes it blazing quick in this department and helped keep the SCT in check. Back at the bench, a quick heat test showed only a 7 degree increase! That's pretty amazing for a servo that was rarely at the neutral position the whole run!
The Savox SB-2270SG and SB-2271SG servos are excellent choices when it comes to off-road action. Both can be had for somewhere around $125 which, if you think about it, is really a great one-time purchase price. They're both fast, strong, great looking and easily one of the fastest, smoothest servos I've used. Plus, both servos are environmentally friendly and totally green from materials to production. So, in essence, you're saving the planet while playing with your toy car. Win-win for everyone!
Links
Savox
SavoxUSA.com (855) 76SAVOX