Can it tame the wildest RC cars?
From RC Driver Issue: 133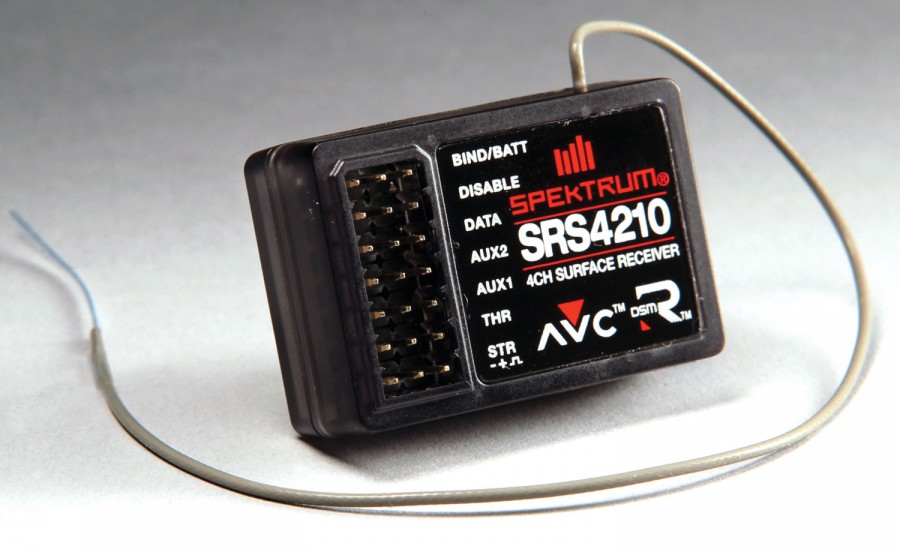 The RC Driver Voice Your Choice award is among the most respected awards you can possibly get in the RC industry because it is solely determined by readers who log into our site and cast their votes. This year the Most Innovative Product winner was the Spektrum AVC and rightfully so. The AVC is an amazing product that helps tame a vehicle, making it easy for anyone with any skill range to drive a car with it installed. But that's not all; this system can be tuned for varying control values, from just a little to the maxi- mum. The system can also be shut off for rac- ing applications where electronic assist is not allowed. Spektrum engineers really put their efforts into producing an amazing product and the more we use the AVC the more we love it. But all of our testing has been done in Horizon Hobby based vehicles like the Vaterra Halix, Losi TEN Rally and Vaterra Raptor Pre-Runner. So the question of course eventually came out, how does the AVC do in a non-Horizon based product? We can see that many people would like it for Horizon vehicles, but that's actually not the whole story, it can be installed in any vehicle. And that's when it hit us, what would be the most challenging vehicle to install the AVC in to see if it can handle the wildest of rides? We decid- ed to install it in our Traxxas XO-1, one of the fastest production vehicles ever produced and also one of the most challenging vehicles to tame at high speeds. This is certainly going to be exciting
PARTS LIST
Spektrum
DX4R Pro 2.4GHz Radio- SPM4100
SRS4210 AVC Receiver- 4210
Dyanamite GPS Speed Meter- DYN4401
XXX LiPo Battery
Traxxas
X01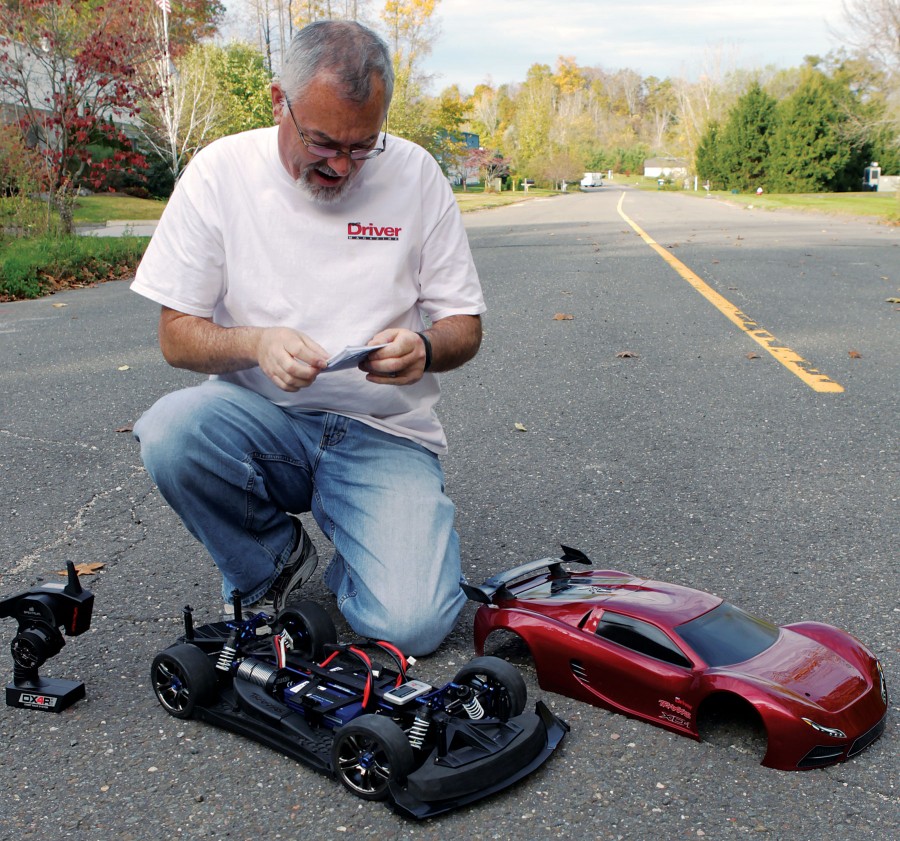 VEHICLE PREPARATION
Our Traxxas XO-1 that we tested is still in fantastic condition since it's primarily used in our office parking garage when we feel the need for speed. For this test we made just a few alterations. First we installed some fresh new Dynamite LiPo batteries wired in series to achieve the voltage necessary for maximum speed. Next the gearing was swapped from what works safely in our running area to something that would again allow us to reach insane speeds in a straight line, so a Robinson Racing pinion and spur were installed.
Now it was on to manipulating the electronics which took a little thought. Since we wanted to install the AVC-ready 4210 Spektrum Receiver to gain control of the car, we first had to unlock the speed option for the Traxxas electronics using the factory radio with the I-Touch docking base and Apple product with the Traxxas Link App. We checked our system and had it correctly unlocked and the changes saved.
Next we installed the 4210 receiver and turned the gain that controls the correction input of the system up to about 75-80 percent. We wanted maximum control at high speed and little correction from our input. The 4210 was taped into the radio box and the ESC and servo wires plugged into the proper channels. Because we weren't using the telemetry aspect of the system we left those unplugged but tied up inside the box. The system was powered up and checked and we were ready for some action; almost.
With the Traxxas system removed, we couldn't use the Traxxas telemetry options and Link app to determine speed. Sure we could have pulled out our Stalker ATS radar gun to track speed, but Dynamite has a new product to give us the information we needed. The Dynamite Passport GPS Speed Meter is a small device that you can mount inside the car and with its global positioning, it can determine how fast we can get our AVC Challenge XO-1 Project car up to. We could go into more detail about the Speed Meter but we'll save that for another article.
Our final tweak to this entire Challenge Project was updating our transmitter of everything on a fast car, going these extra steps to make sure everything is top notch is a must in our book.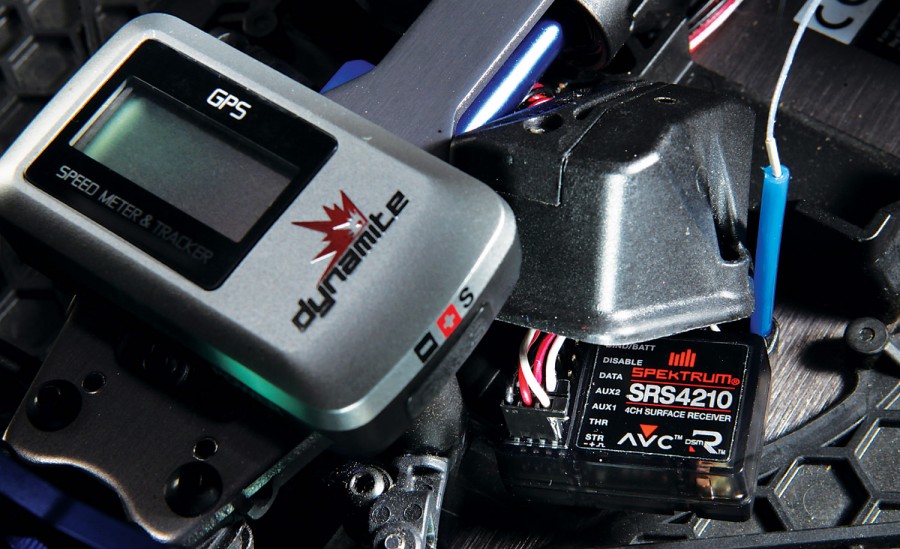 THE SPEED RUN
Before we unleashed this 100 mph land missile with its newly boosted power and untested AVC, we did a few low speed passes in a controlled area; our parking garage. During these passes (at speeds of around 20-30 mph, verified by our Dynamite Passport GPS Speed Meter), the AVC did a good job keeping the XO-1 planted. I could wiggle the steering and if the car started to get out of control, the AVC would either back off the throttle a bit or take control of the steering; either way the car would remain stable with only a hint of sliding.
That's all fun and good, but we wanted to know how this system would work when we hit the insanely fast speeds this car is known for. We took the XO-1 to our high-speed testing grounds (basically a long, empty and deserted street), plugged the batteries in and did a few more low- speed runs. Everything checked out – time to pull some plastic! Our first run was a slow speed build-up; we didn't want to pin the throttle until we had an idea of just how crazy this thing was going to be. Initial passes were right around 60 mph and the AVC was still keeping the XO-1 in line. Then the fun began. On our fourth pass we pinned the throttle at about the half-way point and the XO-1 blasted past us; however, as soon as it did it immediately turned to the left, caught a few inches of air and started tumbling over the grass, finally bouncing off of a large metal container some 25 feet off the road. We ran over and did a quick check and other than some plastic shearing off the chassis, the XO-1 was still running. We did a few emergency repairs and got the car back on the road, ready for high-speed pass number two. This pass saw very similar results, with the XO-1 careening off the street a second time. Checking the GPS Speed Meter, we were hitting upwards of 85 mph before things went wild.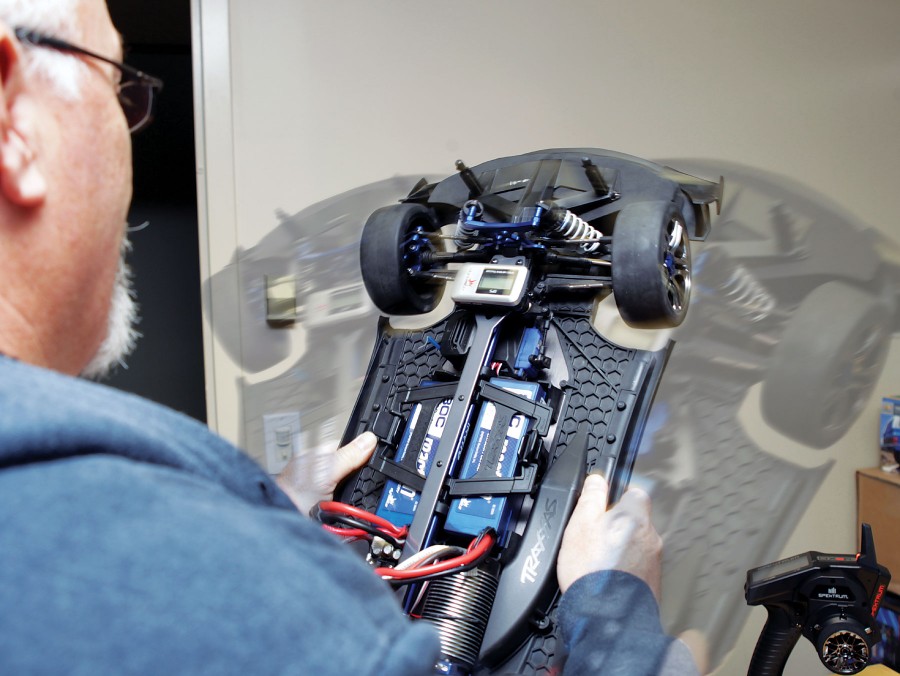 WRAP-UP
Since our experience with Spektrum's AVC control was primarily in vehicles from Vaterra and Losi equipped with the system from the factory, we were basically conditioned that this technology was for those vehicles. But it is in fact for any vehicle you need electronic assist to keep under control. We installed our AVC equipped system in a Traxxas XO-1, laid down an ultra fast speed run and did so with more confidence in an easier-to-drive platform thanks to AVC. Since the AVC was able to tame this monster, it made us think what else is out there that could benefit from an AVC; and HPI Baja, Traxxas 2WD Brushless Slash, a Team Associated SC10GT or Traxxas Nitro Slash are all on our list to try to tame. The AVC is capable of doing great things to help you maintain control of your vehicle, but know that you will need to spend time tuning the steering and throttle gains to input the proper amount of correction you are looking to achieve at your desired speed or driving needs and based on your vehicles specific set-up. We'd love to tell you the gain settings for any vehicle, but the fact of the matter is, you need to tune for each specific vehicle you equip with the AVC system. Spektrum's AVC technology left us impressed and we feel it is a great component that will help so many have success in the hobby with a few less broken parts.
Links
Spektrum, spektrumrc.com, (800) 338-4639
Traxxas Corp., traxxas.com, (972) 265-8000