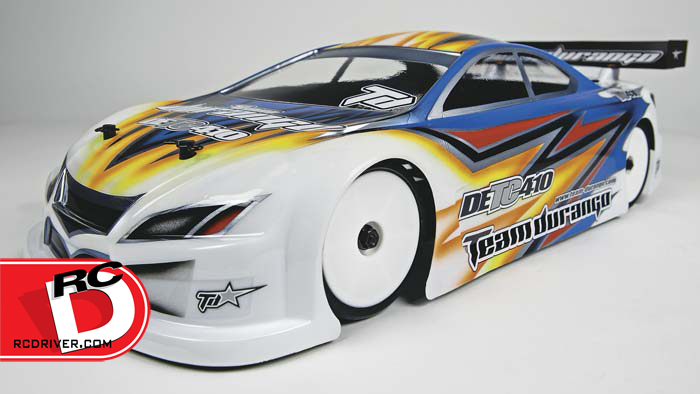 The DETC410 provides a premium quality, precision engineered 1/10 Touring Car kit at a specification that exceeds its amazing price. Whilst being designed and engineered to win in the hands of experienced TC racers, the DETC410 is also the perfectly balanced TC kit for newcomers to this fast, dynamic and exciting racing class.
Team Durango's race-winning philosophy helped transfer the precision design and manufacturing qualities of our already globally recognised racing cars, to the most finely tuned RC class of them all. The DETC410 is a winner.
Incredible specification, amazing value and race winning set-up adjustments are all standard, with the ability to advance your racing knowledge, or polish your existing track skills, all in one high performance kit. The DETC410 is your key to faster laps.
The DETC410 has CVD D-Joint drive shafts, tuned-stiffness suspension arms and our custom suspension hanger and caster block insert tuning system, all included in your kit box. With such a high stock specification, you can build your DETC410 and get straight to racing, with no need for additional parts.
Your DETC410 is designed to provide a wide range of high-performance tuning adjustments to squeeze every second from your lap times. Our custom dual shock absorber configuration will allow you to choose bladder or emulsion set-ups, giving optimum ride tuning in one complete shock package.
The ability to tune shock O-ring 'stiction', by accessing our range of high-quality silicone O-rings, will allow you to fine tune every millimetre of shock travel, for any racing conditions. You can choose to use one or two O-rings in your shocks for an even wider range of tuning options.
The addition of a custom designed fifth body shell support gives the DETC410 maximum body shell rigidity for increased down force and super-precise steering response at high speed.
TURNBUCKLES
Gold anodised linkages in ultra-lightweight aluminium for precision adjustments and Pro racing looks.
CVD DRIVE SHAFTS
Rear CVD aluminium drive shafts for ultra-light and efficient transfer of power with super-reliable operation under high-stress racing conditions. Large diameter design for added strength.
BATTERY MOUNTS
Fully adjustable battery tape attachments, with the ability to tune your battery position to balance right-to-left weight bias with your chosen electrical components.
FRONT SPOOL
Super-efficient front fixed spool for fast power transfer and precise braking on all track surfaces.
REAR UPPER BULKHEAD
Precision manufactured upper bulkhead mounts in 7075-T6 gold anodised aluminium. Strong and hard wearing with Pro driver styling.
SUSPENSION ARMS
Super-durable composite suspension arms for consistent handling characteristics on all track surfaces.
CHASSIS TOP DECK
2mm Laminated Quasi-isotropic carbon top deck for strength and consistent flex control in all racing conditions.
BODY MOUNTS
All four body mounts, and the fifth optional support, can be adjusted in 1mm increments, using our specially designed body mount adjustment system. Fast and easy body shell ride height tuning in seconds.
Super-efficient front D-Joint aluminium drive shafts provide your DETC410 with ultra-smooth power transfer and reduced drive shaft vibration. With high-quality steel axles, and gold anodised aluminium shafts, your large diameter D-Joint drive shafts will provide consistent performance on all track surfaces.
The DETC410 will also save you money every time you race, with a host of easily accessed tuning options supplied in your kit. There is no need for expensive tuning upgrades to win with the DETC410.
Building your car in the kit manual configuration will give you instant access to the exact set-ups used to take a podium finish at the 2013 EFRA European Championships, and set new track records during our extensive testing regime.
Designed to provide the highest performance on carpet and asphalt, in any grip level, your DETC410 will make you faster than the competition, every time you race. From technically challenging 17.5 Stock to the pulse rushing pace of Modified class, the DETC410 provides race-winning qualities to suit your chosen environment and ability level.
The DETC410 is easy to work on, with ultra-simple access to the race-proven belt-drive 4WD system in seconds; you will spend more time racing and less time working on your car. More track time equals faster learning. Faster learning means faster lap times and equals more wins.
DETC410
PART#: TD102023
$399.00