What could be more important to an RC racer than their RC itself? Well, probably not much… but, coming in at a close second place is certainly our local track we have the pleasure of calling "home." Whether this is a simple track torn into our backyard or the local track carefully planned and taken care of, they serve a very important aspect in fulfilling a RC racer's passion: a place to practice and have fun. Every Tuesday here at RC Driver we'll be featuring a local track known as home to its local RC Racers and RC enthusiasts. Ever wonder what other tracks out of town are like? Or ever want your home track to be seen and known by other RC racers? Then make sure to read the latest Track Tuesdays feature and your local home track might be the next up!
Robin Hood Raceway
N53.36861, W1.03162
Blyth, Worksop, Nottinghamshire S81 8EU, UK
J
ust a skip of a stone across the Atlantic, this week we're pleased to introduce Robin Hood Raceway in the United Kingdom. RHR is an amazing outdoor complex with both an AstroTurf and clay track to offer to its racers of either type of race track. With RHR being around for over 25 years, it's clear to see that the track is handling and doing things quite excellently; not only does the track offer two different tracks and a large amount of space, but they also offer a large camping area(which they endeavor to offer for free but if need be charge a low cost of £2.50/unit/night) along with a cafe. Along with events, they have club nights every Wednesday starting from 5pm, but also offer practice sessions with prior notice. If you add on the nearby amenities of supermarkets, gas stations, a burger king, plus a workshop, its quite easy to feel that RHR is a R/C racer's perfect get away. If you happen to be in the country we encourage you to perhaps take a trip to Robin Hood Raceway for an event and maybe even camp there for the night.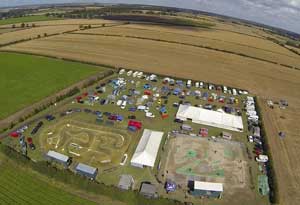 Contact Information