4WD All-Terrain Monster Truck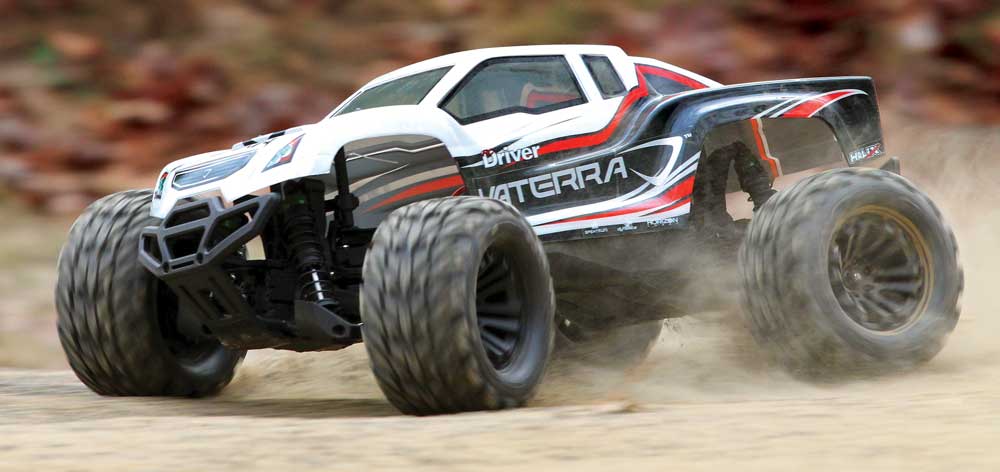 Words: David Baker
Photos: Walter Sidas/David Baker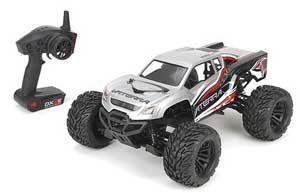 Vaterra hit the ground running when they introduced us to their entirely new line of cars that included the Glamis Uno buggy, Twin Hammers rock/desert racer and the Kemora and Kalahari Rally cars. They have recently expanded their arsenal with the Glamis Fear and Slick Rock kits. The latest to hit the shelves is the Halix. It's a 4WD Monster Truck aimed at those wanting to get into the hobby with a super versatile, go-anywhere, big tire, high ground clearance vehicle. I always recommend this style of vehicle for newcomers. It is equally comfortable on most any type of terrain. The monster styling has always been popular among RC drivers of all levels of experience. I'm glad to see Vaterra taking care of this sector. It has the brushless power that even newbies now want along with the ability to run in wet conditions. Waterproof electronics are becoming more and more common as manufacturers release new kits. This has the looks and we know it's packed with the goods so let's see if she lives up to our expectations.
AT A GLANCE
WHO MAKES IT: Vaterra
PART NUMBER: VTR03003
WHO IT'S FOR: Beginner
HOW MUCH: $430
BUILD TYPE: RTR
PROS
+ Runs great on 2S and even better on 3S
+ Waterproof
+ Fresh body style
+ Spektrum Radio
CONS
– Driveshafts seem brittle and are tedious to replace
– Threaded shock bodies but clips for preload
AUTHOR'S OPINION
The Halix has a lot going for it. It has all the speed, even on 2S, that a truck this size needs. Handling is on par with what I will be doing with this type of truck. The plastic for some of the parts seems to break a little too easily. At the price point I would hope to not have to replace parts right away. Overall, it is a very versatile vehicle that is a lot of fun to drive.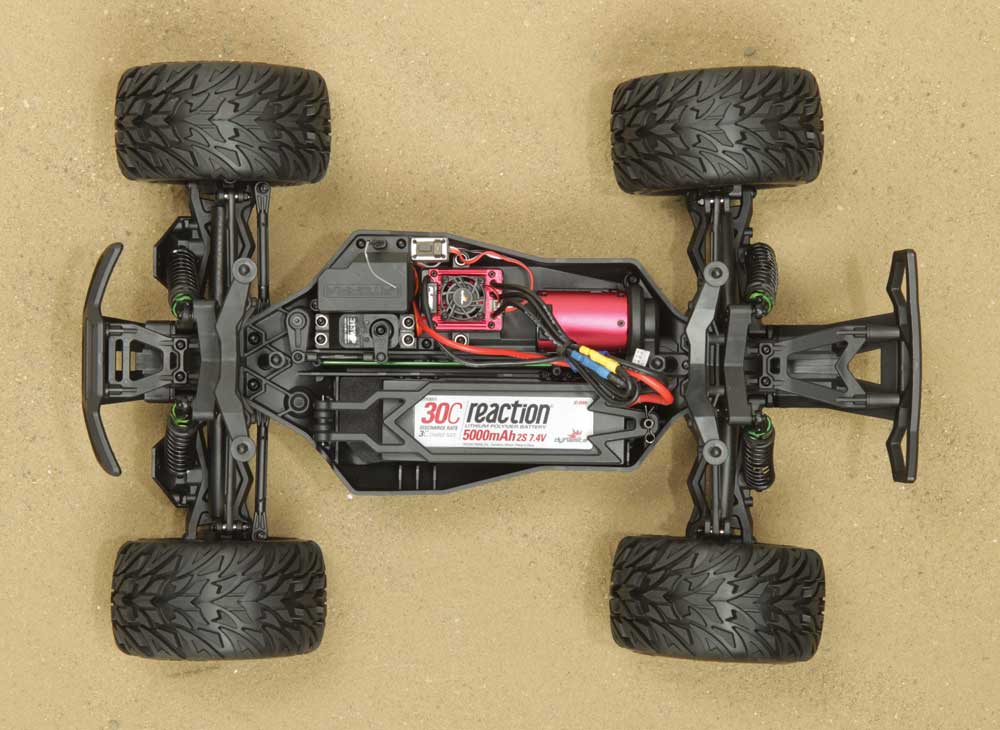 FACTS
• The tub chassis has a fresh design that reminds me of the shape of a buggy chassis. With the body off it is easy to think the rear is actually the front. That being said, all the components are tucked nicely with little room to spare.
• The battery compartment will accommodate a 2-3S pack without the purchase of an additional battery strap. The strap is hinged at the front with a single body clip securing the rear, making battery changes quick & easy.
• The receiver box lid is secured with screws instead of the more common body clip. This is more secure and helps keep moisture out (it is not fully sealed) but is a little more tedious when you need to access the receiver.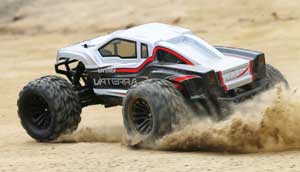 • A center driveshaft runs the length of the chassis and is connected to a spring-adjusted slipper/spur gear unit in the rear. The shaft is not covered, which means it could get small debris lodged in the driveshaft channel. Just something to keep an eye on.
• A Spektrum DX2e 2.4GHz, 2-channel radio system is installed. The steering servo is a waterproof, high torque unit. The 4-channel receiver includes AVC (Active Vehicle Control) that, when engaged automatically adjusts control input to provide smoother operation. It is designed to make the truck easier to control.
• Brushless power is provided by a Dynamite Fuze system that includes a 4-pole, 3300Kv, 540 sized motor and a speed control that promises speeds up to 55+ mph when a 3S battery is used.
• Stout lower suspension arms have a chiseled design and are identical front and rear. Upper links are fixed length plastic units.
• Plastic shock bodies have aluminum caps. They look threaded but use spacers for adjustments
• Plastic CV style sliding driveshafts use 5mm axles with 12mm aluminum hexes. The axles are actually larger than other vehicles in this scale.
• Sealed differentials can be tuned with diff fluids. The outdrive is the ball end of the CV style joint on the driveshafts.
• Very cool, flat black spoked wheels are paired with a unique tread patterned tire that is geared toward multiple surfaces.
• It is all topped off with a non-descript, futuristic style truck body with a simple design scheme that I find refreshing among the many sometimes over-designed bodies we've been seeing for a while.
ITEMS USED
• Reaction 7.4V 5000mAh 2S 30C LiPo Hard Case – Part No. DYN9005EC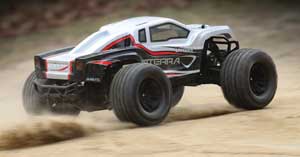 BEHIND THE WHEEL
I'm a basher at heart and the Halix meets all my criteria for a bashing vehicle. It's got the ground clearance, 4WD drivetrain, large tires and plenty of power. I charged up a 2S and a 3S pack and took the truck out to do what I do best… Bash! I subjected the Halix to as many different types of terrains as I could find, including packed and loose dirt, large dirt piles, tall and short grass, concrete and blacktop, both wet and dry.
The truck comes with a feature that Spektrum calls AVC or Active Vehicle Control. Without getting too technical, it is basically technology that is built into the receiver that is designed to improve handling. It is a sort of stabilization function that prevents you from overcompensating with steering, braking or throttle input. The dual rate knob on the radio lets you adjust it to just how much assistance you want from the AVC. I will try it with and without the AVC but I have a hunch I will prefer to drive without it. My opinion is that it's better to make your own mistakes and learn to correct them, which will ultimately make you a better driver. If mistakes are corrected for you, even before you know you've made them, how will you learn from them? Having said that, if you use the AVC I suggest that you gradually adjust it back until you can eventually drive without it. Can you tell I am a little skeptical? More on the AVC later but for now, here is what I have found:
On the grass, using a 2S pack, with all stock settings on the ESC and no AVC the back end squats and pushes the truck off the line quickly while the front end tends to bob up and down slightly making a small amount of steering input necessary to keep it tracking straight. As someone with experience I'm used to this. Once up to speed the suspension soaked up the rough grassy surface and kept the chassis fairly calm while going straight. When trying to turn full tilt the combination of the high CG (center of Gravity) and the toothy tires would cause chassis roll. Easing off the throttle prevents a rollover. Turning just a little wider lets it take the turn at full speed or close to it. When going from grass to pavement the tires will lose a good bit of that bite. This meant you could get the Halix to turn much more quickly by pivoting the rear end around, pegging the throttle and counter-steering to get it lined up again. Tracking is truer on pavement when going straight with only a slight bit of wandering under hard acceleration.
Let's try this again with the AVC fully activated. Launching into the grass was a different experience. The AVC automatically adjusts throttle and steering. Even though I thought I was accelerating smoothly before, this time was more so, making me think I wasn't smooth at all the first time. I probably could have removed my hand from the wheel and it would have continued on its path. Taking turns under full power was now possible, however the radius was much greater. On pavement it was tricky to try to pivot the rear end around because the AVC saw that as something it needed to correct. On wet pavement, where you might think it would spinout and start doing donuts, it simply adjusted its stability and pulled out with ease. My skepticism about the AVC is dwindling but I worry about getting too used to it.
Jumping with the Halix is whatever you want it to be. You want backflips? Grab the throttle right off the jump. You want a backflip? Apply heavy throttle on the run up and mash the brakes just off the ramp. You want a clean level flight? Be quick on the run up and ease off the throttle upon launch. There is no center diff so power is distributed more equally between the front and rear ends. Landing is softened by the large tires and the shock's range of motion.
The Spektrum radio worked flawlessly and has the feel of the higher end Spektrums…with the exception of the plastic wheel. I'd rather see some foam on there. Without it there is a toy-like feel to the system.
As far as durability, this is where I have concerns. Within a single minute of plugging in the battery and launching the truck into the grass, it rolled over just 20 feet from me and broke the rear body posts. It was cold out but I had just come outside and had not been out there long enough for it to affect the plastic that way. It was an easy fix because I could just lower the body. When I took it back out, a front drive shaft broke within three minutes coming off a jump. It was then that I found out that it is a little tedious to replace the driveshafts because of the springs that secure the pins. Normally I would not be too concerned but I've read of others having issues with the driveshafts. Also, a customer from the local hobby shop who purchased the Halix managed to break three driveshafts the first day. Maybe it's coincidence and maybe it is something that needs to be addressed but I had to pass that information on to you. Beyond that nothing else seems to have any durability issues.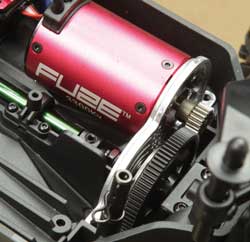 SPECS
DIMENSIONS
Scale:1/10
Type:4WD Monster Truck
Length:18.5in (470.9mm)
Width:13.4in (339.8mm)
Height:7.2in (182.2mm)
BODY, WHEELS AND TIRES
Body: Pre-painted durable Lexan
Wheels: Black plastic spokes
Tires: Rubber all-purpose tread
SUSPENSION
Type: 4-wheel independent
Shock positions: (F/R) 2-tower, 2-arm
Camber: Fixed
STEERING
Type: Dual bellcrank
Toe: Fixed
CHASSIS
Type: Tub
Material: Plastic
DRIVETRAIN
Type: 4WD
Differential: Sealed Gear
Bearings: Ball bearings throughout

THE LAST WORD
Monster trucks are a popular type of RC vehicle among newcomers to the hobby. It was my first hobby grade RC, too. The Halix is poised to grab the attention of the hobbyist looking for his or her first or even second RC truck. On 2S it will keep all but the most speed addicted RC drivers content. But on 3S is where the oohs and aaahs come into play. Aside from the broken parts I mentioned, I am very happy with the performance of the Halix. Vaterra is working hard to carve out their piece of the RC pie. As long as they never stop improving on their products they have the potential to achieve a hearty slice.
LINKS
Horizon Hobby, horizonhobby.com, (888) 959-2306
Vaterra, vaterrarc.com (877) 504-0233