Ballistic Monster Truck!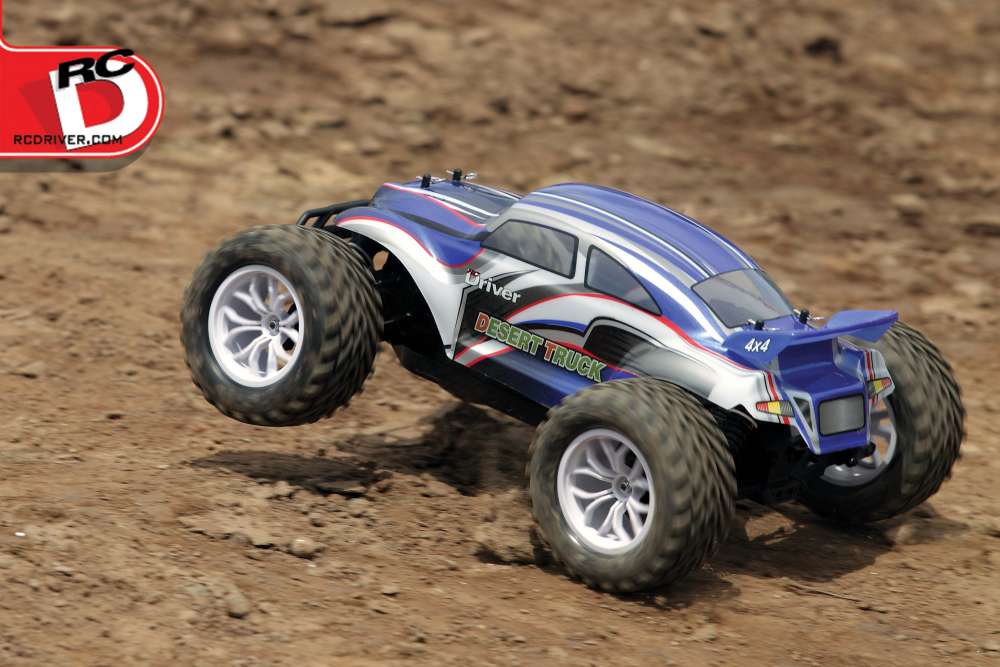 Words: Mark Ronge
Photos: Edwin Rodriguez
From RC Driver Issue: 144
You may remember VRX Racing from the September 2014 issue in which I reviewed two of their off-road vehicles. They are fantastic offerings and had many features that reminded me of high-end racing vehicles. I did have a problem with the spur gear being exposed as it seemed to be a magnet to small pebbles. Well it's a year later and VRX Racing has an improved off- road platform that fixes the spur gear problem and adds some other new features without raising the price much from last year. The VRX Racing Desert truck is a
4WD brushless monster truck with a beetle shell and it aims to impress.
AT A GLANCE

WHO MAKES IT: VRX Racing
WHO IT'S FOR: All drivers
PART NUMBER: RH1013MG
HOW MUCH: $274.00
BUILD TYPE: RTR

PROS
• Completely RTR
• Large 1/8-scale sized shocks
• Fully adjustable suspension
• Aluminum components to enhance durability
• Brushless ESC + Motor Combo
• Classic beetle type monster truck look

CONS
• Spoiler prone to breaking off of body shell|
• Standard batteries slide around a bit
REVEWER'S OPINION
The VRX Desert Truck looks great and runs even better. It has many components commonly found on 1/8- scale racers and is competitively priced against other models on the market. The truck is just downright a hoot to drive and has the performance to keep things lively
TOOLS AND ACCESSORIES INCLUDED
• Wall Charger
• 3250 7.4V Hardcase LiPo Battery
ITEMS NEEDED
• 8X "AA" batteries for transmitter
ITEMS USED
• Kirkland Signature "AA" batteries (X8)
HOP-UPS WE RECOMMEND
• Wheelie Bar Set, 10922. On pavement the Desert Truck is a wheelie machine, so this wheelie bar set should help the truck from ending up on its lid
• Heatsink, 85265. The brushless motor has its work cut out for it with the huge monster truck tires it has to power, so why not help the motor remain cool with an aluminum heatsink?
• Steering knuckle arm, 10917. Most of the time if you run into anything, the front wheels will hit first putting strain on the steering knuckles, so this aluminum set will add an extra level of insurance.
FEATURE BREAKDOWN
The VRX Desert Truck sits on a tub-style plastic chassis with a very low center of gravity, just like a buggy. Last year when I reviewed other VRX racing off-road vehicles, I had an issue with the spur gear being exposed on the bottom of the chassis. With this iteration of the VRX platform the gear has been fully covered and will no longer have issues with debris getting stuck. Another notable improvement over last year's design is the addition of an aluminum upper brace that spans the entire length of the chassis and provides some much-needed rigidity to the chassis. The motor is mounted in the rear of the chassis on the same side as the ESC, receiver and steering servo. The included LiPo battery sits on the other side of the truck to offset the weight of the electronics. There is some wiggle room for standard sized battery packs so I recommend adding a piece of foam to prevent the battery from shifting during driving. The front bumper has plenty of flex to prevent impacts from causing much damage.
One of the standout qualities of the VRX line of trucks are the excellent big bore shocks that the vehicles are equipped with. These shocks are huge and look like they fit on 1/8-scale vehicles and have aluminum caps and feature adjustable ride height via
threaded collars. One cool feature about this truck is that every suspension setting is adjustable just like high end race kits. There are threaded steel turnbuckles all around and the A-arms even have droop screws, something not commonly found on RTR models (or monster trucks for that matter). There are also multiple shock mounting positions to further fine-tune the handling of the truck.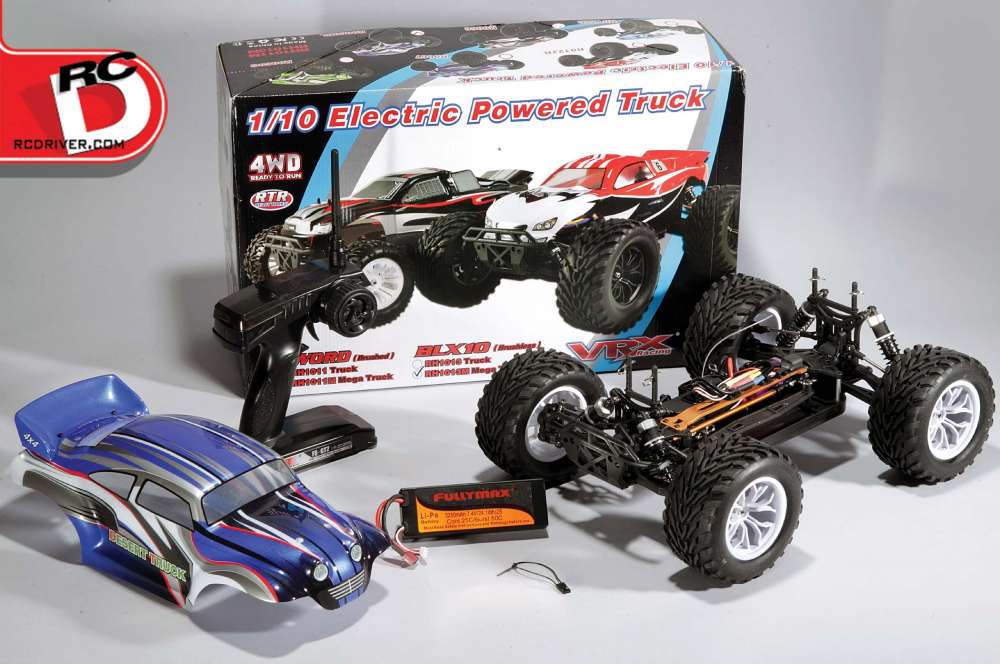 You can expect a standard dual- bellcrank steering design on this monster truck. I appreciate the laydown position of the steering servo which helps keep the center of gravity as low as possible. The steering links are threaded turnbuckles so the toe angles are easily adjustable. The servo saver is non-adjustable and appears to be a bit on the softer side, but protects the stock servo nicely. Overall the steering system feels very tight and has less slop than other similarly priced models.
The Desert Truck is powered by a sensorless brushless 3000Kv motor to help move the larger monster truck wheels and provide the right balance of torque and speed. A fan-cooled 45 amp brushless ESC helps transmit the battery power to the motor and while at first I was skeptical of the lower amperage, once I started testing
the vehicle it was obvious that this was more than enough power. As mentioned before, the spur gear is completely covered which is important in 1/10-scale off-road trucks. There is an adjustable slipper clutch to help lessen any shock on the driveline. The VRX has full-time 4WD via a driveshaft and front and rear gear diffs. The diffs spin super smooth and I think they would benefit from some thicker grease if you find yourself running on looser surfaces more often.
You have to love the look of a beetle style body on a monster truck chassis and the Desert Truck looks fantastic in that regard. While I wish I could have dyed the white wheels a different color, the spoked design looks awesome and the all-terrain tires have a mean look to them and are a nice soft compound with great grip characteristics. The VRX truck is an RTR model, so it does come with a Fly Sky FS-GT2 2.4GHz radio system. The included hardcase LiPo is a two-cell 3250mAh pack with a 25/50C discharge rate. A wall charger is included if you do not own your own LiPo charger. While on the subject of electronics, it is worth noting that the speed control's settings can be change by a program card that can be purchased separately (I found the stock setting fine, however).
ON THE TRACK
After setting the Desert Truck on the ground the first thing I did was check the wheelie power of the vehicle. The truck has a smooth power delivery (the ESC seems to have a pre-programmed setting to ramp up the power so not all is initially avail- able at the start) and after a second or two the front end shot up into the sky and the truck ended up on its lid. I figured with all the torque the top speed wouldn't be that great in this model, but I was wrong; the Desert Truck definitely has some get up and go! This truck is very quick and because it is a monster truck, it does become slightly unstable at high speeds. Any turn at top speed will send it cartwheeling away, but what surprised me the most was the brakes were crazy strong. With even a light tap on the brakes the truck would endo into a front flip most of the time. Although it looks cool, it is not something I was trying to do so I had to keep reminding myself to scrub off some speed before applying brakes. I could not find anything in the manual or transmitter on how to lessen the brake power, so I had to train myself to be very light on the trigger.
Jumping is a hoot with the VRX truck. The 4WD and large wheel/tire size equal tons of control over the attitude of the truck when flying through the air. The only caveat is that the brakes are obviously still super strong so only the lightest tap of the trigger is all you need to bring the front nose down. All too often I ended up having the nose hit the ground first when I forgot to be easy on the brakes. It is easier to manage a nose down situation as the truck responds very linearly to throttle inputs. The suspension soaked up any jump I made with ease; it is rare for the Desert Truck to bottom out with the big-bore shocks.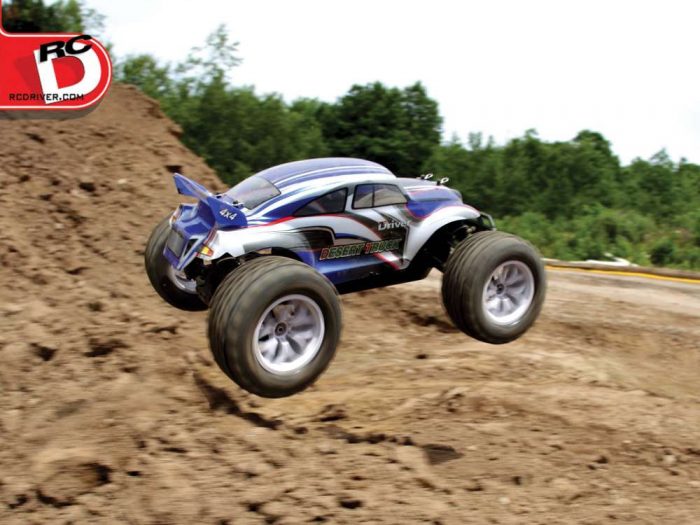 Monster trucks aren't built to handle, so one of the most fun things about driving them is the unpredictability. The Desert Truck definitely keeps the monster truck spirit alive, especially with any speed. You have to slow down to make turns or the truck will traction roll on most surfaces, but even if you hit the throttle too hard while exiting a turn, the truck wants to get up on two wheels and create quite the show! I loved trying to tame the truck and just had plain good old fashioned fun in seeing what it would do next. All too often newer trucks come from the factory super stable and take away a bit of the spirit of driving a beast of a truck. The Desert Truck doesn't fall into this trap and everyone I handed the transmit- ter to really had fun taking her for a spin.
Something worth noting is the fantastic tires that are included with the package. They are a typical all-terrain style of tire; however, they are some of the softest compounds that I have ever seen on a basher type of RTR. They provided nearly unlimited grip on every surface and often my prob- lem was that I had too much grip. Not bad!
After a few runs I heard some slight noises so I figured it was time to do a tear down to make sure everything was still in working order. While the chassis nearly looked brand new I was slightly worried that the abrupt braking and rough landings may have broken something. Thankfully, the noise seemed to come from a loose wheel, one of the front wheel nuts backed off slightly and under hard braking was skipping over the hex. This probably happened because I had a small bend on a dogbone after some cartwheels during testing. Since the wheel nuts seem to be on the smaller side, I recommend some Loctite along with inspecting the tightness after every run (a good habit to get into any- way). No major damage or stripped diffs, so that was a relief and I was definitely impressed with the durability of the truck.
A brushless 3000Kv motor powers this 4WD mon- ster truck and features an enclosed spur/pinion gear (removed for photos).
SPECS AND TUNING OPTIONS
DIMENSIONS
Length: 16.34 in. (415mm)
Width: 12.91 in. (328mm)
Wheelbase: 7.5/7.7 in. (290/295mm)
Weight: 4lbs 3oz. (1900g)
BODY, WHEELS AND TIRES
Body: Pre-painted and cut beetle Wheels: White multi-spoked
Wheel adapter type: 12mm hex
Tires: All-terrain
SUSPENSION
Type: 4-wheel independent
Shock positions: (F) 3-tower, 2-arm, (R) 3-tower, 2-arm
Camber: Adjustable turnbuckles
Roll: N/A
Wheelbase: Adjustable shims
Ride height: Threaded shocks
Misc: Adjustable droop
STEERING
Type: Dual bellcrank
Toe: Adjustable turnbuckles
CHASSIS
Type: Tub
Material: Plastic
Thickness: Varying
DRIVETRAIN
Type: 4WD
Transmission: Shaft driven
Differential: Front & rear gear diffs
Clutch Type: Adjustable slipper
Gear ratio: 11.2: 1
Bearings: Full set of shielded
RATING TALLY
Opinion: 8
Performance – Acceleration: 8
Performance – Steering: 8
Performance – Handling: 6
Performance – Durability: 8
Feature Breakdown: 9
Overall Value: 9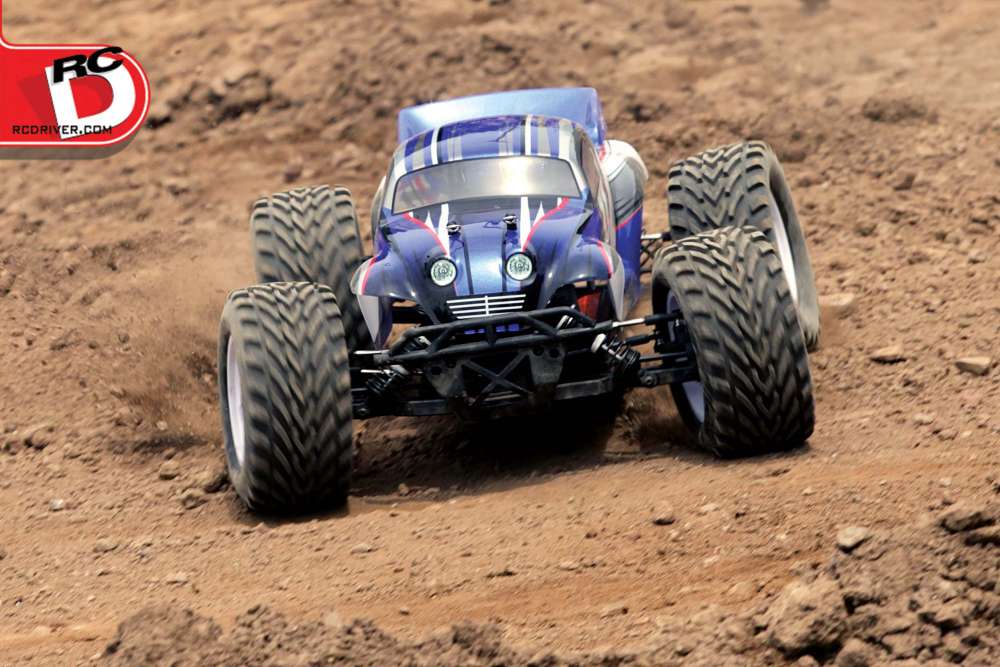 WRAP UP
The VRX Desert Truck was an absolute blast to drive. I could hardly keep the thing under control, and that was the most fun part! It handles like an overpowered monster truck that is capable of run- ning past anything in its way. I love the way it bal- ances on two wheels during tight turns and the jumping characteristics were some of the best I have ever seen from a 1/10-scale truck. And the suspension, what an absolute dream! It soaked up anything I could throw at it and kept my chassis looking brand new after all my testing.
LINKS
VRX Racing vrxracingusa.com