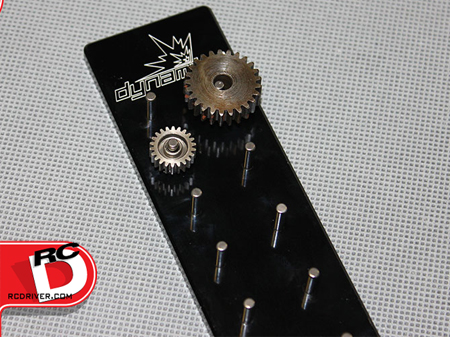 If you still store all your pinion gears in an old baby food jar and can't find the pinion you need by trying to dig through the gears with your sausage fingers, then my friends, it's time to pay up for a pinion caddy. Yeah, sausage fingers, I went there. We stumbled on Dynamite's Pinion Caddy, which says it holds 1/8, 1/10 and 1/12 pinions. Oh really? We'll be the judge about how well it does that.
THE DETAILS
Aluminum block with pins…done. There is just a little bit more to it than that to get your fifteen bucks. The aluminum base has a deep black anodized finish with the Dynamite logo etched at the top. Fifteen steel pins are pressed into the block, some offset so larger pinions can secure for storage. The unit weighs a hefty four ounces and measures 1.5 x 6.25 inches. Dynamite suggests storing 1/8, 1/10 and 1/12 pinions on the caddy.
IN USE
We tested a pinion caddy and did so by filling it with pinions. We didn't time ourselves loading up the caddy, but just noted how the pinions fit. The staggered pins are perfect for larger tooth gears and the pins are set in solid so you don't need to worry about them falling out. We did note however that all the pins are 1/8 in., so the pinions fit with the corresponding shaft hole perfectly. However, Dynamite says it fits pinions for 1/8-scale cars and they typically use a 5mm shaft. Although the 5mm pinions do fit by screwing the set-screw in almost all the way, it does look a bit sloppy.
AT A GLANCE
WHO MAKES IT: DYNAMITE
PARTS: Pinion Caddy
WHAT YOU GET: Aluminum caddy with steel pins.
EASE OF USE: (1-Easy to 10-Hard) 1
TIME TO INSTALL: Seconds per pinion
REVIEW RATING: (1-Toss it to 10-Awesomness) 9
WRAP UP
Baby-food jar…Dynamite Pinion Caddy…Which one makes you look cool at the track? You know the answer. The caddy is the right price for a quality way to store those expensive pinions with easy access, plain and simple. See more reviews like this in an issue of RC Driver magazine; Real RC Reviews from Real Professionals.
Part #: DYN2579
Price: $14.99
Link: www.dynamiterc.com