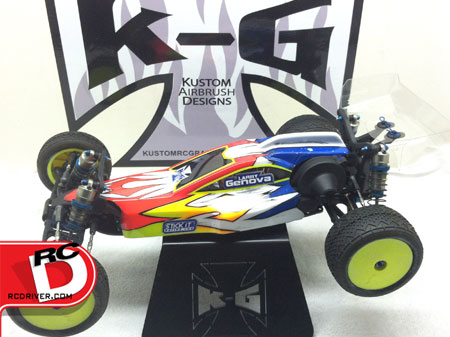 As you can about imagine, we're all about RC. RC cars, RC trucks, RC heli's, boats and quadcopter. Heck we even play with RC Airsoft tanks. But to do all that, we have a great support team in place that takes care of alot of things we don't have time for. Like painting.
Larry Genova is one of our go-to painters that takes really good care of us. He's one of the premier painters in RC and runs a little shop called Kustom RC Graphics. When not painting his 5000 bodies a day (it sometimes seems), he does like to get out and do a little driving with his son Zack.
We thought it might be cool to show everyone what a pro painter drives, so we've thrown together a little gallery complete with a small build guide from his buddy Jeff Harris. Here's a little background on the story:
Jeff Harris: "A couple weeks ago Larry Genova texted me, giddy like a schoolgirl about his new TLR 22 2.0. Having seen the customization of my 2.0's as well as the car I recently built for Zack, he knew instantly that his car had to be built in the same manner. After all, when your business is named KUSTOMrcgraphics you have little choice but to elevate the customization of your own ride beyond a few colored aluminum nuts and a cool paint job. Larry sent the car to me and asked that it receive the top treatment. Not to disappoint, I built Larry's car using the formula listed below:
Larry's Losi 22 2.0 Build
• Chassis Kustom anodized with hard black anodize
• Suspension mounts (f/r), shock collars and bottom caps, rear wheel hexes and slipper washers all Kustom anodized blue
• Dog bones Kustom chromed
• Titanium screws, ball studs and upper shock mounts used
• Each steel nut was replaced with a blue aluminum nut for appearance and weight savings
JConcepts provided the following parts:
• 2240 Front axle conversion
• 2266 Front carbon fiber shock tower
• 2156 4mm low profile locking wheel nuts
• 2225 Finnisher series Titanium turnbuckles
• 2271 Honeycomb motor plate
The resulting product is nothing short of awesome to look at, but it functions as well as it looks. Additionally, the weight saving efforts result in a stock class car that weighs 1510 grams when equipped with an Airtronics 774 servo, M11x receiver, LRP Flow ESC, LRP X20 17.5 motor and standard weight HVR shorty battery. At the recent region 4 off road championships this setup was found to be the lightest TLR 22 by far."
As you can see, this build has Kustom written all over it. Now we just have to see if Larry can send a pic in with a 1st place trophy sitting next to it! Good luck Larry!