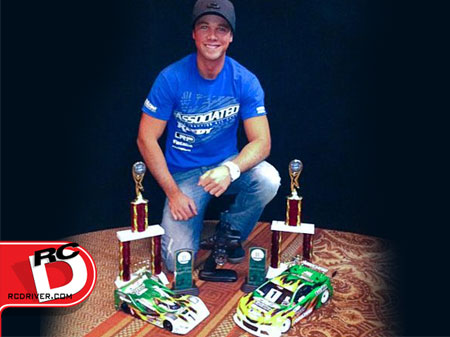 For the 34th year, top racers from the U.S. and Canada spent Thanksgiving weekend racing in Cleveland, OH competing at the U.S. Indoor Championships. The event, now round #2 of the Midwest Grand Slam Series, was hosted by the Holiday Inn Strongsville. A challenging layout was set up in the hotel's ballroom which along with the trackside pit area created a festive atmosphere for the 200+ entrants.
Reedy factory driver Keven Hébert sought to duplicate his Halloween Classic performance and take a commanding lead in the 1/12 Modified and Modified TC categories. He got off to a good start by qualifying on the pole position in both classes. In an incredible exhibition of speed and consistency, Keven was fastest in each of the four qualifying rounds in each class!
In the Modified TC A Main, Keven lead wire-to-wire with his Reedy-powered TC6.2 to take the win ahead of hard-charging Andrew Hardman, who crossed the line less than one second behind.
Hébert was untouchable with his Reedy-powered 12R5.2 in the 1/12 Modified A-Main event. His closest challenger, Andrew Knapp, dropped out just past halfway, which allowed Keven to build up a sizeable lead and take the wire-to-wire win. Reedy drivers Paul Ciccarello and Walter Henderson rounded out the top three to complete the podium sweep.
Special thanks to the Midwest Grand Slam and NORCAR crews for organizing this classic event and congratulations to the participants for making this event one of the most competitive events on the calendar.
Products used:
1/12 Modified
#312 Reedy 7000mAh 65C 3.7V LiPo
#246 Reedy Sonic 540 Mach 2 3.5T Motor
#4020 12R5.2 Factory Team
Modified TC
#309 Reedy 7000mAh 65C 7.4V LiPo
#243 Reedy Sonic 540 Mach 2 5.0T Motor
#30109 TC6.2 Factory Team
Link: www.rc10.com