Pair of minis that fly day or night!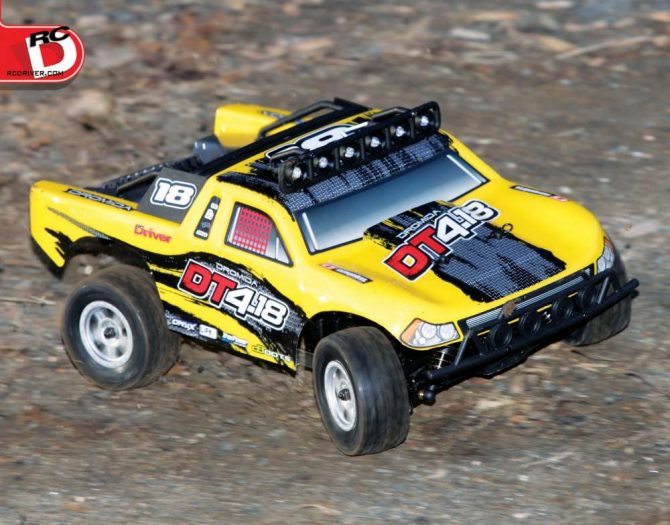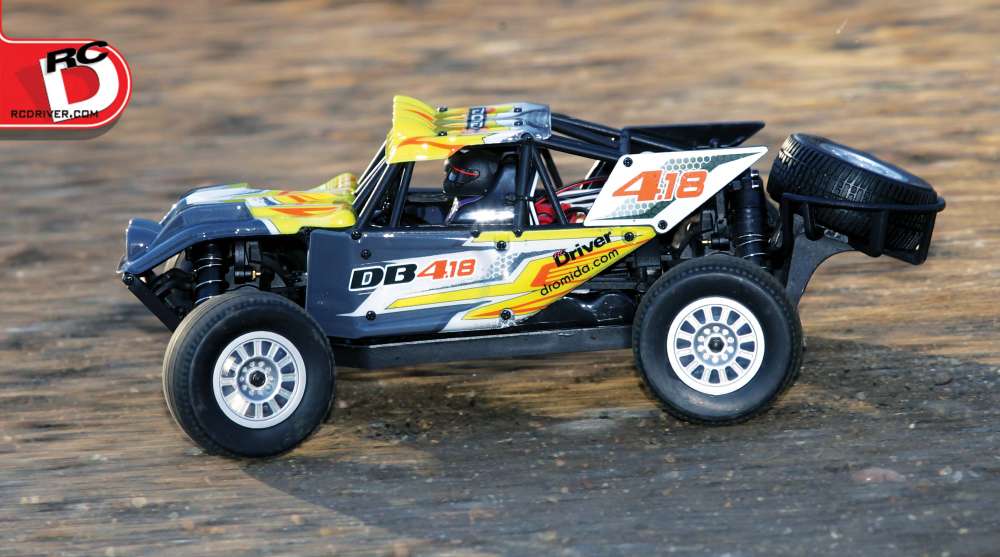 Photos: Walter Sidas
From RC Driver Issue: 135
I was one of the first people to fully embrace the mini movement nearly a decade ago and have loved 1/18-scale vehicles ever since. Sure, the segment has cooled slightly recently but these vehicles still have a huge following and for good reason. Dromida has already released three successful 1/18 rides, the BX4.18, MT4.18 and SC4.18 but that was not enough and they are now back at it with two more vehicles, the DB4.18 (desert buggy) and DT4.18 (desert truck). These two new versions of the 4.18 platform are ready to be run day or night with their bright LEDs, making them super versatile and fun.
AT A GLANCE
WHO MAKES IT: Dromida
WHO IT'S FOR: Everyone
PART NUMBER: DIDC0046
HOW MUCH: $119.98 each
BUILD TYPE: RTR
PROS
• Bright LED lights for nighttime use
• Sealed pinion and spur gear
• Everything you need in just one box
• Mini hex adapters help prevent rims from stripping out
• Cool integrated roll cage
• Waterproof electronics package
• Full sized spare tires look great
CONS
• I'm not a fan of the ESC/ receiver combo unit
• Fixed steering turnbuckles
REVIEWER'S OPINION
What is so great about the DB4.18 and DT4.18 is that they come loaded with features and are delivered at a price that should leave a few bucks in your wallet. Realizing that a well-priced vehicle will flop if it can't perform, Dromidia made them tough to compliment the well detailed lids with bright, run anytime, LED lights.
TOOLS AND ACCESSORIES INCLUDED
• Nothing
ITEMS NEEDED
• Philips head screwdriver for basic maintenance
HOP-UPS WE RECOMMEND
• 45-tooth blue aluminum spur gear, IDDC1105, $7.99. Spur gears on small vehicles like this tend to wear out rather quickly because even the smallest bits of debris can cause the teeth to fail. This aluminum gear is much tougher and should last the life of the vehicle.
• Aluminum Motor Heatsink, DIDC1113, $7.29. The key to motor longevity is keeping it cool and that is exactly what this easy-to-install piece does.
• Front Aluminum Hinge Pin Mount, DIDC1111, $9.99. The front end on most vehicles takes the majority of abuse in crashes and this develops slop rather quickly. This piece, made of aluminum, is less likely to fail than the stock plastic unit that it replaces and won't develop slop nearly as fast.
FEATURE BREAKDOWN
The backbone to the 4.18 platform is the dual deck chassis. The lower composite plastic deck incorporates a portion of the spur gear cover and features a center channel to help reduce front/ back flex while still allowing for some side-to- side flex. Remember, not all chassis flex is bad and in fact, it helps increase traction. The upper deck attaches at the front and rear diff cases and aids in reducing front/rear chassis flex. It also features a platform to mount an ESC or receiver in case you decide to upgrade the electronics package.
The suspension package on these Dromida rides is rather plush! Getting past most bumps and jumps is no issue due to the coil over oil filled shocks that come as standard equipment. Spring tension can be easily adjusted by adding or subtracting spacers and there are multiple shock mounting positions on the front and rear of each vehicle. The shocks are easily removable so changing oil or replacing seals is a breeze.
An efficient dual bellcrank style system helps take care of the steering duties on the DB4.18 and DT4.18. The center link operates rather freely without much slop, helping both vehicles track straight and narrow. A spring-style servo saver protects the gears of the servo and while a bit soft this makes it ideal for newcomers. However, it can easily be removed and stretched to tighten it up for more experienced hobbyists.
Both vehicles are 4WD and feature a spur gear that connects to a light plastic shaft to deliver power to the front and rear of the vehicle.
Speaking of the spur gear, it and the pinion gear are well protected from dirt and debris with a gear cover to reduce the chance of failure. Both the front and rear differentials are of the gear variety and are loaded with grease from the factory. Gear diffs require less maintenance than ball diffs so you'll be able to enjoy lots of track time before a standard rebuild. Should you so desire, the diffs can be tuned to your liking with thicker or thinner grease. Even though the driveshafts are plastic they are all kinds of durable and are more likely to flex than snap or break.
To get the wheels spinning Dromida has equipped the DB4.18 and DT4.18 with a quick, M370 size brushed motor. It has a sealed end bell so maintenance is a non-issue and performs well in almost any condition. To power the M370 motor a 1300mAh, 7.2V NiMh battery pack and four-hour trickle charger are included. The included trickle wall charger is a step up from most competitors as the included monitor will light up red when charging and turn off once peaked. No more guessing whether a pack is charged or not. The waterproof ESC and receiver are combined into a single unit but the servo is standalone unit. This makes upgrading to a more powerful brushless power system less expensive because you won't need a new servo, too.
Light up the night! Both the DB4.18 and DT4.18 come with bright LED light bars that allow for use after dark. The DT4.18 has a 6-LED light bar mounted on the roof while the DB4.18 has a 4-LED lights built into the Lexan roof.
OUT TO PLAY
STEERING
Both vehicles have plenty of steering, even though their points of contact with the ground, the tires, are very different in design. The DB4.18 and DT4.18 both have great front end grip so I was able to drive rather deep into corners and while the back end remained planted for the most part I was able to use a little rear steer when necessary to muscle both vehicles through tight turns. While the DT4.18 was a bit more likely than the DB4.18 to flip if cornering hard, it was not an issue that would require a setup change.
ACCELERATION/BRAKING
For their size and scale these vehicles have plenty of zip. While I'm not too sure if either hit the advertised 20mph right out of the box with the stock motor and battery, both have enough torque to spin the tires from a dead stop and have enough top speed to clear appropriate sized jumps and obstacles. Slowing both vehicles down was a piece of cake, too, as the ESC/receiver unit has smooth and linear stopping power. Additionally, since these vehicles are 4WD they tended to accelerate very straight, even when I had to hit the brake hard.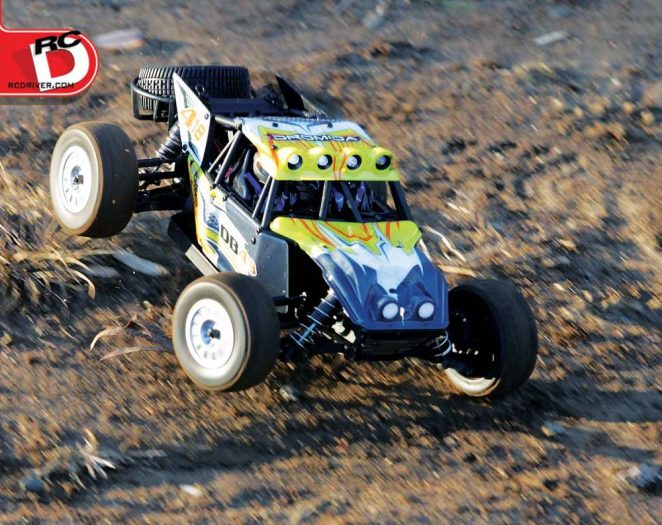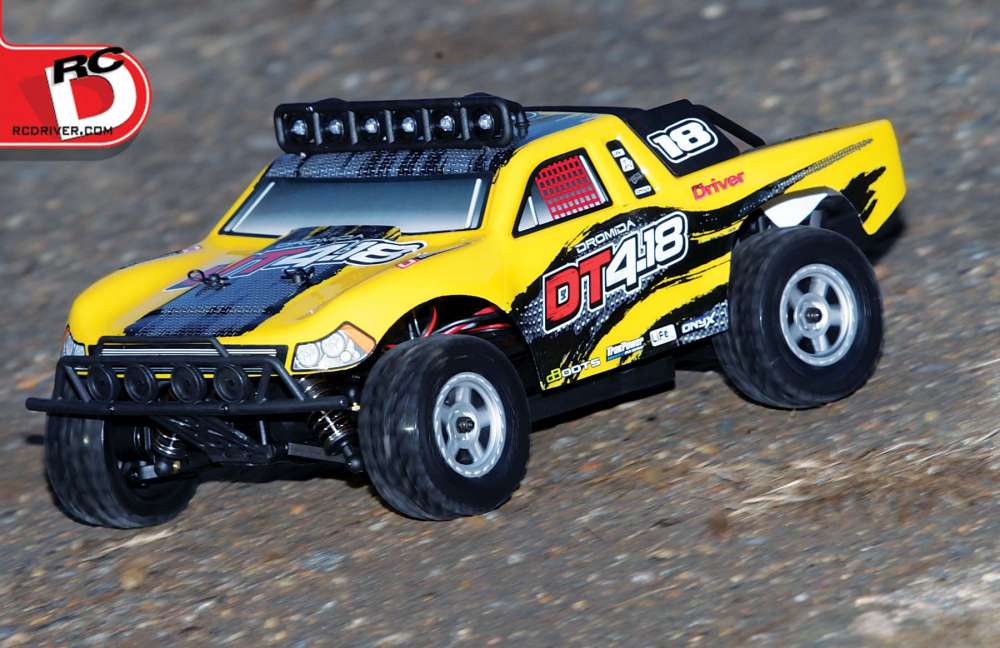 HANDLING/ JUMPING
Suspension on mini vehicles can be hit or miss. I am so happy to report that on both the DB4.18 and DT4.18 it is a big hit. I've found that most vehicles of this size are set up too soft out of the box. Not so here as the dampening seemed spot-on and both vehicles remained planted, soaking up bumps and jumps without issue. Even better, the plastic bodied oil-filled shocks did a great job holding their oil, not leaking a drop throughout our day of testing. Hitting jumps with the DT4.18 could be a bit of an adventure as the full-fendered body at times caught some air and exhibited the dreaded parachute effect. The DB4.18, with the open wheeled design, was much more predictable and fun. Both vehicles did jump with a level attitude that could be adjusted slightly with a tap of the brake or throttle and they seldom bottomed out even when sailing over jumps intended for 1/10-scale vehicles.
DURABILITY
Both vehicles were tested outdoors on a cold, late fall day in Connecticut when plastics can sometimes be brittle. Even after running a half dozen or so battery packs through each vehicle there are no major issues worth noting. In fact, the suspension tended to move a bit freer as it seemed to wear in.
SPECS AND TUNING OPTIONS
DIMENSIONS
LENGTH: DB4.18 – 11.5 in. (294mm),
DT4.18 – 11.8 in. (302mm)
WIDTH: DB4.18 – 7 in. (180mm),
DT4.18 – 6.9 in. (176mm)
WHEELBASE: DB4.18 – 6.6 in. (168mm),
DT4.18 – 6.6 in. (168mm)
WEIGHT WITH BATTERY: DB4.18 – 1.45lbs (658g),
DT4.18 – 1.49lbs (680g)
BODY, WHEELS AND TIRES
BODY: Pre-painted desert buggy and desert truck with fully functional LED lights
WHEELS: DB4.18 – 12-spoked silver wheels, DT4.18 – 5-spoked silver wheels
WHEEL ADAPTER TYPE: 8mm mini hex
TIRES: DB4.18 – staggered rectangular low tread,
DT4.18 – Deep off-road tread
SUSPENSION
TYPE: 4-wheel independent
SHOCK POSITIONS: (F) 2-tower, 2-arm, (R) 3-tower, 2-arm
CAMBER: Adjustable turnbuckles
ROLL: Fixed
WHEELBASE: Fixed
RIDE HEIGHT: Pre-load clips on the shocks
STEERING
TYPE: Dual bekllcrank TOE: Fixed turnbuckles
CHASSIS
TYPE: Tub style
MATERIAL: Composite plastic
DRIVETRAIN
TYPE: 2WD
TRANSMISSION: Shaft driven
DIFFERENTIAL: Gear
GEAR RATIO: Optional pinion gears
BEARINGS: Full set of shielded
CLUTCH TYPE: N/A
RATING TALLY
Opinion: 9
Performance – Acceleration: 8
Performance – Steering: 9
Performance – Handling: 8
Performance – Durability: 10
Feature Breakdown: 9
Overall Value: 10
WRAP UP
Use them during the day, use them at night, use them when it's dry, and use them when there are lake-sized puddles. Simply put, the DB4.18 and DT4.18 are all-weather, all times of the day, or night, vehicles that are quick, durable, fun and ready for anything. Dromida has created a very successful platform in the 4.18 and these new versions take are able to take that fun anywhere. With the plethora of option goodies Dromida has for these vehicles, like the speed kit, the hours of fun are limitless
LINKS
Dromida, www.dromida.com