Build Off-Road Awesomeness!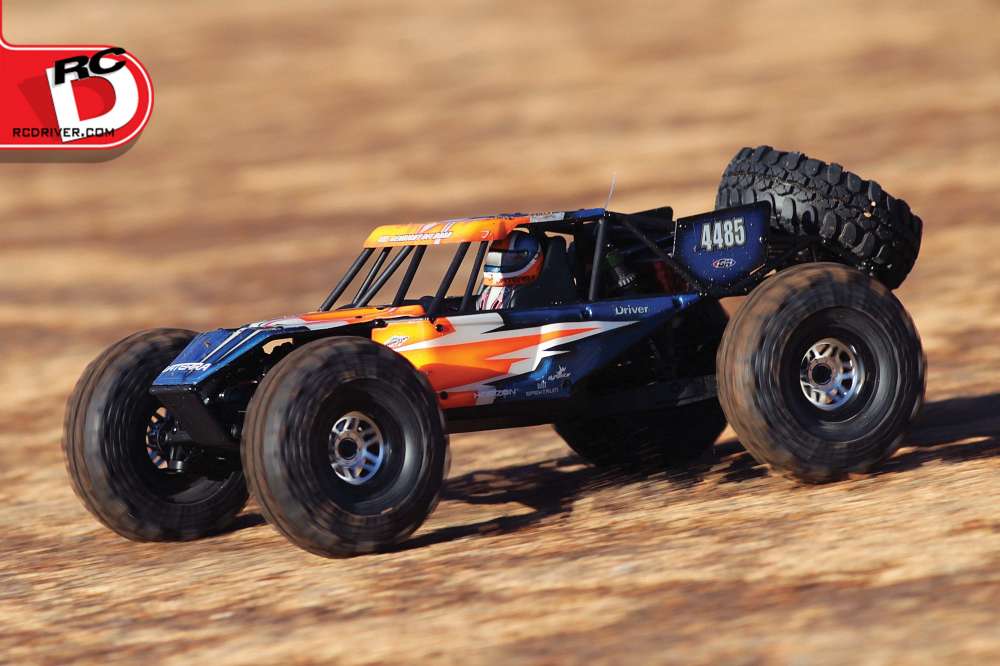 Photos: Walter Sidas
From RC Driver Issue: 135
Prior to the release of the ready to run Twin Hammers off-road rock racer from the people over at Vaterra many people had no idea what Ultra4, sometimes known as Unlimited Four Wheel Drive racing was all about. For some, the cool, unique and aggressive look of the Twin Hambers made them take a first look at these often home-built off-road machines. Having been well received by the radio control community as well as those in the Ultra4 world, Vaterra is back at it, this time with a kit version of the Twin Hammers. Why a kit? Well, you can't exactly go to a dealership and buy a turnkey Ultra4 so Vaterra wanted to give small scale radio control enthusiasts bitten by the Ultra4 bug a true taste of what these customizable machines are all about.
AT A GLANCE
WHO MAKES IT: Vaterra
WHO IT'S FOR: Any off-road enthusiast
PART NUMBER:VTR03001
HOW MUCH: $249.99
BUILD TYPE: Kit
PROS
• It has a unique, aggressive look Servo saver for shift servo Plenty of suspension travel
• Spare rear tire on the back helps keep the rear end planted
• Phenomenal, easy to follow instructions
• Outstanding fit and finish of all components
• Metal geared two-speed transmission is near bullet-proof
CONS
• Quite arduous to get the body/roll case on and off
• Tricky to get it to change gears
TECH TIP
Polishing the shift rod will help it run smoother through the transmission case.
REVEWER'S OPINION
Since the Vaterra brand hit the market a few years ago they have released vehicle after vehicle and all of them have been fresh and innovative. Learning from the RTR version, the Twin Hammers kit has a few subtle improvements that make it even better than the original. What I like even better is that since it is a kit I got to pick electronics and get it painted to my liking. Simply put, this rock racer is what fun looks like.
TOOLS AND ACCESSORIES INCLUDED
• 4-way wrench
• L wrenches
• Turnbuckle tool
ITEMS NEEDED
• Electronic speed control and motor
• Shorty LiPo battery pack
• Shifting servo
• Steering servo
• Radio system
ITEMS USED
• Dynamite Tazer Waterproof
Brushless 45A ESC with 3300Kv Motor (DYN4942C, $109.99)
• Dynamite Rection 2S, 7.4V, 50C Shorty LiPo Battery Pack (DYNB3800EC, $49.99)
• Vaterra 903WP Servo (VTR11000, $32.29)
• Spektrum S6030 High Torque Servo (SPMSS6030, $72.99)
• Spektrum DX4C Radio System (SPM4210, $139.99)
HOP-UPS WE RECOMMEND
• Xtreme Racing Twin Hammers Carbon Fiber Front Shock Mount, XTR11325, $14.99. I only broke one stock plastic part on my Twin Hammers and this was it. All parts from Xtreme Racing are well made with great fit and finish and this carbon fiber piece is super tough, too.
• MIP Rear X-Duty Spline Drive, MIP13240, $36.00. Beefing up the driveline on a vehicle like this is never a bad idea. The MIP X-Duty Spline Drive is beyond rugged and installs rather easily, making it a win/win hop-up.
• Vaterra Aluminum Front Spindles, VTR334003, $37.99. These aluminum pieces replace the stock plastic units. They are stronger, operate more smoothly and are less likely to develop slop after hours of use.
FEATURE BREAKDOWN
The center-mounted two-speed transmission, front and rear suspension, roll cage and rear mounted battery tray all mount to the chassis in one way or another making it the true back-bone of the Twin Hammers kit. Looking at how short it is, you might find it hard to believe that when fully built the Twin Hammers is a foot and a half long. Featuring a tub- style design, the sides rise up just a touch to increase ground clearance while outer edges curve up to help the inside stay clear of dirt and debris. With the inner ridges and upper back section where the rear suspension mounts up, the chassis has minimal flex.
The Twin Hammers has a unique suspension system just like the full sized Ultra4 rigs. The front end features fully independent, cantilever suspension. The length of each push-rod that connects the front suspension arm to its respective rocker arm is easily adjusted with an adjustable turnbuckle. Cantilever style suspension allows the front shocks to lie down and stay out of harm's way. Additionally, even though the shocks themselves are short there is still more than enough travel. Moving to the back, there is a solid rear axle that attaches to the chassis via two beefy lower links and two smaller upper links. Shocks mount to the beefier lower links and reach up to one of three mounting positions. Speaking of the shocks, they are based on the units that Losi used for years and years, starting with vehicles like the JRX2 all the way to the XXX series of vehicles still in use today. This means there are plenty of shock rebuild cartridges around and tuning pistons are easily found at most top quality hobby shops.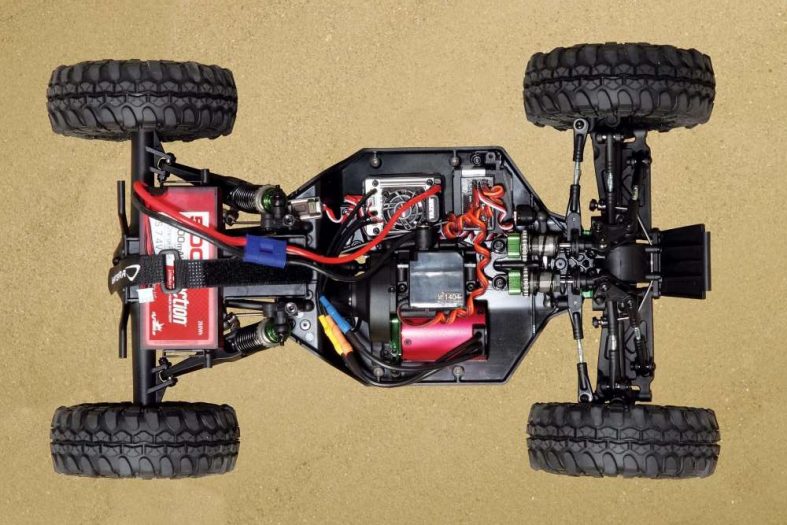 Borrowing a page from the TLR 22 series of vehicles the Twin Hammers utilizes a straightforward sliding rack steering system. Efficient and smooth, it links directly to the steering servo (no servo saver here) and steering knuckles by way of adjustable turnbuckles. Speaking of the turnbuckles, they feature captured ends that are super tough and won't pop off even under an enormous amount of stress and abuse.
The Twin Hammers truly separates itself from other vehicles out there when looking at the trick drivetrain. It starts off simply enough with a pinion/spur gear setup and the spur even employs a standard dual disc slipper clutch. Once on the inside of the gear box things take a drastic change. The internal gears are all metal for outstanding durability. There are two sets of gears, a low gear side and high gear side. Shifting takes place outside of the gear box by way of a smallish servo that actuates back and forth when triggered using your choice of transmitter. When shifting between high and low gear it seems best to do it on the fly and let up on the throttle just a bit and then get back on the throttle. When building the Twin Hammers there is also an option to assemble it for high or low gear only, but I don't think that would be much fun! The solid rear axle on the Twin Hammers is locked and the front can be assembled either with a gear diff or locked.
While taking it on and off can be a bit of a hassle, the roll cage and body panels give the Twin Hammers the aggressive look that I absolutely love. The cage itself is made up of about half a dozen pieces that screw together to make up the cage as a whole. From there, six body panels and a cool, authentic looking cockpit attach to the cage. A full size, fully operational spare tire mounts to the back end of the roll cage and not only looks cool but also helps keep the rear tires planted. I sent my roll cage, body panels and cockpit off to Bradley Fine Line Design and let him work his airbrush magic. The result is a piece of art that looks so good I had a hard time adding decals! The roll cage and panels attach to the chassis with 12 screws so there is no quick way to get under the hood for quick wrenching.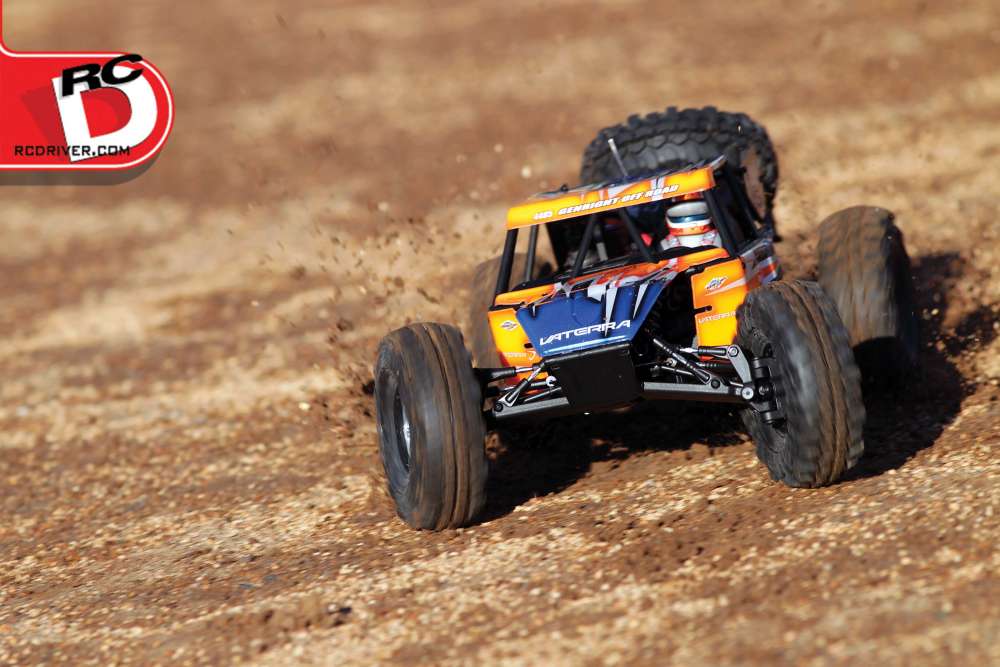 ON THE TRACK
Once my Dynamite Reaction pack was fully charged I headed outside to the excavation yard a short distance from my house. Here there were ample obstacles and challenges to truly test the capabilities of the Twin Hammers kit. I started off on some clear, loose dirt/stone dust type terrain to get a feel for the accelera- tion of high and low gear. Starting off in low gear, I pulled back on the throttle hard and the front wheels pulled up just a bit. Dirt, dust and debris went flying and the Twin Hammers took off in a straight line. I made a few passes back and forth in low gear and then, on the fly, decided to shift into high hear. Doing so was easy, just a quick flip of the button by my thumb on the DX4C transmitter. When I did this there was a bit of loud clicking as it changed to second gear. After switching back and forth between the two gears I found it best to let up on the throttle just a bit and then get back on it quickly. Doing this made changing gears much quicker and smoother. In high gear, the Twin Hammers was nearly twice as fast as low gear but, as expected, there was a reduction in torque. When grabbing hard for the break in high gear the Twin Hammers would come up and nearly flip itself over in a front flip! To say it could stop on a dime is an understatement!
With locked front and rear differentials, steering on the Twin Hammers was not as sharp as a standard 4WD buggy with ball or gear diffs at high speeds. Trying to quickly steer through a corner there was a tremen- dous push. While it had a great deal of push, driving too aggressively into corners could cause the Twin Hammers to get up on its side wheels. To alleviate this I found it best to try to power slide through corners and kick the back end around. Not only was it quicker, it was extremely fun! Driving slowly on a trail through rough and tough terrain the Twin Hammers steers like a champ with more than enough throw. It is here that having opted for the locked front diff as opposed to the gear diff paid high dividends as the front wheels seemed to pull the Twin Hammers through corners and around obstacles.
Over rough, uneven, washed out terrain the Twin Hammers was a blast to drive! While it bounced a bit too much for my liking going fast in high gear, this could be easily alleviated by making some simple suspension changes like thicker shock oil. In low gear, driving methodi- cally like a crawler, it a pleasure to drive. I could easily navigate from point to point, picking my exact spot and line with ease. Even as the ter- rain became rougher when I ascended a pile of rubble, the Twin Hammers performed so well that full scale Ultra4 racers might get jealous. I also decided to see how well the Twin Hammers would take flight and took it over some crudely built jumps. While it takes flight rather well, with a mostly level attitude or with its nose pointed up just a touch, it tended to land hard. Again, I think with some shock tun- ing this could be easily improved.
As far as durability goes the only issue I had as far as breakage on my Twin Hammers was of my own doing. When I calibrated the radio system and ESC, the buggy decided (on its own of course) to take off backwards from my work bench and landed hard upside down. With no body or roll cage for protection the top front suspension plate broke. That said, throughout my torture test not a single other item failed. The Twin Hammers is one tough customer for sure!
SPECS AND TUNING OPTIONS
DIMENSIONS
LENGTH: 18.0 in. (457mm)
WIDTH: 10.0 in. (254mm)
WHEELBASE: 11.6 in. (295mm)
GROUND CLEARANCE: 2.25 in. (57mm)
OVERALL HEIGHT: 6.5 in. (165mm)
WEIGHT: 4.62lbs. (2100g)
BODY, WHEELS AND TIRES
BODY: Clear polycarbonate panels
WHEELS: 1.9 in. bead lock
WHEEL ADAPTER TYPE: Metal 12mm hex
TIRES: Blue compound Licensed Interco Super Swamper STL SX
SUSPENSION
TYPE: Independent cantilever front sus- pension, solid axle rear suspension SHOCK POSITIONS:
Three on each rear upright
CAMBER: Adjustable turnbuckles ROLL: N/A
WHEELBASE: Fixed
RIDE HEIGHT:
Threaded shock bodies and collars
MISC: Sway bars
STEERING
TYPE: Sliding rack
TOE: Adjustable turnbuckles
CHASSIS
TYPE: Tub style
MATERIAL: Composite plastic THICKNESS: N/A
DRIVETRAIN
TYPE: 4WD
TRANSMISSION: Shaft driven with center gearbox featuring high and low gear
DIFFERENTIAL: Optional gear differential
CLUTCH TYPE: Adjustable slipper
GEAR RATIO: High Gear – 18.1:1
Low Gear – 32.1:1
BEARINGS: Full set of shielded
RATING TALLY
Opinion: 10
Performance – Acceleration: 9
Performance – Steering: 8
Performance – Handling: 8
Performance – Durability: 10
Feature Breakdown: 9
Overall Value 9
WRAP UP
Fans of rock crawlers, trail trucks, and just about anyone interested in off-road competi- tion will be drawn to the Twin Hammers. Trail truck and crawler fans will love how it can be used to methodically navigate through a rugged, difficult course in low gear while off-road racing enthusiasts will be happy they can shift on the fly into high gear for sand spitting fun. Everyone will be drawn to the look and overall performance that Vaterra has given this highly versatile off-road machine. If you love the Twin Hammers as much as I do or just want to know more about the origins of these full- scale, off-road rock racers check out www.ultra4racing.com.
LINKS
Dynamite, dynamiterc.com
Spektrum, spektrumrc.com
Vaterra, vaterrarc.com