From RC Driver Issue: 135
Next generation programmable servos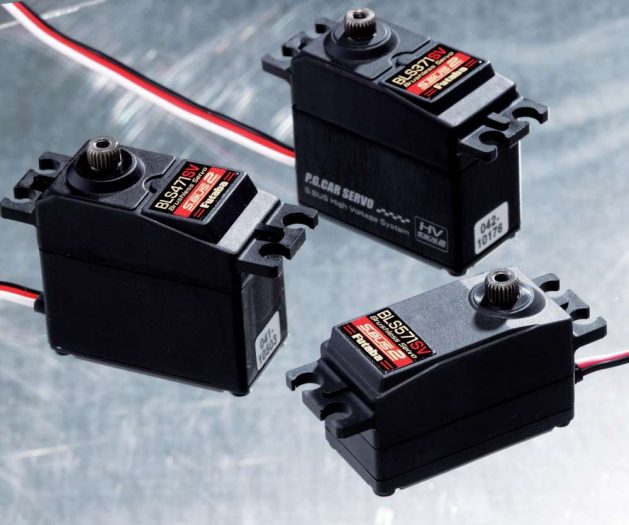 In today's world of RC, everything that goes into a high-end race car has additional functionality beyond the basic workings. Transmitters and receivers are stuffed with tons of technology that allow every aspect to be tuned. ESC's have pro- gramming cards that allow you to tweak all the internal settings for that 'just right' feel on the track. Heck, even the brushless motors have adjustable timing and optional endbells (and rotors). The only thing that has stayed static is the lonely little steering servo … until now.
Futaba has released a line of S.bus servos that are about to add yet another facet to the world of RC tuning. Designed initially for the flight gang to control up to 16 servos (individually, I might add) and keep cable clutter to a minimum, these servos are also fully programmable via a CIU-2 PC USB Interface (available separately). Before we get into the programming features, let's take a look at the three most popular servos for the electric/nitro car market.
BLS371SV – This servo is an excellent choice for 1/10-scale nitro car use, sporting a whopping 264 oz.-in. with a speed of .10 sec/60° (at 7.4V). It features a brushless motor, dual bearings and metal gears. It is also water resistant for those times when the weather is less-than-optimum.
BLS471SV – This servo is great for 1/10- scale electric or nitro car use and puts out 192 oz.-in. with a speed of .07 sec/60° (at 7.4v). It also includes a brushless motor, dual ball bearings and metal gears as well as a water resistant case.
BLS571SV – The 571SV is perfect for 1/10- scale electric cars, touting 152 oz.-in. with a .08 sec/60° (at 7.4V). Its low profile design allows it to work great in touring cars or 2WD buggies where chassis space is at a premium. Dual bearings, a brushless motor, metal gears and a water resistant case are standard on this servo as well.
PROGRAMMABLE FEATURES
Since we surface folk don't really need to control 16 servos individually on our cars (not even sure I could think of a way to use 16 servos), the biggest benefit of this system is the ability to program the internal settings within the servo itself using the CIU-2 PC USB Interface. Let's take a quick look at a few of the ones that would be applicable to RC cars and trucks:
Neutral Offset: Modify the neutral position. Speed Control: Allows you to match the speed of multiple servos.
Dead Band: Modify the dead band angle at a stop point. This can be set to continuously keep the servo moving.
Travel Adjust: Ability to set the left and right servo travel independently.
Reverse: Allows reversing of the servo. Stop Mode: This mode is similar to a fail- safe mode, where you can program the
servo to swing to a certain position when the signal is lost.
WRAP UP
If you're like most racers, you want the latest, greatest equipment in your ride. As racing servos, the BLS371SV, BLS471SV and BLS571SV are great choices for on-road and off-road applications. Their speed, torque and water resistant qualities will keep your tires pointing in the right direction no matter what surface you're running on. Even though most of the adjustments can be done from your transmitter, the ability to program certain functions straight through the servo is a nice feature and one I'll be trying the next time I'm at the track. If you see me, stop by and check it out. I'll be giving free demonstrations!
LINKS
Futaba futaba-rc.com, (217) 398-8970