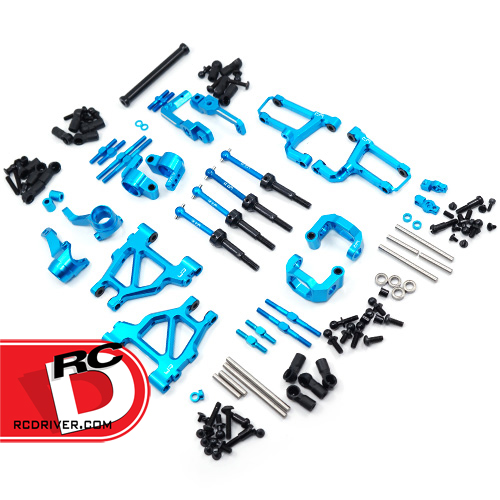 Available at rcMart are these Aluminum Long-Span Suspension Arms And Knuckles performance upgrade kit for Tamiya MF01X. Inspired by competition touring car designs, our team of RC enthusiasts worked on this kits design through day and night, with repetitive product testing and modification on several prototypes. This range of hop ups will enable your car to be faster, more stable and better grip performance.
This innovative design changes the front and rear suspension arms to be 36% longer than the original arm, bringing the lower arm line forward, aiming to bring you better stability than the parts on the car originally. While the extended arm is stretched forward, the track width is designed to remain unchanged.
When you consider making partial upgrade for your Tamiya MF01X, make notice that the extended arm is specially designed and is not compatible with original C-hub and knuckle set. It is highly recommended to get the extended arm along with the connecting parts, or the whole kit for best performance.
Not only the arms have been extended, C-Hubs have been upgrade with ball bearing, the rear hub/knuckle arm has also been upgraded to a Toe-In 3 degree design. The Toe-In 3 degree on the rear hub/knuckle arm will allow your car to have an increased straight-line stability and on-power stability at corner exits and braking at corner entries. It can also diminish the chances of losing rear traction to achieve better stability when cutting corners.
All parts are made of durable CNC aluminum and are available in metallic ice blue color.