A new breed of powerful, monster machine!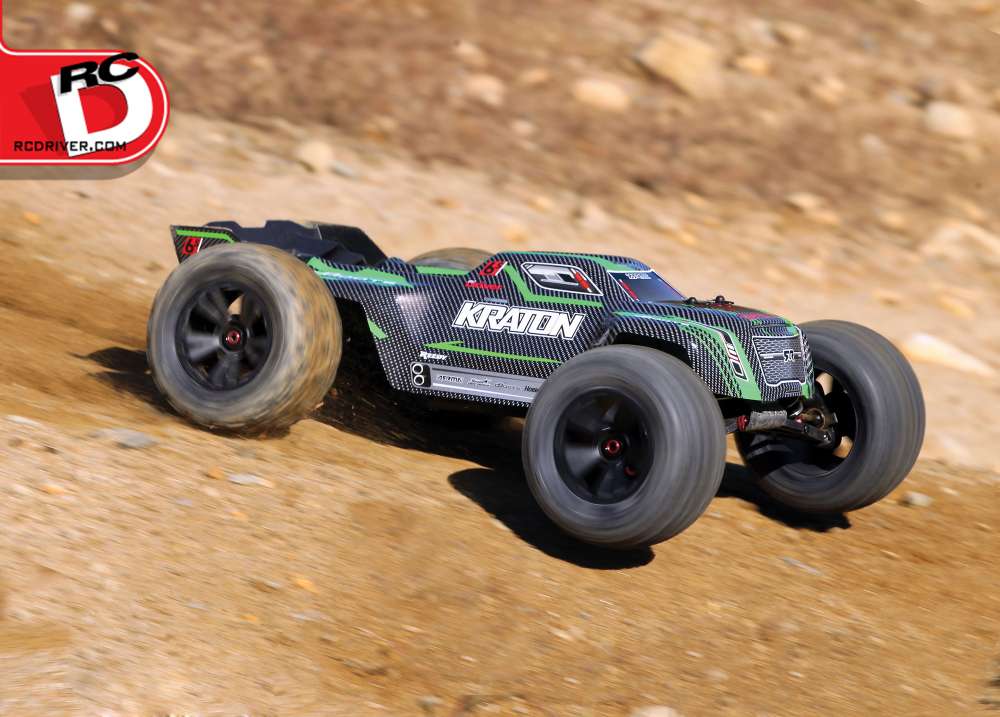 Words: Greg Vogel
Photos: Walter Sidas
From RC Driver Issue: 133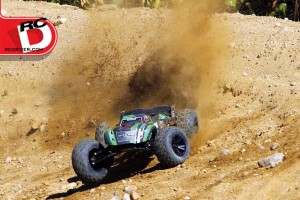 Truggies have slowly transformed into the go-to machine for enthusiasts to bash because of their performance handling and powerful nature. Monster trucks still hold a place for many drivers too, who prefer their massive size and aggressive nature. ARRMA, a company who has been providing unique machines and driving experiences in the 1/10 market saw an opening in those 1/8 truggy and monster truck worlds and developed a powerful truggy with aggressive monster truck like looks and style. Their creation is the Kraton and this machine is packed with all sorts of performance styling and brute strength and topped off with a power system that will have the tires screaming for mercy as they grow under acceleration. The Kration is a ready-to-run truggy that has capti- vated our driving and bashing imagination and we can't wait any longer to get into it.
AT A GLANCE
WHO MAKES IT: ARRMA
WHO IT'S FOR:The basher who wants power and performance
PART NUMBER: ARAD81**
HOW MUCH: $499.99
BUILD TYPE: RTR
PROS
• Powerful Brushless system can handle a 6S LiPo
• Extra bulky suspension to handle abusive driving
• Easy to maintain platform, the diffs are easy to access
• Inner brace tower to protect the internals
• Incredibly fun to drive on 4S and insane on 6S
CONS
• The speed control's throttle response was not as smooth as we'd have liked
REVIEWER'S OPINION
ARRMA has quickly become a go to vehicle manufacturer for those looking to get into RC or in the case of the Kraton, a next level machine capable of pumping out plenty of action in a reliable platform. The truggy is RTR, 6S capable, has heavy duty parts and is not the type of performer that you'll outgrow any time soon.
BEHIND THE WHEEL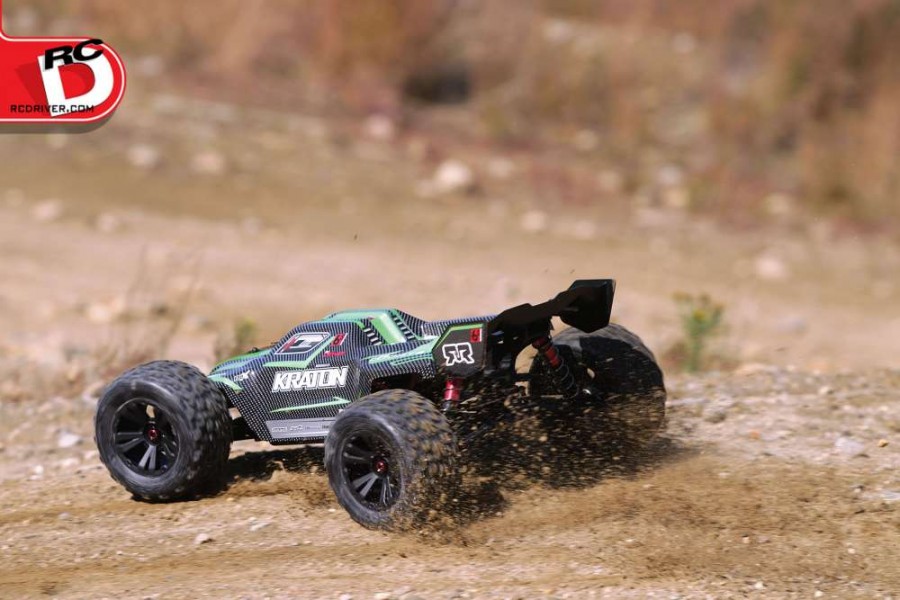 This isn't your typical truggy or monster truck, so we had to find a unique place to see if we could find the limits of the Kraton, so we ran the truck on a back-woods motocross trail with big jumps, rocks and loose dirt as our play course. After a quick walk around, the switches were turned on and the Kraton dropped on the loose dirt for the start of the fun session.
With one punch of the trigger, the Kraton's wheels spun and chucked dirt up into the air as it ripped down the straight, the suspension was working hard as it was soaking up bumps, rocks and dips in the path. The rutted terrain did its best to upset the truck, but the handling was impressive. There were rocks that the truck hit that I was cer- tain would have ripped a wheel and arm from the truck, but it launched up and over the rocks and continued a forward path, the truck was rather easy to control under such power. Back and forth on the trail, I was grabbing as much throttle as I could, spraying dirt all over and kicking up pebbles. There was always plenty of power on tap and I have to say it had more power than I expected from an RTR.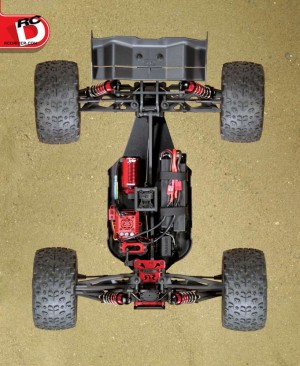 But the speed runs were not the only area where the Kraton impressed me. Off jumps, the truck is a beast. It hits the jump hard and springs off the face, quickly heading for maximum altitude. Because of the crazy power behind the drivline, you have to monitor your throttle finger while the Kraton is in flight. Too much power and the tires will grow, over-rotating the truck. Too much brake and the nose drops faster than you'll expect. The over rotation can be cool for back-flips, but grow your confidence before attempting. The first few crazy jumps I tried resulted in the Kraton landing on its lid, but with the inner protective tower, the electronics were safe.
This truck turns! Such a large beast and so powerful, you think turning may be an issue. But the Kraton has excellent steering throw, so off power the turning radius is right on par with many racing truggies on the market. On power, the tires can grow and that will diminish on power steering per- formance, but you'll just have to roll back on the throttle or hit a berm and you can throttle through some pretty impressive corners. The one that burnt into our minds was a huge arcing berm on the trail, we were able to rip the Kraton through the turn at full throttle and the truck carved the turn easily while sand and dirt sprayed off the wheels. It was flat out too cool.
Now let's talk durability. The truck is bulky, its aluminum is thick and it has a protective center tower, so we had no problem just beating on this truck. After lots of tumbles, no broken arms or bent aluminum, the large wing and soft tires soaked up a lot of the rough landings off of big jumps or when we hit big rocks. A lot of jump landings required full throttle taps to pull out of landings. There were no issues to report on the driveline either other than we did eject a pinion gear once. Luckily it landed in plain sight and we bolted it back to the motor and it was back on the trails in just a few minutes. Our only gripe in the Kraton's performance was some random throttle hesitation gremlins. But the incidents were few.
TOOLS AND ACCESSORIES INCLUDED
• Manual, nut wrench, box wrench, Allen keys, high speed pinion gear and battery spacers.
ITEMS NEEDED
• Two 7.4V or 11.1V LiPo Packs
• LiPo charger
• 4 "AA" Batteries
ITEMS USED
Reedy Wolfpack 11.1V LiPo, The Wolfpack line from Reedy is a great mid-grade battery pack for enthusiasts looking to have fun, get great performance out of their pack, but not spend a bundle. We've used these packs a bunch during testing and they provided plenty of power to balloon the tires.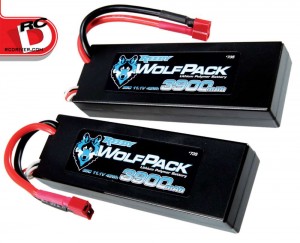 HOP-UPS WE RECOMMEND
• Aluminum RR Suspension Mount- All of the suspension mounts take a lot of beating if you tend to drive your machine hard. The rear block gets a work out, so you might want to consider upgrading to an aluminum block for better durability.
• Center Universal Driveshaft- AR310594, Switching over to a universal driveshaft will reduce driveline chatter and wear. If you notice the stock bones wearing, this should be your replacement.
SPECS AND TUNING OPTIONS
DIMENSIONS
LENGTH: 23.2 in (590mm)
WIDTH: 18.5 in (470mm)
WHEELBASE: 14.9 (378mm)
WEIGHT: 8.8lb (4kg)
BODY, WHEELS AND TIRES
BODY: Prepainted Truggy
WHEELS: Black spoke style
WHEEL ADAPTER TYPE: 17mm
TIRES: dBoots Copperhead All-Terrain
SUSPENSION
TYPE: A-Arm
SHOCK POSITIONS: Multiple tower and arm locations
CAMBER: Adjustable
ROLL: Multiple link locations
WHEELBASE: adjustable
RIDE HEIGHT: Adjustable via preload collars
STEERING
TYPE:Dual crank with saver
TOE: adjustable
CHASSIS
TYPE: Plate
MATERIAL: Aluminum
THICKNESS: 3mm
DRIVETRAIN
TYPE: Shaft Drive
TRANSMISSION: AWD
DIFFERENTIAL: Oil filled gear differential
CLUTCH TYPE: N/A
BEARINGS: Metal Shielded Bearing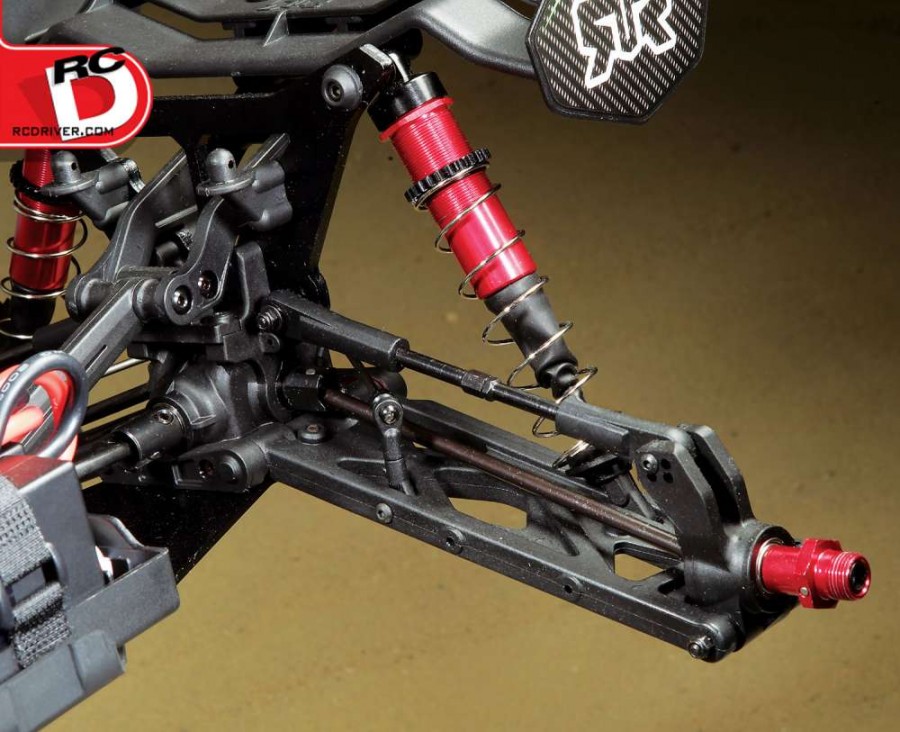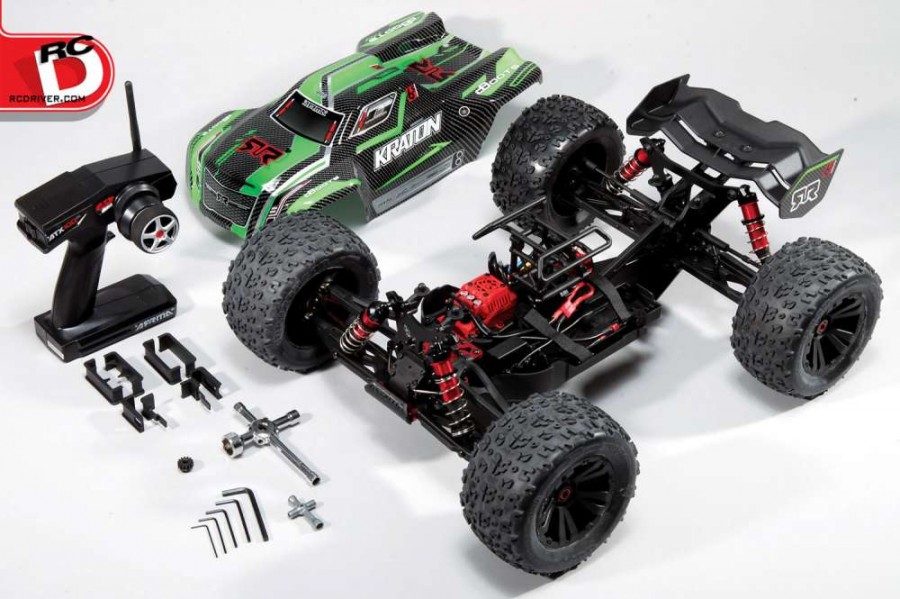 Feature Breakdown
• The chassis is 3mm thick aluminum anodized black with a narrow rear section and a big composite rear stiff- ening brace. There are mud guards on each side as you would expect and an adjustable battery tray to accommo- date just about any battery combo you can think of. Something that we bet caught your eye is the monkey bars in the center of the truck. This cage-like structure is a body and crash protection system that absorbs impacts when you land roof-side down. There are composite stiffening braces to lessen the chances of the chassis bending and an aluminum upper front support brace spans from the gear- box to the steering posts.
• The front suspension is a pivot ball design and the arms are flexible so they twist in a crash instead of break. The steering knuckle is interchangeable side-to-side and features an aluminum arm bolted on for better durability. The steer- ing links and rod ends are beefy and the front upper brace plate is aluminum. Basically this truck is braced for impacts. Then it's on to the chunky rear H-arms and beefy hubs that make up the suspension with hefty turnbuckles here, too. We're digging the red aluminum shock with black aluminum caps and threaded preload spring collars on a basher machine, the oil and spring combo feels good for successfully landing this monster after some big air. The shocks are held in with pins on the arms and retained with set-screws. The towers measure 5mm thick. Hello; that's huge!
• The drivetrain looks solid on this machine. It's a typical 1/8 layout with triple diffs and steel axles throughout, but those axles on each corner are hefty 5mm shafts; dogbones in the center and rear with CV axles in the front. We took the front diff cover off to see the diff because it was super easy! Remove four screws, pop off the swaybar links and you can access the diff; awesome! The pinion and spur are steel, too, for excellent durability. The driveline runs on ball bearings and all of the gear cases and hubs are well braced to support the fast moving driveline.
• The overbuilt components didn't end there. The steering arm on the high torque metal gear servo is aluminum. You don't see that often. The speed control is equipped with a cooling fan and the 4-pole motor is rated at 2050Kv. Rounding out the electronics is an ARRMA 2.4GHz radio. The battery tray holds a variety of packs whether you are running 3S, 4S or up to 6S. A jumper wire is provided if you are running smaller pack and the ESC is fitted with high- power T-connectors.
• We'll finish up with the look of the Kraton. The blocky body has some wild graphics and we love the modern Cadillac inspired front grille and headlights. The massive small lower front/ large rear deck wing is a nice departure from what we usually see and the knobby d-Boots tires look like they will provide plenty of traction mounted to the black spoke rims.
WRAP UP
The Kraton was an instantly attractive RC machine because of its size, cool styling, perfor- mance suspension and it boasted a powerful electronics package. So needless to say it didn't take long for us to get it in the dirt to see what it could do. And it continued to impress us with its wild performance and ability to take big hits. ARRMA delivered on an ultimate basher pack- age and they nailed the platform style that will satisfy any basher's needs
LINKS
ARRMA bestrc.com, 217-398-3630
REEDY reedypower.com, 949-544-7500