This Spyder will attack the track!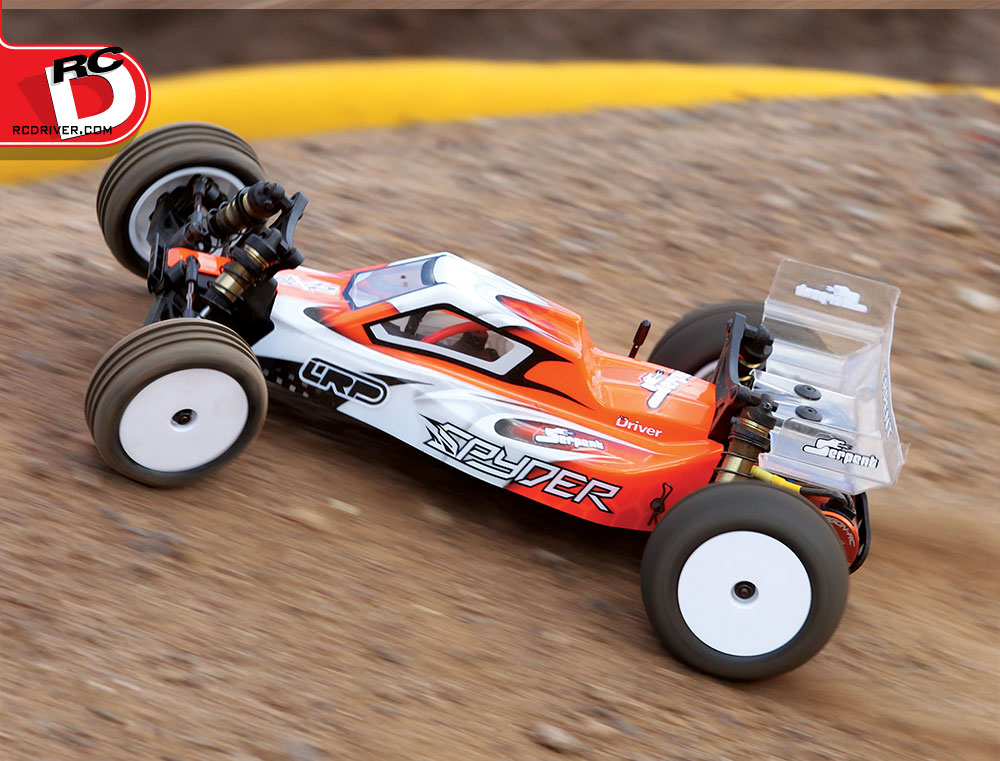 Photos: Walter Sidas
From RC Driver Issue: 133
2WD buggies are and always have been the vehicle of choice in RTR trim. While Serpent hasn't always been synonymous with either the term 2WD buggy or RTR, they recently started offering up a selection of both. After designing the winning platform of 1/8-scale Cobra vehicles, Serpent designer Billy Easton turned his attention to their smaller 2WD counterparts. The 2WD Spyder SC and buggy kits have all the necessary "go fast" goodies as any other manufacturer out there and have proven to compete with the best when in the right driver's hand. The new Spyder RTR SR2X buggy combines that track tested design with RTR convenience and the result is a sleek, powerfully nimble sport machine that's right at home in the street or on the track for the obligatory club race.
AT A GLANCE
WHO MAKES IT: Serpent
WHO IT'S FOR: Beginners
PART NUMBER: 500002
HOW MUCH: $354.99
BUILD TYPE: RTR
PROS
• Complete RTR package
• Compatible with all SRX-2 option parts
• 12mm big bore shocks
•  Sharp looking body and competition ready tires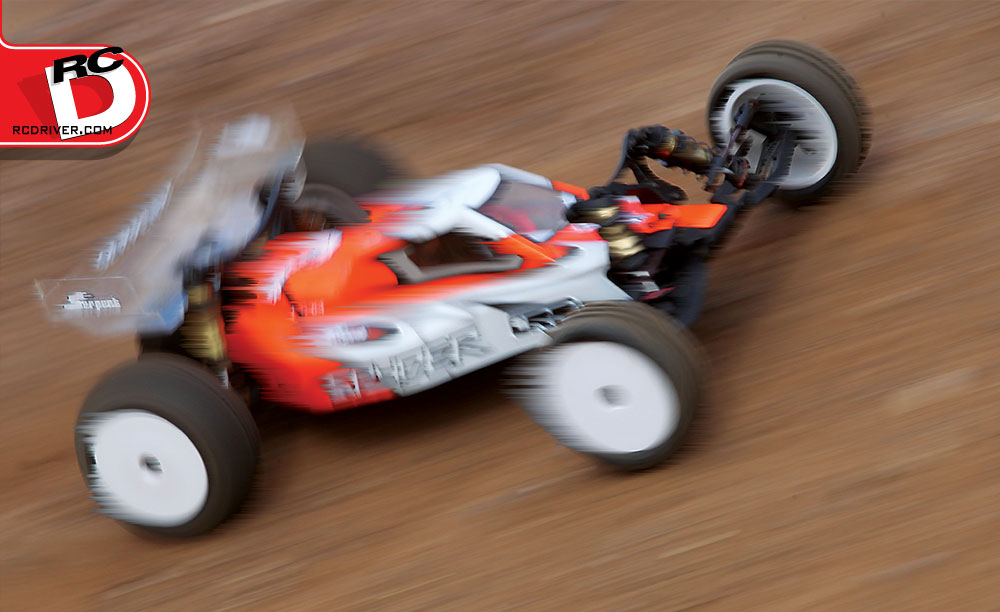 CONS
• Sensor less motor
REVIEWER'S OPINION
While 2WD buggy might be on the up-swing as far as class popularity goes, the offerings in the industry between kits and RTRs have always had a wide gap between them. Serpent is looking to buck the industry trend with the release of the Spyder SRX-2. It is an RTR buggy that has been designed off of the SRX-2 kit version. That means it has all the abilities that the full blown competition version does, but at a much easier to swallow price point. The chassis layout and suspension design provide a nimbly competent racing platform to suit the needs of any newbie on the off-road circuit. The Dragon RC electronics package finishes off what is easily the best trimmed RTR on the market. Track tested with the optional goodies to back it up, the Spyder is an anomaly in the RTR realm with a host of features that other complete packages are often lacking.
TOOLS AND ACCESSORIES INCLUDED
• None
ITEMS NEEDED
• 4 "AA" batteries for the transmitter   7.2V NiMH stick pack or 2S LiPo
• Compatible charger
ITEMS USED
• 4 Duratrax "AA" batteries
• LRP LiPo 2S 7.4V 4700mAh Comp Shorty Hardcase 110C/55C
ADDITIONAL ITEMS USED
• LRP Quadra Competition AC/DC Charger V1 QC-V1 (41420US) $164.99
We planned on using only LiPo power through our test buggy, but we enlisted the LRP Quadra for charging duties as it can charge any type of battery. With 80 watts of power, each charge will peak the packs off in quick fashion, while the cycle mode is sure to keep those still riding the NiMH train up to speed. Even though the Spyder is a competition-ready model, it'll surely find its way into the hands of many novices, so this charger is a safe bet for anyone just getting into RC or electrics in general.
HOP-UPS WE RECOMMEND
Antiroll bar set, rear, SRX2 RM (500195) $39.49
The Spyder buggy has an all-new narrow chassis design, making for a streamlined finish but keeping the chassis roll in check is still of the utmost importance. The optional antiroll bar set from Serpent will keep things on the up and up while perfecting those inside pass maneuvers on a tight track.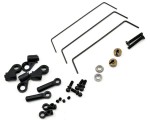 Antiroll bar set, front, SRX2 (500194) $21.49
 To complement the sway bars in the rear, we recommend giving the front end the same treatment. The front bars will keep the chassis from rolling side to side to ensure that traction and steering are kept at optimal ranges. Each set, the front included, has three different bars for choice of stiffness.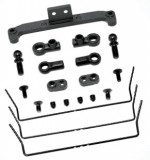 Ball Diff set SRX2 (500186) $39.49 The Spyder RTR comes with a fluid tuned gear diff stock but the kit version utilizes a true ball differential. Once any novice racer gets a feel for the track, a ball diff will greatly aid in cornering ability and greatly cut down lap times.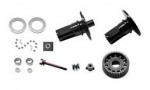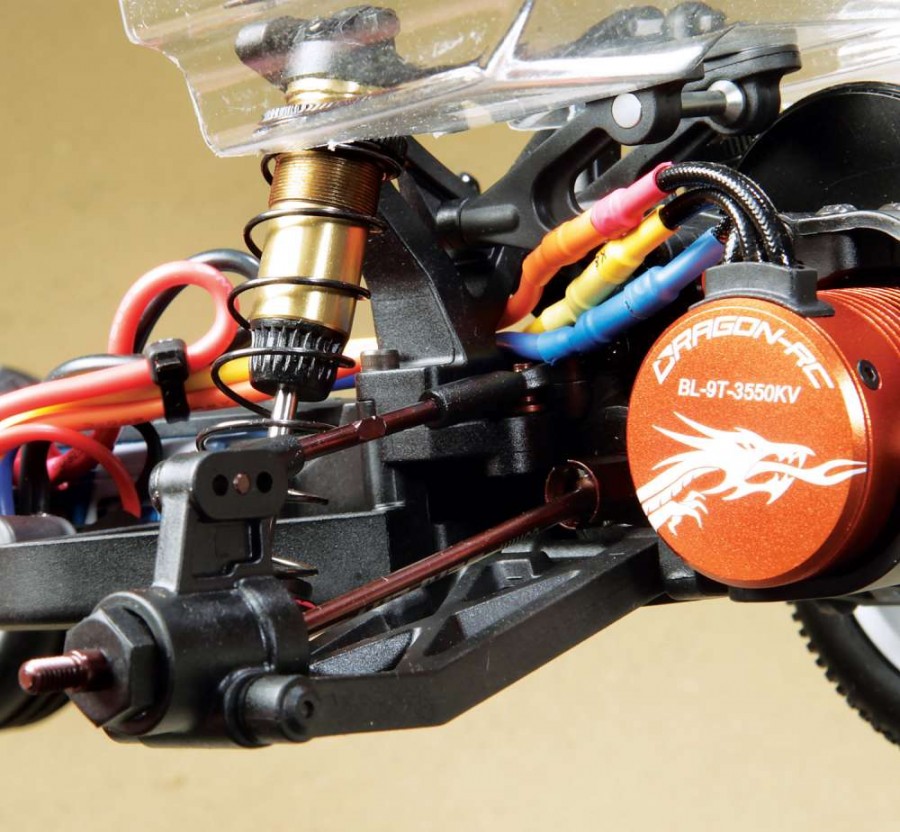 FEATURE BREAKDOWN
• While the Dragon RC motor and ESC are not sensored, they are far more tune-able than your average RTR setups. The Dragon RC DX-10 WP45 ESC might be standard issue in this RTR package, but it has features that most comparable units do not. Programming options for motor timing, initial acceleration, brake strength, drag brake and reverse strength are all tune-able to cater to any driver's needs. Additionally, there is a throttle limit option that can be used to keep the top speeds in check when a novice racer is just learning how to handle the track. There is even a "How To" guide for the ESC in the box, explaining each adjustable parameter. The higher power from the LiPo we used was of great benefit to smooth starts, but the lack of a slipper is most evident on the looser surfaces.
• It seems like every 1/10 machine is sporting 12mm shocks these days and the Spyder is no exception. The threaded bodies offer fine tuning adjustments while the hard coated shafts are sure to stand up to a great deal of
abuse. Each unit is topped off with a
bleeder cap for easy oil changes. The internal design is borrowed from the 1/8-scale vehicles in the Serpent lineup as there are no E-clips. The supple response provided by these big bore units is sure to give any newcomer to the scene a solid, stable platform. The shocks can be tweaked to your heart's content with the optional pistons and limiters, not to mention the vast array of different oils available on the market today.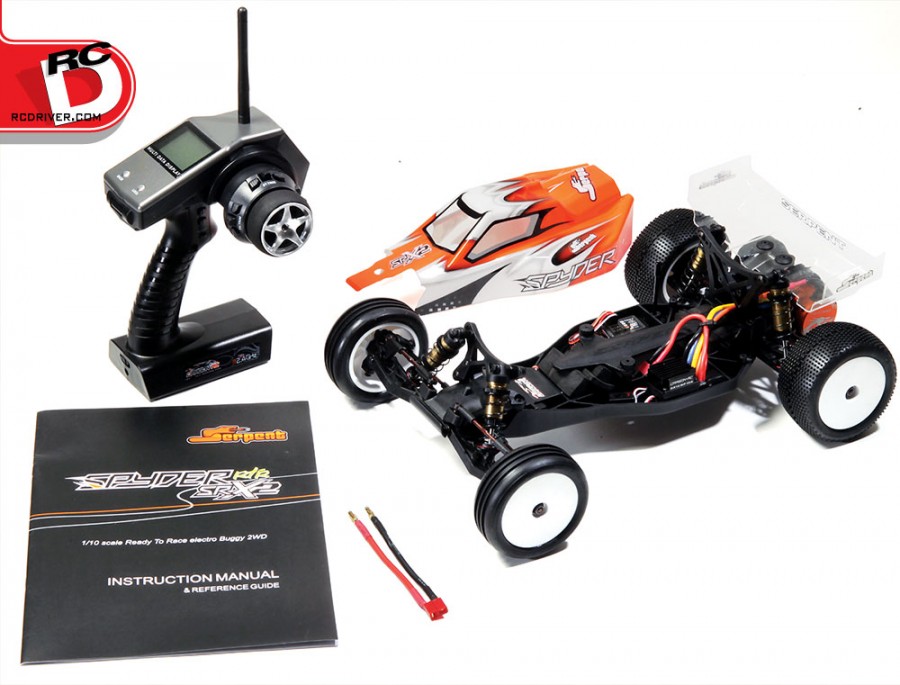 • The business end of the Spyder
features an all-steel bevel gear differential that is fluid filled to harness the power of the Dragon RC 3550Kv motor. The sensorless design doesn't offer butter smooth low-speed drive-ability, but it also means there's less maintenance involved, so track time is not lost. The three-gear transmission offers maintenance free running so those practice sessions can end in better driving, rather than better wrenching. The gear diff is silicone sealed for tuning with different silicone oils and utilizes an innovative cross pattern seal on the ring gear. When the traction is up and the buggy is stuck, the launches are spectacular, front wheels in the air and all.
• Perhaps the best component in the electronics package is the three-channel transmitter. The radio itself is packed full of features that are almost never found on RTR units. Options normally reserved for higher-end, aftermarket radios such as 16-model memory, sub trims, dual rates, ABS brakes, race timer and channel speed are all standard issue on the Dragon RC transmitter. The receivers are small and inexpensive so this RTR system may very well find its way into all your vehicles.
• The Spyder RTR was built using the SRX-2 kit version as a template. That means that each and every bit of shiny alloy, sway bars and other options from the kit car can be bolted on to the RTR buggy. They are 100-percent compatible. "Money well spent" is a term that comes to mind as this buggy can get a novice racer started in the 2WD buggy class and then grow with them as their skills progress, courtesy of all the goodies found on the SRX-2 kit version.
ON THE TRACK
STEERING
Out of the box, the Spyder RTR has pretty decent steering, but like all things that are track worthy, it really depends on what the conditions are. The rear motor design requires each individual driver to place the battery as they see fit to achieve for the desired steering response. The Dragon RC metal gear servo boasts a transit time of .13 seconds making the steering authority of the Spyder lightning fast, but the 6.5kg of torque offers superior holding power for those hard corners when steering consistency is required. Tuning adjustments for toe in, anti-squat and caster are all possible, meaning that no matter how you like your front end set up, you'll be sure to find that sweet spot in the steering for throw that feels just right.
ACCELERATION/BRAKING
The Dragon RC 3550Kv motor provides some serious thrust for the Spyder RTR. There is no slipper clutch installed on this buggy, so high traction launches are hard and fast. Running on loose grip surfaces proved a bit more challenging but a soft touch was all that was required to get the buggy off in a straight line. The "Throttle Speed" tuning feature on the stock transmitter is of great assistance where the lack of a slipper clutch is concerned. This feature doesn't so much limit the overall throttle as create a softer response on the initial throttle inputs. Essentially, it is a variable exponential setting that can aid any driver when dealing with less than optimal traction conditions.
HANDLING/JUMPING
With our test buggy fitted with the LRP shorty LiPo pack dead in the center of the battery box, the Spyder handled plain awesome. On a high bite surface, it had plenty of traction in the rear and just enough steering authority up front. The narrow chassis does tend to roll a bit more than a wide and flat pan, but the addition of the sway bars would all but negate that effect. With the shocks set fairly firm on all four corners, the Spyder flies great and lands without incident. Off camber launches were no problem as the buggy squares up nicely once off the ground. The nose did tend to gravitate toward the sky on the jumps with a little more transition, but a moderate amount of braking power set into the ESC proved to be the remedy. A quick stab of the brakes and the Spyder regained a perfectly flat line of flight.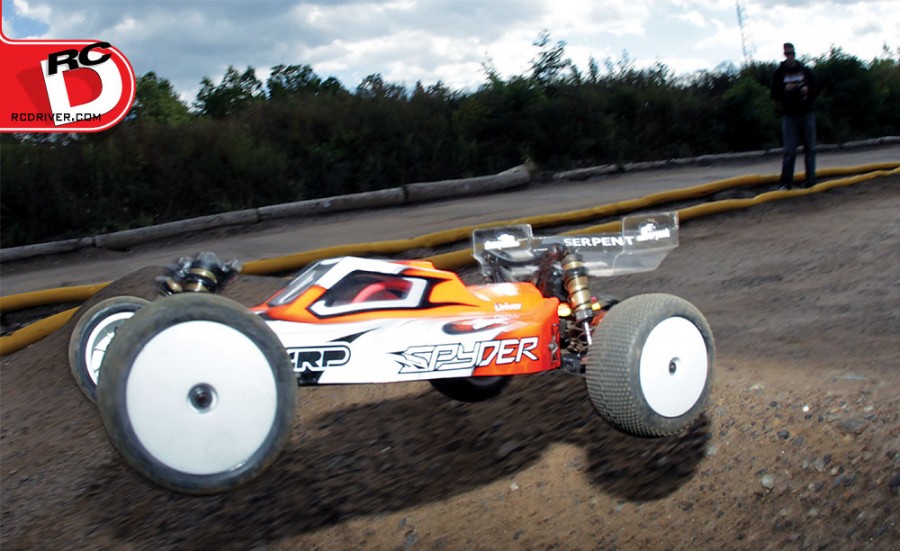 DURABILITY
Through a number of different test packs, the Spyder was no worse for the wear. After a few parking lot bash sessions before heading out to the track, we did notice the draglink scews had loosened up in the steering rack. A quick dab of CA glue in the plastic threads before re-tightening them proved effective and kept them in place. Additionally, the ESC came un-stuck from the chassis after being subjected to the dusty conditions, but a quick cleaning with an alcohol swab and some new tape had the ESC firmly planted back on the deck. Aside from that, we encountered no breakage whatsoever in our test buggy. Should you happen to shed a part or two while trying to figure out the finesse required in the world of 2WD buggies, Serpent offers up all the shiny alloy goodies found on the kit version and they are all a direct bolt-on for this RTR version. Drive it as hard as you like, there are hop-ups galore to keep it in one piece.
SPECS AND TUNING OPTIONS
DIMENSIONS
LENGTH: 15.16 in. (385mm)
WIDTH: varies with setup WHEELBASE: 11 in. (281mm)
WEIGHT: Varies with electronics used
BODY, WHEELS AND TIRES
BODY: Pre-painted cab forward buggy body WHEELS: White dish
WHEEL ADAPTER TYPE: 12mm front and rear
TIRES: Pin-type rear, ribs in front
SUSPENSION
TYPE: 4-wheel independent
SHOCK POSITIONS: (F) 3-tower, 2-arm, (R) 4-tower, 2-arm
CAMBER: Fully adjustable links
ROLL: Adjustable with optional spacers WHEELBASE: Fixed
RIDE HEIGHT: Threaded pre-load spacers on shocks
MISC: N/A
STEERING
TYPE: Bell crank with drag link TOE: Fully adjustable links
CHASSIS
TYPE: Tub
MATERIAL: Composite plastic THICKNESS: 3mm
DRIVETRAIN
TYPE: 2WD
TRANSMISSION: 3-gear rear mounted DIFFERENTIAL: Bevel gear diff
GEAR RATIO: 2.43:1
BEARINGS: Full set of shielded CLUTCH TYPE: N/A
RATING TALLY
Opinion: 8
Performance – Acceleration: 7
Performance – Steering: 7
Performance – Handling: 7
Performance – Durability: 8
Feature Breakdown: 7
Overall Value: 8
Ribbed front tires and micro pin rear tires are perfect for this buggy's natural habitat, a packed dirt track, they worked well at our test venue.
WRAP UP
Since the company's inception, Serpent has been all about winning and this little offering is no different. Though the terms RTR and Serpent haven't always been synonymous, the Spyder RTR is an entirely different type of RTR. A feature packed electronics package combined with a design born from world championships results in a Ready-to-Race package that is second to none. The factory trimmed and pre-painted body look a whole lot better than most RTR vehicles and it has performance to match. If 2WD buggy is a class you've been thinking about getting into, but have yet to take the plunge for fear of going over budget sourcing out numerous electronics components, tires and painting supplies, check out the Serpent Spyder SRX-2 RTR. Grab yourself a Spyder RTR, a couple of decent LiPos and a trusty charger and you've got nothing else to buy before hitting the track for your first club race.
LINKS
AMain.com, amain.com, (800) 705-2215
Serpent, serpentamerica.com, (305) 677-3253