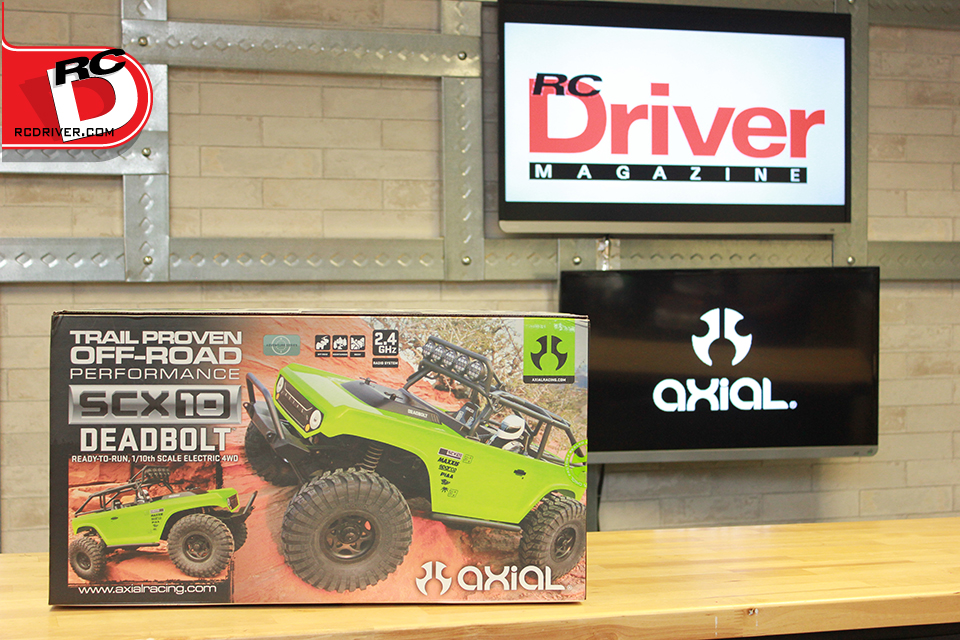 T
he
Axial Racing
SCX10 is going to be one of those vehicle names when, years down the road, you can tell someone outside of the hobby that you had one and they will know someone that has one or has a story about one. The new Axial
SCX10 Deadbolt
may just be the specific SCX10 vehicle that will stick out in the minds of those people with its cool trail truck styling and the shocking green paint job that may just melt your brain if you stare at it too long.
The SCX10 Deadbolt has everything you need for fun off-road adventure. The proven chassis and drivetrain have been used on a number of Axial offerings and that's because it works…and we mean it really works. The truck is also outfitted with a user-friendly and, more importantly, waterproof electronics package that will allow you to go anywhere in any weather conditions. Then there is the body, a unique shell with Bronco cues, a dove-tail cage on top, a figure in the driver's seat, a lightbar and plenty of other features. Sending the truck over the top are the Poison Spyder Rock Brawler Bumper, Walker Evans Racing Wheels and terrain-gripping Maxxis Trepador Tires.
FACTS
Manufacturer: Axial Racing
Product: SCX10 Deadbolt
Class: 1/10-scale 4WD off-road truck
Power system: Electric
Kit type: RTR
What's in the box: Assembled truck with painted body, motor and electronics installed, 2-channel radio, bag of parts and manuals
Needed to complete: 7.2V NiMh or 7.4V LiPo
Who it's for: Any RC enthusiast
Part Number: AX90044
Price: $299.99
WRAP UP
When the SCX10 Deadbolt was announced, there were mixed reactions. Comments bounced back and forth between "that is a cool looking scaler I need" and "oh, it's just another parts bin truck." Well yes, it is another parts bin truck that happens to be a cool scaler that people want. We think Axial made the right move in taking the popular Deadbolt body, fitting it to their popular off-road frame and fitting it with some of their cool licensed accessories, adding in a great new ESC and rolling it out on the awesome Maxxis Trepador tires. This is a truck that enthusiasts will want and Axial made it easy to get without having to gather all the individual parts yourself. We're excited to take this rig outdoors and see it in action on the trail.
LINK