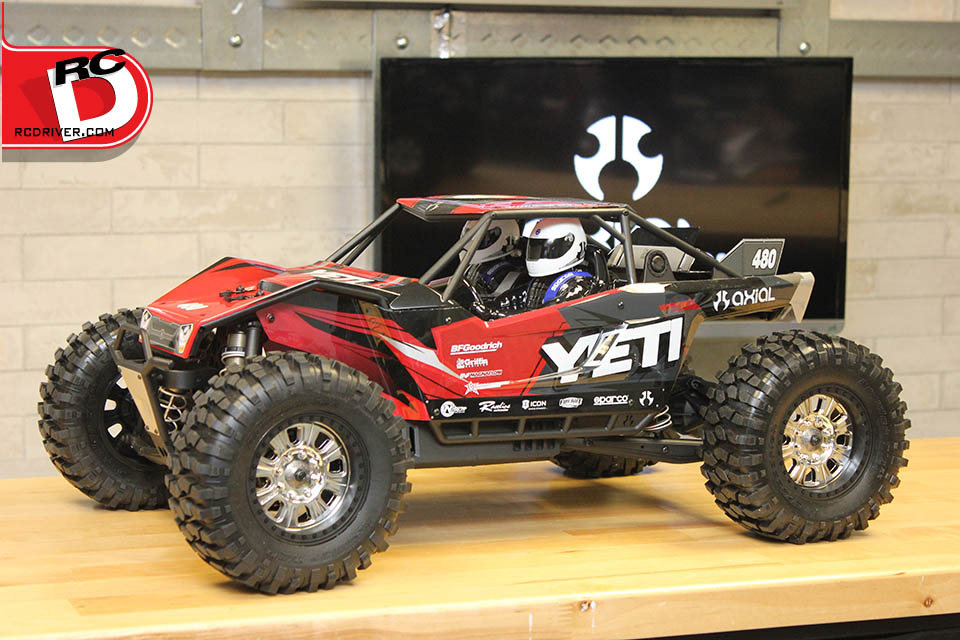 O
k Axial, slow it down now, we're still enjoying the unique fun and excitement of the Yeti and now you go and drop a Yeti XL in our workbench. When are you going to invent more time, Axial, so we can play with all the off-road goodness you have to offer? Ok, rant over and now let's talk about the new Axial Yeti XL. This machine, dubbed a Monster Buggy off-road racer, is huge, unlike anything we've ever seen before from Axial or anyone else. Axial is at it again, discovering new niches of the hobby for drivers to enjoy new experiences, adventures and races outdoors. The YXL is 1/8-scale and is larger than many other monster trucks on the market. It's capable of handling a 6S battery setup for insane power, has IFS front suspension for keeping the rig stable, it's waterproof to bomb mud puddles and it comes pre-assembled with a wild paint scheme that gets you amped up to put the Yeti XL into maximum action mode. We cleared off our
RC Driver
Reveal bench and took a good look at the XL for some initial impressions.
FACTS
Manufacturer: Axial
Product: Yeti XL Monster Buggy
Class: 1/8 4WD Electric Rock Racer
Power system: Brushless
Kit type: RTR
What's in the box: Assembled truck, brushless motor/ESC system and electronics installed, 2-channel radio, additional plastic parts, painted body and manual.
Needed to complete: Charger, Two 2S 7.4V LiPo packs, or Two 3S 11.1V LiPo packs and 4 "AA" batteries.
Who it's for: Any RC enthusiast looking for monster size action
Part Number: AX90032
Price: $699.99
FIRST IMPRESSIONS
The Yeti XL lives up to its name, it is extra-large, well actually no, it's more like freakin' huge. For the price tag this thing has on it, you are getting what you pay for just in size, but the value doesn't end there. We have a lot of features to talk about and we'll work our way from the outside in. When you pull the truck from its huge box, you'll instantly notice some killer graphics and paint on the crisp cut body panels. The panels bolt to the cage which is a skeleton of thick composite plastic bars to keep the buggy protected. Inside there is even a detailed cockpit with ABS driver figure heads and optional heads in the box like its little Yeti brother. Little details like number plates, fuel filler, fire extinguisher and tail light bar all scream Axial as over-the-top details.
Moving on, scaled down licensed replica BFGoodrich Krawler TA tires are wrapped around 3.8in Raceline wheels and feel like a perfect compound for all-terrain use with the right amount of foam support. A narrow skid bumper with aluminum insert not only protects the front end but looks awesome and is effective with its cushion impact upper support.
The IFS front end features thick bulky arms with plenty of support and extra meat around the hinge pin areas since the arms will face off with lots of rocks. Upper fixed links are thick and the steering knuckles, too, have lots of extra bulk for better bashability. But what really caught our eyes were the big aluminum 16mm bore shocks with threaded bodies to adjust pre-load and faux reservoir caps, giving the dampers a true off-road look. We also peeped standard caps in the spares bag in case you feel like switching. Next we move out back where massive composite links make up the 4-link rear suspension. Here, too, massive shocks damp the rear assembly and the top caps mount to the upper rear composite support frame of the chassis.
The chassis isn't just an upsized version of the Yeti, this newly designed platform accepts up to 6S worth of batteries; one pack on each side. The center section is littered with cross bracing for an ultra-rigid platform. Then we started looking closer. The lower front plate is stamped aluminum; there is an aluminum plate up top also to brace the front between the diff case and steering. The steering is a heavy duty dual crank setup and fixed links go out to steer the wheels.
In the drivetrain department, the center gearbox is filled with machined metal gears and has the option to install a two-speed later. A two-speed and 6S, can you say ridiculous speed? We can't even imagine what that will be like, but we're looking forward to trying it. A steel spur sits between two slipper pads to protect the driveline. The front receives power from a unique low chatter driveshaft and a fluid filled diff distributes power to the steel CV-type universals. In the rear, Axial built a heavy duty AR60 XL axle with lots of bracing to endure impacts while dishing out tons of power. The rear diff is locked and steel shafts here, too, send power to the 17mm wheel hexes.
A Castle Creations based Vanguard XL speed control takes in up to 6S and delivers the power to a 2200Kv motor. A Tactic Metal gear servo delivers a respectable 151oz./in. of torque and control duties are taken care of by Axial's worry free AX-3 2.4GHz radio. A pretty impressive electronics package, but it's all put over the top by the fact that it is waterproof.
WRAP-UP
So what do we think overall? First, Axial did a great job in hitting us with a machine that breaks away from the trail style of vehicles they've been pumping out. Two, Axial knocked it out of the park in the looks and size department.  The capability of the Yeti XL should fit the needs of anyone looking for insane fun in any off-road venue and from what we've seen, the Yeti should hold up to intense driving. We're excited to get this machine thoroughly tested and you can see the review in the February issue of RC Driver.