I've been in the hobby for three decades and have witnessed the introduction of the many different ways we now enjoy radio control vehicles. From Nitro to electric, from monster trucks to short course racers, there always seems to be something for everyone. I am always willing to try any RC I can get a hold of. One type that I have all but avoided was the RC drift car. I have always seen drift cars as a specialized niche that was fun to watch others participate in but not one I thought I could do well. For that reason I didn't think I would really enjoy it. When the Mission-D kit showed up for me to review I thought I would take a look at drifting with fresh eyes. The kit was mostly complete and would require little to get it on the pavement. After spending a couple of hours one evening, I had a complete ready-to-run drift car that also looks pretty cool sitting on my desk. All I needed was for the winter to go away and the pavement to dry out.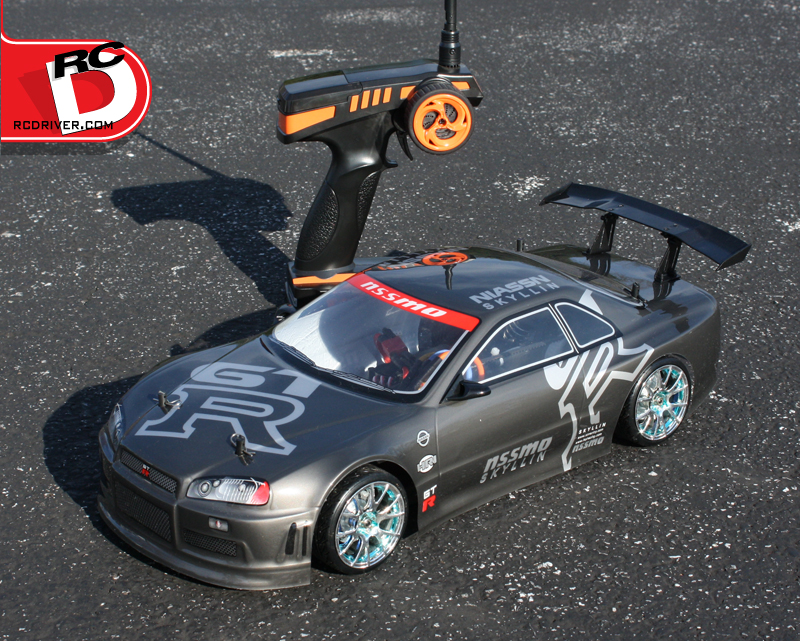 AT A GLANCE
WHO MAKES IT: HobbyKing/Snow Panther
WHO IT'S FOR: Beginners to intermediate
PART NUMBER: 432000001
HOW MUCH: $79.99
BUILD TYPE: ARTR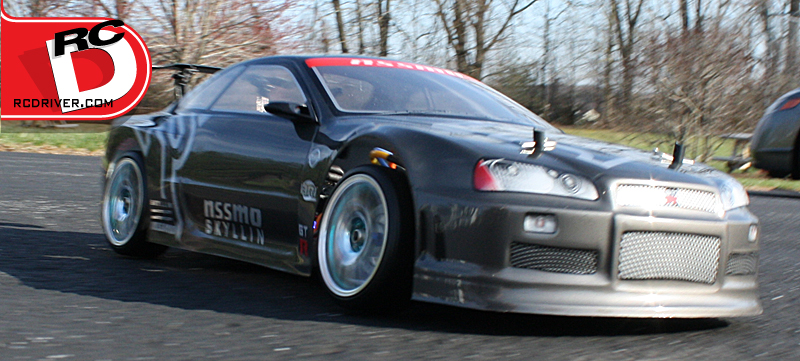 PROS & CONS
+ 4WD belt-driven system
+ Locked rear differential and adjustable front ball differential
+ Oil-filled aluminum shocks.
+ Pre-painted body with additional scale details
– Excessive play in the steering bellcrank
– Battery tray has limited adjustability and may not accept all packs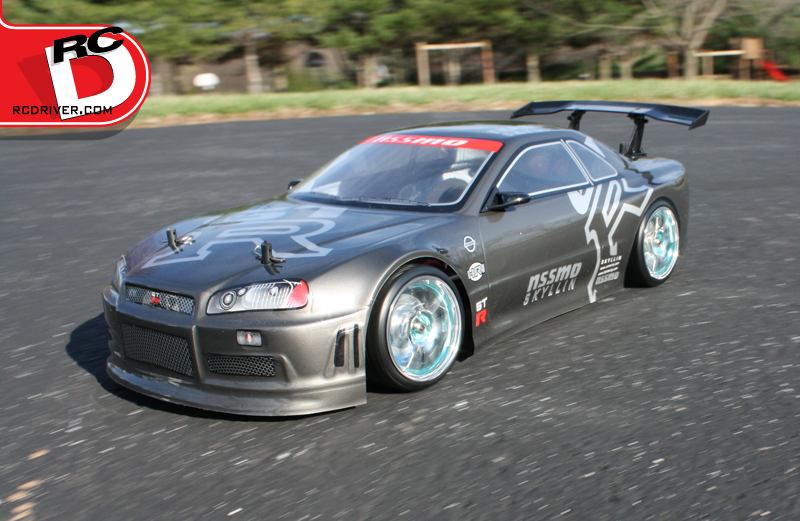 AUTHOR'S OPINION
For under $100 you get a drift car that will provide the performance you'll need to see what the excitement is all about. The stock motor was a little show for me, but only because I am spoiled by brushless systems. The stock set-up is great for the novice drifter. Once I replaced the motor it really came alive for me and I was able to get the hang of drifting within the first battery pack. The Mission-D has the scale appearance that you'll want. The little details, such as the faux brake discs, really add to its overall value.
STAR RATING (1-5) = 4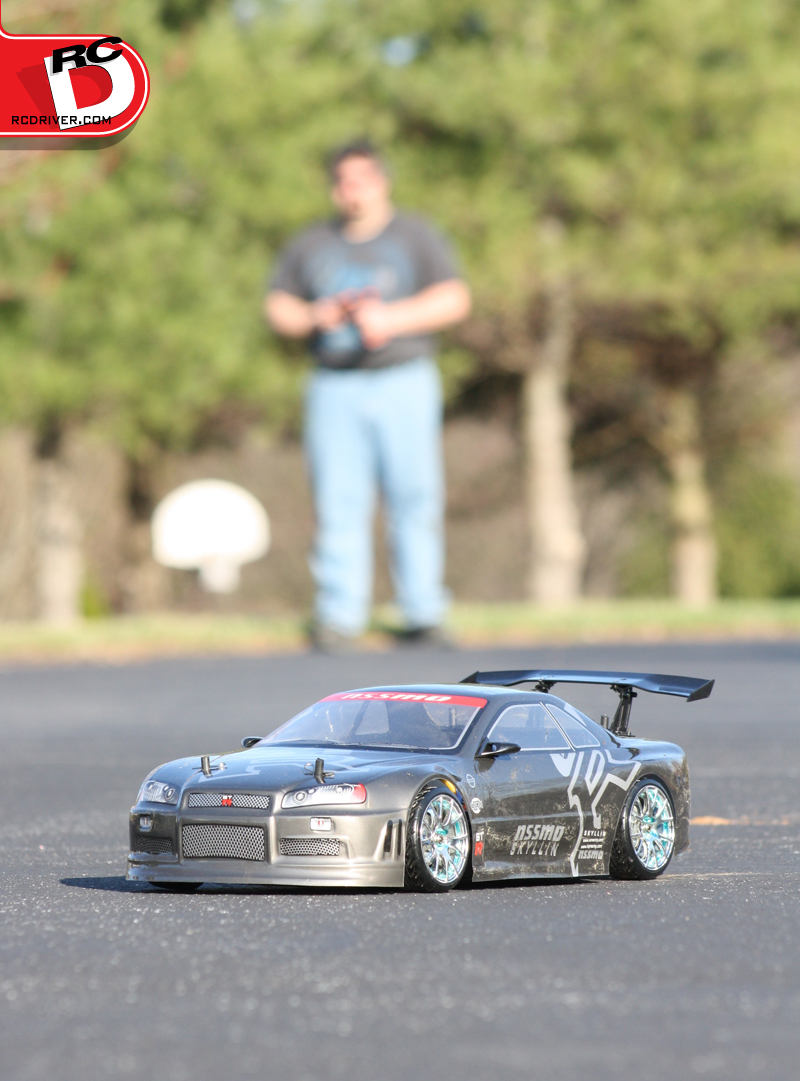 UNDER THE SHELL
The Mission-D ARR (almost ready to run) Kit is near complete when it is pulled from the box. Motor, speed control and a high torque steering servo are included but need to be installed. An instruction manual is provided to guide you through the simple steps. A radio system is not included and is left up to you.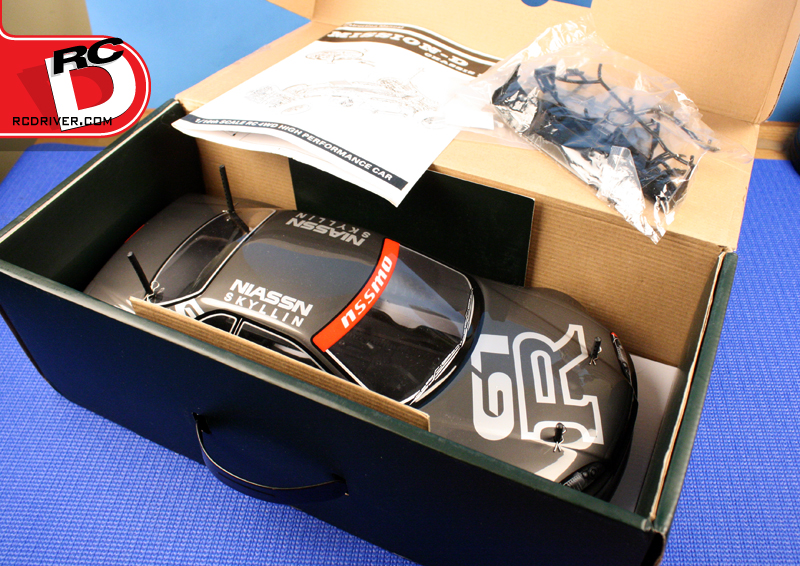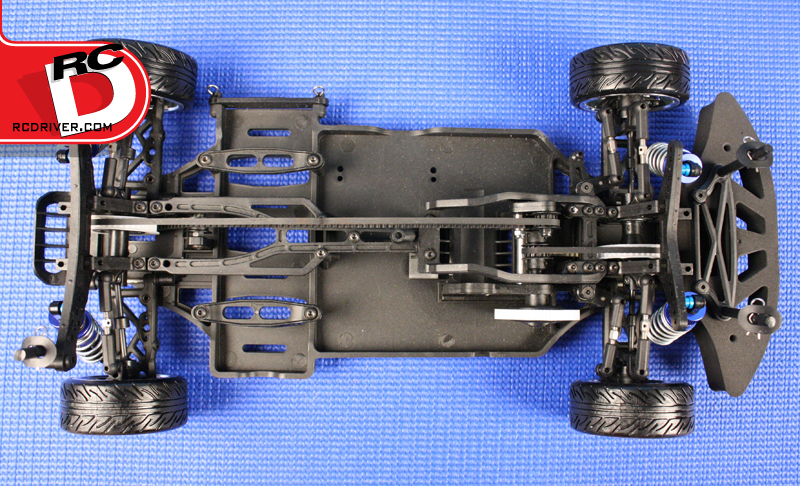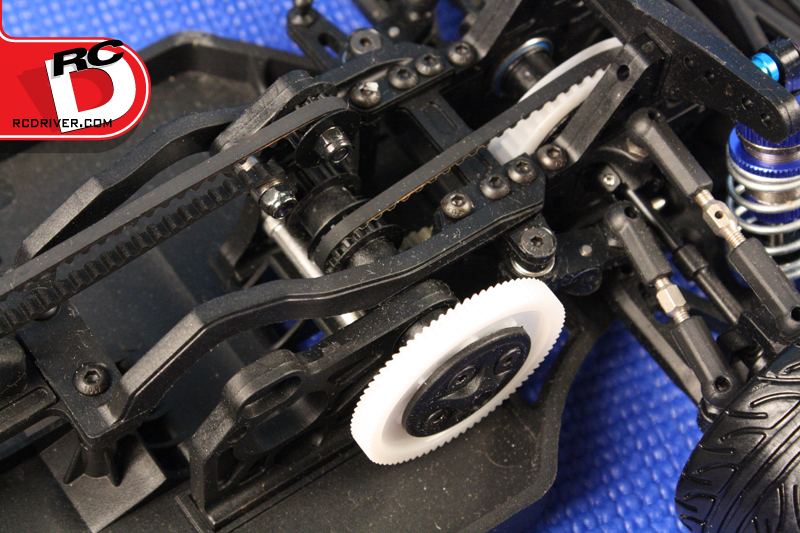 The drive system is comprised of two belts. The shorter front belt (above) is directly driving the front ball differential. The longer rear belt is routed over three pullies before reaching the rear locked differential (below). These are exposed so it is critical to make sure wires are placed and secured away from the belts.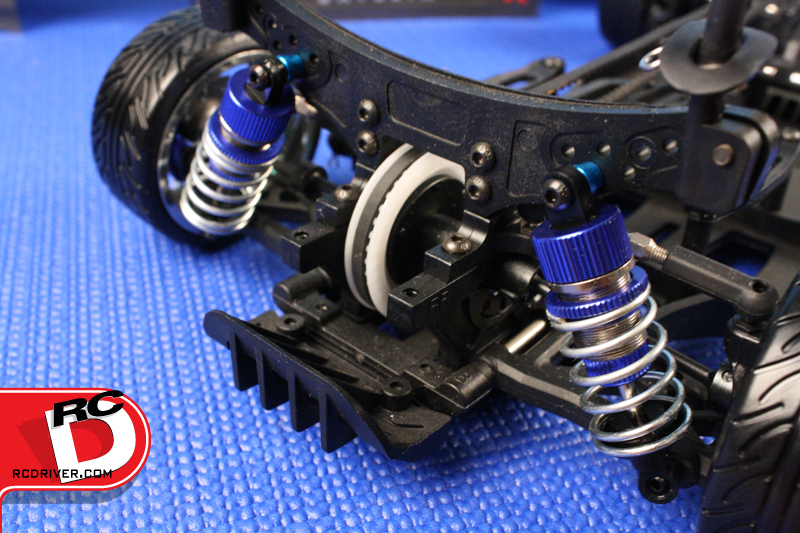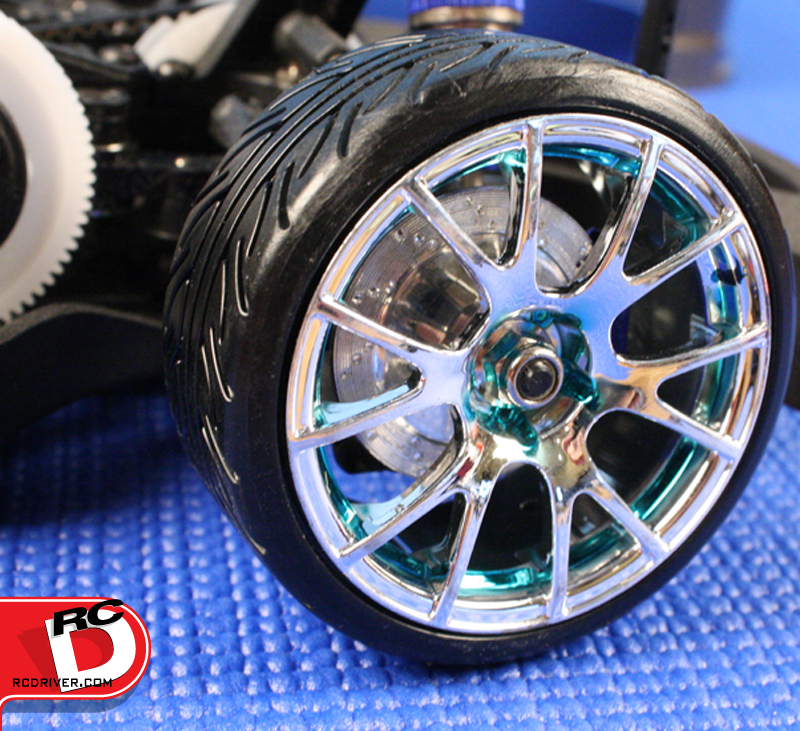 Chrome plastic wheels are decked out with plenty of detail to give the Mission a more true to scale appearance. There is a green accent color used to trim the rim. If you look beyond the rim you will see a non-functioning brake disc that just looks cool.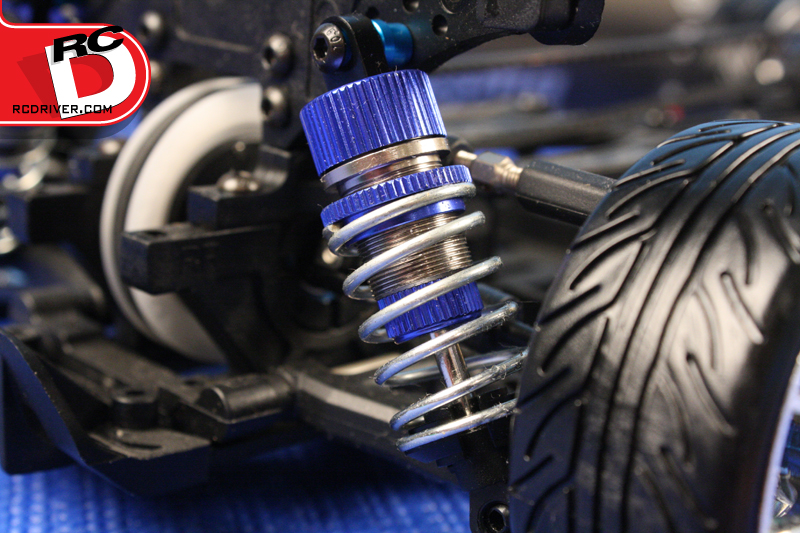 Aluminum bodied, oil-filled shocks  are threaded to aid in preload adjustments. The blue annodizing of the upper and lower caps and adjustment ring add to the bling factor.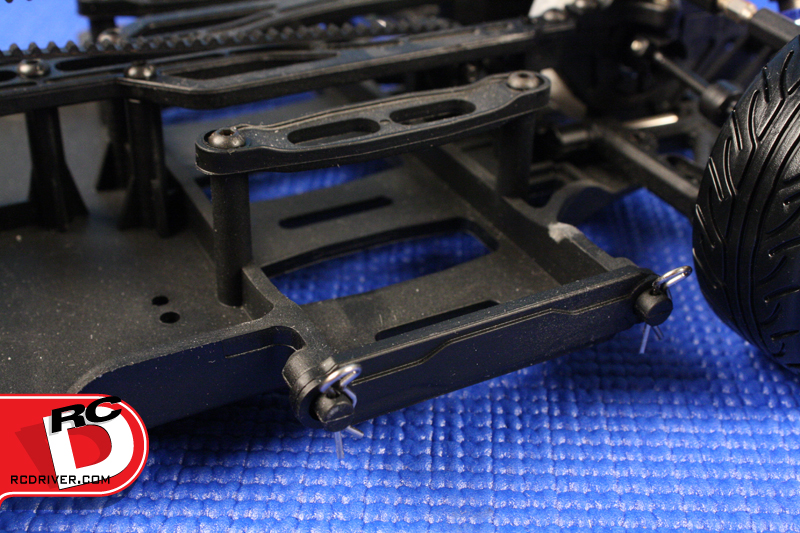 The battery is loaded through the side and is secured with the cross member and two small body clips. The 2S Turnigy pack I used fits very snug. It appears to me that some packs may not fit as well.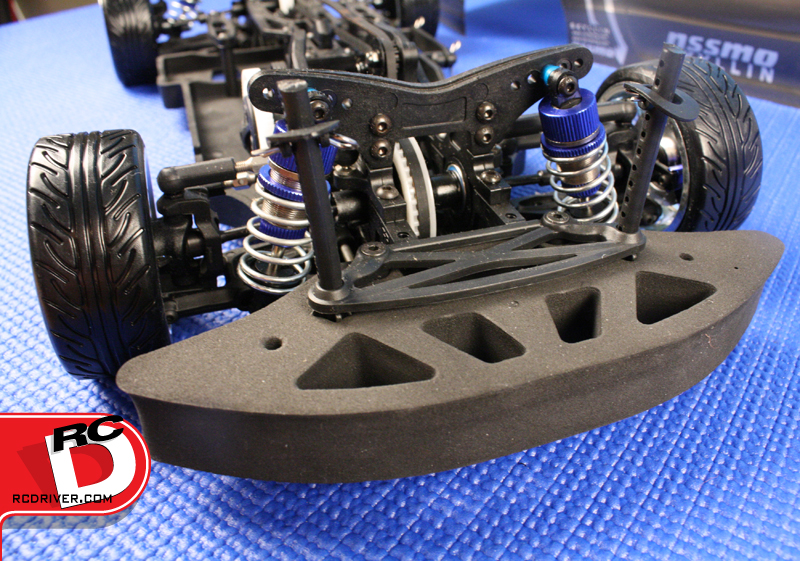 When learning to drift it is a given that the car will come into contact with stationary objects. A firm foam front bumper is used to protect the chassis from collision damage.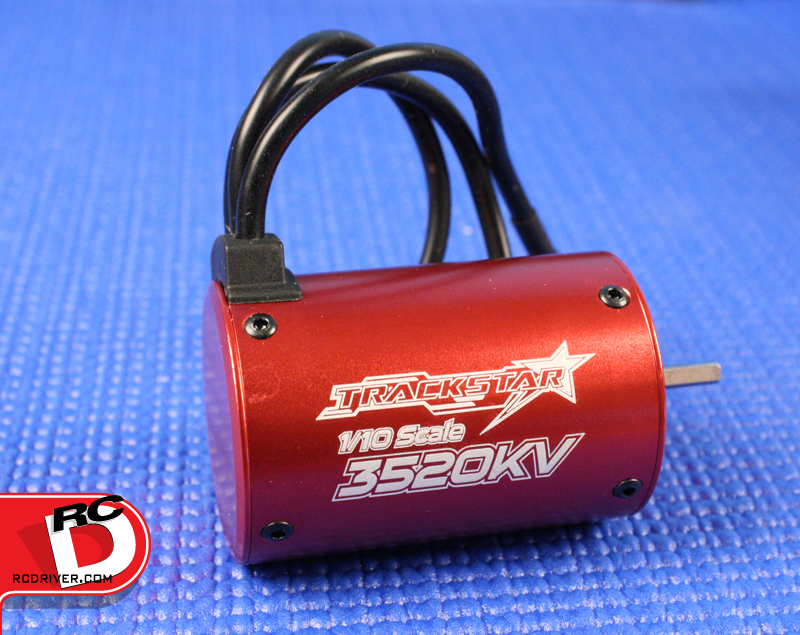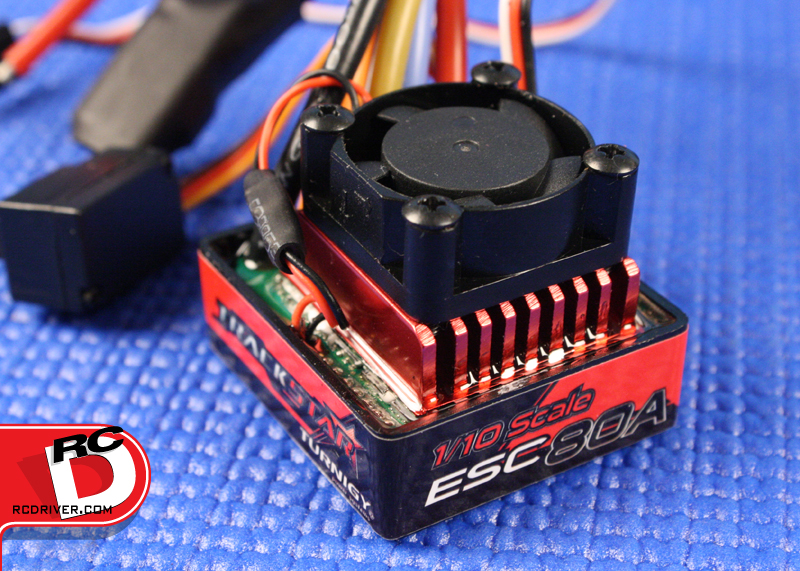 I opted for a brushless system in place of the stock 22t brushed motor setup. The Turnigy TrackStar system is waterproof and includes a 3520Kv motor and and 80Amp ESC that will handle 3S, although a 3S pack will not fit in the chassis.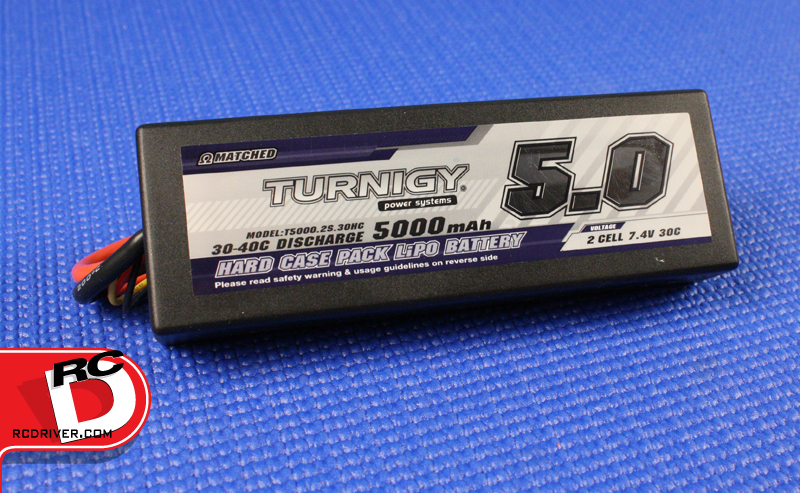 A 5000mAh Turnigy 2S LiPo pack provides the power for me. It fits perfectly in the chassis and gave me about 25 minutes of runtime. I switched out the connectors for a set of Deans.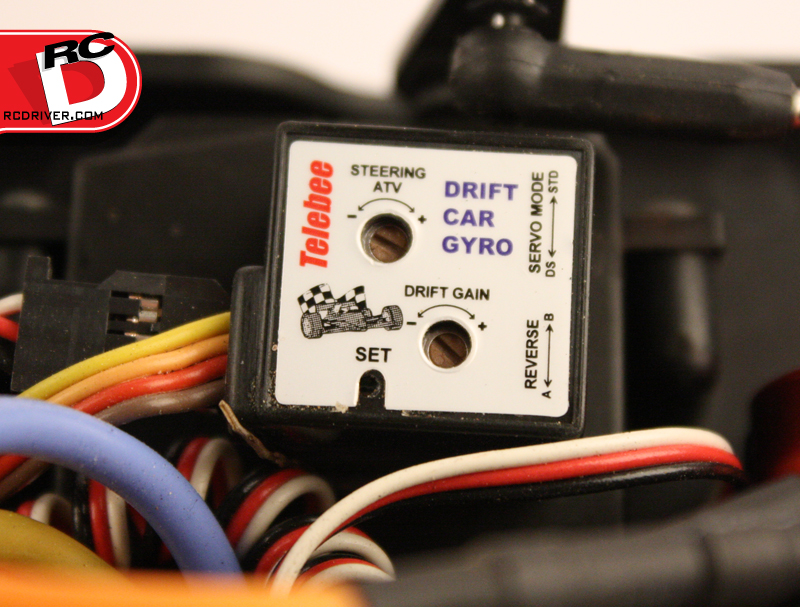 I opted for a little help with stability by adding a telebee Drift Gyro. This helps to keep you from under-steering or over-steering to the point of losing control.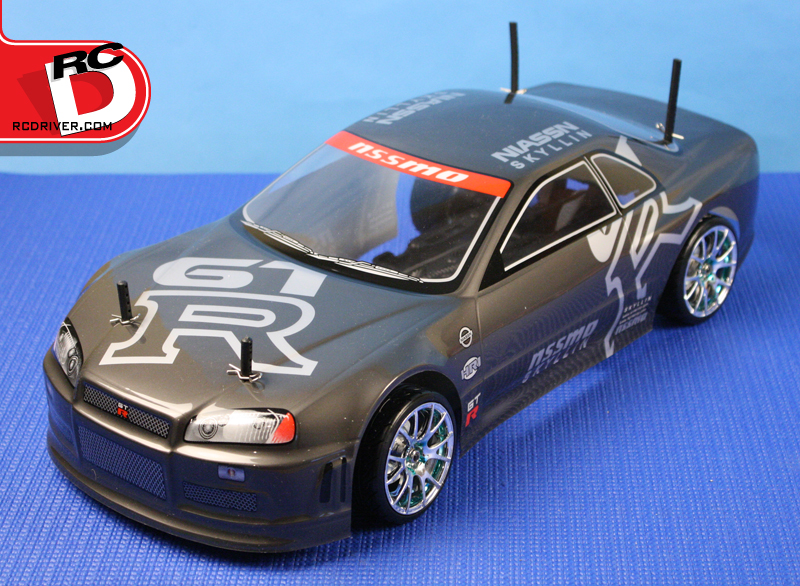 Above, you see the body as it comes from the box. It looks complete as is yet below, you will see the additional accessories that will bring the scale appearance up to another level. There are two rear wing options, side mirrors and windshield wipers. Other items shown below are the servo mounts, steering linkage, servo horn with servo saver and pinion gear.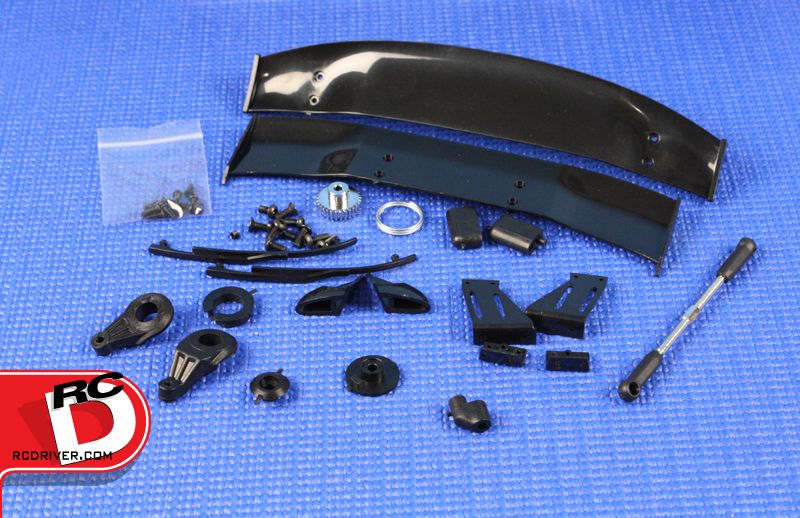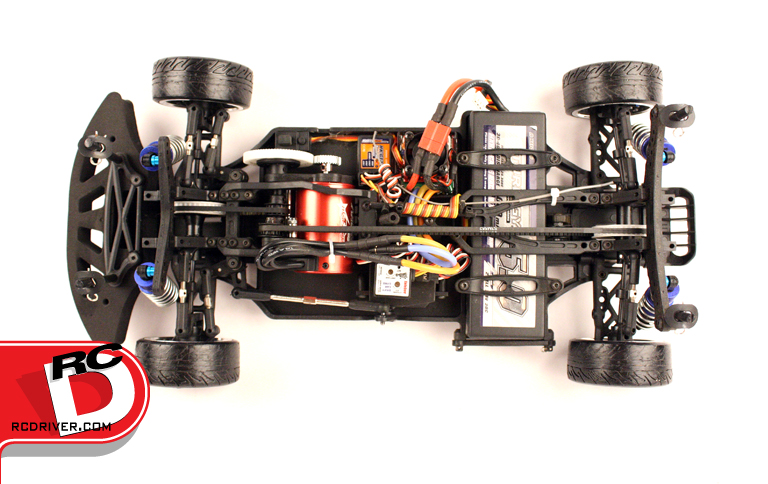 As you can see above, the chassis is stuffed full once everything is installed. Wiring can be tricky as you need to make sure it stays away from the drive belt down the center of the chassis.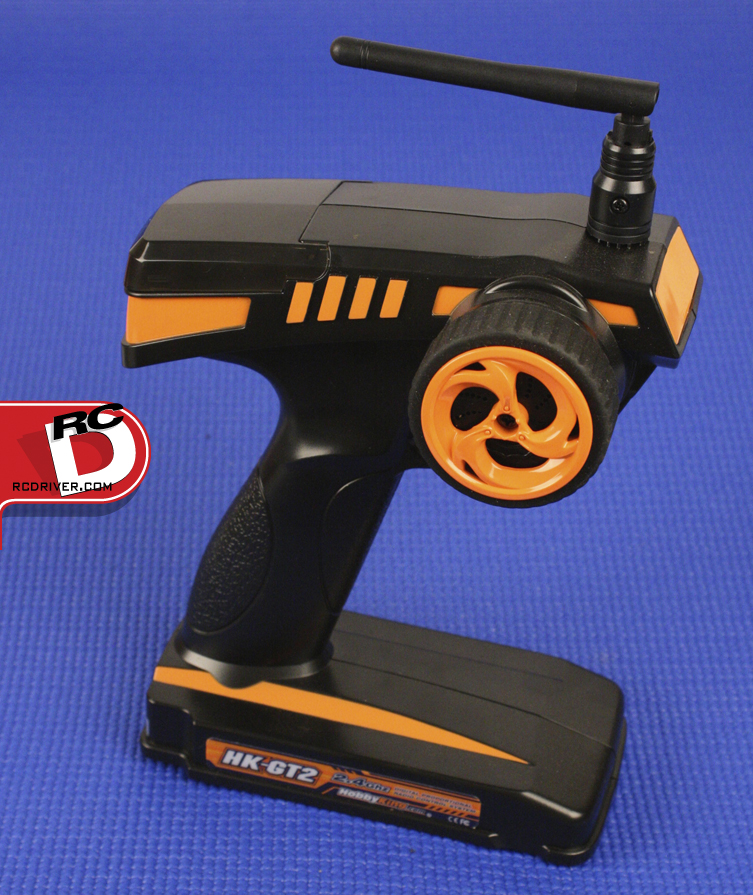 The HobbyKing HK-GT2 is a 2.4GHz system that is extremely affordable. No bells and whistles, and minimal features, but it is a perfect companion for the Mission-D.
GOIN' DRIFTIN'
Having limited experience with RC drift cars I wasn't sure what to expect when I pulled the trigger. I got what I assume most new drifters will get…a lot of spinning  of tires and very little forward progress. The hard plastic tires are very slick, especially when brand new and of course, that is what makes drifting possible. I played with throttle application until I was able to get the car moving without spinning out. It only took a couple of tries before I was able to get the Mission to successfully change direction without sending it into a tailspin. It was right about this time that I had a new respect for the drivers I had seen countless times drifting their RC cars in YouTube videos. I wasn't doing anything like what I remembered from the videos but I was having fun. The Turnigy motor system was giving me the smooth application necessary and its top end was more than a drifting novice like me needs the first time out. After about 10 minutes, I was getting into a groove just as the tires were just starting to break in. Before my first pack was showing signs of dumping, I was putting the Mission-D into a drift and keeping it sideways as I circled the car around me. This was a small victory for me and proved to me that with practice, I just might get the hang of this drifting thing after all. My friend, Rob Bratcher, was with me to drive so I could take photos. He had never attempted to drive a drifter prior to that day and by the time we were done shooting photos, he had managed to get a grip on driving without traction. As I was building the kit I noticed a bit of play in the steering bellcrank, but I don't feel it had any adverse affects on performance.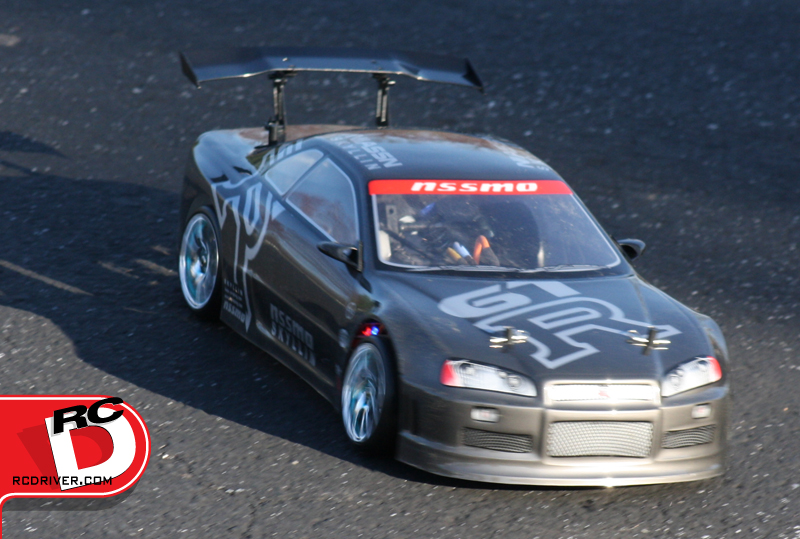 WRAP UP
Okay, so I am glad I had the chance to spend some time with a drift car. The Mission-D was a good one to start with. If the cool scale appearance is not enough to pique your interest, then the affordable price tag will. When you want to try your hand at RC drifting you may want to consider the HobbyKing Mission-D. It's easy to complete and the intimidation factor is low. It's a completely different RC driving experience than what you may be used to. It is certainly a far cry from the monster trucks and backyard bashers that I am used to.
SPECS & TUNING OPTIONS
DIMENSIONS
Length: 390mm
Width: 195mm
Wheelbase: 255mm
Height: 123mm
BODY, WHEELS AND TIRES
Body: Pre-painted coupe (similar to Nissan Skyline)
Wheels: Chrome plastic spoked
Wheel adapter type: 12mm hex
Tires: Hard plastic drift
SUSPENSION
Type: 4-wheel independent
Shock positions:  (F) 5-tower, 1-arm, (R) 6-tower, 1-arm
Camber:  Adjustable turnbuckles
Ride height: Threaded shocks
STEERING
Type: Dual bellcrank
Toe: Adjustable turnbuckles
CHASSIS
Type: tub
Material: Plastic composite
DRIVETRAIN
Type: 4WD
Transmission: Direct drive dual belt
Differential: Front ball differential, rear locked differential
Gear ratio: Optional pinion gears
Bearings: Full set of shielded
LINKS
HobbyKing http://hobbyking.com
Turnigy http://www.turnigy.com/