CENRacing Returns to the US Market in a Colossal Way!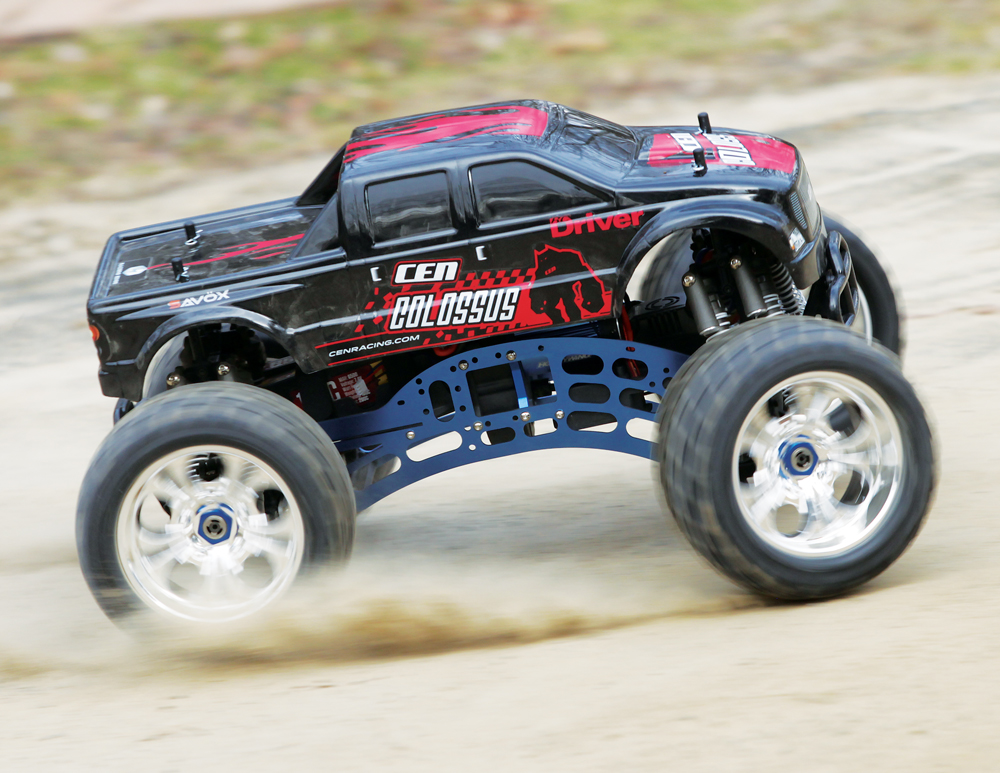 WORDS: Jon R. Barnes
PHOTOS: Jon R. Barnes and Robb Wilson
After a hiatus of several years, CENRacing is back in the USA with HRP as their new distributor. In celebration of their return to North America, they are debuting a subtly revamped 1/8-scale monster truck that is available exclusively from HRP. Sporting a new Savöx steering servo with a truly monstrous torque rating of 500 oz.-in. and a pre-painted black body set with multiple sheets of glossy graphics, this truck is now also marked with a new massive moniker…the Colossus. With our thesaurus flipped open to the word "monstrous," RC Driver grabbed a mega-sized magnifying glass and took a fresh look at this latest evolution of the CENRacing Genesis and GST 7.7 monster truck product line.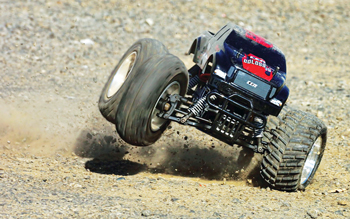 AT A GLANCE
WHO MAKES IT: CENRacing
WHO IT'S FOR: Intermediate to advanced drivers
PART NUMBER: CEG9514
HOW MUCH: $549.99
BUILD TYPE: RTR
PROS & CONS
+ This is THE most fun I have ever had with a surface vehicle! The performance and power are incredibly insane.
+ The 4S 6500mAh LiPo gives this truck run durations of 10-12 minutes. And we clocked it at speeds of up to 45 mph.
+ The Savöx SC1230SG digital servo is good for 500 ounces of torque at 6.0V and features steel gears and an aluminum case.
+ The brushless power system gives this monster plenty of roar; dual cooling fans and a heat sink on the motor heat stops it from blowing its top.
+ Heavy duty CNC aluminum and steel components combine to create a tough-as-nails chassis and drivetrain.
+ The included pre-painted black body is also available in optional silver or clear; several sheets of multi-color graphics let you create your own perfect monster.
+ Five total inches of suspension travel and reservoir-equipped dual shocks let this truck land JUMBO-sized jumps without bottoming out.
– The chrome plating started flaking off the center hub area of all four wheels.
– The labels on the various buttons of the Skion pistol grip transmitter are written in a Braille-like format and can be difficult to read.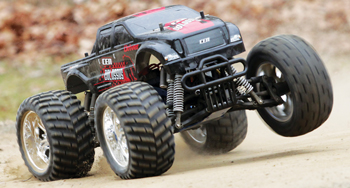 Authors Opinion:
If you are one of those types that like to have the biggest, baddest most extreme version of product X, then you should probably go ahead and grab a Colossus GST-E. This monster truck excels at playing hard and fast. The addition of the Savöx servo, with a whopping 500 ounces of torque and a fresh-looking body, makes this latest CENRacing offering too good to pass up.
Star rating (1-5) = 5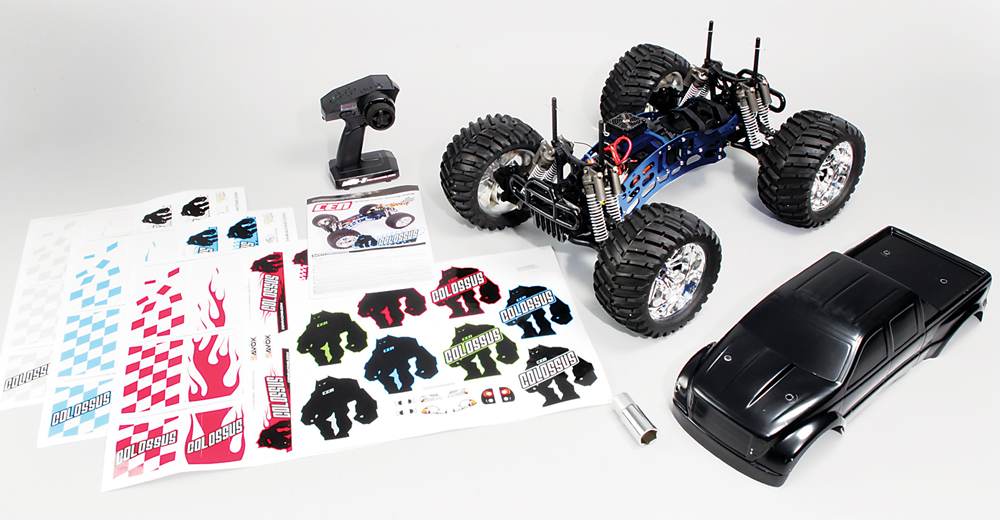 FACTS
– The blue anodized aluminum chassis side-plates are almost 3mm thick. Like a high tech exoskeleton, they most capably surround and protect the differentials and other key components. These beefy side-plates play the starring role in the overall strength, rigidity and durability of this gargantuan truck. The non-metallic parts, manufactured out of DuPont plastic, are also appropriately beefy. The open design of this chassis, as compared to a more conventional tub or plate-style chassis, helps keep rocks and other debris thrown up by the giant v-tread tires from getting trapped in place. I found that they also served as a particularly convenient way to carry this 15-pound-plus truck around.
– This beast has a lot of growl under the hood. Hitting jumps with the throttle pinned can send this truck flying long and high. CENRacing softens the landings of this heavyweight high jumper by outfitting it with dual, external reservoir oil filled shocks on all four corners. Soaking up the energy generated by this monster truck as it repeatedly slams back to the ground is no small task but the suspension proved ever up to the challenge. The overall spring rates could be stiffened up a little to help limit the body roll created when you mash the throttle hard and fast; the sight of the Colossus all bound up and twisting as it leaps forward was just plain scary…and cool!
– The previous iteration of this 1/8-scale monster used a steering servo rated at a mere 144 oz.-in. of torque. The use of a steel gear-equipped Savöx SC1230SG digital servo in this version completely eliminates that weak link in the control chain. The Savöx servo doesn't even break a sweat motivating the set of giant 7.5 inch tires left and right. I found steering to be distinct and precise throughout the gamut of gaits that this truck can assume. Ripping the Colossus along at high speed on hard pack requires a deft touch on the tiller. This new servo is dependably capable, whether you are asking for a light, corrective control nudge or muscling the front end lock to lock.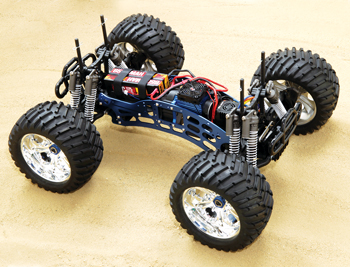 – You can't shove a V8 in a Vega without upsizing the driveshaft and rear end. Given the crazy amount of torque and power that the brushless power system is capable of generating, the driveshafts, differentials and CV shafts have to be bruiser tough. And they are. CENRacing knows that you don't change what has already been proven. The Colossus uses the same hardened steel CV shafts found in previous models of this truck; the CV shafts are almost as big around as a triple-A sized battery. The balance of the drivetrain components are also tank tough and soldiered on without complaint or breakage throughout our torture testing.
– The faint whirring sound made by the Colossus when sitting still is the sound of the twin cooling fans working to keep the brushless motor and ESC cool. Though we did detect the faint aroma of hot electronics at the end of some of our more abusive runs, we never experienced any interruptions of service. The included brushless power system makes an insane amount of power and torque. The ESC does a good job of braking the big truck and does so without breaking a sweat. The Skion 2.4GHz transmitter is a monotonic black-colored plain Jane basic transmitter but it capably controls the monster as it should. I do wish that all of the digital push button controls were more clearly labeled. The raised tiny-type letters were difficult for me to see and read unless the light was perfect.
– The included body set comes out of the box painted black. CEN includes multiple sheets of graphics that allow you to somewhat individualize your Colossus. In fact, there are enough sheets to dress out two bodies. Optional aluminum chassis side plates and skid plate are available in red and green, should you wish to stop your monster from looking so blue. The chrome wheels look great, when they are new. The chrome plating on all four of ours started flaking and peeling off near the center hub. It all seemed to start after we had removed the tires and wheels for cleaning; torquing the wheel nuts with the included 3/8 in. drive 23mm deep well socket apparently fractured the chrome plating.
ITEMS NEEDED
• 4S LiPo battery
ADDITIONAL ITEMS USED
• Racers Edge Prime Series 100C 7.4V 6500mAh LiPos (2)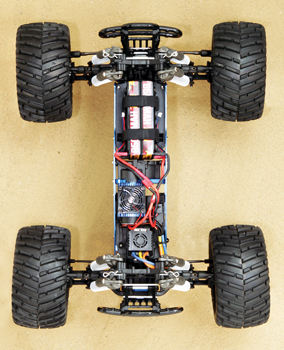 HOP-UPS WE RECOMMEND
According to CENRacing, the Colossus GST-E shares 95 percent of the same parts with the Colossus GST 7.7, GSR 5.0, and Nemesis 7.7. All of the GSS aluminum hop-ups will also fit onto the Colossus GST-E. Having mentioned that, here are a few we would like to pursue:
• A spare Colossus body, CEGS111, $34.99. I wanted to grab another body pretty quickly. A truly monstrous truck like this has monster-sized crashes and after just a few runs, my original body looked just plain abused. I recommend a shiny new one be kept in reserve for display purposes. Available in clear, silver or black.
• 16T pinion, GS300, $15.00. Because 45 mph is fast but not quite fast enough.

TOOLS & ACCESSORIES INCLUDED
• 3/8 in. drive 23mm deep well six point socket
ON THE TRACK
Though I have access to two decent dirt tracks, both are at least a 30-45 minute drive away. I am thus always on the lookout for cool new sites to do a little impromptu bashing. The easiest way to pick a place to run the Colossus is as follows: close your eyes, spin around a few times, stop in a random position and then open them. You are looking at a good place to run the Colossus! The sheer size of this bad boy allows you to run it on terrain that is strictly off-limits to lesser trucks. The gargantuan tires and abundance of power on tap can keep it rolling on all types of dirt, grass, rocks, etc. Our first experience running the Colossus had us shaking our heads, with words like "sheesh" and "oh my goodness" involuntarily falling out of our mouths. Somebody get this truck a wheelie bar. The throttle response and torque have to be seen to be believed. Wheelies can be done at will, even if the truck is already under power and rolling. Taking the Colossus off its leash and letting it run at full throttle is best done in a very wide open area. This monster is an athlete! Our best run through the traps registered at 45 mph. On pavement, this truck covers ground so fast that I at times felt like I could not maintain the field of vision necessary to ensure that I was not about to slam into some immovable object. Braking is performed electronically by the speed controller. Stomp the brake pedal hard and the Colossus will come to a fishtailing stop quite quickly. Feather the brake in a little more gradually and the speed comes down in a more predictable fashion.
I am usually a very generous driver, ever willing and ready to hand the transmitter over to others when they ask. When my ten-year-old daughter asked for a turn, I immediately replied, "Uh…NOPE! No way!" I personally feel that this one is just a little too much for most young drivers to safely handle. Heck, I honestly felt like I should make some adults sign a waiver before handing the controls over. This monster is definitely not a toy to be taken lightly. And that right there is what makes me love it so much. The Colossus possesses enough power, speed and performance to hurt stuff, or even itself. Common sense and an attention to safety will prevent the former; a well thought out design and use of high quality components prevented the latter throughout our testing of the Colossus. The more we drove it, the more confidence we had in its durability. Try as we might, we failed to break even one little part on this truck. We did toss a dogbone on one particularly gnarly crash but simply stuffed it back in place and went on our way, no worse the wear. We did however utterly thrash the factory body, scraping the Sam Hill out of it. Numerous high-speed tumbling crashes and prolonged upside down slides on pavement took a progressive toll on the polycarbonate composition body and even managed to burn a few holes clean through it. But what fun. And destroying the body is certainly nothing that can't be fixed with a fresh new body. Though the 12T pinion provide a perfect blend of grunt and go-fast right out of the box, CENRacing does list an optional 16-tooth pinion. I for one would be curious to see what this gearing change would do for this truck's performance. MORE top end? Oh yeah.

SPECS & TUNING OPTIONS
DIMENSIONS
Length: 23.1 in. (587mm)
Width: 18.4 in. (467mm)
Wheelbase: 15.63 in. (397mm)
Weight: 15.5 lbs. (7kg)
RUNNING GEAR
Motor: 2200Kv 4 pole brushless outrunner
Speed controller: Hobbywing 80 amp 4S LiPo capable
Transmitter: Skion 2.4GHz FHSS
Steering servo: Savöx SC1230SG digital w/steel gears
Batteries: 2S 7.4V 6500mAh 100C discharge (2)
BODY, WHEELS AND TIRES
Body: Pre-painted and cut, with multiple sheets of graphics
Wheels: 7.5 in. chrome
Wheel adapter type: 23mm hex
Tires: V-treaded rubber with foam inserts
SUSPENSION
Type: 4-wheel independent
Shock positions: (F) 3-tower, 3-arm, (R) 3-tower, 3-arm
Camber: Adjustable turnbuckles
Roll: Fixed
Wheelbase: Fixed
Ride height: Pre-load clips on the shocks
STEERING
Type: Dual bellcrank
Toe: Adjustable turnbuckles
CHASSIS
Type: Vertical plate
Material: Aluminum
Thickness: 3.0mm
DRIVETRAIN
Type: 4WD
Transmission: Active center-mounted differential
Differentials: 6-gear sealed aluminum (2)
Gear ratio: Pinion/Spur: 12T/66T
Bearings: Full set of shielded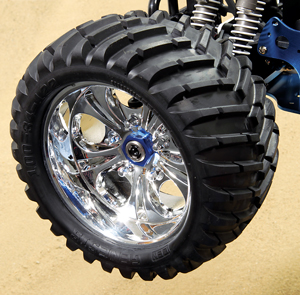 WRAP UP
This is the first RC surface vehicle that I have driven that should be rated PG-13; drivers under 13 years of age should probably not operate it without responsible supervision (unless they have earned their Intermediate class license). What is not to love about a monster truck so insanely powerful that it seems perfectly capable of destroying itself? There is no need to worry about that happening however. The Colossus GST-E is so well-engineered and constructed of such heavy-duty CNC-aluminum, hardened steel and high impact plastic components that the only thing that will eventually cry "Uncle" is the polycarbonate body. Like Rocky Balboa, our Colossus endured merciless bashings over and over, but somehow always manages to get back up on its feet and pull another wheelie or land another gigantic jump. Ladies and gentlemen, we have a new heavyweight champion.
LINKS
CENRacingUSA, cenracingusa.com, 800-622-7223