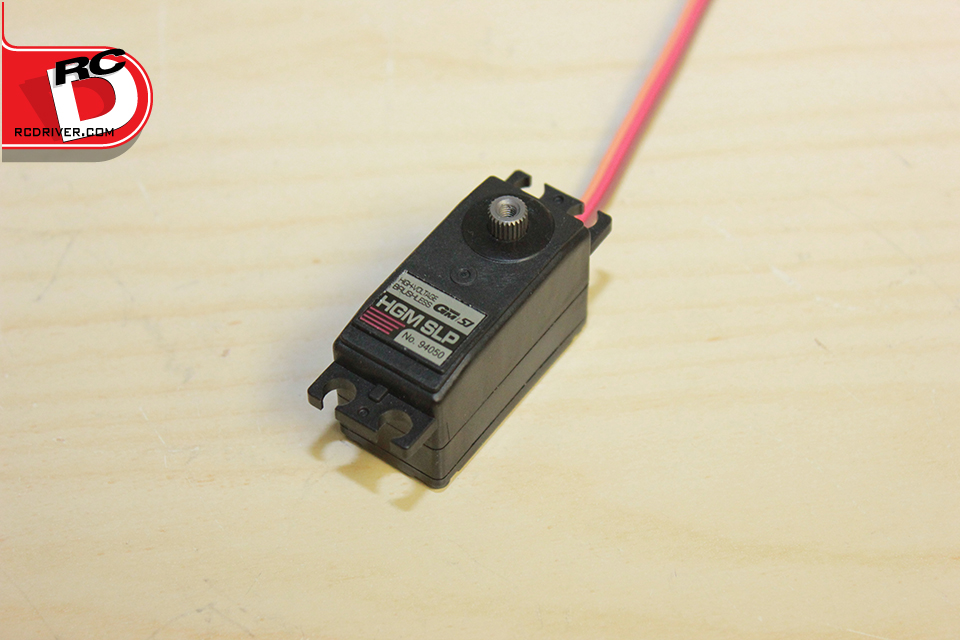 GM Racing is probably one of those brands you've come across at one point or another if you've been in the hobby for a while. This brand has primarily been distributed in Europe, but is now making its way into the US Market and we're happy to see it. GM Racing is a division of Graupner available through Open Hobby and they offer a large selection of electronics from radios to ESC's, motors and servos. We got our hands on their HGM SLP Low Profile High-Voltage Brushless Servo to check out. There are a lot of features just in the name of this servo and it already seems impressive for a number of competition uses.
THE GOODS
The HGM SLP for starters is a low profile servo so its great in today's modern touring cars that require a low profile servo for tight chassis configurations. This could also work well in some 1/10 off-road platforms as well with tight layouts due to mid motor set-ups. The dimensions are listed in the specs, but its size matches other servos in this categ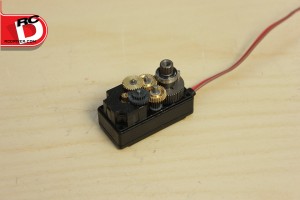 ory.
We'll again skip over the output specs (listed below) and talk details. The servo is high-voltage compatible and will actually work well with a range of 4.8 to 8.4 volts. Other features include programmable digital circuit and SMT circuitry, 2048 high resolution, supporting 1~16µ depending on programming, covering the wide range of frame rate 20Hz~400Hz, 12 bit processing circuit and Sanwa SSR Mode compatibility. The motor is long lasting brushless and geartrain with ball bearings is metal with one composite gear. The servo is sealed with a rubber o-ring around the output spline shaft, o-rings between each section of the case, o-rings on each corner screw and a rubber grommet around the wires. The wires are additionally sealed with some silicone sealant from the factory. The case of the servo is composite and has a simple identification label on the top. Finally the spline count on the servo is 25T so aftermarket horns are readily available or you can use one of the supplied horns with the servo. Rubber grommets and mounting hardware to damp the servo are also included.
SPECS
Made by: GM Racing
Product: GM Racing HGM SLP Servo
Available From: Open Hobby and other retailers
Made for: Cars with tight layouts
Part #: 94050
Cost: $69.99
2.4GHz Compatible: Yes
Dimensions (L x W x H): 1.6 x 0.76 x 1.00″ (40.5 x 19.5 x 25.5mm)
Weight: 1.51oz (43g)
Operating Voltage: 4.8 – 8.4V
Holding Torque at 6V: 141.6 oz-in. (100Ncm)
Holding Torque at 7.4V: 169.9 oz-in. (120Ncm)
Torque at 7.4V, approx: 77.9 oz-in. (55 Ncm)
Torque at 6.0V, approx: 63.7 oz-in. (45 Ncm)
Speed: 0.045 sec/40° @6.0V, 0.035 sec/40° @7.4V
No-load Current Drain; approx.: 31mA
THE WORKS
Luckily when the servo arrived, we were working on converting a Team Durango DETC410 to a VTA racer so we used the opportunity to drop in the HGM SLP servo in the car for a test. The servo fits right in with no clearance issues and the wire lead is long enough for a variety of applications.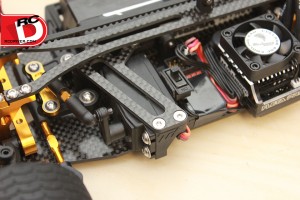 With the servo in place, the electronics were powered up and we checked out its operation on the bench. First we noticed the servo is a little noisy. The gears are loud, but its operation is smooth and its reaction time is very quick. On the track, the servo certainly had holding power and fast reaction time, right on target for the performance we wanted in our VTA car. Over the test, we didn't notice any fading in holding power or response, the GM servo delivered.
WRAP-UP
GM is known for delivering excellent electronics and the GM HGM SLP servo is loaded with features that worked great when put to the test on the track. For the performance this servo puts out, it's well worth its retail price. This servo is just one of many in GM offerings and we are looking forward to trying out more of their servos in future projects.