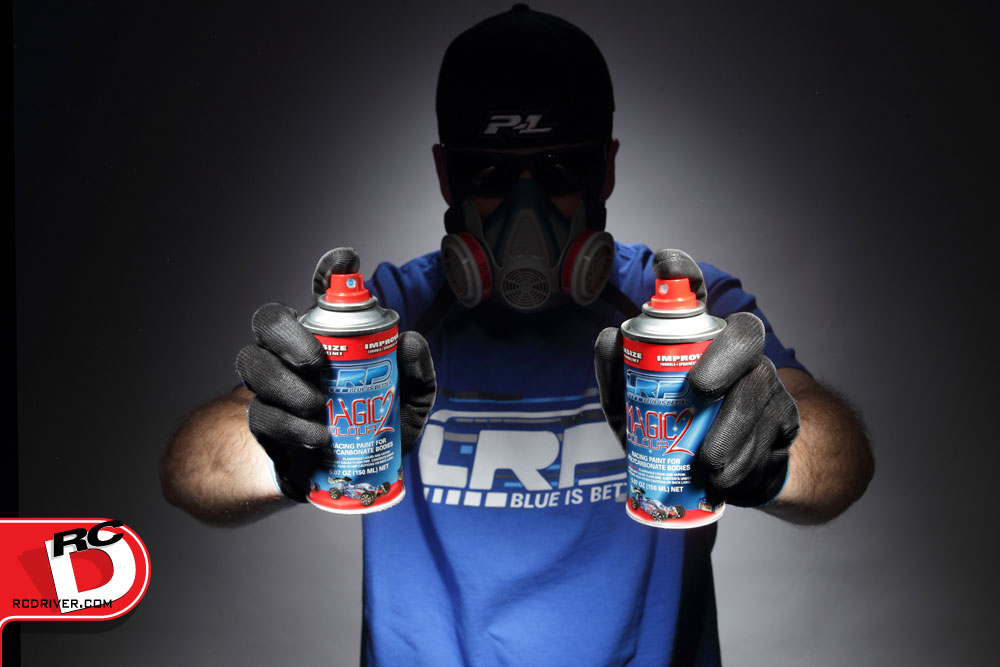 A
big part of the cool factor behind driving radio control cars is customizing your vehicle to your specific style. We're not just talking about how crazy you go with anodized or carbon fiber hop-ups, we're talking about the look of your vehicle's body shell as well. Why head out to show off your RC machine if it isn't topped off with some killer paint work? Now, we do understand that not everyone is an artistic master of painting and design, but there is a way to make bold statements with simple paintwork from a can. LRP, the company you know for some of the best electronics in the RC world doesn't just make speedos, they make products for every area in RC and this includes paint. We picked up their entire line of Magic Colour 2 paints and masked up a body to see first-hand if they would enhance the style of some of the vehicles at the RC Driver office. Mask, tape and design ideas ready to go; let's spray!
FACTS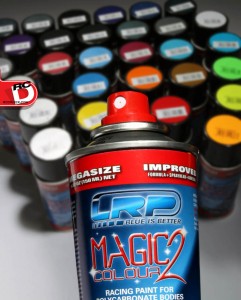 Manufacturer: LRP
Product: Magic Colour 2 Paint
Part No. Varies
Price $9.99
Size: 5.07oz. (150ml)
For: Polycarbonate and Lexan plastic
THE GOODS
LRP offers two types of paint, Magic Colour 2 paint which is specially formulated to be used on Polycarbonate and Lexan materials and Magic Colour F for use on Foam. We're going to concentrate specifically on the MC2 paints and leave the F version for our crew over at Fly RC magazine to test. The MC2 paint comes in a large "Mega Size" can filled with 5.07 fluid ounces of body covering goodness, that's more than Duratrax or Spax Stix offers with their aerosol paints. The paint contains an aggressive solvent that bonds or etches the paint to the plastic so during an impact, the paint stays adhered to the body. MC2 also boasts being a fast drying paint so shorter times between coats and color changes gets the body on your RC car quicker.
Now let's talk variety; Magic Colour 2 is available in Normal, Metallic, Luminous, Chrome, Ice, Vario and Special paints. The "Regular" colors are your standard opaque colors like white, black, red, yellow; you get the idea. "Ice" is basically a fancy way of saying "candy" colors. These colors are transparent and need a backer like silver or white or, with some testing, another color to produce a vibrant custom color. "Luminous" colors are simply "fluorescent" colors and have that really bright pop when backed in white. Then we get to "Vario" which are "Flip-Flop" colors and these are backed in black or white and the color alternates depending on how the light hits the finished paint. Now this one is going to be a favorite: "Chrome." This special mirror look paint needs to be applied in 15 to 20 very light coats and should be backed in black,  but when it's done will provide a mirror-like finish for bumpers, trims and other custom detail work. Then finally "Nitro Block" is for those who want the ultimate in protection against potent nitro fuel.  All LRP "Magic Colour 2" paints can actually withstand nitro fuel, but the extra protection of Nitro Block is an added insurance protection that the fancy paint scheme you just laid down stays protected.
LRP's color assortment is looking good so far and we were happy to find out that the different types of paint are paired up with special spray nozzles depending on the paint's traits. These large nozzels help you achieve an even and perfect paint finish, not to mention they are easy to press, even for extended spray periods. And while we're talking about spray, we should talk odor. These paints bite into the body, therefore they do have an odor to them because of the solvents used. The paint isn't as harsh as many other sprays, but nonetheless should be used in a well-ventilated area.
THE WORKS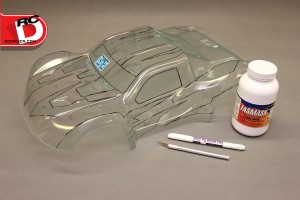 With the entire line of Magic Colour 2 paints at our fingertips, we decided to grab a new Pro-Line Racing EVO-SC body from the shelf to see how the paint sprays, coats and looks. First up, we washed the body and then we covered it in three coats of Parma Liquid Mask before drawing out our design with a marker and cutting out the design with a hobby knife. Next we picked paints. Since "Blue is Better" is the slogan behind LRP we gathered up a variety of blues to use. The design was set and it was time to sling paint.
First up, we wanted to create some texture in the design and used LRP Black to do it. The black was sprayed onto the plastic bag the body came in and then wax paper was wadded up and dabbed into the wet paint and blotted onto the body. This created a wrinkled effect. Then after warming up the can under some running hot water, the black was sprayed on the back of the body behind the wrinkles as a fade. In the front, we used Metalic Graphite to fill in the rest of the clear areas of the body.
Next up, all of the pin striping on the design shapes was cut and LRP's different light blues were used for the stripes. The striping on the top is Luminous Blue backed with white, the stripes over the front fenders are Light Blue and the lower was Sky Blue. Then the inside blues were filled in. Each of the design patterns were sprayed in the remaining blues from the color pallet. Dark Blue was backed with Sky blue, Imprezza Blue backed with Light Blue and Metalic Blue backed with Sky Blue as well.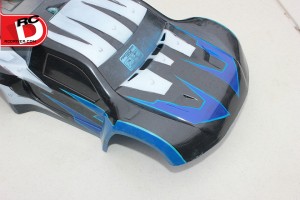 Next up in the design was the White; four coats were sprayed and we found it to be not as opaque as we would have liked. White usually contains lots of pigment, but the MC2 was rather light. For future reference, the white needs to be sprayed in five or six coats rather than the four used here to make the white vibrant. But with the lesson aside, it came time to paint the finishing trim. A line was cut around the windows and the trim pulled off and Chrome sprayed to highlight the windows. This look is very cool and makes the windows really pop rather than fall flat without any treatment.
Each color sprayed was given at least four light coats before moving on to the next color or backing color. While using each paint we noticed its spray traits. The Ice colors need to be laid down in light coats, dried properly and backed before moving on. The Normal colors all sprayed well with the exception of the notes we already chatted about in relation to the white. The Luminous paints look awesome when backed in white and will also need ample time to dry between coats. And in the end, when the body was complete, the paint odor was not overwhelming when the body was left in a garage to dry.
WRAP-UP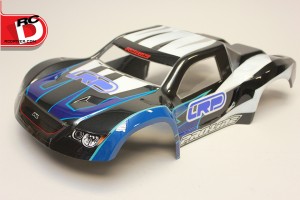 When LRP develops a product, it goes through rigorous testing and revisions before being released to the market and we tend to believe that the Magic Colour 2 paint underwent the same strenuous preproduction procedures. Overall the colors spray very well and have excellent coverage. The special tips allow large coats or even fine detail like the fade we did on our test body. What really stands out about the Magic Color 2 paint, though, are the colors themselves. These colors pop and they are not like other colors available from other companies. These paint colors are unique to LRP which I would sum up as vibrant, luxury-like line of paint that leaves you with professional level results if you take the time to lay them down properly. LRP's Magic Colour 2 aerosol paint is pro level paint for any level of hobbyist who wants their RC car or truck to simply look the best.
Win this body! Just tell us which LRP paint color is your favorite by name below. Visit LRP's website
http://www.lrp-americastore.com/paint/ to see all the paints and make sure you enter using the correct name of your favorite paint.