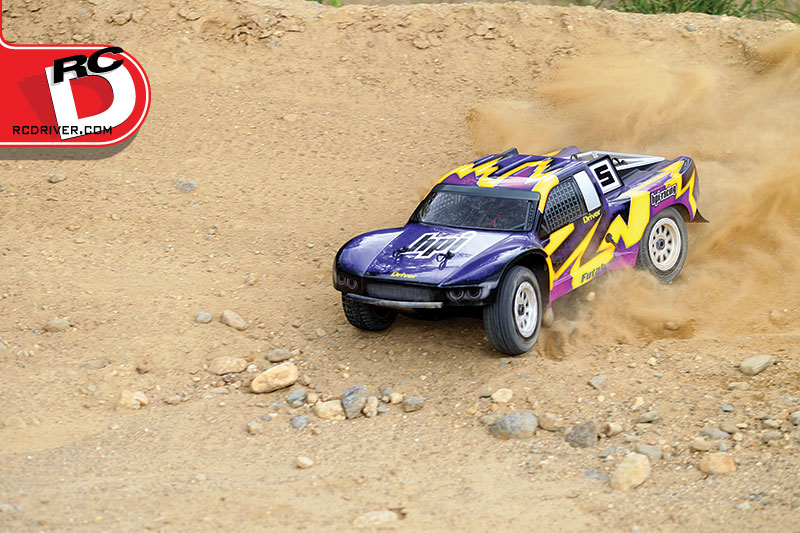 T
he
HPI Racing
Super 5SC Flux
is big, it's fast, it's a ton of fun to drive, and it's unfortunate that HPI decided to put this kit into the discontinued folder, but many owners are still having fun with it and asked us to post this particular project online.  The stock 5SC was so much fun to drive in fact, that our truck had been used, abused and put away wet when it was hosed off by Greg Vogel after it was run on a very muddy track.  Well, it was time to breathe some new life into this behemoth of a truck and get it ready for action yet again.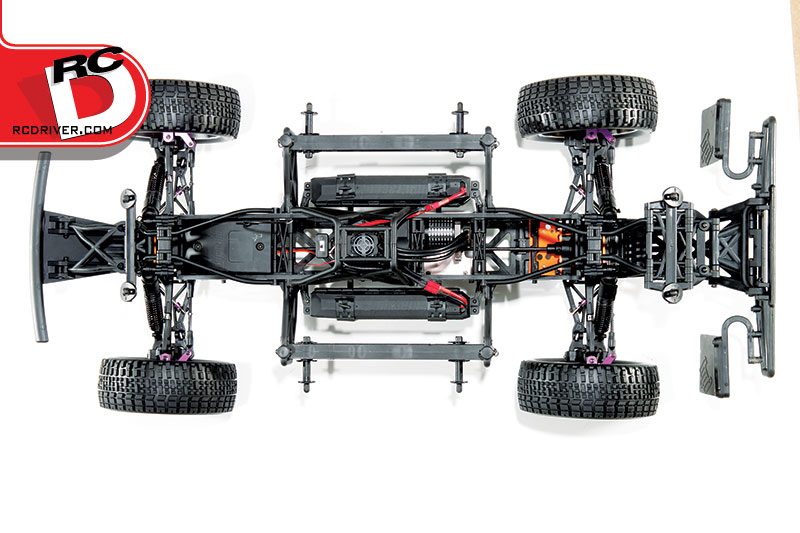 Parts Used
Xtreme Racing 5mm G-10 chassis plates, 11223BG
G4-Graphics chassis plate skin
Savox SC-1256TG steering servo, SAVSC1256TG
Castle Creations Mamba Monster 2, 010-0108-00
HPI Purple Aluminum steering knuckles/uprights, 86251
HPI Big Bore Aluminum shock set, A720
HPI Rodeoo Glue-Lock tires, 106898
HPI Glue-Lock Gun Metal wheels, 108321
HPI Baja 5SC-1 clear body, 104865
Because the Super 5SC Flux had been literally hosed off the last time it was used, I had to tear the entire truck down to properly clean it. After a few hours of using an old toothbrush and a metal dental-type pick to clean mud out of the screws, I had the whole truck apart and spread across my workbench. Upon inspection of everything, not all that much needed serious attention, a testament to the tough design of the Super 5SC Flux, and I made a short list of the goodies I would need before reassembly.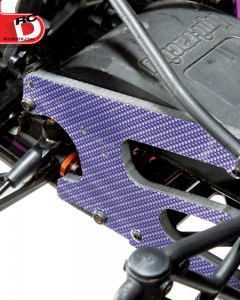 First I called Bruce from Xtreme RC Racing to see if he had a set of his G-10 chassis plates readily available. These plates are 5mm thick and are super tough. A few days later they arrived at my door, but that was not the end of the line for these cool chassis plates. I gave them to Justin Glaze from G4-Graphics and he made me some slick purple carbon fiber skins for the plates. I then started with the front end of the truck. The stock servo was still good but had developed quite a bit of slop. I replaced it with a Savox SC-1256TG because it has 277.2 oz. of torque to push the big wheels from side to side and because it has titanium and metal gears for extreme durability.  I also set aside the stock Flux Blur speed control for a new Castle Creations Mamba Monster 2.  The Monster 2 is waterproof and fully programmable, utilizing the Castle link.
With the electronics package well taken care of, I looked to the other areas of the truck that needed attention. One of the stock steering knuckles was cracked so it needed replacing. I decided to toughen this area up all around the truck and installed HPI purple aluminum steering knuckles/uprights. They are near-indestructible and look fantastic. The stock shocks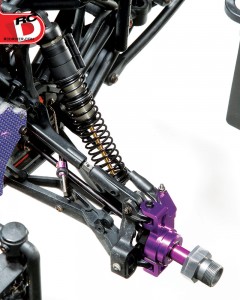 were also in pretty rough shape so I replaced them with a set of the hard-anodized big bore shocks from HPI. They are super smooth and even come with titanium nitride shafts.
With the Super 5SC Flux nearly fully complete, I decided the truck needed a new look. I started with the rims. I am not a fan of the black-on-black look of the stock tires and rims and since the stock tires were well worn, it was a good reason to replace everything. HPI Glue-Lock Gun Metal Wheels replaced the stock black wheels and I stayed with the soft compound Rodeoo Glue-Lock Tires. When I first started disassembly of the Super 5SC Flux, I sent Bradley Farmer from Bradley Fine Line Design a Baja 5SC-1 clear body. As coincidence would have it, he completed it right around the time I finished reassembly of the truck. Each and every time Bradley paints a body for me he seems to outdo his last work of art and this was no different.
With the Super 5SC Flux fully back together and better than ever, it looks almost too good to get dirty again. While that feeling won't last all that long, I do know that I'm not going to let Greg run it on a wet muddy track ever again!
Words By: Dean Berry
Links
Castle Creations castlecreations.com
Xtreme Racing xtremercracing.com
Savox savoxusa.com
HPI Racing hpiracing.com
G4-Graphics g4-graphics.com