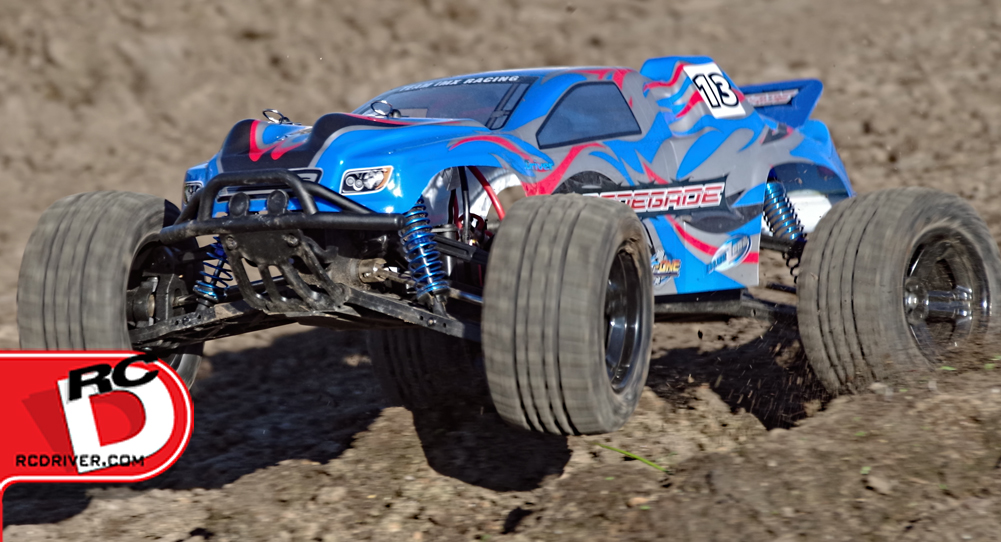 A Truly Affordable Truggy
The IMEX Renegade is a 1/10-scale Truggy that is powered by a brushed 550-size can motor. Available in either a black or blue color scheme, this complete Ready-to-Run package includes a standard size 2.4GHz pistol grip transmitter, 6-cell NiMH battery and DC trickle charger. With a notably wide stance, all four corners of this 4WD off-roader are adorned with cool-looking blacked-out five-spoke wheels. Foam insert tires with an all-surface style of tread pattern get the power to the pavement.
AT A GLANCE
WHO MAKES IT: IMEX
WHO IT'S FOR: Beginner drivers
PART NUMBER: IMX18010
HOW MUCH: $149.99
BUILD TYPE: RTR
PROS & CONS
+ A complete 1/10-scale 4WD ready to run off-road truggy for only a C-note and a half
+ The included Phazer pistol grip radio system is a modern 2.4GHz system
+ The assembly manual includes a two page exploded view with a comprehensive listing of replacement parts available direct from IMEX
+ Utilizes many metal components in the drivetrain
+ Available in two different color schemes
– Included DC trickle charger provides no feedback on status of battery charge and takes hours to recharge a battery
– Short run durations will have most drivers scrambling to buy bigger and better batteries
Authors Opinion:
Off-road racers on a budget who are looking for a complete Ready-to-Run package are usually limited to "teenth" scale offerings. IMEX is here to say that those who are a little short on dollars can still jump into a RTR 1/10-scale truggy without breaking the bank. Though the IMEX Renegade does cut a few corners to achieve its incredibly low price point, it is nonetheless a fun off-roader that is perfect for newer drivers and those who may not have a lot of coin to spare.
Star rating (1-5) = 3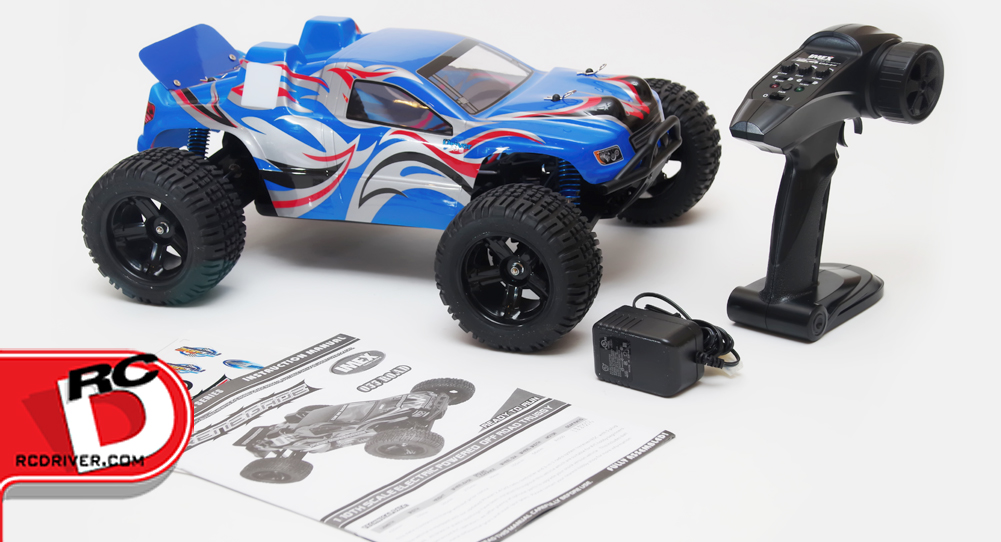 FACTS
Fact 1: Chassis
The injection-molded plastic chassis is 2.0mm thick and uses a conventional, tried-and-proven suspension configuration. There is an array of conveniently located cooling slots cut into the chassis in the area around the battery. The battery retention bar features an open-weave design that also contributes to the battery getting the maximum amount of cooling airflow possible. The chassis uses a centerline mounted driveshaft configuration. The brushed 550 motor is located mid-vehicle, just ahead of the right rear wheel. The 6-cell NiMH battery is squared away the other side of the chassis, to keep things balanced. Square plastic extensions protrude from each end of the chassis and serve as points of attachment for the differentials and shock tower assemblies.
Fact 2: Suspension
Though the turnbuckles used to set camber are fixed length and thus non-adjustable, there are a number of different mounting positions available. A couple of different sizes of shock pre-load clips are included in the box to allow limited tuning of the Renegade's ride height and spring rate. The stock shocks feature brilliant blue-colored anodized coil over springs and they can be relocated to multiple mounting positions on both the tower and the swing arms.
Fact 3: Steering
The Renegade uses a dual bellcrank steering layout and includes a mechanical servo saver. I could not find any published specifications for the IMEX servo used for steering, so it was impossible to determine its torque specification. The overall "feeling" of the steering had me believing it needs a servo with more grunt. The steering linkage does feature an adjustable turnbuckle but its close proximity to the driveshaft made adjustments a bit cumbersome. The steering linkage has a little too much flex, possibly due to the linkage components being too small of a diameter.
Fact 4: Drivetrain
Plastic and brass bushings are used throughout the Renegade, though optional bearing and metal gear-equipped differentials are available. IMEX also lists an optional set of bearings for the balance of the drivetrain. The spur and pinion gear are completely enclosed. At this price point, there are a surprising number of metal components used in the drivetrain. A bright blue colored anodized-metal driveshaft runs down the spine of the Renegade, with metal dogbones transferring the power from the diffs out to all four corners. The wheel adapters are also metal. Out of the box, one of my front wheels would not rotate under power. I found that the wheel nut had been over tightened by the factory.
Fact 5: Running Gear
Though many Ready-to-Run products now routinely feature waterproof running gear, the Renegade does not. But amazingly enough, the included Phazer radio is a modern 2.4GHz system. All of the controls on the transmitter are cleanly and clearly labeled with white lettering. Binding the receiver to the pistol-style transmitter is quick and easy. The transmitter is powered by a trio of "AA" dry cells and features LED power status indicators that do double-duty as bind indicators. Trim, dual rates and reversing switches are provided for both channels.
Fact 6: Finishing touches (body, wire guides, etc)
My eyes kept picking up hints of the Nissan Juke in the front part of the Renegade's truggy body (I personally find the Juke's styling garish from most angles). But one man's beast may be another man's beauty. Viewing angle dependent aesthetics aside, the contrast of the brightly-colored body perched atop the blacked-out five-spoke wheels looks great. A single sheet of color sponsor graphics is included to allow drivers to customize their Renegade, although most of them pay homage to IMEX. A modest-size wing is stuck to the rear of the Renegade with a couple of Phillips-head screws. The fact that it is nothing more than a flat piece of plastic is a reminder of the value engineering in this product, but at the same time it lends the Renegade a certain authentic, dirt-track aura.
HOP-UPS WE RECOMMEND
• Metal gear and ball bearing-equipped front and rear differentials, IMX18059, $24.99. We say out with the bushings and in with the bearings whenever possible!
• Motor cooling heat sink, IMX18050, $4.99. The brushed 550 can motor has to work pretty hard to keep this truggy trackin'; this finned heat sink will help it keep its cool.
• A better NiMH charger. The included DC charger lacks any LED status indicators and is a trickle style charger. Nobody wants to wait hours to recharge a NiMH battery; grab a better charger if you do not already have one.
TOOLS & ACCESSORIES INCLUDED
+ 500ma wall wart-style DC charger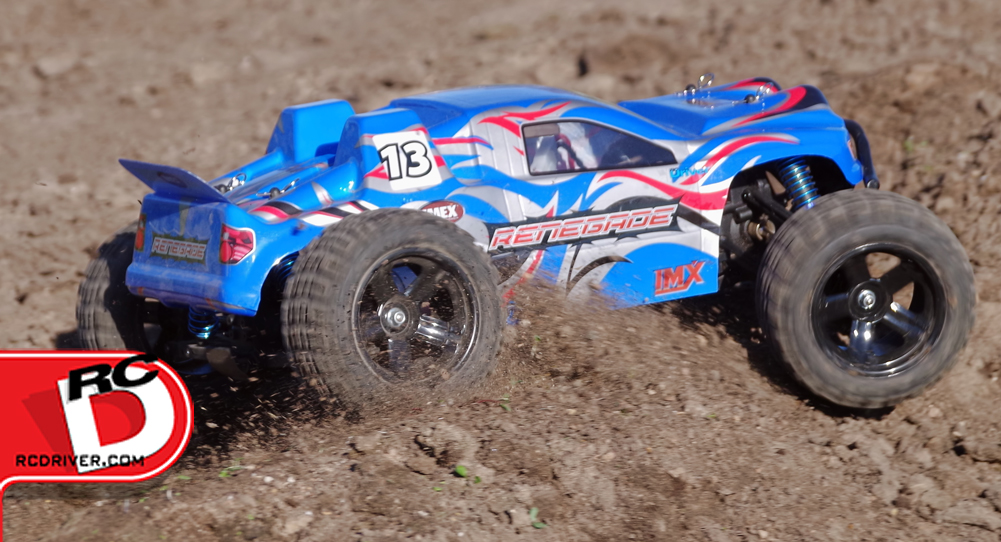 ON THE TRACK
STEERING Understeer Neutral Oversteer
I had to crank the steering trim knob on the transmitter almost entirely to one end of its limit to get the Renegade tracking properly. Even at a full 100 percent rate, the turning radius of the Renegade is a little on the large side. The steering set-up and linkages have an excess amount of play in my opinion, but the Renegade manages to hold its lines fairly well in spite of it. The steering servo at times struggles to muscle the relatively wide front end of the Renegade through the corners. At speed the Renegade often pushes right through a tight corner.
ACCELERATION Poor Fair Good Very Good Excellent
Like a rodeo bronc in need of an extra tug on the cinch, the Renegade lacks energy coming out of the chute. In this day and age of high-powered brushless power systems, it is hard to get excited about a vehicle powered by an old school brushed motor. But many brushless power system upgrades ring in at the register with a price higher than this truggy's total cost. Having said that, the 550-size motor does the best it can in motoring this four-pound-plus truggy around the track. I could only manage run durations of four to five minutes using the included NiMH pack. An optional 21T pinion is available should one wish to explore a little more top end performance. In loose pack and using a freshly charged battery, there is enough oomph to spin the tires and raise some dust.
BRAKING Poor Fair Good Very Good Excellent
The speed controller is configured out of the box to brake the Renegade upon application of reverse throttle. And it does a very handy job of hauling the truggy to a quick stop when at speed. Stabbing the reverse trigger again after a stop will propel the Renegade into reverse. The stock drivetrain uses plastic gears and I was a little apprehensive of performing too many abrupt changes in direction lest I start stripping gears. Throughout our testing sessions however, the Renegade managed to keep all of its teeth intact.
SUSPENSION Poor Fair Good Very Good Excellent
The Renegade comes equipped with 12mm diameter coil over shocks. The bright blue springs add a nice splash of color to the four corners of the truggy. Plenty of shock mounting positions give drivers the ability to experiment with different spring rates. Though IMEX does not include any of the tools and extra accessories that typically come with a RTR kit, they do include several sizes of shock pre-load clips.
JUMPING Poor Fair Good Very Good Excellent
This truggy is dimensionally almost as wide as it is long. With the agility of a cat that has all four paws spread wide, it does a great job of landing on its feet almost every time. However, the brushed power system really limits the amount of energy that it can build heading into a jump. I was able to modulate the throttle to control the Renegade's in-flight orientation but the limited amount of hang time means you really have to be proactive on the throttle to make it happen.
DURABILITY Poor Fair Good Very Good Excellent
I turned my 10-year-old daughter loose on the Renegade as a part of its durability testing. She prides herself on being quite the basher and crasher. Though I limited her attack to just a few battery packs, she failed to break or bust any part of the truggy. The beefy bumper attached to the front end of the Renegade does a great job of protecting its assets. The limited speed and performance of the brushless power system also helps to minimize the amount of trouble that it can get itself into. Should replacement parts be required, they are inexpensive and available online directly from the IMEX warehouse.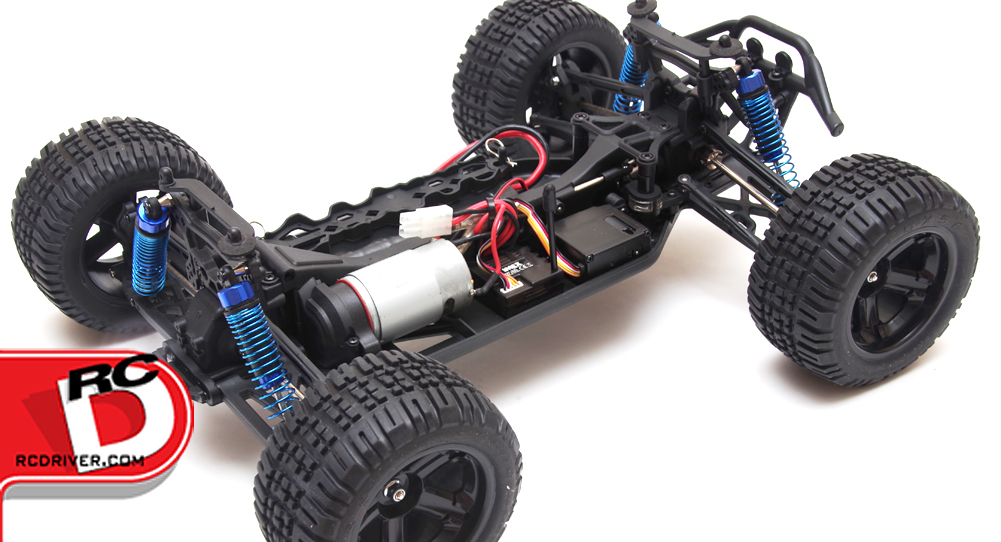 SPECS & TUNING OPTIONS
Dimensions
Length: 16.5 in. (420mm)
Width: 12.6 in. (320mm)
Wheelbase: 10.8 in. (275mm)
Weight: 4 lbs. 6 oz. (2kg)
Body, wheels and tires
Body: Pre-painted and cut polycarbonate
Wheels: Five-spoke blackout style
Wheel adapter type: 12mm hex
Tires: Rubber with foam inserts and all-terrain tread
Suspension
Type: 4-wheel independent
Shock positions: (F) 5-tower, 3-arm, (R) 5-tower, 3-arm
Camber: Adjustable by repositioning fixed length turnbuckles
Roll: Fixed
Wheelbase: Fixed
Ride height: Pre-load clips on the shocks
Misc: NA
Steering
Type: Dual bellcrank
Toe: Fixed
Chassis
Type: Tub
Material: Plastic
Thickness: 2.0mm
Drivetrain
Type: 4WD
Transmission: Shaft driven
Differentials: Front and rear ball
Clutch type: NA
Gear ratio: 1:8.8 with 23T pinion (21T optional)
Bearings: Optional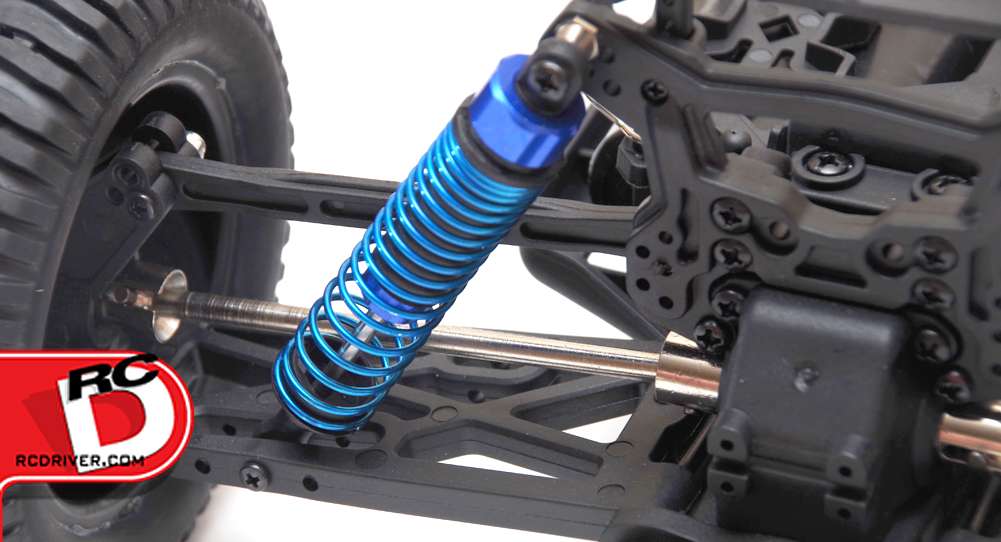 THE LAST WORD
For IMEX to bring a 1/10-size truggy in a complete RTR package to market at this price point is a notable accomplishment indeed. Though the steering servo and brushed power system are somewhat utilitarian in nature, they can both be upgraded down the road as one replenishes their hobby slush fund. Limited suspension tuning options are available out of the box but drivers can at least dabble in the dynamics of different camber and ride heights with this off-roader. The short run durations will have many drivers wishing they had a six pack (of extra batteries).The body is, in my opinion, both good-looking and goofy, depending upon the angle that it is viewed from. The IMEX Renegade does not feature the latest or greatest components and it will probably not get you to the podium at the track. But its value-engineered approach succeeds in getting dollar-challenged drivers behind the wheel of a 1/10-scale surface vehicle in exchange for a mere bill and a half. For those with another Benjamin to spare, IMEX also offers a brushless version of the Renegade.
LINKS
IMEX Radio Control www.imexrc.com
Words and photos by: Jon R. Barnes