Words by Charlie Suanga
From RC Driver Issue: 133
Greetings, tech fans! Recently I was able to assist with running a major on-road race's tech inspection processes. This included the vehicle tech before racing as well as the motor pre-tech and post-race processes. This was not the first time I've done this and I always enjoy event organizing. At this race, I had a conversation with a racer about the rotors in the motors and how they work. Many others seemed to find this topic interesting so this month, let's take a close look at all the parts of the modern brushless motor's rotor.
In the RC world, there are two core types of rotors; four-pole rotors for SCT motors and 1/8-scale motors, and the more common two-pole rotors that are used in Spec Class motors and the common 540-sized mod motors for two-wheel drive racing. For the most part, there are no real tuning rotors offered for four-pole motors. The classes are a bit new and vehicles typically have four-wheel drive so the fine tuning of motor feel and response is not as crucial. However, in the world of two-pole 540 motors, most manufacturers offer a wide range of tuning rotors. High torque, high RPM, high temperature and some sets offering three or four different rotors are all available for the same motor! So we'll take a look first at what the rotor itself consists of and then talk a little about what they do to the motor.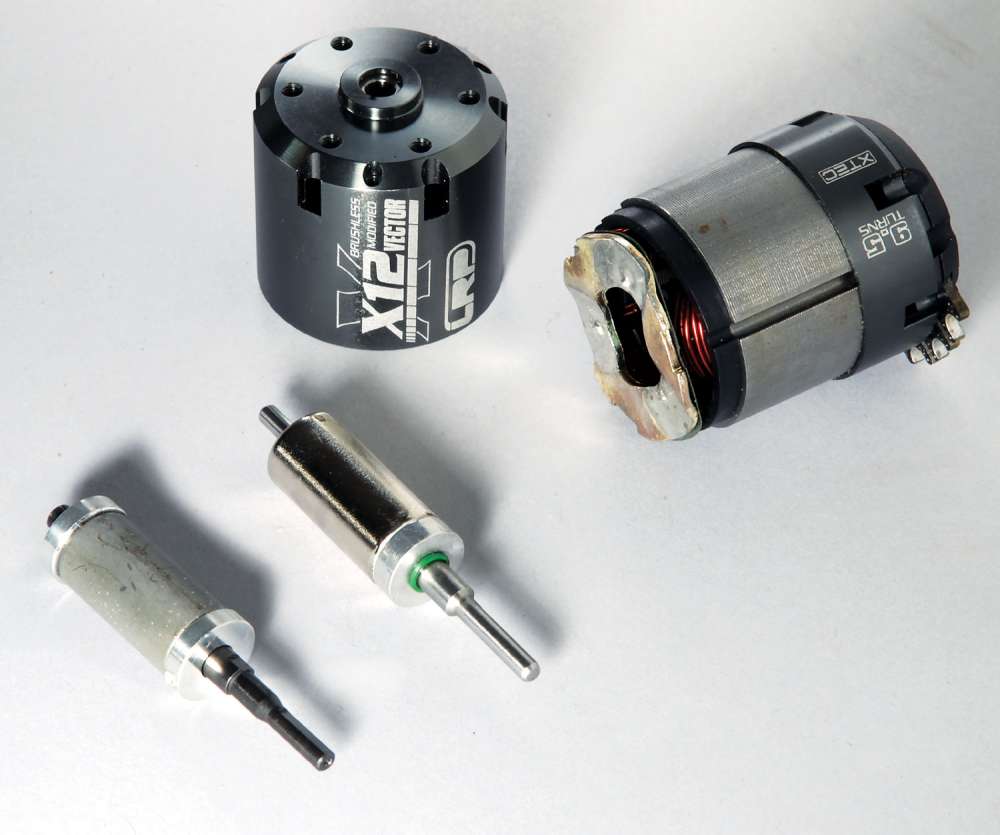 ROTOR KNOWLEDGE
All rotors have a center shaft. This houses the bearing surfaces and the flat spot for the pinion. The center diameter of the shaft affects the overall thickness of the magnet and is one of the sizes specified by the sanctioning body rules for spec class racing. Modified rotors are often not at all legal to use in a spec motor, even though they fit. Some designs have thick magnetic materials that are weaker; others have thin magnetic materials that are stronger. The balance of materials used is always up for debate and one it's of the areas motor designers tune with.
The magnet is typically a round cylinder or a tube. The modern RC car motor magnet is commonly Neodymium material that is manufactured using a process called sintering. Sintered rotors are molded and baked at very high temperatures. The process is similar to making ceramics but a bit more involved. The magnets are molded as tubes that are then attached to the center shaft. After the assembly is completed, the magnet has to be charged, or magnetized. The magnet tube is attached to the shaft with bonding agents. Depending on each manufacturer's processes, the rotors may require balancing. Some rotors have alum rings on one end that allow material to be removed, or added in some cases, to balance the rotors.
But what does all that mean? Typically the rotors are only marketed using their outside diameter. A given manufacturer's base rotor designs will be the same to save tooling and design costs. The easy spec to change and tune with has been the magnet's outside diameter and the blend of materials used to actually compose the magnet. First let's look at the materials.
ROTOR SECRETS
A manufacturer can work with suppliers to fine-tune their magnet composition. This allows them to balance the temperature tolerance against the strength. This can be tricky as a weak rotor does no good to a racer but a strong rotor that is overly sensitive to heating is equally bad. The magic blend of a motor rotor is a tightly guarded secret with most brands. Some favor high temp tolerance, others prefer magnetic strength. The balance is tricky as temperature tolerance and the magnetic strength are both very important factors.
TUNING
The diameter is one measurement that we can all understand but it is
commonly mistaken for what is really changing. Many racers assume that a larger rotor gives them more power. This is not really true. While it may feel like it has more grunt, there is actually no change in power. The motor is simply moving lower in the RPM range. This makes the motor suffer when used at a higher RPM range, often making the motor run hotter than normal. Torque rotors are good for short tracks that lack long straights. Some folks prefer them in truck classes as well. Heavier rigs tend to benefit from a bit more ump. When you use a tuning rotor, you should very likely be changing gearing as well. Assuming you had the previous rotor geared correctly, higher torque rotors usually lean toward a larger pinion. Going up one tooth is safe but some use tuning rotors to fine-tune feel as well. Lowering the RPM of the motor overall can help tame it down a bit, making it easier to drive. In cases like this, re-gearing is not always needed. The same is true for higher RPM rotors. Vehicle gearing limits or class rules may limit gearing, so you can then go to higher RPM rotors to gain some extra speed. The overall strength of the rotor can be a tuning topic as well. Oval racers measure their magnet strength and tune gearing accordingly.
The world of rotors can be confusing but in the end it's another valuable tuning tool that can be used by anyone. Happy Tuning!