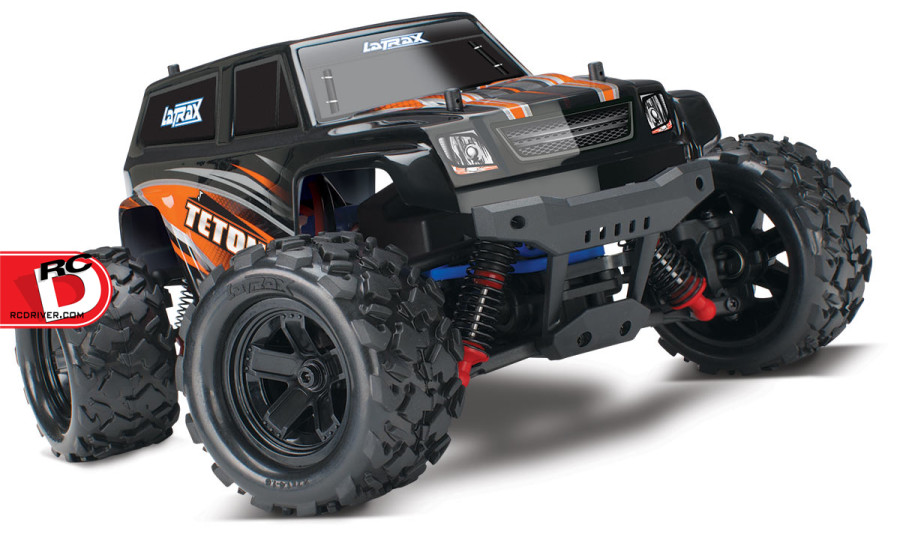 The Teton™ packs big all-weather adventure into a powerful 4-wheel drive off-roader that's quick and versatile for radio-controlled fun anytime, anywhere. This tough rig checks in at 1/18 scale, yet its purposeful design easily tackles rugged back-road terrain. The steep approach angle lets the grippy tires attack large rocks and tall curbs with aggressive climbing action. Smooth, long-travel oil-filled shocks keep the suspension motion in check over rocky terrain, and smooths out the landings when coming off of big jumps. Strength on the trail is assured with proven shaft drive, metal ring and pinions in the differentials, and smooth, long wearing ball bearings. Roosting dirt and slinging gravel are just part of the fun as the fully proportional electronic speed control and powerful motor deliver punchy acceleration and exciting speed
Teton is built to go the distance, and is always ready for your next off-road adventure. All-weather electronics rule over the elements for driving fun through streams, mud, and snow. The long range 2.4GHz radio system is always in command. The LaTrax Teton is perfect for any age driver or skill level and comes fully assembled, painted, and Ready-To-Explore™ with included 6-cell 7.2V NiMH battery pack and charger. Everything you need is included in the package. The LaTrax Teton is Powered By Traxxas; protected by world-class Traxxas support, 100% parts availability, and the LaTrax Lifetime Electronics Warranty.
4-Wheel Drive Off-Road Versatility
Teton stays true to the mountain terrain it is named after with versatile 4-wheel drive off-road performance that takes you places you might not expect. The simple and efficient shaft drive powers tall tires for increased ground clearance and aggressive traction. True 4-wheel independent suspension keeps the tires planted over all different types of terrain from smooth sidewalks to gravel-bottom creek beds. Teton fits easily in a backpack. Whether hiking or driving, how far can Teton take you on your outdoor adventure?
Waterproof, All-Weather Electronics for Total Driving Freedom
100% Fully Assembled and Ready-To-Explore™
The 1/18 LaTrax Teton is fully assembled with a 2.4GHz radio system, painted and decaled body, and easy instructions. A LaTrax 7.2V rechargeable NiMH battery pack, charger, and 4 Traxxas Power Cell AA alkaline batteries are also included. Everything you need for fun is in the box.