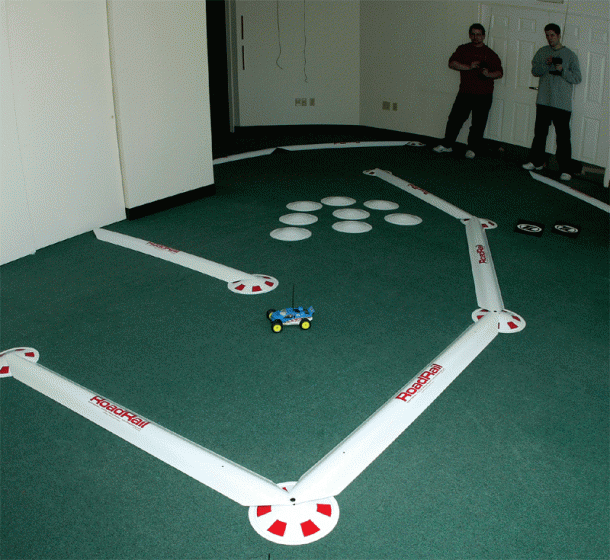 The excitement of competition, the challenge of man vs. machine: Whatever the reason, RC is simply more fun when you drive on some sort of a track. It could range from a puny indoor oval to a highly technical outdoor layout. It doesn't matter how small or simple it is. The challenge of turning laps against the course, clock or a friend brings a new dimension to the hobby. The introduction of Team Losi's Mini-T has downsized the area needed to set up a racetrack, and we thought we'd run you through some track layout basics. Whether you race on the downstairs carpet, the garage floor or out in the backyard, here are some track layout tips that will let you enjoy the thrill of competition.
THE BASICS OF BASEMENT BRAWLING
WIDTH. Before you lay out your track, you need to come up with a reasonable width for the track size. If you go with a width of four feet then there's plenty of room for side-by-side competition.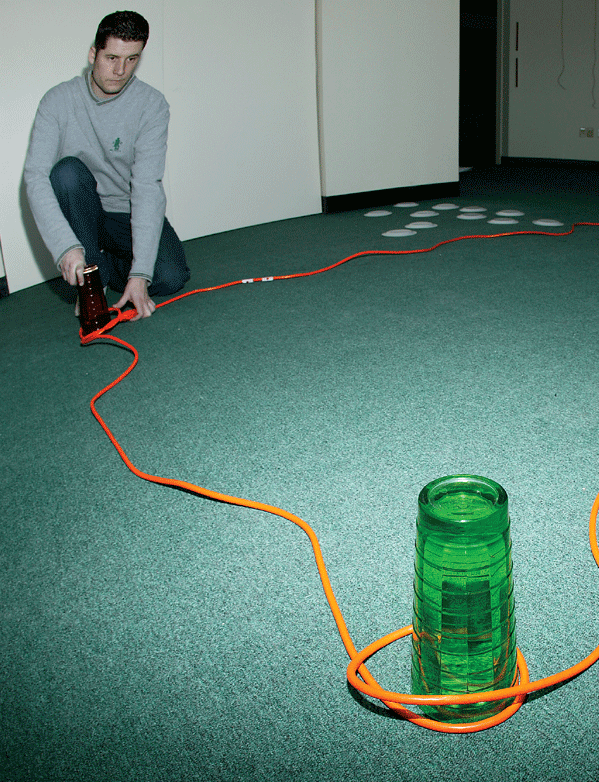 COURSE LAYOUT
Now that you've established the track width, it's time to create a course layout that fits within the confines that you have in which to run. Household items like plastic cups, a length of garden hose, some PVC pipe or an extension cord make fast work of this task
COURSE BARRIERS
The ultimate for racecourse reality is a true RC barrier like Road Rails and Road Domes from Hyper Hobbies. You don't have to worry about getting hung up on these things, or damaging your truck if you hit the "boards."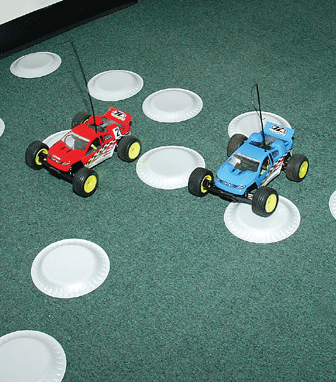 OBSTACLES
Spice things up on your track with a few portable hazards. Bubble wrap is an excellent and abrasion-free way to make a challenging mogul. Place a few random corner dots or plastic plates on the "track" to add to the challenge.
SPECK SPEC
Keep the playing field level. Encourage everyone to run the same type of battery or motor to keep things oriented on driver skill and fun. Keep track of your own laps and remember that this is all about having fun. Do you have the ultimate shag carpet speedway? A dining room Daytona or Garage Watkins Glen? We really want to see your creativity in action to share with and inspire other RC Drivers! Send us some pictures of your homebrew track: editors@rcdriver.com. We have some pretty cool stuff in the prize closet for the best submissions.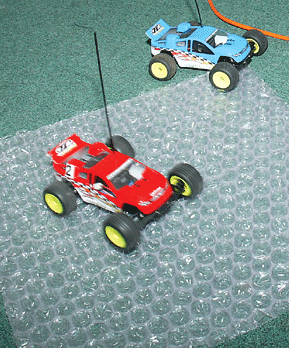 LINKS
HyperHobbies Inc., www.roaddome.com, (404) 228-9279
Team Losi, distributed by Horizon Hobby Inc., www.losi.com, www.horizonhobby.com, (800) 338-4639