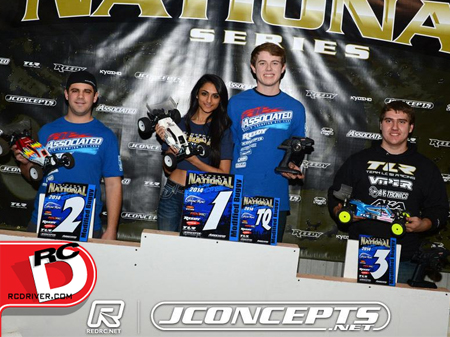 2014 marks the fifth year of the JConcepts Indoor National Series. The first stop on the popular series that attracts over 300 entries per event is SmacTrac in St. Charles, MO. Team Associated has been a long-time supporter of the series and this year is no different. Though 2013 IFMAR 4WD World Champion Steven Hartson, Team Manager Brent Thielke, and JConcepts owner Jason Ruona all made attendance, it was a 1500-gram piece of equipment that stole the show: the highly anticipated and just-released RC10B5 buggy, which was also in its first major race. With racers building their kits the day of practice, everyone was excited to see how it would perform against the current group of competitors.
Taking the first round TQ for the event was none other than Steven Hartson. However, it would be teammate Tanner Denney who roared back and took the next three rounds to start on pole with his Reedy-powered B5. The triple A-Main events were similar, with Hartson getting the victory in A1 and Denney taking the title by winning A2 and A3. Setting the fastest lap times all weekend long, the duo finished 1-2, giving the B5 a very successful debut.
Another highlight of the series is the addition of an RC10 Classic category. As the class gained steam it was none other than Brian Kinwald and his Reedy-powered RC10 Worlds Car that beat out Jason Ruona and Tanner Denney in an eventful main event. Look for more racers to join the category once the just-announced RC10 Worlds Car hits the market.
Also taking a win for Team Associated was the T4.2 Factory Team truck of Steven Hartson. In a hard-fought battle, Hartson finished off the 8-minute main to take yet another championship for Team Associated.
A big "thank you" goes out to the host facility, SmacTrac, and to JConcepts for organizing the event. If you'd like more coverage of the series and this particular event, head over to RedRC.net for lots of pictures and videos from the event.
Link: www.rc10.com