Slice through the competition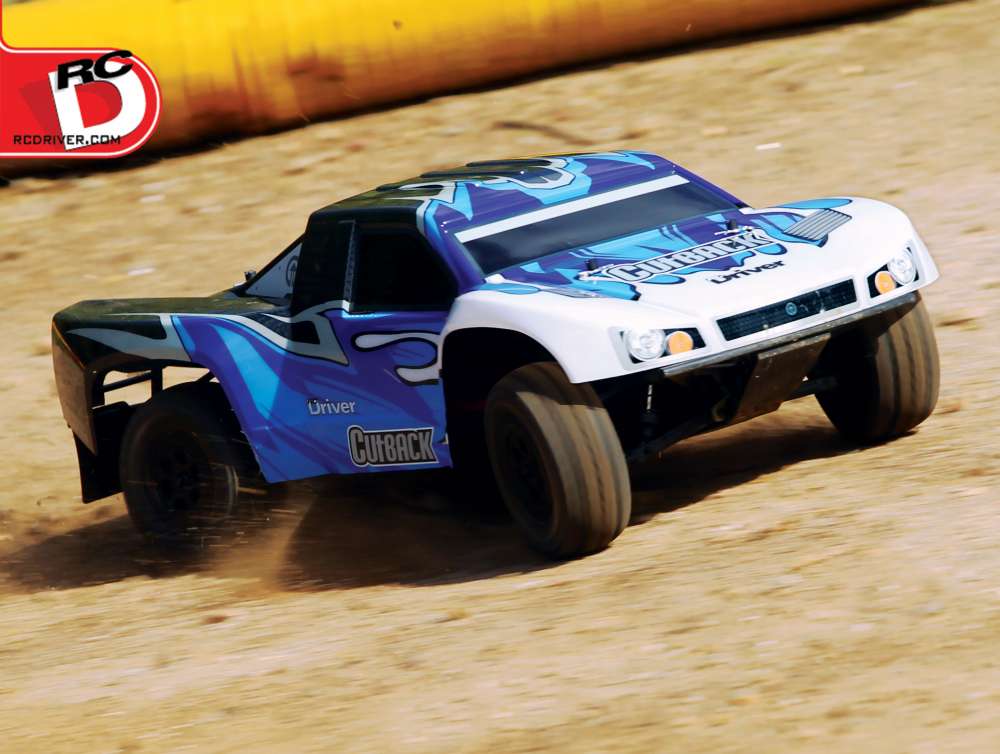 Words: Mark Ronge
Photos: Walter Sidas
From RC Driver Issue: 133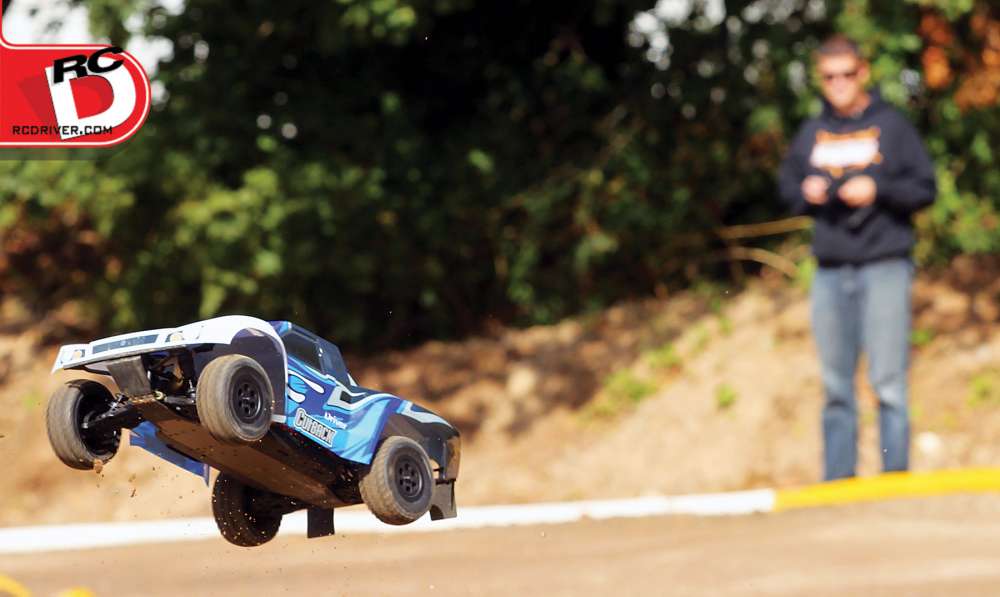 Tower Hobbies is relatively new to the RC car market (but obviously not to RC in general). Backed by Hobbico, the Tower Hobbies Cutback is a brushless 4X4 short course RTR set to compete in one of the most popular market segments today. On paper, the Cutback has a winning formula for a killer short course truck with water proof electronics, 2.4GHz radio system, efficient four-pole brushless setup just to name a few. Not to mention an excellent chassis layout designed with durability in mind and backed by a Tower Hobbies Bash-Proof guarantee. The Cutback has many features commonly found on high-end race trucks such as three sealed metal gear diffs and threaded shocks. While everything looks great on paper, read ahead to see if this offering from Tower Hobbies has what it takes to stand above the rest.
AT A GLANCE
WHO MAKES IT: Tower Hobbies
WHO IT'S FOR: All drivers
PART NUMBER: TOWC0500
HOW MUCH: $299.97
BUILD TYPE: RTR
PROS
• Strong brushless motor and ESC combo
• Quick, metal geared servo
• Bash Proof guarantee program to replace broken parts
• Thick, 3mm aluminum chassis and shock towers built to take abuse.
• Waterproof electronics
• Threaded shocks for quick height adjustments
CONS
• Documentation is a little lacking
• Front bumper does not extend beyond body shell
REVIEWER'S OPINION
The Tower Hobbies Cutback is an excellent addition to the 4X4 short course market. It is strong, fast, and can be had
for a competitive price considering the excellent electronics that are included. You will not have to worry about durability since it is backed by the Tower Hobbies Bash Proof guarantee which replaces most plastic parts for the first year of ownership if they break―so you know the truck is built tough. I am very pleased with Tower Hobbies' recent entry; it is a solid choice and definitely comes highly recommended.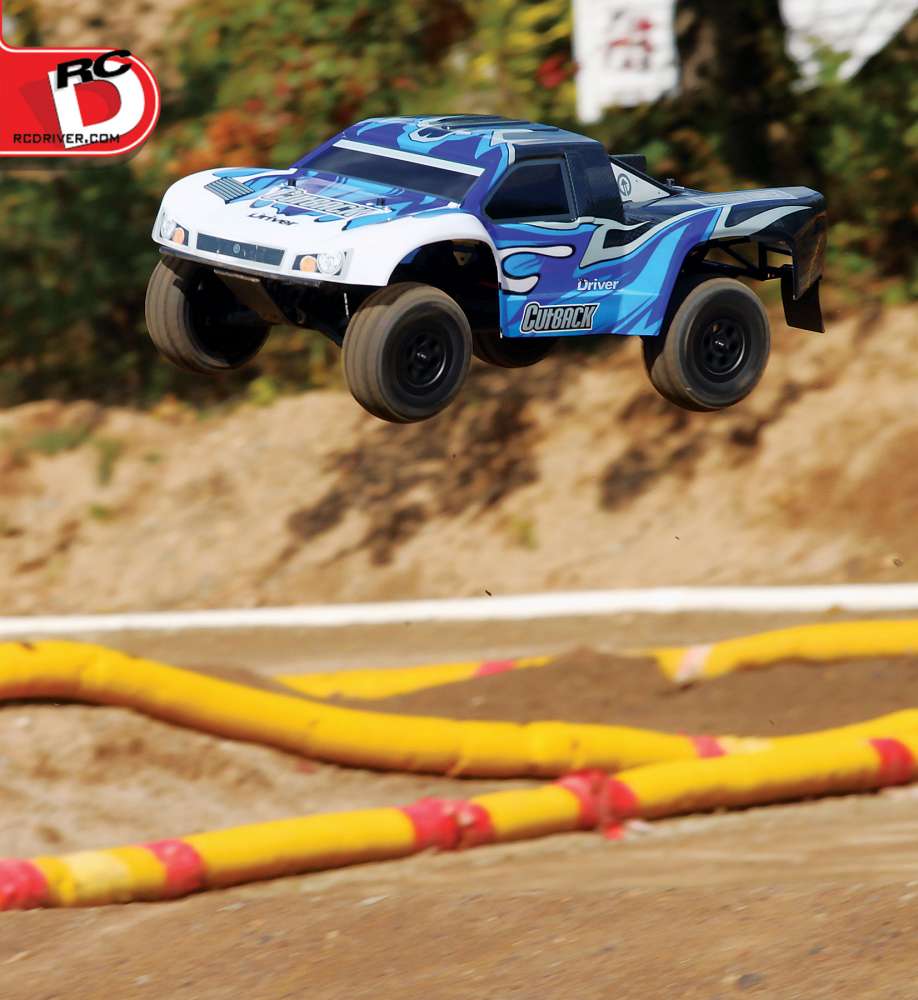 TOOLS AND ACCESSORIES INCLUDED
• 4-way wrench
• Spare spur gear
ITEMS NEEDED
• 7.4V LiPo battery (4000mAh 25C minimum)
• Battery Charger
ITEMS USED
• Duratrax Onyx LiPo 2S 7.4V 5000mAh 35C Hard Case – Even though the Cutback only requires a LiPo capable of 80 amp continuous discharge, this Onyx LiPo pumps out a whopping 175 amps and a higher capacity gives the truck more low end grunt and longer run times. If you can spring for this LiPo, do it!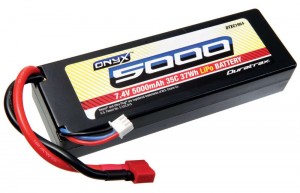 • Duratrax Li-24 2S-4S AC Balance Charger – If you don't have a LiPo-compatible charger already don't worry. Duratrax has you covered with the Li-24. For under 25 dollars you have a balance charger capable of handling 2-4-cell LiPo and LiFe batteries with charge rates from 1-3A. You can't beat that for the price, especially with the integrated power supply.
HOP-UPS WE RECOMMEND
• No hop-ups listed
FEATURE BREAKDOWN
• The Cutback features a 3mm aluminum gold-anodized chassis with plastic bracing throughout. The chassis is then further widened by some plastic attachments with girder-style angles to add strength to the design. There is plenty of room for the electronics and the Cutback has one of the neatest wiring jobs I have ever seen on an RTR model. The motor wires are cut to the perfect length and have their own plastic clip. The receiver wires are practically invisible and tucked away under a plastic brace. Thanks to the flat chassis design, the center of gravity remains fairly low for favorable handling characteristics. The front and rear bumpers offer a proper angle of kick-up so the truck won't get hung up on obstacles and multiple mounting points give the bumpers just the right amount of flex to absorb the energy from undesirable impacts. The Cutback features a battery tray with strong traps that will accommodate all standard 7.4V LiPo packs.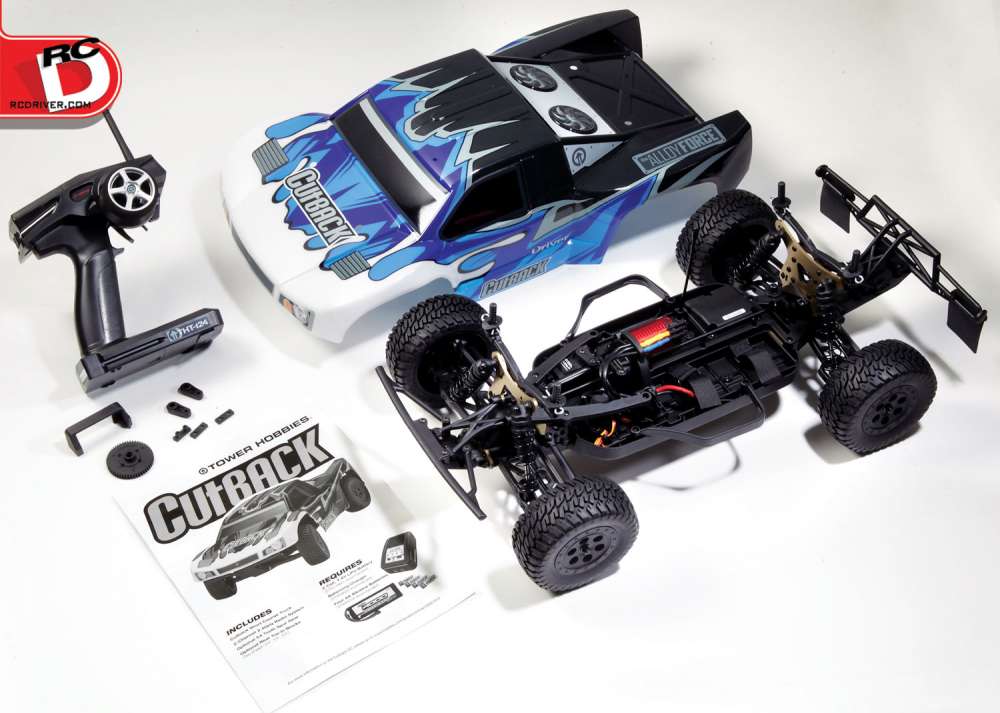 • This short course truck has a standard four-wheel independent suspension setup, with oil-filled shocks all around. Even though they are plastic bodied shocks, they are threaded so it is super easy to make quick height adjustments without fumbling for preload spacers. They also are incredibly smooth for an RTR set and have the perfect balance of oil weight and spring tension for all- around off-road bashing. The shock towers are top-notch, something you would see in a full-fledged race kit, constructed of 3mm thick anodized aluminum with tons of mounting positions for the shocks. You can even mount the camber links in different positions as well. All of the camber links are plastic and therefore non-adjustable and they have a neutral setup dialed in from the factory. The control arms are nice and thick, but they had some flexibility so you can tell they will last through intense bashing sessions.
• A Tower Hobbies branded waterproof metal geared servo handles steering duty on the Cutback short course truck. Although specs are not available at this time, the speed and power of the servo feels just right and it contains durable, metal gears. The servo saver is contained in the dual-bellcrank design, just like many race vehicles you would find at the track today. The steering links are plastic which will limit toe-angles for tuning but flex slightly to absorb excess energy and prevent damage to more vital components. The hubs offer a great steering angle which lends itself to an impressive turning radius for a 4X4 short course truck. Adjustments on the transmitter can dial this back a bit as well
• The heart of this truck is an excellent Tower Hobbies 3600Kv four- pole brushless motor that offers an incredible amount of torque to power the 4WD drivetrain. This is controlled by an 80 amp brushless ESC with a cooling fan mounted on the heatsink which also happens to be waterproof. The 4WD system transfers power between the front and rear via hardened steel driveshafts which also connect the front and rear differentials to the wheel adapters. The driveshaft from the spur gear to the rear diff makes a pretty sharp angle but did not bind or pop out during any of my testing. The front and rear diffs are sealed and contain metal gears, so they can be packed with heavier grease/oils for a limited slip-type effect. The 12mm hex adapters are found on all four wheels so most standard short course wheels will bolt right up to the Cutback with no issues. As an added bonus the tires contain foam inserts. Sometimes RTRs come without them and they definitely improve handling on short course trucks.
• The 2.4GHz receiver is located in a sealed radio box and is already bound to the included transmitter. The transmitter is similar to most RTR setups and has most basic functions like trim and steering rate adjustments. The included short course body has killer graphics; however, I have to admit I am slightly disappointed that the front bumper does not protrude from the front of the body shell. This may lead to the body taking a bit of damage over time, but while testing I have not found any signs of cracking yet. This kit also includes mudflaps to enhance the overall appearance of the vehicle.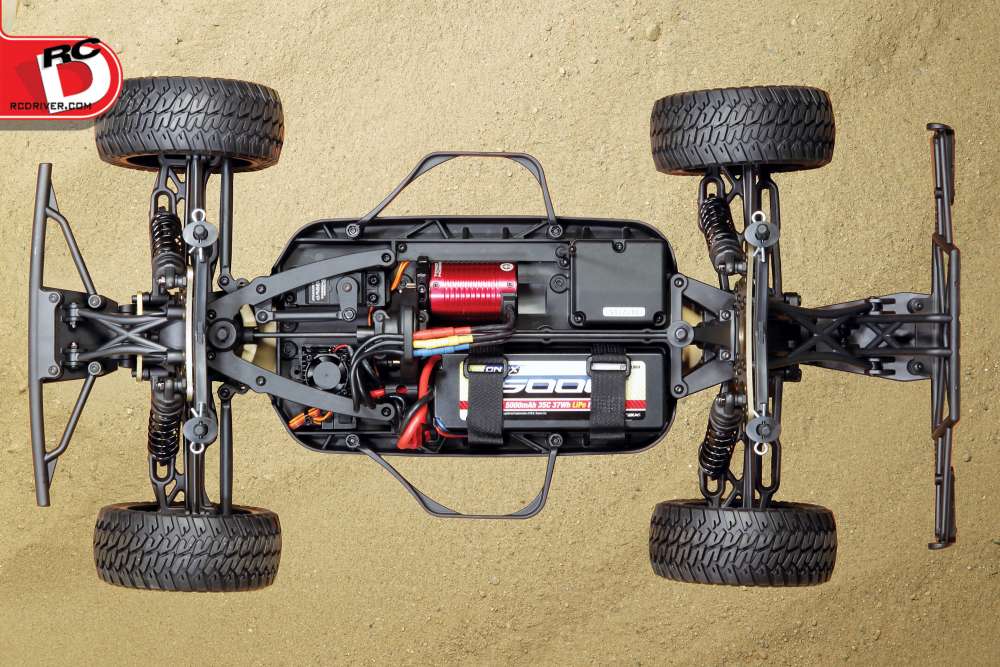 ON THE TRACK
STEERING
The Tower Hobbies S193WP servo provided a nice snappy response and more than enough authority to turn the short course wheels. If you wanted to increase the response I would even recommend tightening the servo saver slightly, since the metal geared servo should be able to handle shock better than plastic geared alternatives. As with most 4WD short course trucks there is understeer when on the throttle but the second you back off the back end is ready to whip around for some sick drifting action. The cutback is surprisingly nimble and thanks to the flat chassis design keeping the center of gravity low and the strong servo, changing directions is a breeze and you sometimes forget you are driving a 4X4. The turning radius is quite impressive as well, as long as you don't get on the power too much you can get nice tight turns especially on dirt/track type surfaces.
ACCELERATION/BRAKING
The Cutback features a very torquey 3600Kv four-pole brushless motor, which offers plenty of punch in the low end to power through many off-road obstacles. Even on some medium length grass (which tends to slow down other short course trucks I have driven), the truck powered through and almost matched the acceleration as if I was driving on a paved surface. Because I had so much available torque, I could have sworn I was driving a lighter weight buggy at times because of the way I was powering out of corners and over jumps. The Duratrax 5000 mAh 35C 2-cell pack is a perfect match for the Cutback and definitely contributed to the low end grunt I am talking about.. I guess my only criticism is that with the stock gearing and a good battery pack the top speed was a little lower than I expected, but I don't drive my short course trucks to break any land speed records so I am fine with that. The motor and speed control remained relatively cool for running full battery packs in stressful environments. I tested the brakes on pavement, performing a few stops after the truck reached its top speed to see the front end dive down and come to a skidding stop. The brakes are more than enough for any situation.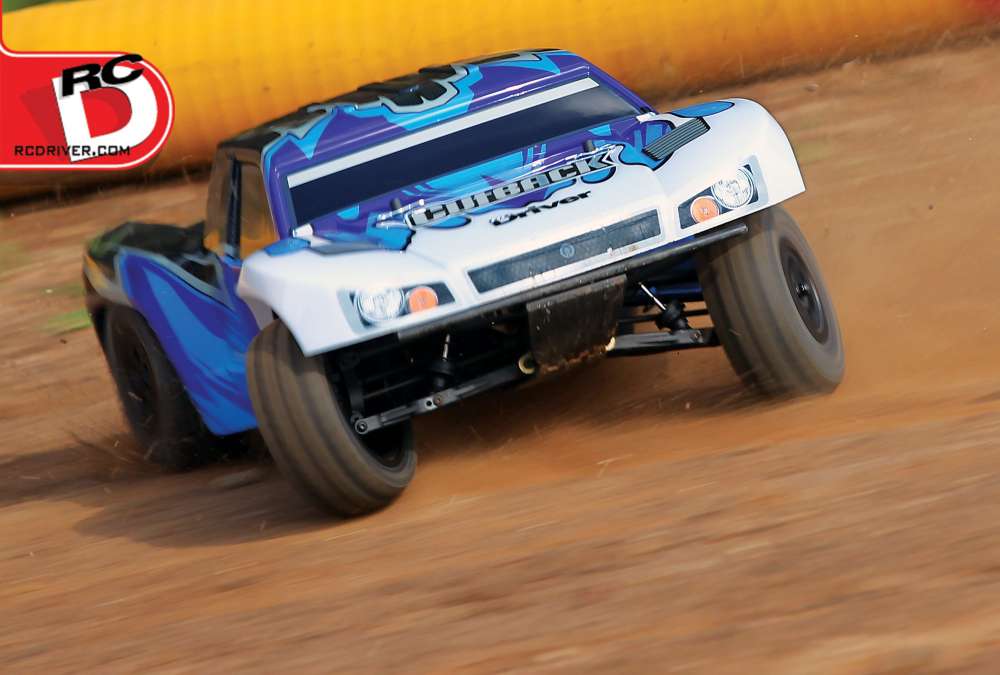 HANDLING/JUMPING
Jumping the Cutback using the stock suspension settings definitely takes some getting used to. Initially I had issues with the front end diving even if I stayed on the throttle. Once I trained my brain to not let off the throttle and power through the jumps I was getting much more favorable landings. Because the truck has threaded shocks, this can definitely be tuned out with thicker shock oils and/or raising the ride height which is my next course of action. Either way, the shocks did handle the impacts quite well and they settled quickly to line up for the next jump. From a handling standpoint, the truck totally feels like a race truck with its ability to drift around corners predictably. The truck loves to be run on loose dirt and nailing those long high-speed
drifts looks incredible and is actually quite easy thanks to the 4X4 transmission. At full speed in loose conditions the truck will whip around and cause chaos, with the scale-like short course tires offering impressive grip just short of buying race tires.
DURABILITY
Even with all the jumps I screwed up with the nose-diving I experienced, the front end soaked up all the damage with the flexible front bumper. Although the front bumper sits flush with the body shell I did not see any signs of damage to the Lexan. The Cutback is built to last with the thick 3mm chassis that seems impossible to damage and other than the bumpers it absorbs most of the energy from impacts. The only signs of wear and tear that I experienced were some squeaky bearings in the front after a bunch of test runs. That does not affect performance, but is slightly irritating. The Cutback seems to be one of the stronger trucks on the market and if you do happen to break any of the plastic components, the one-year Bash-Proof guarantee means Tower Hobbies will replace the parts free of charge.
SPECS AND TUNING OPTIONS
DIMENSIONS
LENGTH: 20.87-in. (530mm)
WIDTH: 11.22-in. (285mm)
WHEELBASE: 13.19-in. (335mm)
WEIGHT: 6 lbs. (2.72kg) with battery
BODY, WHEELS AND TIRES
BODY: Pre-painted and cut short course
WHEELS: Scale short course truck
WHEEL ADAPTER TYPE: 12mm hex
TIRES: High bite tires with foam inserts
SUSPENSION
TYPE: 4-wheel independent
SHOCK POSITIONS: (F) 3-tower, 2-arm, (R) 5-tower, 2-arm
CAMBER: Fixed
ROLL: N/A
WHEELBASE: Fixed
RIDE HEIGHT: Threaded shock collars
STEERING
TYPE: Dual bellcrank TOE: Fixed
CHASSIS
TYPE: Flat MATERIAL: Aluminum THICKNESS: 3mm
DRIVETRAIN
TYPE: 4WD
TRANSMISSION: Shaft drive with center diff
DIFFERENTIAL: Metal gear diff
GEAR RATIO: Optional pinion gears
BEARINGS: Full set of shielded CLUTCH TYPE: N/A
RATING TALLY
Opinion: 7
Performance – Acceleration: 9
Performance – Steering: 7
Performance – Handling: 7
Performance – Durability: 8
Feature Breakdown: 8
Overall Value: 8
WRAP UP
The Tower Hobbies Cutback was a blast to drive and I couldn't ask more from this affordable 4X4 short course truck. The power system was perfect and the electronics flawless throughout all of my test runs. Durability was not an issue, nothing kept me sidelined after multiple runs and only some minor maintenance was needed afterward to tend to a squeaky bearing. The excellent handling was a pleasant surprise and I am foaming at the mouth to see if Tower Hobbies will release a proper set of turnbuckles so I can race tune this vehicle. Either way the truck can hold its own in almost every bashing condition and the extra torque powered me though almost every obstacle I could find
LINKS
Tower Hobbies, towerhobbies.com, (800) 637-6050