S
oldering is one of those tasks in the RC hobby that you will have to encounter sooner or later. Soldering is when one metal, like what wire is made up of, is joined to another metal, such as a motor tab or battery connector, with a filler metal (solder). Perhaps you bought an ESC that needs its wires soldered or a wire broke off your motor in a crash and needs to be soldered back on. Wherever you land in the world of having to solder, you don't need to be afraid to do it, as many are. And you also don't need a high-priced soldering iron to do it. TrakPower offers the TK60 soldering iron for those who need to solder on the occasional basis. It's a low-budget iron that will tackle most tasks hobbyists encounter. Let's see what it can do.
AT A GLANCE
WHO MAKES IT: TrakPower
PARTS:  TK60 Soldering Iron
WHAT YOU GET: Pen-style iron and stand
PART NUMBER: TKPR1000
PRICE: $15.99
EASE OF USE: (1-Easy to 10-Hard)- 3
REVIEW RATING: (1-Toss it to 10-Awesomness)- 8.5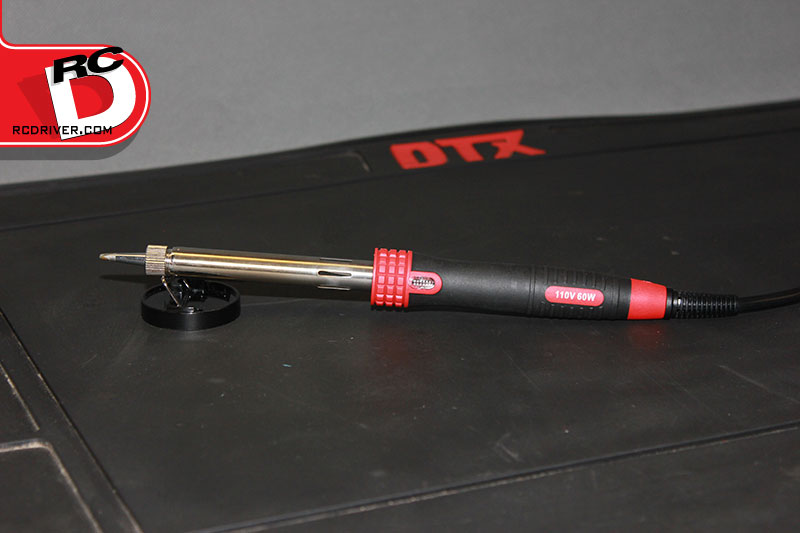 THE GOODS- The TK60 (TKPR1000) is a simple pen-style iron with a heavy-duty grounded cord, slender rubber padded handle and has a built-in light to indicate when the power is on. The extension tube leads to a 2.4mm chisel tip where the soldering is done and is heated by 60 watts of power. The unit comes with a small round base with a metal flip-up stand to perch the iron on as it heats up or when you need to put it down to rest.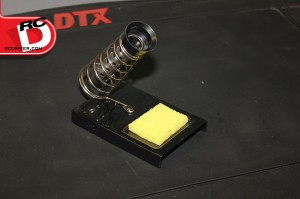 OPTION- If you want to turn your TK60 purchase into a more professional set-up, you can pick up the Deluxe Iron Holder with sponge (TKPR1020). This stand holds the iron in a more secure fashion with the heating element more guarded when in a stored position. The sponge is used to clean the tip for better solder adhesion.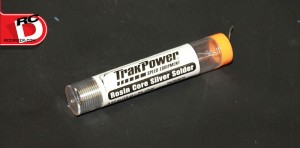 USE QUALITY SOLDER- While on the topic of soldering it's a good idea to use a quality solder and TrakPower has you covered there too. They offer a Rosin Core Silver Solder (TKPR0975) that is environmentally safe, lead-free and contains 3% silver. It comes in this neat little 15G dispenser tube.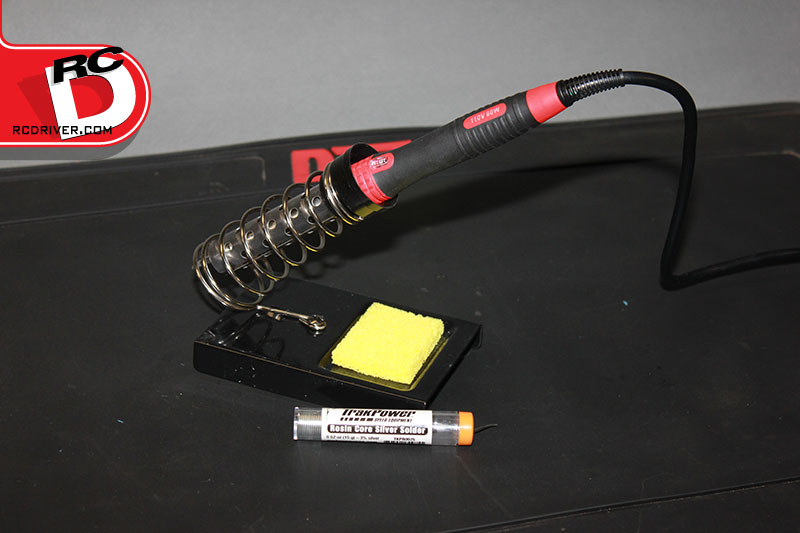 THE WORKS- To see if the TK60 was up to the task of what RC hobbyists need, we simply used it for a few tasks on the RC Driver shop workbench, soldering some battery plugs to wires and even tried resoldering a servo lead into a servo's circuit board. First off, when you plug it in, it's going to take some time to get up to its highest temperature. Plan on waiting at least five full minutes for it to come up to temperature. Once it did, the solder melted and flowed as it should. We tinned (applied solder) a 12-gauge wire with the Silver Solder and it soaked in nicely to the strands. We added a bit more solder to the tip and then soldered the wire to a motor tab and it left a nice shiny silver solder joint behind.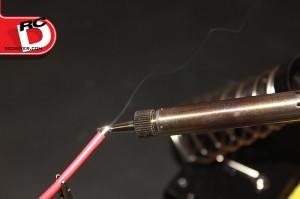 The TK60 did a nice job, but on a side note, you don't want to hold the iron on the components for an extended period as it can harm the item being soldered or weaken the solder itself, which can be seen as dull silver. Soldering something should take 3-4 seconds or even less. Sometimes you may fool yourself and not use enough solder; more is better as long as it doesn't blob over to the next solder joint and possibly cause a short. But back to the TK60, the big task was completed, but could this iron solder a wire into a circuit board? We opened up a servo and used the narrow side of the chisel tip to unsolder a signal lead from a circuit board. We were very careful, but we were able to do it. This iron is versatile and worth every bit of the $16 it costs.
WRAP UP
TrakPower's TK60 Soldering Iron is absolutely a must-have item for the RC'er that needs to occasionally solder. With TrakPower's optional stand and Silver Solder, you can even have a nice little soldering set-up on a budget. The iron does take several minutes to heat up, so you have to plan your solder time just right and not use this to get you out of a quick bind before a race. If you do need a more high-end iron that has adjustable heat and faster heat up times, check out TrakPower's other iron offering, the TK-950 Soldering Station.
LINK
TrakPower USA, trakpowerusa.com