High-Performance and Feature Packed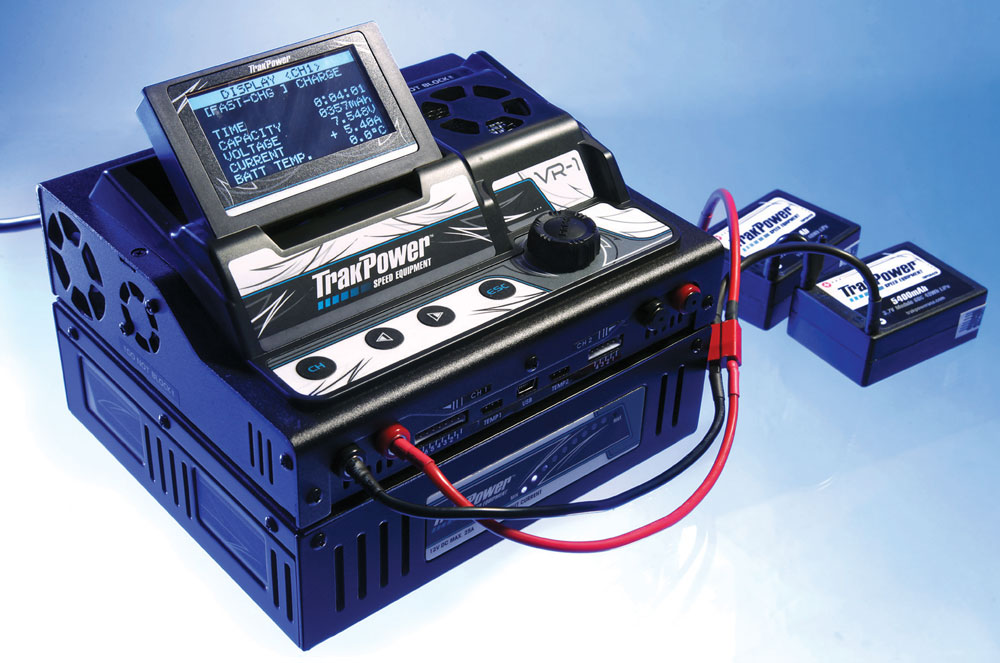 Words: RC Driver Staff
As Lithium Polymer batteries have become the standard in RC and capacities and cell counts continually increase, so have the demands for more powerful chargers. High milliamp hours (mAh) batteries increase the charge duration. To combat this, more LiPo batteries now allow charge rates as high as 12C. Of course, you will be unable to take advantage of higher charge rates without high-powered equipment like the TrakPower VR-1 charger.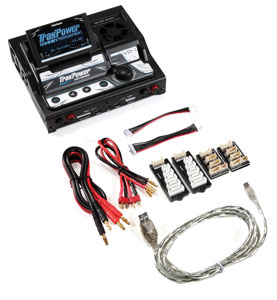 VITALS
HOW MUCH: $199.98
MODEL NO.: TKPP5000
POWER INPUT: 11-15V external DC power supply
BATTERY TYPE: NiCd/NiMH: 1-14 cells, LiPo/Li-Ion/LiFe: 1-6 cells, Pb: 1-12 (24V)
CHARGE RATE: Variable .1-20A
DISCHARGE RATE: .1-10A
BATTERY INPUT: Banana Input
COOLING: Three built-in fans
DIMENSIONS: 7.0×6.1×2.56 in. (180x155x65mm)
WEIGHT: 2.1 lb. (970g)
PROS
• Large, tilting screen
• Directly docks onto TrakPower DPS power supply
• Powerful output
• Compact design
• Capable of charging two batteries simultaneously
CONS
• Partial features on charge port #2
• Limited to 6-amp on charge port #2
WHAT IT'S GOT
• The VR-1 charger features a compact aluminum exterior and a very large tilt LCD display that offers a wealth of information such as individual cell voltage, internal resistance, charge graphs, charge duration and more.
• Dual port charging and balancing is a great feature. The charger allows the user to adjust the wattage to ports one and two. Port number one can have a maximum wattage of up to 250 and port two can have up to 50. 250W is the maximum output of the charger. This means that if you intend to charge two batteries simultaneously, the wattage cannot exceed 250.
• The charger is capable of charging up to 20 amps on port number one and six amps on port number two. (Wattage figures are limited by the user's power supply.)
• The VR-1 includes charge leads (Banana to Dean's) and balance boards for both ports. Two balance board types are included for each port, which means you will be able to charge and balance virtually any RC LiPo battery.
• When you purchase the optional TrakPower DPS power supply, the charger can dock on top of the power supply without any wires to connect the two devices. This allows the charger and power supply to function as one compact unit and occupy minimal space.
• The charger features a 40-battery memory capability and comes pre-programmed for batteries from TrakPower, Duratrax Onyx and LiFeSource.
• The VR-1 features three robust fans that will automatically engage when necessary to ensure that the charger maintains efficient operation.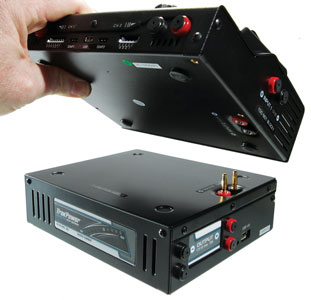 HOW IT WORKS
The TrakPower VR-1 is a DC charger, which means it does not directly plug into a power outlet. In order for the charger to work, it must be connected to either a large battery or a power supply that would plug into an outlet. You can use a power supply of your choosing or purchase the optional TrakPower DPS power supply—very trick, which allows direct docking for the VR-1 (item no. TKPP5505, $99.98).
The TrakPower VR-1 is intuitive for the most part. After briefly playing with the buttons, I was able to figure out how to name the charger, review cell data and swap between charger port number one and number two and more. I did find it a bit more difficult to actually charge a battery because each different battery (different milliamp, cell structure, etc.) requires programming into the charger's model memory. Unfortunately, it is not possible to simply select your charge rate and cell structure to begin charging (at least not on charge port number one).
Once the charge cycle has commenced, you will be able to access a significant amount of data via the various screens. These include time of charge, charge rate, charge graphs, individual cell voltage, overall voltage and more. When the charge is complete, you will hear an audible jingle that you can customize to alert you that the charge has been completed. If you leave your battery connected for approximately ten minutes after the charge has completed, you will have access to the internal resistance numbers. Internal resistance numbers are important as they can clue you in on when your pack is at the end of its life cycle.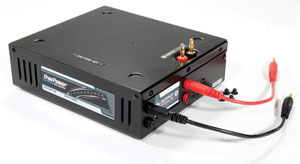 FINAL THOUGHT
The TrakPower VR-1 is a good charger, but is not without its faults. The charge port number two leaves a lot to be desired in terms of graphical data and charge rates. In terms of port number one, the charger is excellent as it provides all of the battery data you will need. Additionally, you can charge at up to 20 amps and have a fully charged pack that is ready-to-run within minutes.
The TrakPower VR-1 not only offers the performance to charge my four-cell batteries (ThunderPower 12C charge rates) at high rates without issue, it also delivers when it comes to the backlit LCD display, ability to dock with the DPS power supply, and its compact size. Though charge port number two does not offer enough power to quickly charge 4S LiPo packs, charge port number one is so fast that I feel the second port is practically unnecessary.
All in all, I am thoroughly satisfied with the TrakPower VR-1 and do not at all regret the purchase of this fine piece of equipment.
LINK
TrakPower trakpowerusa.com, 217-398-8970