The ultimate bow-tie brigade muscle car!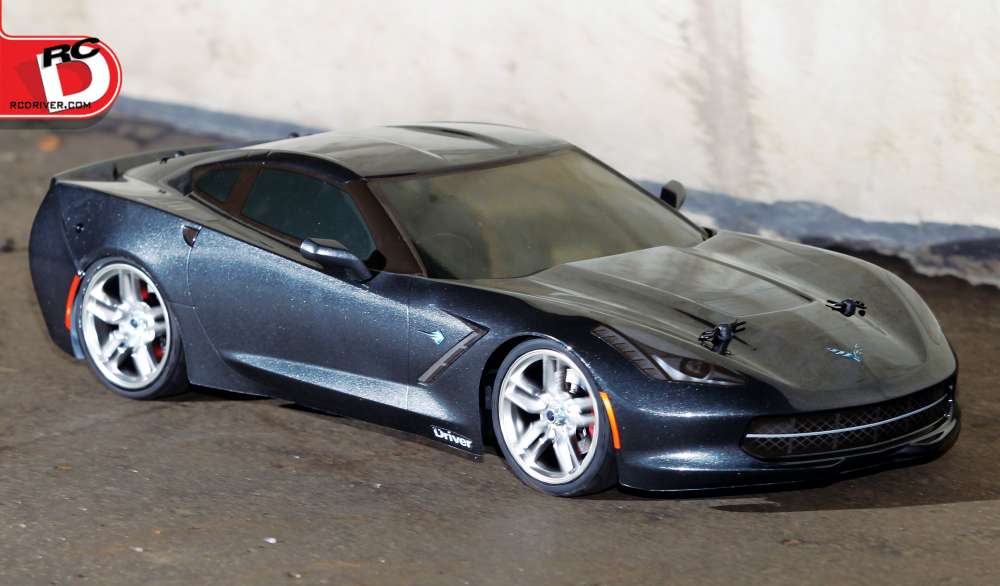 Words: Scott Donaldson
Photos: Walter Sidas
From RC Driver Issue: 133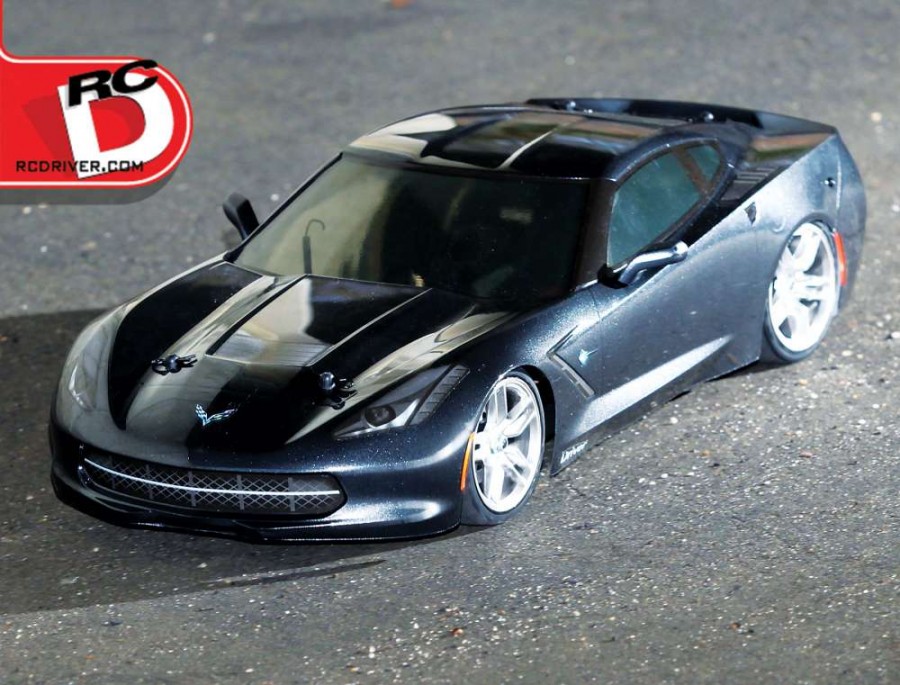 Horizon Hobby introduced their Vaterra line of vehicles nearly two years ago now with an emphasis on scale realism and officially licensed bodies. There has been a very close relationship between Chevrolet and Vaterra since then with great looking bodies including 2012 and 1969 Camaros, the just-launched 1986 K5 Blazer and the sweet-looking 1969 Custom Corvette. Earlier this year Chevrolet announced the latest Corvette. This wasn't just any 'Vette but a 2014 Stingray Corvette. Fans of the full-scale Corvette like me will be pleased to know Vaterra has once again teamed up with Chevrolet to recreate the newest Stingray in 1/10-scale. As a fan of on-road cars and Corvettes I was excited when this review showed up on my workbench.
AT A GLANCE
WHO MAKES IT: Vaterra
WHO IT'S FOR: Beginners and Scale Enthusiasts
PART NUMBER: VTR03011
HOW MUCH: $289.99
BUILD TYPE: Kit
PROS
• All-in-one-box purchase, even the "AA"s!
• Unparalleled scale looks and accuracy
• Waterproof electronics
• Full ball bearings
• 2A AC peak detection fast charger
• The stock tires work surprisingly well

CONS
• Friction shocks
• A bit on the expensive side
• Not the easiest platform to repair or replace parts on
•Uses proprietary spur gears and fixed motor placement for gearing adjustments
REVIEWER'S OPINION
The one thing that Vaterra has emphasized since day one is scale realism and the Corvette Stingray doesn't disappoint in that regard. The lines of the full-scale car are perfectly replicated in 1/10-scale, even down to the wheels and headlight buckets. Where the looks are spot-on, the chassis performance left me looking for a little more, especially for the street price. Thankfully there is a full line of option and tuning parts to improve top speed and handling.
TOOLS AND ACCESSORIES INCLUDED
• 4-way wrench
• L-wrenches
• 2A AC peak detection charger
• 1800mAh NiMH 6-cell battery
• 4 "AA" batteries
ITEMS NEEDED
• ESC
• Servo
• Battery
• Receiver/transmitter
• BEC
• Winch
• Lights
• VTR3330001 Aluminum Oil Filled Shock Set I am not a fan of friction shocks and these are the first hop-ups I will install on the Stingray. These beautiful shocks are silky smooth and will really smooth out the road in front of you. They come as a set of four shocks and feature green anodizing to really set them off.
• DYN4942C Dynamite 3300Kv Brushless Motor and ESC Combo The included brushed motor does a good job of getting the Stingray up to about 25 mph; solid for an RTR but it may leave the more experienced driver longing for more. The Dynamite system is the same one that is included with the brushless 1969 Camaro SS so you know that it is more than capable in this platform. It's also very programmable with the optional Dynamite Fuze Digital Program Box.
• VTR332003 Aluminum Center Drive Shaft If you are going to add more power, the stock molded-center driveshaft is going to be tested. Upgrading to the aluminum center shaft will eliminate any twisting or flex you may experience if you do make the move to LiPo or brushless power. Plus the gunmetal grey anodizing looks awesome.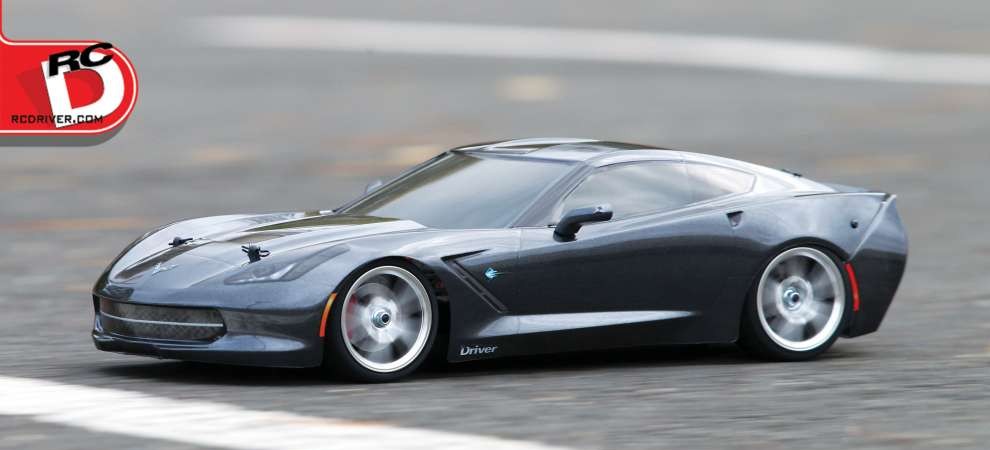 FEATURE BREAKDOWN
• The backbone of the Corvette Stingray is the Vaterra V-100S chassis, the same on-road platform that Vaterra has used on their previous on-road cars. The chassis is a molded tub that is pretty rigid both front-to-back and side- to-side. To keep the front-to-rear flex under control, a molded brace spans from the front to rear bulkhead. The underside of the chassis is smooth until you get to the rear where the equivalent of a diffuser has been molded into the chassis just in front of the rear tires. While this car won't be going fast enough to really see the aerodynamic benefits, it is a cool touch.
• To help keep the motor cooler and protect you from touching a potentially hot motor, a molded shroud with integrated NACA ducts has been incorporated into the chassis. The channeled shroud accelerates the air as it passes through the openings and really makes a difference. This also helps keep dirt and debris from fouling your gears.
• The front and rear A-arms are pretty different from what many other cars use. Instead of a traditional inboard hinge pin the inboard suspension pickups use a pillow ball sort of configuration for the lower arms. The front caster can be changed by sliding the upper arms forward or back by relocating shims. You can also adjust the rear anti-squat in the same way. Dampening, as it is, is handled by coil-over friction shocks. For what they are they work OK but for those who want to improve the handling there are optional oil-filled units I would highly recommend.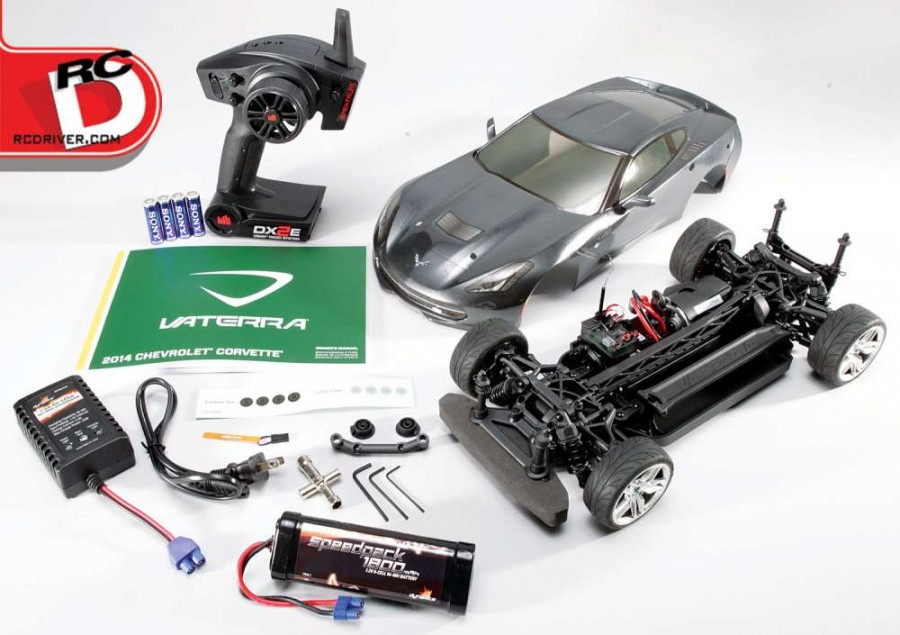 • The Corvette Stingray comes as an RTR and, as such, the electronics are installed for you. Keeping the electronics in-house, Horizon Hobby opted to use a waterproof 60-amp forward and reversing Dynamite ESC. The ESC comes low-loss with EC3 connectors pre-wired; not the most common connector out there but they are much more efficient than some of the older connectors of the past. The Stingray comes with a Dynamite 1800mAh NiMH 6-cell battery pack to power the 15T brushed motor. The rest of the electronics package includes a Spektrum S6170 servo and SR200WP receiver, both of which are also waterproof. Wrapping up the electronics package is a 2A peak detection charger which will charge up the included battery in around an hour and a Spektrum DX2E transmitter.
• The V100-S uses a very efficient shaft drive system to transfer power to the front and rear differentials. The front and rear differentials are what Vaterra calls a VTV, or Viscous Torque Vectoring, diff setup. Developed originally for the Vaterra Glamis Uno and Glamis Fear buggies, these diffs are designed to reduce wheelspin on loose or low-grip surfaces. One thing many may not expect in an RTR platform such as this is that the diffs are completely sealed and can be filled with silicone diff oils of different thicknesses to further dial them in to any surface. The entire drivetrain spins on shielded ball bearings to reduce drag and provide the best speeds possible out-of-the-box.
• One of the cool things about the V-100S chassis with the Corvette Stingray's backbone is that there are a ton of option parts and bodies available. The bodies from the other Vaterra on-road cars will fit on this chassis or vice versa if you want to mount the Stingray body to another platform. As a 190mm platform you can also fit any standard sedan body to the chassis.
ON THE ROAD
To put the Stingray through its paces I charged up the included battery pack and headed to the closest empty school parking lot. I charged up several batteries since I knew that just one wouldn't be enough. I had a few corner dots from when I used to parking lot race and I used these to set up a basic layout with a nice sweeper, a bus-stop chicane, a key hole or two and a decent straightaway. Knowing that the target audience for the Stingray is those who have little if any RC experience, I didn't spray the parking lot with any sort of soda or traction compound. This would be a pretty pure test of abilities in the target environment.
From the first pull of the trigger the Vaterra Stingray zipped away at a decent clip. In no time flat I was really comfortable with how the chassis performed and with what I could get out of the car. I'd estimate my speeds were between 20 and 25 mph, very respectable for the brushed motor and NiMH battery. More importantly, it was fast enough to be fun for less-experienced drivers but not so fast that the car was difficult to drive. Runtimes were better than expected, too, as I experienced twelve to fifteen minute runtimes as a norm. The 15T motor may not be the biggest motor you'll find but it does sip the voltage to extend your playtime.
While some may raise an eyebrow at the concept of a "4WD Corvette" the V-100S is an ideal platform to have fun with. In the event that the rear end started to step-out, grabbing more throttle helped more often than hurt because the front wheels would pull the car back under control. I never tweaked the diff settings even though the VTV diffs would allow me to do so. I was having too much fun ripping around my makeshift racetrack. The shaft drive system provided the crisp throttle response I've come to expect from such a drivetrain. After the third battery pack it had occurred to me that while I lamented the friction shocks, the suspension of the Stingray was working well enough that I couldn't really complain about them. They stock dampers worked well for what they were. Occasionally I'd hit a larger stone on the parking lot that would kick the car sideways slightly but it was nothing that I would consider negative. I will say that the optional oil dampers will provide even better suspension support on a wider variety of surfaces but for this application the stock shocks were up to what I was throwing at them.
With my pile of testing batteries discharged I headed back to the workshop with a smile on my face. The Stingray had a slight understeer characteristic, something that is very beneficial for a beginner, but overall the car felt very neutral. The V-100S chassis performed exceedingly well all day long and, while I clipped a few corner dots here and there, the Stingray came out the other side of my test looking great and impressing me all-day long.
SPECS AND TUNING OPTIONS
DIMENSIONS
LENGTH: 14.85 in. (371mm)
WIDTH: 7.76 in. (194mm)
WEIGHT: 3.875 lbs. (1.76 kg)
WHEELBASE: 10.25 in. (256mm)
BODY, WHEELS AND TIRES
BODY: Pre-painted 2014 Chevrolet Corvette Stingray
WHEELS: Corvette Z-51 Wheels
WHEEL ADAPTER TYPE: 12mm hex
TIRES: 26mm Front and 30mm Rear Rubber Tires
SUSPENSION
TYPE: 4-wheel independent
CAMBER: Fixed
ROLL: Fixed
WHEELBASE: Fixed
RIDE HEIGHT: Adjustable Shock Pre- Load Clips
MISC.: Adjustable Caster and Anti-Squat
STEERING
TYPE: Dual Bellcrank
TOE: Fixed
CHASSIS
TYPE: Bathtub
MATERIAL: Modular Composite Design
THICKNESS: N/A
DRIVETRAIN
TYPE: 4WD
TRANSMISSION: Shaft Drive
DIFFERENTIAL: VTV Fluid Fillable Gear Differentials
GEAR RATIO: 9.33:1
BEARINGS: Full set of shielded bearings
CLUTCH TYPE: N/A
RATING TALLY
Opinion: 7
Performance – Acceleration: 7
Performance – Steering: 7
Performance – Handling: 7
Performance – Durability: 9
Feature Breakdown: 6
Overall Value: 7
THE LAST WORD
If scale realism matters to you, if you're look- ing for a car to have fun with and perhaps you are a full-scale 'vette fan then the Vaterra 2014 Corvette Stingray is a car you should seriously consider. It handles well and is deceptively quick out-of-the-box, it is built like a tank and you can tune it with some select option parts that really make it a great little car. Mix in additional items like a waterproof electronics package, Spektrum radio system and that sweet officially licensed body and you have the equation for a lot of fun.
LINKS
Vaterra, vaterrarc.com, (800) 338-4639