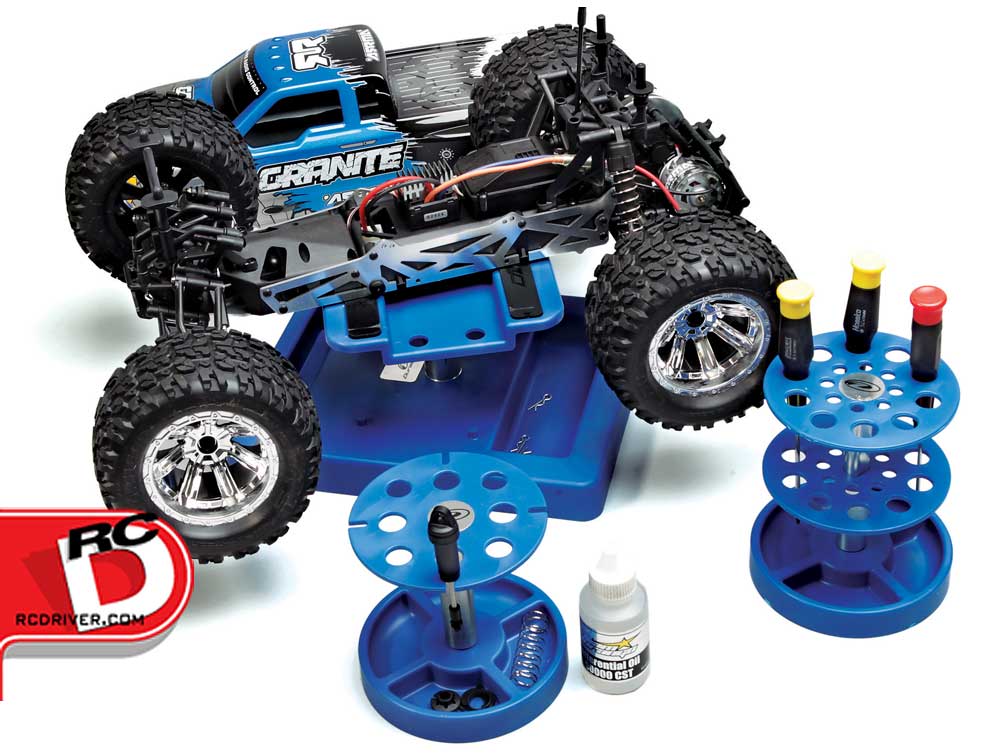 Words: Tony Phalen
Photo: Walter Sidas
I have a scenario for you. You show up at the track on race day. You pull out your tool box (which looks more like the cart a homeless person would push around) and you get to working on your car. Tools immediately start falling on the floor since there's zero organization. Oh wait, you have to rebuild shocks. As you start pulling the dampers off, your lack of a proper car stand has your ride sliding all over the pit. Once you have them off, where do you put them? Oh, I see, you're leaning them against your charger. That's a nightmare waiting to happen. Does this sound familiar? It's actually more common than you might think.
So, what's the alternative to this train wreck? The proper pit tools, I tell ya! Why not pick up a full set of Duratrax Pit Tech pit accessories and organize that mess? There are three to choose from (or get them all): Pit Tech Deluxe Truck Stand, Pit Tech Deluxe Shock Stand and Pit Tech Deluxe Tool Stand. Let's break it down…
PIT TECH DELUXE TRUCK STAND
The Deluxe Truck Stand is a three-piece unit that comes with a molded base, molded top and aluminum center post. Assembly is easy as 1-2-3; simply slide the post into the top and bottom and bam…done. The base has two molded pockets for body clips, wheel nuts or extra screws or parts. The top rotates, has rubberized strips to keep your car from sliding around and has four holes in the dropped center to hold your shocks during rebuild. The whole unit breaks down flat and snaps together for storage or transportation.
PIT TECH DELUXE SHOCK STAND
Rebuilding shocks can be messy, so having a good shock stand is important. The Deluxe Shock Stand is similar in design to the Truck Stand, having three pieces that simply slide together. The molded lower has four compartments for o-rings, bladders, or to catch oil draining from the shocks. Eight holes are available in the upper plate for shocks and caps, and four slots are cut to allow you to hold shocks upside-down for draining. This unit can also be disassembled and stored flat for transportation.
PIT TECH DELUXE TOOL STAND
My personal favorite, the Deluxe Tool Stand, is a four-piece unit that snaps together like the other two. The only big difference is the flat spot on the center aluminum post; it keeps the upper and middle trays in place so the holes stay aligned. Nice touch. The base is the same as the Deluxe Shock Stand, with four compartments to hold additional goodies. This stand can manage up to 18 RC tools…if you need more space than that, well, get two of these!
All three of these pit accessories are a must-have at some point and each can be had for under $15 a piece. That's a drop in the bucket, in my opinion, compared to the headaches of being unorganized.
LINK
Duratrax duratrax.com, (217) 398-8970