Extreme Speed Buggy! When you think of a good basher car what do you expect from it? I think most would say they want something fast with race car like handling and obviously something so fast needs to be durable enough to take some abuse. Arrma has made a name for their 1/10-scale vehicles by delivering all of the above. Now they are taking on the 1/8-scale market with a new line of vehicles. We're going to be looking at the Typhon buggy platform. With the ability to run a 6S Lipo battery you know it is fast. Now the question is, does it have the handling and durability that we've come to expect from Arrma? If you're thinking Typhon is kind of an odd name, I'll go ahead and tell you Typhon is the biggest, toughest monster in all of Greek mythology. He stood toe to toe with Zeus himself and defeated him the first time around. Is this a car that is ready to stand up to the Greek god Zeus? Maybe, let's see.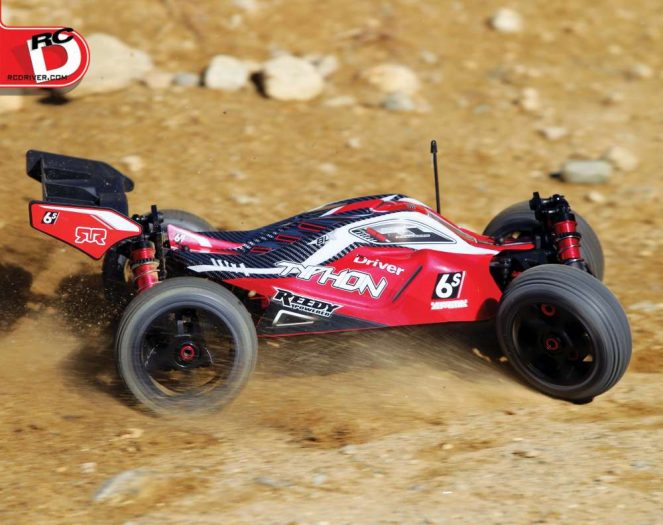 Words: David Harrington
Photos: Walter Sidas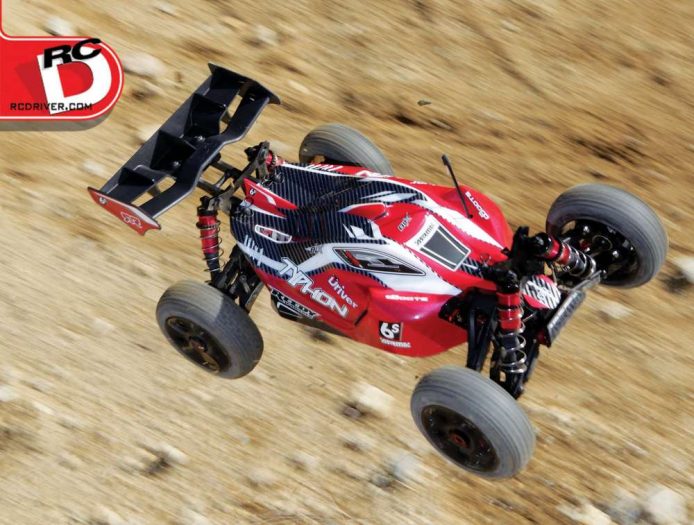 AT A GLANCE
WHO MAKES IT: Arrma
WHO IT'S FOR: Intermediate drivers
PART NUMBER: ARAD80**
HOW MUCH: $429
BUILD TYPE: RTR
BUY FROM AMAZON: https://amzn.to/2PiDNvL
PROS
• 180 amp ESC with the ability to run a 6S LiPo
• Strong and fast servo
• Waterproof electronics
• Aluminum servo horn is chunky
• Aluminum shock towers are a beefy 5mm
• Extra thick drive shafts should resist twisting
• 16mm big bore shocks do a great job in the rough stuff
CONS
• I would like to see more programming options in the ESC. For example, some battery companies require you to run your LiPo cut-off at 3.4v per cell or you void your warranty, so I would like to be able to bump that up. Also, since this car is so beginner friendly, I think it would be good if you could dial it back for first time users.
• The overall fit and finish on this car is excellent which can make imperfections seem to stand out. This is getting really nitpicky, but a couple of areas I would like to see addressed are, that the larger countersunk screws on the bottom of the chassis protrude about a half milli- meter, which could cause one to get knocked loose and the wheel hexes have a tiny bit of slop on the axle, which could cause the hex to wear faster.
REVIEWER'S OPINION
If you read the packaging, you'll see this car is designed to be fast and is aimed squarely at bashers. With the target market in mind, they hit it on every mark, speed, handling, durability, ease of use, and price point. When used for its purpose, there is no need to upgrade anything, but with a little bit of tuning, it would make a great car as an introduction to the world of 1/8-scale buggy racing.
TOOLS AND ACCESSORIES INCLUDED
• 4-way wrench
• L wrenches
• Turnbuckle tool
ITEMS NEEDED
• 4S,6S,2x2S,or 2x3S Lipo Battery
• Compatible charger
IMAGE
ITEMS USED
• 2x Reedy Wolfpack 3900mAh, 11.1V, 3S LiPo batteries, These batteries have a 35C discharge which high powered brushless systems need. Even though they are a 3S pack, they have the same dimensions as most 2S packs, so they drop right in the Typhon's battery tray. The 3900mAh capacity is good for about 15-20 minutes runtime, depending how you drive.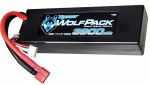 • 2Great Planes Electrifly Triton charger, This charger is a powerful, easy-to-use charger that will charge all your LiPo batteries all the way up to 6S. The included balance board allow the Reedy batteries to plug right in.
ADDITIONAL ITEMS USED
HOP-UPS WE RECOMMEND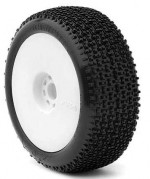 • (2)AKA City Block Tires, AKA14002, $22, You will want to find a set of tires that works best for your track. I recommend these because they work well in a variety of conditions.
• Clear Bod Shell, AR406002, $30, I hate looking like everyone else. Why not get a body to paint your own scheme in?
• Rear Wing 204m (white), AR480003, $13, New wheels, new body, you have to get a new wing to match the look.
FEATURE BREAKDOWN
• Something that is kind of unique about the Typhon is that it has been designed from the ground up to be an electric buggy. Many 1/18- scale electric buggies started life as nitro buggies, which means the layout is based on nitro components and can have extra holes in the chassis. Since the Typhon is designed to be an electric buggy, there are no extra holes in the chassis, and the center diff is moved back farther than most, allowing the ESC to sit in front of the motor with the lighter receiver in front of the battery tray. This should create a better balance from side to side. The 3mm thick stamped alloy chassis is bent up on the edges to resist flex and create ground clearance when cornering. The plastic side guards are extra tall to prevent dirt from entering the chassis. The battery tray is designed to accommodate a pair of 2S-3S stick packs, or a 4S-6S stick pack.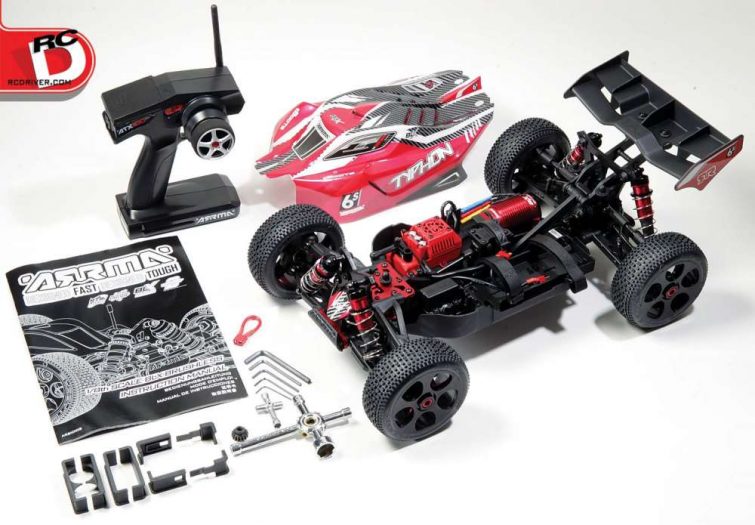 • The 16mm big bore shocks are a really nice feature of the suspension. With their large capacity, they do a great job of smoothing out the rough stuff. The aluminum bodies are threaded to allow fine tuning of preload and the caps are aluminum as well. In the front the suspension rides on pillow balls. Pillow balls have come and gone in popularity over the years. The current trend in race buggies is moving back toward pillow balls. Pillow balls have the advantage of allowing tuning of track width as well as camber, have a tighter turning radius, and are generally smoother. the disadvantage is they can transfer more of the driveline's torque to the arms, which can effect durability, but Arrma uses a good quality plastic with just enough flex I don't think that will be a problem. The rear suspension is supported by H-arms, and the hubs are attached to turnbuckles at the top which have chunky ball ends that will be plenty tough.
• The steering rides on a bushing supported dual bellcrank steering which has adjustable Ackermann, and exhibits zero bump steer. An adjustable servo saver is integrated into the bellcrank. Most RTR 1/8- scale buggies come with servos that are inadequate for such large powerful vehicles, but that is not the case here. The Durango ADS-15M servo has metal gears, and at 204 oz.-in. or torque, and .12 sec. transit time, it is more than adequate to keep this buggy in the right direction.
• The center diff is off center to help center up the weight of the heavier batteries. This can usually put the front driveshaft at a sharp angle in a nitro conversion, but because the center diff is positioned farther back the angles on the driveshafts are not bad. The rear is now at the sharper angle. CVDs are used at the front end to give you increased steering angle. Dogbones are used at the center and rear. The drive cups are notched on the flat sides to allow extra travel from all the extra thick steel drive shafts. Four gear differentials are used front center and rear and are sealed so they can be tuned with fluids. The crown gears are spiral cut to increase contact area for better durability
• The 180A ESC is a beast. It is capable of handling up to 6S of LiPo power, which is the key to the Typhon's extreme speed. The ESC has a few programming features such as reverse mode, and LiPo cutoff, but for the most part they keep it simple which should keep people out of trouble. The 2050Kv rating on the 4-pole motor is right where you want to be on a 1/8-scale buggy, and has tons of torque. The whole system is not sensored and does occasionally exhibit some cogging when easing into the throttle from a dead stop, but you will barely notice that when you're bashing around.
ON THE TRACK
Since it is advertised as multi-surface vehicle, dirt, grass, asphalt, I had intended to wait until the weekend to test it on a dirt track before tearing the tires up in the street, but I had a rough day at work, and there was this buggy loaded up with 6S sitting on my bench. How could I resist taking it out for a run? A car this fast needs some space to run so I took it down to my local hobby shop, Quicks RC, to run behind the store. I had planned to take it easy for the first run to get a feel for the car. I eased into the throttle but before I knew it I was cruising along at a good pace and I was out of space. It felt stable and in control, I was feeling pretty confident with it, so when I turned around to come back, I just punched it, you could hear the tires grabbing for traction on the street as they ballooned up. Right now I want you to stop and count out three seconds in your head. That's how long it was before it was blasting past us at about 50 mph! Oh yeah, it is fast. At high speed, it tracked nice and straight and accepted slight steering adjustments without getting out of control. I did notice the front tires were starting to unload. The center diff could use some thicker fluid to help harness all this power. I was running in a public place so I had to be aware of my surroundings. I saw a car enter the parking lot and decided to shut it down until it passed. I must have slammed on the brakes too hard, because the brakes just locked up and the car just slid and kept sliding for about thirty feet and into a storm drain. I did not know that drain was there, good to know, and luckily the car was far enough away to be of no real threat. Make sure you have room to stop and ease into the brakes.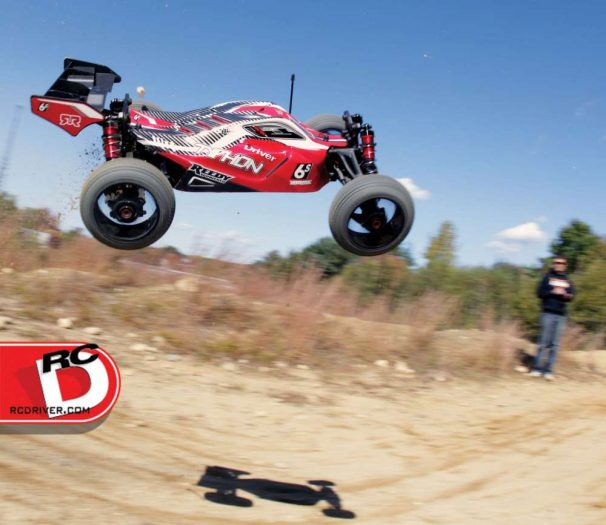 I started trying to just steer it around and found that with so much power on tap, it would quickly overpower itself into turns and loop out. With some throttle control I was able to use the throttle to steer it and get some good drift action going. While the Typhon comes with an optional 16-tooth pinion to hit the 60 mph, there are warnings to watch the temps and only run on flat ground, so I did the first test with the installed 14-tooth pinion and I wanted to see where I was at on the temps. The Reedy packs were only slightly warm, the ESC was at a comfortable 120 degrees, but the motor was starting to exceed max temps at 185. It was a warm 90 degree day, and I was hammering on the throttle doing a lot of start/stop driving, but this had me a little concerned how hot it might get on a dirt track so I made some vent holes in the body around the motor. The hard compound tires showed very little wear from the street session, aside from the flat spots on the front tires from that slide, and when I put them on the dirt track the following weekend, they actually hooked up better than I expected, much better than running in the street. It felt a little loose but considering the power on tap it was much more in control than I expected. It jumped slightly nose heavy, but it was especially bad hitting the jumps on power. I believe the power unloads to the front end as the front tires leave the crest of the jump. Some thicker fluid in the center diff should help with that and there is room to move the batteries back as well to improve the balance. I had to nail the throttle on a couple of jumps to pull the nose up and then one of the rear tires came unglued and went "pop" as it ripped open. I threw a set of AKA City Block tires on as these work well on our track, and then it really woke up. I would not normally compare a car like this to a full on race car, but it handles so well I think with a little tuning it will be right in there. The beefier components make it a little heavier than a race buggy, and you could feel that. That is the tradeoff for durability, but it does have plenty of steering, and I was able to put some decent power down in the corners. I drove it hard, crashed a few times, and other than a blown tire and a crack in the body, where the tire caught it, it is fine, and temps were fine in the cooler night air. I think it will prove itself extremely durable.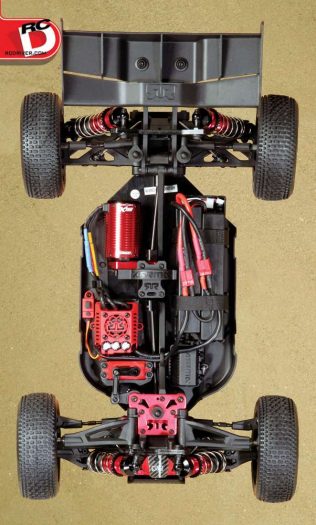 SPECS AND TUNING OPTIONS
DIMENSIONS
LENGTH: 20.5 in. (510mm)
WIDTH: 12.1 in. (310mm)
WHEELBASE: 12.9 in. (328mm)
WEIGHT: 8.6 lbs. (3900g)
BODY, WHEELS AND TIRES
BODY: Pre-painted buggy
WHEELS: Black 5-hole
WHEEL ADAPTER TYPE: 17mm hex
TIRES: Hard compound block tread
SUSPENSION
TYPE: 4-wheel independent
SHOCK POSITIONS: (F) 3-tower, 1-arm, (R) 4-tower, 1-arm
CAMBER: Adjustable turnbuckles
ROLL: 4 positions on rear tower
WHEELBASE: Adjustable shims
RIDE HEIGHT: Threaded body shocks
MISC.: Anti-squat, kickup
STEERING
TYPE: Dual bellcrank
TOE: Adjustable turnbuckles
CHASSIS
TYPE: Flat
MATERIAL: Alloy THICKNESS: 3mm
DRIVETRAIN
TYPE: 4WD
TRANSMISSION: Center diff
DIFFERENTIAL: 4-gear fluid filled
GEAR RATIO: Optional pinion gears
BEARINGS: Full set of shielded
CLUTCH TYPE: N/A
RATING TALLY
Opinion: 9
Performance – Acceleration: 10
Performance – Steering: 8
Performance – Handling: 7
Performance – Durability: 10
Feature Breakdown: 8
Overall Value: 9
WRAP UP
The Typhon delivers everything you would expect from Arrma. It is based off the tried and proven 1/8-scale buggy platform, but you can see hints of Arrma's smart engineering make this car an overall pleasure to drive and work on. I think this is a great step up vehicle for the experienced RC fanatic who is looking for the next level of speed and handling. With an attractive price tag and features that make it easy for anybody to get up and running, I'm sure there are going to be some first time RC buyers looking for the ultimate in speed and performance who will be looking at this. To those people I would say, just take it easy, remember eight and a half pounds of RC traveling at 50-60 mph can be dangerous, but if you think you're ready, I say go for it! You're guaranteed to have fun!
LINKS
ARRMA arrma-rc.com
*Notice: Some of our articles, videos and descriptions may contain affiliate links, which means that if you click on one of the product links, we may receive a small commission. This helps support the website and social media channels and allows us to continue to produce content. Thank you for the support!