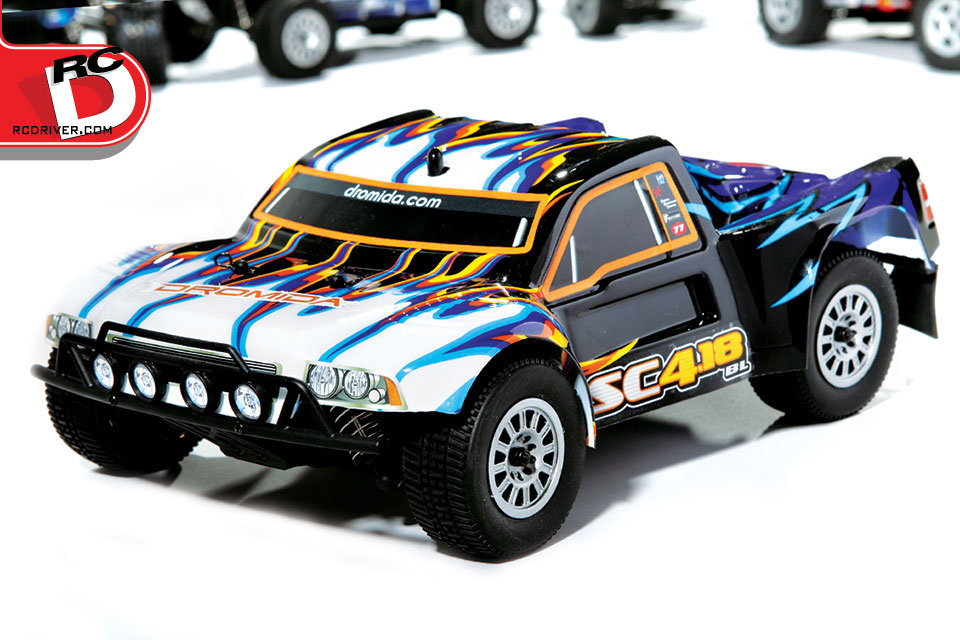 F
aster is almost always better. Let me correct that statement, faster is
always
better, period! When Dromida released their 4.18 series of 1/18 4wd minis they all came ready to run with brushed power plants, were well designed and had plenty of features. Since Dromida seemed to know all too well that once people got a taste of the capabilities of these little machines they'd want to make them go even faster they went right back to work to please the masses. The result, a refined series of vehicles that look fantastic with fresh paint, and now come delivered with an efficient brushless motor for even more speed and fun.
AT A GLANCE
WHO MAKES IT: Dromida
WHO IT'S FOR: Everyone
PART NUMBER: DIDC0051, DIDC0052, DIDC0053, DIDC0055, DIDC0056
HOW MUCH: $149.99 – 169.98
BUILD TYPE: RTR
FEATURE BREAKDOWN
Let me start with the chassis of these little vehicles. The DB4.18BL Desert Buggy, DT4.18 BL Desert Truck, BX4.18 BL Buggy, MT4.18 BL Monster Truck and SC4.18 BL Short Course Truck all utilize the same composite dual deck style chassis. The wide lower plate features a channel down the center that doubles as a chassis brace to limit front to back flex and battery stay. The lower portion also incorporates a large portion of the integrated spur/pinion gear cover. The upper composite chassis deck attaches at the front and rear diff cases and up front doubles as part of the holder for the steering bellcrank. Raised ridges toward the front and rear of the plate help reduce flex and a platform located toward the center is where the receiver is mounted. While the chassis is identical on each of the 5 vehicles their length and some basic dimensions are a bit different from one another due to the various tire, body and bumper combinations used.
So, there are 5 different styles to pick from so let me detail each just a little bit. The DB4.18BL is a Desert Buggy with short course style tires and rims, integrated roll cage with spare tire mounted to the rear, and 4-LEDs built into the roof and powered by the receiver so you can have fun day and night. Like the Desert Buggy, the DT4.18 BL Desert Truck has a set of LEDs but in the form of a 6-light bar. It has, as you might have guessed a pick-up truck style body with number plates, spare tire and 6-spoke rims. The traditional looking BX4.18 BL Buggy has a cab forward style body and hard plastic wing with ridges to improve strength and performance. The MT4.18 BL Monster Truck has tall tires mounted on 6-spoke silver wheels and a pick-up monster truck inspired body similar to something you might see on a full sized truck participating at Monster Jam.   Finally we come to the SC4.18 BL Short Course. It sports a traditional short course body, multi-spoke rims, a protective bumpers that extend well beyond the tires and sweet looking mud flaps in the rear. Since all of these cars are based off of the original 4.18 series of vehicles parts selection online and at your local hobby shop should be plentiful.
Sure, the coil-over shocks found on all four corners of the 4.18BL vehicles seem small but they sure do work well. They seem to have almost the perfect oil viscosity making the suspension action quite smooth and plush. By adding or subtracting included spacers on the mini big bore shock bodies one can easily change spring pre-load to fine tune ride height to get the perfect suspension action for whatever your conditions may be.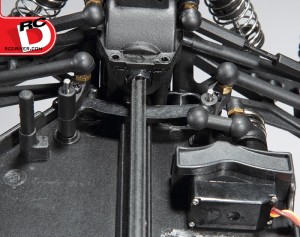 To keep the steering action smooth across all 5 vehicles Dromida employed a dual bellcrank style steering system. Slightly modified from previous versions of the 4.18 due to the different orientation of the steering servo, it utilizes a slop free center drag link to connect the left and right sides to one another. As for the servo. It now faces forward as opposed to the side on previous versions, and still has a spring loaded servo saver to keep the gears inside the mini servo well protected. The spring is a tad soft so bashers and newcomers can have plenty of worry free fun and should someone want a more responsive feel the spring can easily be removed, tightened, and reinstalled fairly easily. A small drag link connects the servo saver to the right side of the bellcrank.
The efficient 4WD drivetrain features a plastic shaft that runs down the center of the double deck composite chassis. Located at both ends, rugged gear differentials are connected by the center shaft and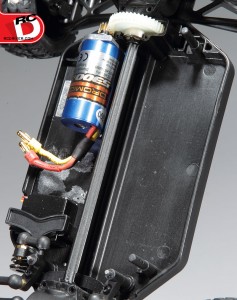 are packed full of thick grease so they require little to no maintenance even after much use. If you really like to tinker the diff grease can be changed to thicker or thinner viscosity to fine tune performance. A plastic spur gear that attaches to the plastic center shaft is kept safe from dirt and debris due to an incorporated gear cover, a feature that many other similar vehicles lack. Plastic dogbone style driveshafts transfer power from the differentials to the wheels and can later be upgraded to blue aluminum units should you so desire.
A step up on most other vehicles in this category, Dromida utilized fast 20mm 5300kV brushless motor in the all five of the 4.18BL edition vehicles. It is matched with a programmable 25A esc (capable of powering a 5700kV motor should you want to upgrade) making for a smooth and powerful combination. Being an all-inclusive rtr, a 1300mAh, 7.2v NiMh battery pack and 4-hour trickle charger and even 4 AA batteries are included so there is nothing more to buy once your purchase is made. The charger comes with a small monitor will that light up red when charging and turn off once peaked so there is no guessing as to the status of the battery. The 2.4GHz transmitter features basic steering and throttle trim as well as steering and throttle dual rate adjustments. Being powered by the 4 included AA batteries it is lightweight and has a great feel when being held for use.
The DB4.18BLDesert Buggy and DT4.18BL Desert Truck come with a little something special, bright LED lights that make them ideal for night time use. The DT4.18BL has a 6-LED light bar mounted on the roof of the pick-up truck style body while the DB4.18BL has a 4-LED lights built into the Lexan roof. They are prewired for use when you buy them and are powered off of the receiver.
SPECS & TUNING OPTIONS
Dimensions
Length: DB4.18BL – 11.5" (294mm), DT4.18BL- 11.9" (302mm), BX4.18BL – 10.2" (260mm), MT4.18BL – 10.6" (270mm), SC4.18BL – 11.4" (290mm)
Width: DB4.18BL – 7.0" (180mm), DT4.18BL – 6.9" (176mm), BX4.18BL – 7.16" (182mm), MT4.18BL – 7.4" (190mm), SC4.18BL – 7.5" (190mm)
Wheelbase: All versions 6.6" (168mm)
Weight with battery: Approximately with a slight variation by model 1.51lb (690g)
Body, wheels and tires
Body: Pre-painted
Wheels: Varies by model
Wheel adapter type: 8mm mini hex
Tires: Varies by model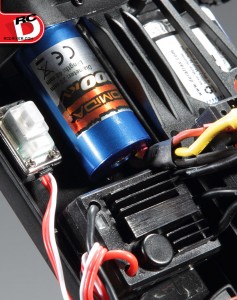 Suspension
Type: 4-wheel independent
Shock positions: (F) 2-tower, 2-arm, (R) 3-tower, 2-arm
Camber: Adjustable turnbuckles
Roll: Fixed
Wheelbase: Fixed
Ride height: Pre-load clips on the shocks
Misc: N/A
Steering
Type: Dual bellcrank
Toe: Fixed turnbuckles
Chassis
Type: Tub style upper with upper and lower deck
Material: Composite plastic
Thickness: N/A
Drivetrain
Type: 4WD
Transmission: Shaft driven
Differential: Gear
Clutch Type: N/A
Gear ratio: Optional pinion gears
Bearings: Full set of shielded
DROMIDA 4.18 BL ARTICLE SERIES
Click the following links to see the other articles in this series on the Dromida 4.18 BL vehicles