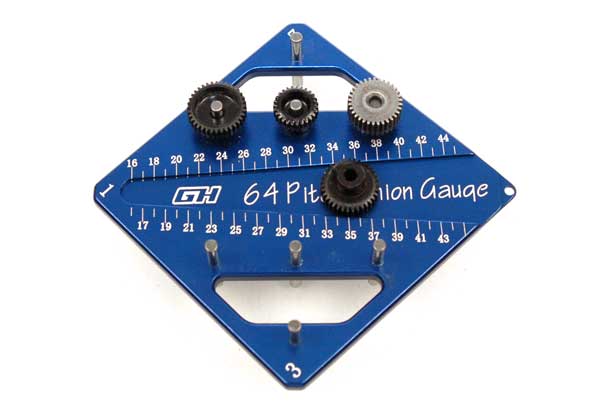 If you're reading this post, chances are you're into RC and, if you're into RC, chances are you've had an electric RC car of some sort at some time. If you've said yes to both of those, then is safe to say you've probably owned about 100 pinion gears. So, if you're anything like me, I would suspect you probably store those pinion gears in the same exact way I do…in a box, all jumbled together, thrown in another bigger box for transport. I could be wrong, but probably not.
So what's a racer to do when they need to find a specific pinion gear? You could dig through all of them, painfully squinting your eyes to see that itty bitty tooth number stamped into it…
OR…
You could pick yourself up one of GH Hobby's very cool aluminum 48P/64P Pinion Gauges. To use this little gem, simply place your pinion in the groove (48P on the 48P side, 64P on the 64P side) and slide it towards the closed groove end. It will eventually stop and, using the markings on the left and right of the gear, you can figure out what tooth the gear is! I tried 8 or 9 gears (both 48P and 64P) and this thing worked like a charm!
In addition, there are 8 pinion posts (per side) to mount your most-used pinions on!
But wait, there's more! In addition to all that pinion activity, you can stand the Pinion Gauge on its edge and it becomes a super-accurate Camber Gauge! I found it works best with Touring Cars but it can be loosely used with Short Course, offroad buggies and trucks.
Available in blue, black, orange, purple and red. Get one and leave those bifocals at home!
Part #: 1035
Price: $20.99
Link: www.ghhobby.com