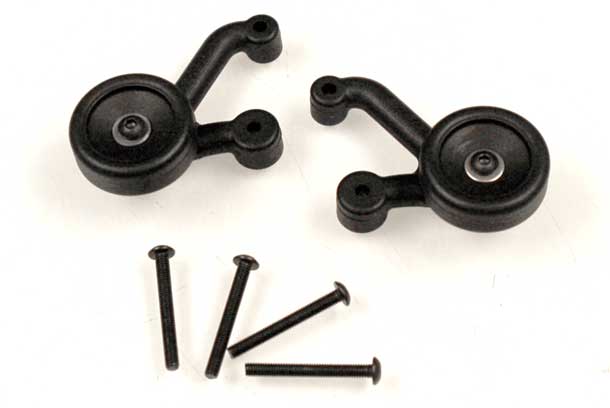 Putting big horsepower in your Traxxas Slash 2WD or 4WD is always fun. Heck, I have 2 or 3 of my own that have more power in them that most of my modified touring cars. The big difference between these vehicles is that the TC is designed to hug the ground and the resulting big power just pushes it along, all nice and drama-free.
With something like the Slash, however, it's quite the high profile vehicle and adding big power presents another possible issue; wheelies. Sure, EVERYONE likes wheelies, but what if you could pop the front end and RIDE that wheelie for an extended period of time?
Enter RPM and their Low Visibility Wheelie Bars. These bolt-on units (sort of) will allow you to mash the throttle, get that front end in the air and sustain that killer wheelie pose. Since their also somewhat hidden (thus, the Low Visibility name), you can amaze your friends, family and even passing strangers with your mad wheelie skills.
I bolted these on one of my serious Slashes and can tell you they work really well. It allows the truck to lean back far enough to hold a wheelie, but not to far to damage your rear bumper. It does take a little skill to keep the front end up without it flopping around, but once you master the throttle control you'll gain Master Wheelie status. You know you want that!
There is a catch, however. The Low Visibility Wheelie Bars do not work with the stock Traxxas rear bumpers (or any other aftermarket rear bumper). You'll need to pick up RPM's rear bumper…but that's ok since you've probably already trashed the bumper you have on there now. Time to freshen it up!
Easy install and hidden from view, these Low Visibility Wheelie Bars are a must for wheelie fanatics!
Part #: 81312
Price: $9.95
Link: www.rpmrcproducts.com