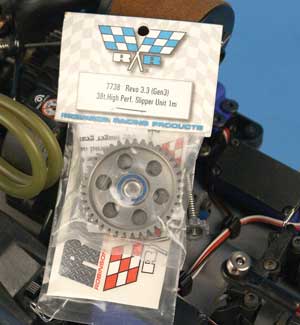 Words: David Baker
RRP has steel spur gears for many of the hot cars on the market. Installation is simple but the benefits are great. Here you will see the process for swapping out the plastic spur gear in a Traxxas Revo for a Gen 3 RRP gear and slipper unit. the process begins after removal of the engine and pipe. Refer to your vehicle's manual if you need help with that part.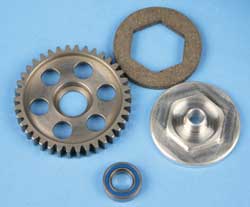 RRP products just scream quality when you look at the individual parts. The spur gear/slipper unit is made up of the steel spur, the fiber slipper pad, the slipper plate and the center bearing.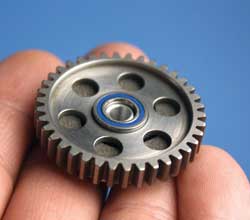 The assembled slipper unit looks like this but you may have an easier time with installation if you actually assemble it on the shaft one part at a time.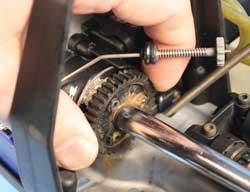 Remove the stock spur using a wrench to secure the nut while using your fingers to loosen the spur by turning clockwise from this view. Once the nut is loose you should be able to remove it by hand.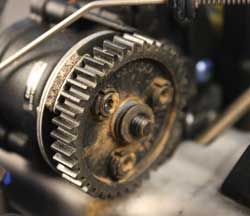 Once the nut is removed you will find a pair of compression washers. Note that they are cupped toward each other. They will need to be re-installed in the same way with the new gear.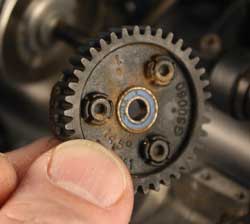 The stock plastic spur gear will come off with the slipper pads attached. The remaining two parts of the slipper unit can then be slid off the shaft.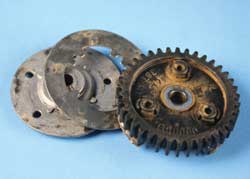 This shows the stock parts that will be replaced by the Robinson Racing gear and slipper unit.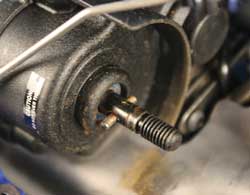 There is a pin in the shaft to which the slipper plate is keyed. It is used for the RRP gear as well.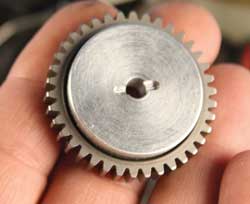 The back of the Robinson slipper plate is slotted to fit over the pin on the shaft. You can mount the unit as whole if you have a little patience… however…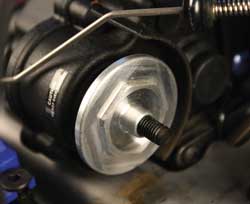 It is easier to put the Robinson slipper plate onto the shaft first, making sure the pin is properly in place.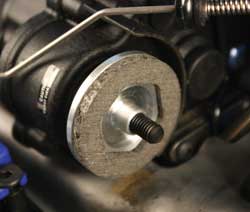 Next is the slipper pad. Its inner hex shape makes it stay in place.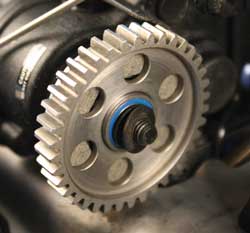 The steel gear, with bearing facing out, is slipped onto the shaft, followed by the compression washers. Install the washers so that the outer edges are flush with each other. These act as a spring.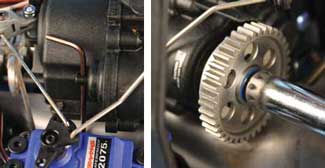 You can use a small Allen wrench on the opposite side of the shaft to hold it securely while you use a wrench to tighten the nut on the shaft. Install the engine and pipe and you are back in business.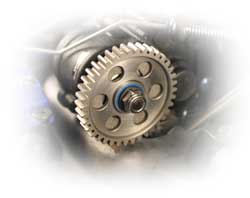 LINKS
Robinson Racing, robinsonracing.com, (559) 692-2465
Traxxas Corp., traxxas.com, (972) 265-8000