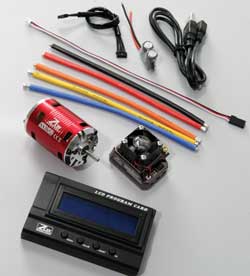 1/10-scale electric competition has no doubt been one of my favorite forms of racing since I got into the hobby. Adding a competitive power system to your rig is a must in today's high stakes racing world. The ZTW Beast Brushless Power System comes with everything you need in its well-packaged box, which makes wiring your new system in even easier.
VITAL STATS
MANUFACTURER: ZTW Brushless Controls
PART NUMBER: 421202110
PRICE: $182.00
INPUT VOLTAGE: 2-3S LiPo, 5-10S NiMH/NiCd
FOOTPRINT: 43mm x 31mm x 21mm (without fan)
ESC WEIGHT: 91g
ON-RESISTANCE: .0.0003 ohms
BEC: 6.0V, 3.0A linear
POWER WIRES: 12AWG
MOTOR LIMIT: 3.5-turn
CURRENT: 120A continuous, 760A burst
DIRECTION: Forward, brake and reverse with optional reverse lock-out
BATTERY CONNECTOR: Not included
MOTOR: 10.5-turn/3300Kv
DIMENTIONS: 51.5mm x 31mm
SHAFT DIAMETER: 3.175mm
LENGTH OF SHAFT: 15mm
WHAT WE LIKED:
• Well-equipped package
• Great quality and performance
• Looks great in the vehicle
• Lots of adjustability
WHAT COULD BE IMPROVED:
• Some may desire a lower turn motor
• User must have the ability to solder
THE GOODS
Our ZTW system includes a detailed instruction manual to familiarize you with the different settings and adjustments you can make to adapt the power delivery to your liking and your track's driving conditions. The sensor-ready ESC comes with a cool-looking yet compact casing and a cooling fan covers the top of the unit to keep things from getting overheated under intense driving situations. To keep installation as simple as possible, ZTW includes five high-quality motor wires that are color-coded and are ready to solder into place. Both the power wire and the fan motor wire are easily removable. The ESC has an easily accessible sensor wire socket under the motor wiring board. The ZTW Censored brushless 10.5 turn motor comes in a nice-looking red anodized can with vent holes around either side of the housing. The soldering mounts on the motor have color-coded positions to ensure you are connecting the correct wires to your A-B-C connections, which is a nice touch. The LCD program card, included with the kit, is easy to connect and has the ability to make adjustments while plugged into the ESC as a standalone unit or as a USB adapter to connect the ESC to a PC with the included connecting wire for firmware updates as well as setting parameters. Completing the package is a sensor wire and a 2-up enclosed capacitor.
BEFORE YOU HIT THE TRACK
Installation of the Beast power system was straightforward and easy to solder, thanks to the large soldering posts. I put this system into my Durango DESC210 with the mid-motor configuration and had no clearance issues whatsoever. This system would also fit great into the tighter confines of a buggy. I installed my ZTW's included capacitor to accommodate my high-powered servo for a smooth driving experience. The included motor wires were a good length to accommodate a wide range of vehicles. After a quick check after installation, I was ready to head down to R/C Madness in Enfield, CT, for testing on the popular R/C Madness indoor carpet off-road track.
PERFORMANCE
Friday night racing throughout the winter is a popular activity at my local race track with lots of great competition, the perfect place to test out the ZTW Brushless Power System. Once I topped off my battery, I threw it in and hit the driver stand for my initial test run. I was pleasantly surprised at how much I was able to utilize the 10.5-turn 2-pole motor on the high-traction racing surface. I tend to drive this carpet track quite aggressively, which can put a fair amount of stress on motors and ESCs. After running for about five minutes I pulled into the pits to give the system a once-over. The motor and ESC were both warm but not hot, which is always a good thing while hammering the throttle during my race. Acceleration was smooth and predictable as I threaded my line through the tight track. Stock braking settings felt spot-on with no adjustments needed, however I would probably play with the brakes a little if going to a dirt track to avoid locking up the rear wheels.
WRAP UP
In electric 1/10-scale RC racing, having a reliable yet powerful electronics package is a must. The ZTW power system fits the bill with its great looks, impressive performance and awesome tune-ability for your specific track. In a world with many different power options, the ZTW brushless power system jumps up towards the front of the pack with its great value, included wires and an easy to use programmer.
LINKS
ZTW Brushless Controls en.ztwoem.com