The water rocket!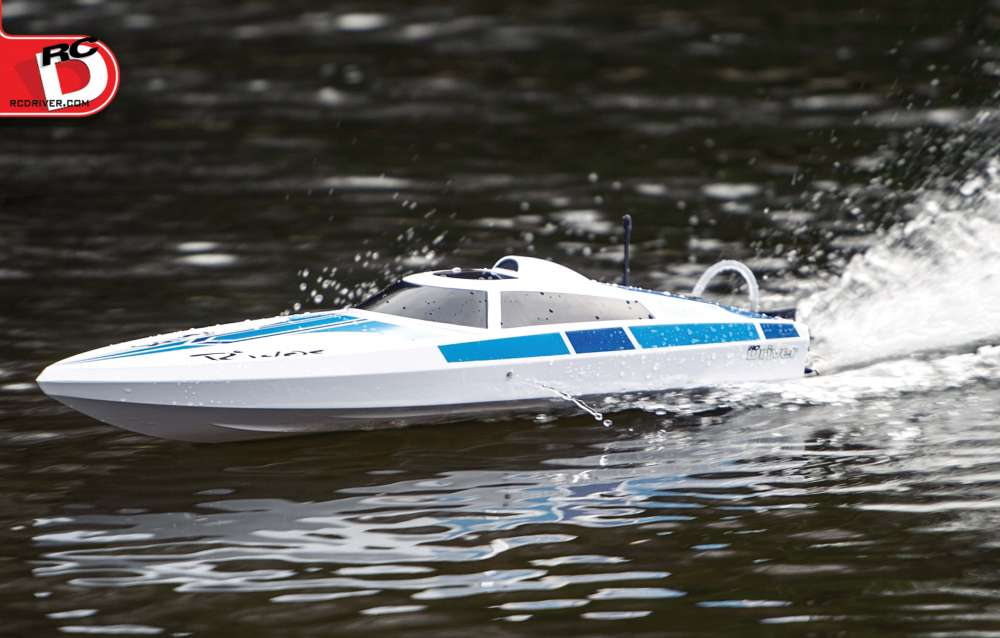 Words: Daniel And Erick Royer
Photos: Daniel Royer, Erick Royer And Walter Sidas
From RC Driver Issue: 134
My son, Daniel, and I are always looking to have fun with the latest gear in the radio control hobby. From airplanes to helis and RC cars to even drones, we both enjoy this hobby as a way to spend quality time together. Over the past year, we have been taking a more active interest in RC boating. The development where we live has a man-made pond with a beach around it and it is a mere five-minute walk from our house, so access to a nice place to run a boat is easy. The only problem with this pond is that it is not huge. We found out exactly how small it really was when we tried running a 55-inch electric converted tunnel hull there. We did not even touch the throttle and the boat was on the beach at the other end. Because of this limitation, we specifically enjoy smaller hulls that are 30 inches or less. And again, because of the size constraints, massive speed on a small hull is not always desirable either. We had the opportunity to review the new Helion Rivos boat and after opening the box we knew this was going to be a perfect match for our pond.

AT A GLANCE
DISTRIBUTOR: Helion
WHO IT'S FOR: Beginners to Intermediate (with brushless upgrade)
HOW MUCH: $149.99
BUILD TYPE: RTR
BODY TYPE: 550-size mono hull
PROS
• Comes completely ready to run
• The transom features fully-adjustable trim tabs and turn fins
• It is available in two different color schemes
• Fully water-cooled motor and ESC Long run times
CONS
• Inner hull is not completely watertight
ITEMS NEEDED
• None
TOOLS INCLUDED
• Allen wrench for making adjustments
REVIEWER'S OPINION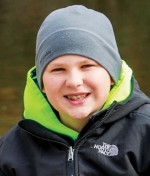 Out of all the boats that my dad and I have run this past summer, I had the most fun with the Rivos. I liked it because it is powerful, fast and it responds very well in the water, even when it gets choppy. The turn fins on the transom allow for tight turns without making me feel like it is going to flip over. I like that I can adjust the trim tabs to suit the water conditions. I had more fun with this boat knowing I can run full speed and go in any direction without losing control. Many boats we have run were much faster, which is great, but one wrong move and I was swimming to retrieve it which is especially not fun when the water gets cold.
OUT OF THE BOX
The Rivos has an overall length of 28 inches and it comes completely assembled and ready to run. Because of this you will not have a lot of pre-run chores to make it ready for action. A water-cooled 550-size brushed motor with a 30A ESC generate more than enough power to have a lot of fun on the water. Now I know you might see that it is a brushed motor and be turned off by its potential lack of performance. I can tell you that it is not the case. However, the good news is that if you do have a serious need to run a boat in the air slightly above the water, then you can enjoy this boat, too, as Helion offers a brushless motor/ ESC combo that you can quickly drop in the hull for even more fun and higher speeds.
The Rivos is controlled by a two- channel 2.4GHz fully-proportional radio system. While the radio might look simplistic, it is more than enough to have days of endless fun with the Rivos. In my opinion, as long as there is a steering trim knob on the radio, it is perfect for just about any non-race applications. The transmitter was comfortable in my hands and in Daniel's. The Rivos comes with a balloon, which you need to use to protect the receiver. The hatch does a good job at repelling water, but it does not give you a 100-percent watertight seal so omitting this balloon will most likely cause you some headache in the future with water damage to the receiver. They also include an external antenna tube which we installed but since the antenna on the receiver was so short, we could not make it reach into the tube, so it is mostly there for aesthetics rather than function.
Designed with a large deck opening, the hull gives you plenty of easy access to the various internal drive/control pieces. A unique latch is used to lock the hatch in place – no hatch tape required. The motor, ESC, receiver and steering servo are installed on the right side of the hull while the 2600mAh 7.2V NiMH battery is secured to the left side of the hull via two Velcro straps. The steering servo is a standard size and provides plenty of authority for responsive steering. The steering pushrod is connected via a Z bend at the control horn on the servo and it uses an adjustable holder on the rudder. Out of the box we needed to use the Allen wrench to adjust the rudder so it was straight when in the neutral position.
The transom is heavily outfitted with dual adjustable trim tabs and dual turn fins. This combination provided excellent handing in turns on both directions as well as stable high-speed straight runs. The prop extends past the trim tabs via a long stuffing tube and it has more of a surface-drive feel. The rudder is constructed from plastic and is very durable. It is offset to favor the right side of the transom, just to the right of the prop. You might think that this will have
an adverse affect on steering neither of us felt any bias in either direction. The large two-blade prop bites very well and does an excellent job transferring the power from the motor to raw speed on the water. To fuel the Rivos, Helion includes a 2600mAh 7.2V NiMH battery and AC wall charger. A Deans-style plug is included so you can easily find other chargers and/or batteries to use with this boat. They even include the "AA" batteries to power the transmitter. When you are not tearing up the water, Helion includes a nice wooden display stand so you can proudly show off the Rivos.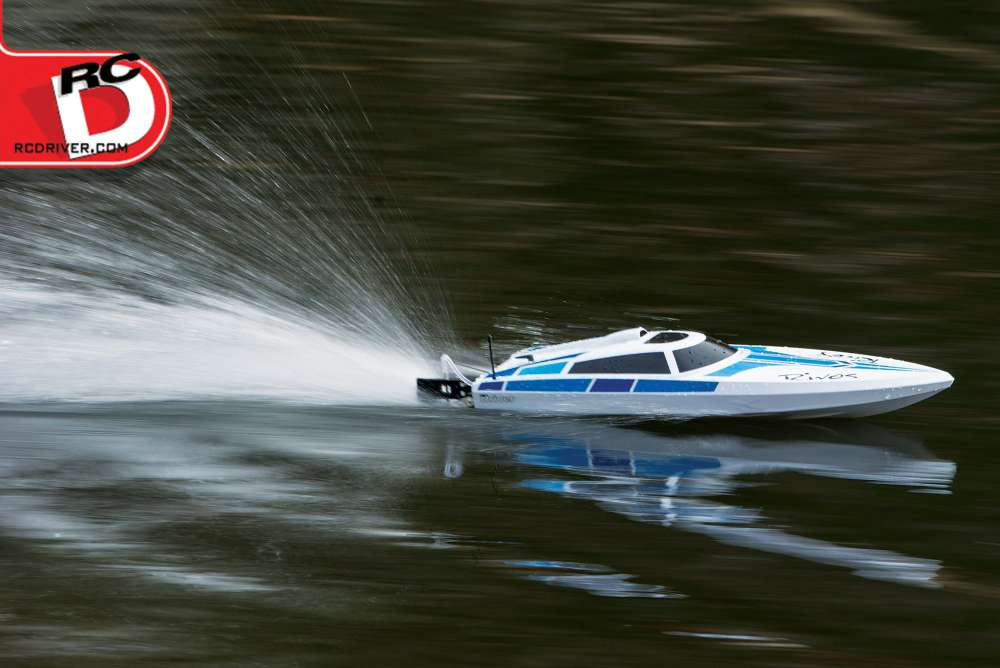 ON THE WATER
We had a lot of cold weather which had me perfectly happy on my iPad or computer rather than out playing at the water with boats, but one Saturday, it was pretty warm and my dad grabbed the camera and to my surprise said, "Let's go run this boat." I had the boat sitting in my room for about a week, all set up with the battery charged waiting for a break to go and try it. We got to the water and my dad took some photos of me and the boat as I made it ready for the water. One thing I found odd was that the radio lost its bind to the transmitter so that meant removing the balloon from the receiver so I could install the bind plug to get it to rebind. It took a couple of minutes but I soon had it ready to launch.
I am always nervous when applying throttle for the first time on a new boat. I had some boats surprise me and fly end-over-end as I gunned the throttle before I even knew what happened. So I was careful as I slowly applied power and waited to see how it was going to perform. It did not take me long to become very comfortable with the boat and I was running most of the time at full power. This boat is much faster than I expected. Not having a brushless motor made me think it was not going to be a lot of fun. But I was wrong. What it did not have in top-end speed, it made up for in maneuverability. I am very careful with a new boat when I make sharp turns, so I started off slowly and quickly became comfortable powering into the turns at full throttle. The turn fins and trim tabs plus the location of the prop and rudder make the Rivos a pleasure to run. As I accelerated, the boat shot up an impressive rooster tail which looked even cooler when my dad showed me the photos he took. From a complete stop, when I applied full power, the boat took off and remained perfectly straight as it approached top speed. It was not a rocket, but it was perfect to have a lot of fun in our pond.
I was surprised when the battery started to die as I had lost track of time and didn't realize we were at close to 15 minutes of run time. Since most of our boats run on 3S LiPo batteries, I did not have any spares to bring for use with the Rivos, which was a bummer. However, we opted to use one of my dad's more powerful chargers rather than the stock one so we had a full charge on the battery in around 12 minutes. I was able to get a couple more runs in before we started to lose daylight.
SPECS AND TUNING OPTIONS
OVERALL LENGTH: 28 in.
HULL LENGTH: 24.25 in.
BEAM: 8.5 in.
HEIGHT: 4.5 in.
HULL MATERIAL: ABS
MOTOR: Water-cooled 550-size brushed
ESC: Water-cooled 30A
PROP: Two blade plastic
RUDDER: Plastic wedge with separate water pickup tube
DRIVE SYSTEM: Straight shaft with strut/motor coupler connections
WRAP UP
Helion did an excellent job with the Rivos. It is a lot of boat with a ton of performance for less than $150. The motor and ESC are both upgradeable so if you are a beginner, rest assured that you can quickly get a lot more performance out of the boat as your skills improve. This is a very complete RTR package, which left us needing nothing to start enjoying some fun on the water in minutes. This is the second boat in the Helion line and I would highly recommend this if you are looking for some exciting family fun on the water.
LINKS
Helion helion-rc.com