Rock Around the Block – Traxxas Hot Rod
It's about time! Those big, beautiful, beefy Chevys from the mid 1950's have always been and will always be some of the coolest "hot rods" to ever cruise the malt shoppe on a Friday night. It is high time someone immortalized these amazing muscle machines in Lexan…even if they can't call it a Chevy. I immediately had a vision similar to the final paint scheme you see here as soon as I first saw the new '55 Baja from Parma. I'm glad they decided to make it fit a short course truck. It's a larger vehicle than it would have been to put it on a standard 1/10-scale on-road chassis. I chose to start with a Slash so I could do a build with the Dynamite LCG chassis conversion. I spent some time scoping out other items to include that will help to make my '55 stand out at the drive-in.
Words and Photos: David Baker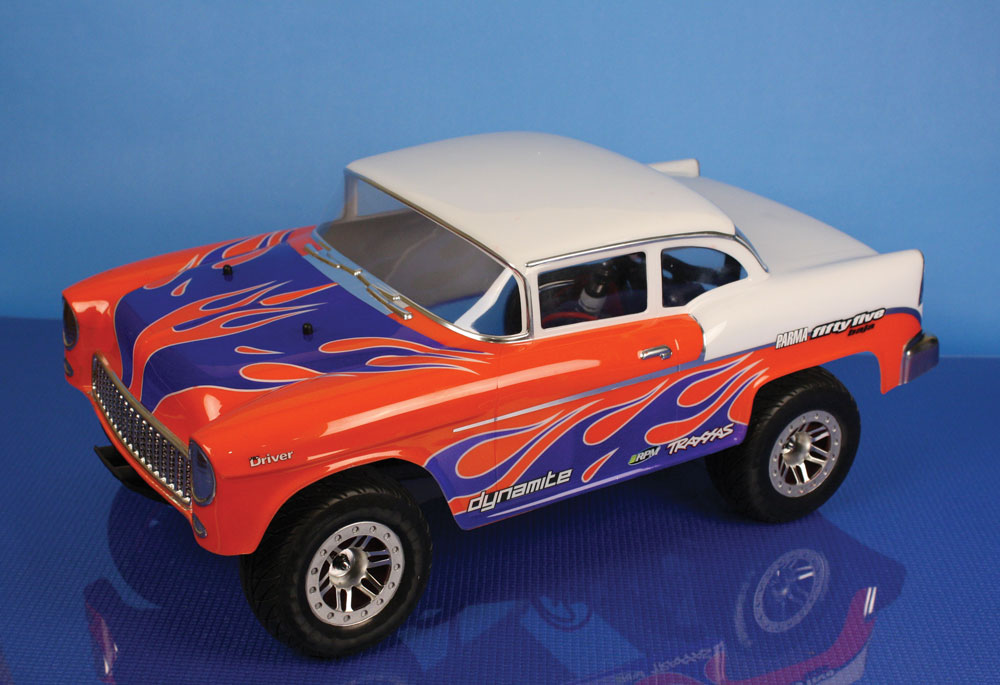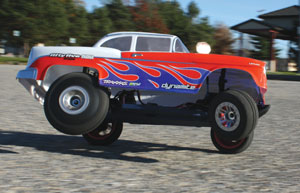 Traxxas Hot Rod – THE BUILD
The foundation will be the Dynamite LCG conversion, which uses a Traxxas Rustler lower and upper chassis with the front and rear ends of a Slash. The build is much easier than the instructions make it seem. They lacked photos of the completed conversion and the drawings of the parts were not labeled. After reading through them a number of times, I was able to determine that three of the four aluminum parts of the kit are used to extend the rear of the chassis and the other is used to support the front bumper. Before I did any assembly, I dropped the gray chassis and the gray tranny case into some Rit clothing dye to get rid of the dull gray, replacing it with a rich blue color. Blue was the better choice because the color does not become muddy when applied to the gray chassis. It was more difficult to predict the outcome of other colors. Many of the other parts I will be using were blue anyway. STRC manufactures quality machined-aluminum parts for the Slash. Their gunmetal gray suspension arms and threaded shock bodies were on my wish list of parts for the project from the start. They will go well with the blue aluminum Traxxas steering blocks, stub axle blocks and caster blocks used on each corner. STRC's Pro-Light Turnbuckles also made the cut. RPM's adjustable body mounts will help to provide the best fit for the body. Black aluminum shock towers from Xtreme RC are mounted up front and rear. The plan is to keep this one on the road so I went with Dynamite's Speedtreads Robber tires and wheels. To help keep the wheels planted, I employed a sway bar kit from Hot Racing. There are many choices out there for power. This time around a Dynamite Tazer 3300Kv motor/ESC combo will be the muscle behind this machine. This waterproof unit will handle wet conditions, but I'm not sure
the tires will. A 2S Dynamite 5300mAh Speedpack gets the voltage duty. I could have used the battery hold-down from the Rustler chassis but instead cut slots into the chassis to accept a Tekno Velcro battery strap. Since I was shooting more for the street rod look, I opted to eliminate the rear bumper completely. I removed most of the front bumper with a Dremel but left the skid plate and bumper mount for protection.

Traxxas Hot Rod – THE DRIVE
I first took the '55 out prior to installing the Hot Racing sway bar kit. The vehicle experienced a lot of chassis roll. I added the first scars to the hot rod body before adjusting my driving to accommodate the handling. I cut the day short and headed home to install the sway bars. The kit includes three different sizes. I tried the medium first but after a quick test in the street, I determined it was too stiff. After installing the thinnest sway bars I topped off the Speedpack and headed back out to find a nice, large, clear parking lot. This time around I experienced a much more controllable car. With the newly installed stability, I was able to achieve wide sweeping turns at full throttle. The tighter the turn, the more I had to ease up on the trigger. But too easy and the car wanted to roll over. I found that keeping the power to the wheels throughout any kind of turn helped greatly to keep the car planted. The Tazer motor system operated flawlessly and extremely smooth. Top speed made the car seem weightless. The blue-flamed orange and white '55 body looked awesome flying back and forth across the parking lot. It managed to catch the eyes of several spectators who had to inquire about it. I didn't take it off-road but with a tire change I easily could.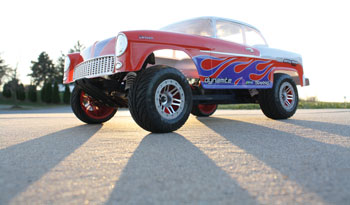 Traxxas Hot Rod – WRAP UP
I have never latched on to on-road RC cars much, however this one is a hybrid of sorts. I absolutely love the Fifty-Five Baja body from Parma. The neighbors noticed it was very different from what they usually see me running. I have another here to use on a future project and can't wait to see what I end up doing with it. The Slash is such a popular vehicle because of its versatility and ease of use. There is much that can be done with it and aftermarket support is fantastic.
LINKS
Dynamite dynamiterc.com, 800-338-4639
Parma/PSE parmapse.com, 440-237-8650
RPM rpmrcproducts.com, 909-393-0366
STRC teamstrc.com
Traxxas traxxas.com, 972-265-8000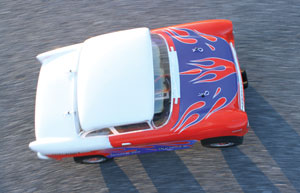 PARTS LIST
DYNAMITE
• DYN4942C—Tazer 1/10-scale, 4-pole 3300Kv ESC/motor combo
• DYN5303—Speedpack Gold 7.4V 5300mAh 2S 30C LiPo
• DYN5123
—SpeedTreads Robber Mounted SC Tires
• DYN7938—Slash 2WD LCG conversion kit
PARMA
• 1238—Fifty-Five SC Baja body
STRC
• ST3631GM
—Front A-arm set

• ST2555GM
—Rear A-Arm set
• ST3743XB
—Steering bellcrank set (w/bearings)
• ST3741XS—Pro-Light AL7075-T6 aluminum turnbuckle kit
• ST3765XGM
—Front Shock Body Set
• ST3766XGM
—Rear Shock Body Set
• ST2267GM
—Upper shock caps
• ST2530GM
—Front bulkhead
RPM
• 80522
—Black sealed gear cover
• 81122—Adjustable front body mounts
• 81142—Adjustable rear body mounts
TRAXXAS
• 3636A
—Blue aluminum steering blocks
• 3652A
—Blue rear stub axle housing
• 3632A
—Blue 30° caster blocks
• 3722A
—Gray Rustler lower chassis
• 3723A
—Gray Rustler upper chassis