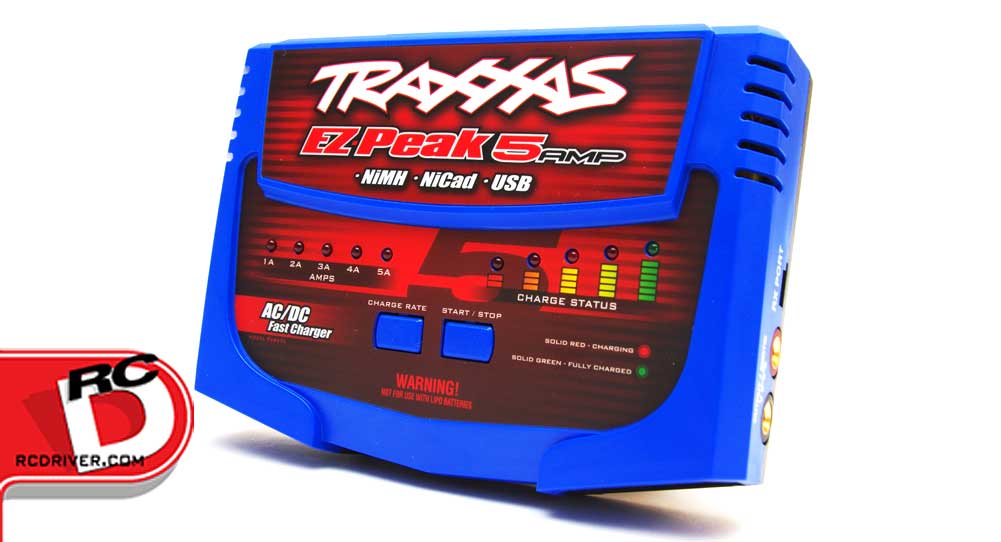 Though most modern RTR kits include some sort of basic battery charger, the duration of the charge cycles using an inexpensive, trickle style charger can leave a driver stranded in the pits for hours instead of minutes. One of the first must-have accessories is a better, faster charger. Selecting one can be a daunting task, given the number of different units available. It is worth mentioning that this particular charger is not Lithium chemistry capable. But if your focus is on NiCad/NiMH batteries and you often find the battery on your personal mobile device(s) in need of a quick top-off, Traxxas wants to show you a little something!
Vitals:
How Much: $59.99
Model #: 2937X
Power Input: 100-240V AC, 12-18V DC
Battery Type: NiCad or NiMH
# of Cells: 4-8
Charge Rate: Variable .1-5.0A
Discharge Rate: N/A
Battery Input: Banana Input
Balance Port: N/A
Cooling: Fan
Length: 4.1″ (104mm)
Width: 5.8″ (147mm)
Height: 1.6″ (40mm)
Weight: 12oz (340g)
+ 50 watts worth of output
+ Includes a 1A USB port for charging personal electronic devices
+ Can also charge receiver packs
+ AC/DC operation
+ Simple two button operation
– The use of a Traxxas style connector on the included charge cable will require most users to source charge cables with their preferred style of connector.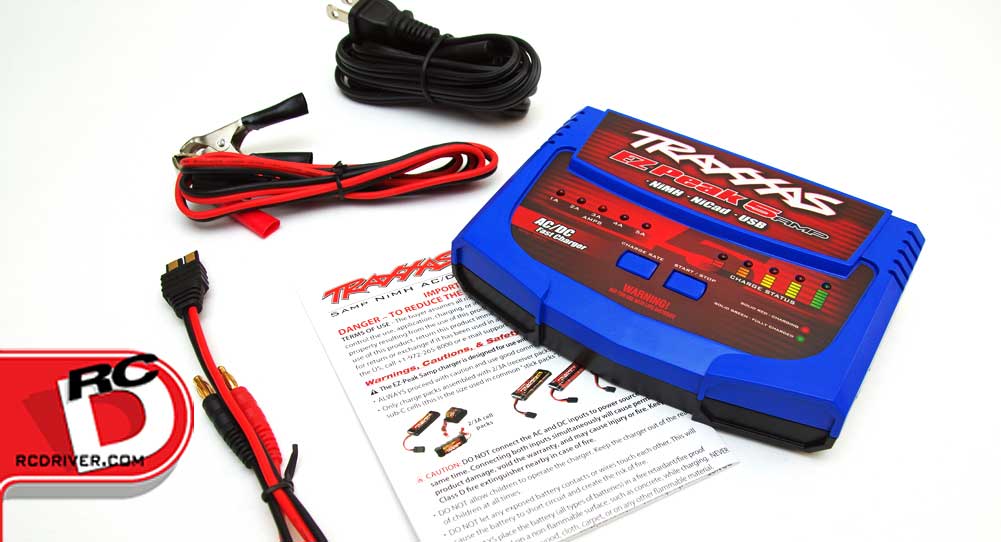 What It's Got
– The Traxxas EZ-Peak charger features a compact sized, molded plastic case in Traxxas' trademark black and blue colors. Bright red graphics label the two pushbuttons and status LEDs, while at the same time reminding users that this charger is NOT to be used for charging lithium chemistry batteries. An AC power cable, DC power cable and charge cable with Traxxas style connector are all included in the box. Either power cable can be plugged into the rear of the charger. The DC cable features insulated alligator clips for making easy connection to a DC power source.
– The controls are limited to a pair of push button switches. One pushbutton sets the charge rate, from one amp to five amps in one amp increments, and the other starts and stops the charge cycle. The single sheet of instructions includes a small matrix of suggested charge rates based on the size of a battery. It would have been nice to include this information on the charger itself for easy reference, perhaps on the bottom surface? I photocopied that part of the instructions, trimmed it and applied it to the bottom of my charger for easy reference.
– A series of four red LEDS and a single green LED keep you updated as the charger pumps the juice back into a battery. These five LEDs do not necessarily indicate the amount of energy remaining in a connected battery. They are used to show the progress of the charge cycle and will always illuminate from left to right as the cycle progresses. A flashing green LED signals that is time to start your engines!
– The included charge lead comes prewired with banana plugs on one end and aTraxxas high current connector on the other. While this charge cable will suffice for those with an inventory of Traxxas NiCad or NiMH batteries, many if not most modelers may require alternate styles of connectors. Traxxas use of banana jacks for the charge lead connection allows drivers to use the charge leads that they may already have in their garage.
– Traxxas really thought outside of the box by including a one amp USB connection on the side of this charger. This port serves as a convenient way to grab a quick charge for ones mobile phone or other personal portable electronic devices, provided you have the correct USB charge cable handy. A three pin standard servo lead style port is also provided in order to allow the recharging of receiver packs. While this port is keyed to accept Futaba style servo leads, the polarity is not indicated on the case should you wish to connect a non-keyed battery connector.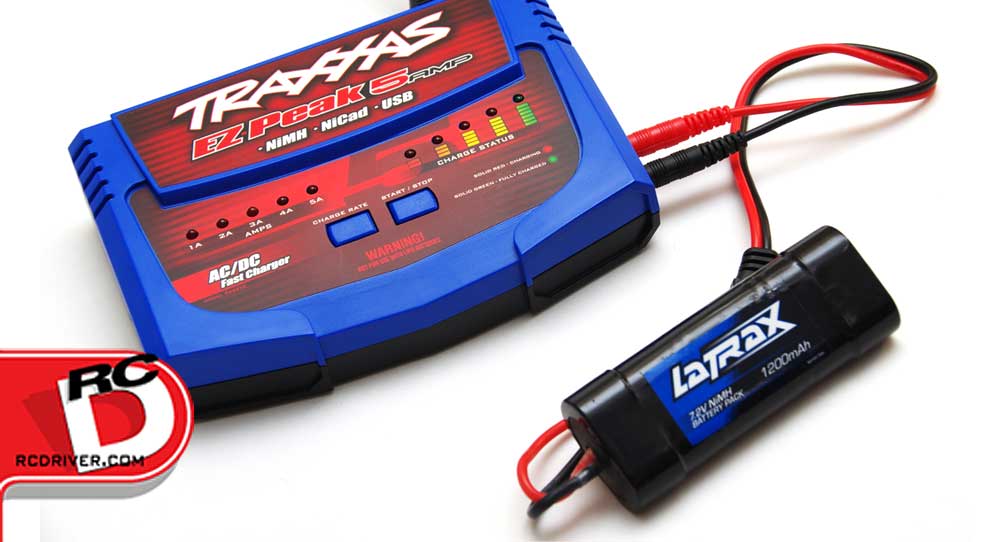 How It Works
A yellow caution sticker, applied at the factory atop and across the two pushbuttons, reminds the user that this charger is not designed to work with Lithium chemistry batteries. Though the charger graphics also include a small notice to the same effect I opted to leave this larger, brightly colored sticker in place just below the buttons as a reminder. The instructions also mention that this charger is to be used on 2/3 and sub C sized NiCad/NiMH batteries only. I have more than a few chargers that can charge virtually all battery chemistries. This is the first one I have owned that is limited to just NiCad and NiMH battery chemistries.
Application of either an AC or DC power source to the charger causes it to go through a power up sequence that strobes all of the status lights in rapid succession, with a beep or two of the speaker thrown in for good measure. Select the desired charge rate using the left hand pushbutton and then press and hold the right hand button to start the charge cycle. Though this charger is positioned more towards the economical end of the charger spectrum, I was happy to see that it includes a number of error checking routines in its firmware. Reverse polarity, short circuit and overload errors are all annunciated audibly via the small speaker and visually using the five charge status LEDs. A total of seven error codes are possible. The maximum charge cycle duration is capped at 90 minutes. Traxxas does attempt to prevent many configuration anomalies on the users part by means of the provided error checking routines, but the end user is ultimately responsible for avoiding certain scenarios. One involves the port used to charge receiver battery packs. I wondered if I could connect a receiver pack AND a larger pack to the main output at the same time. The answer is yes, it can physically be done. But Traxxas says in the instructions that it should NOT be done, ever. Doing so will damage the charger. Additionally, receiver packs should not be charged at anything other the one amp rate.
I like that the case includes a couple of recessed holes on the bottom, to allow it to be mounted on a vertical surface. I drilled a couple of holes in the rear face of my workbench, threaded a pair of wood screws in until their heads were protruding an 1/8 inch or so and mounted the charger up out of the normal clutter of my bench top. These mounting holes are the type that let you slide the charger up a bit and remove it. The compact size of this unit allows it to drop right into a side pocket on one of my carrying bags. When I return home, I can easily slip it back in place on the bench until the next trip to the track. This charger is definitely a substantial upgrade to the economical trickle type chargers supplied in many a RTR kit today. The real payoff is its much shorter charge cycles.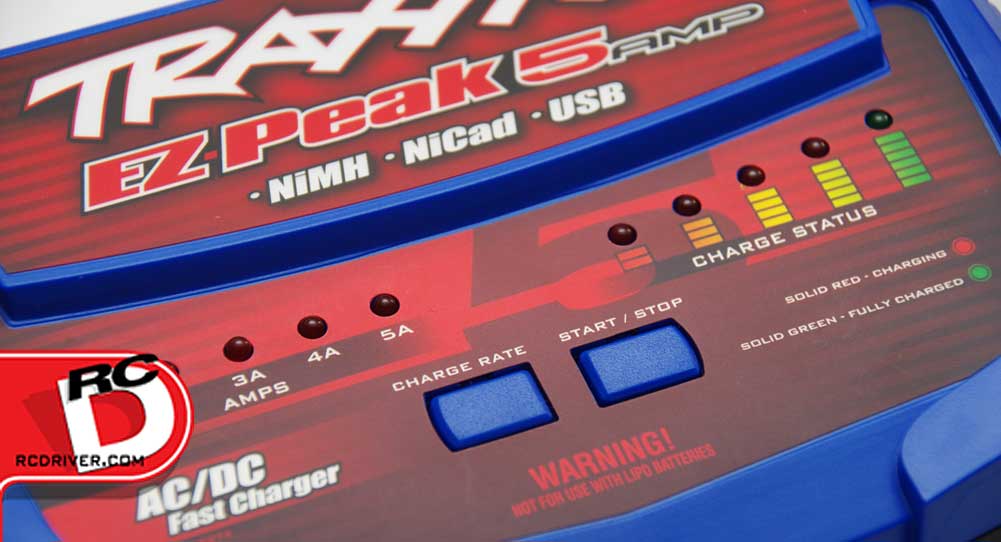 Final Thoughts
The Traxxas EZ-Peak 5 is worth looking at for several reasons. It's 50 watt output can recharge a standard 7 cell NiMH or NiCad battery in a little over a half hour. The inclusion of a USB port is an especially nice convenience. With the tenacious current draws of most smart phones, I cannot count the number of times that I have found myself looking for a way to replenish my sagging mobile phone battery while at the track or field and still keep it within earshot. Traxxas to the rescue! Maybe I can rent this USB port out to other drivers looking for a quick charge on their mobile devices?! The only caveat is that you must have the necessary USB charge cable handy in order to use the USB charge port. With the ability to go AC or DC, simple two button operation and a street price of around fifty dollars, this charger is a nice way to minimize the amount of time spent waiting for your batteries to recharge and maximize the amount of drive time when at the track.
Links
Traxxas, www.traxxas.com