Get Out and Play on the Water!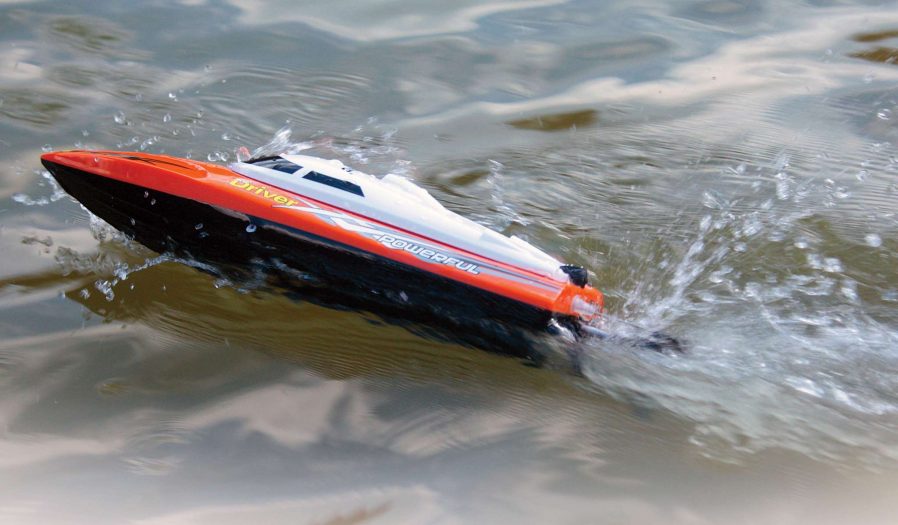 Words by David Baker
Photos by Walter Sidas
From RC Driver Issue: 133
Have you been thinking about ge ing an RC boat? Are you unsure about making a commitment to yet another aspect of the hobby? Stop thinking and take a look at the Power Venom from Udi R/C. This little ripple racer will let you discover the fun of RC boating without a major commitment of time, money or equipment. All you need is a body of water to get hooked on making waves. Read on to find out just what cool features this mini vee hull has waiting for you.
AT A GLANCE
WHO MAKES IT: Udi RC
PART NUMBER: UDI001
WHO IT'S FOR: Any RC Boating Enthusiast
HOW MUCH: $110
BOAT TYPE: Vee Hull
BUILD TYPE: RTR
OUT OF THE BOX
HULL
The 13.5-inch boat has a well-built, solid feel as I hold it in my hand to inspect it. The hull design is very sleek and smooth with a shallow Vee style. The business end at the rear features a pair of plastic turn fins and a large rudder directly behind a plastic, two-blade propeller. A turn of the hatch latch exposes the inside of the hull that is packed pretty solid with all the running components.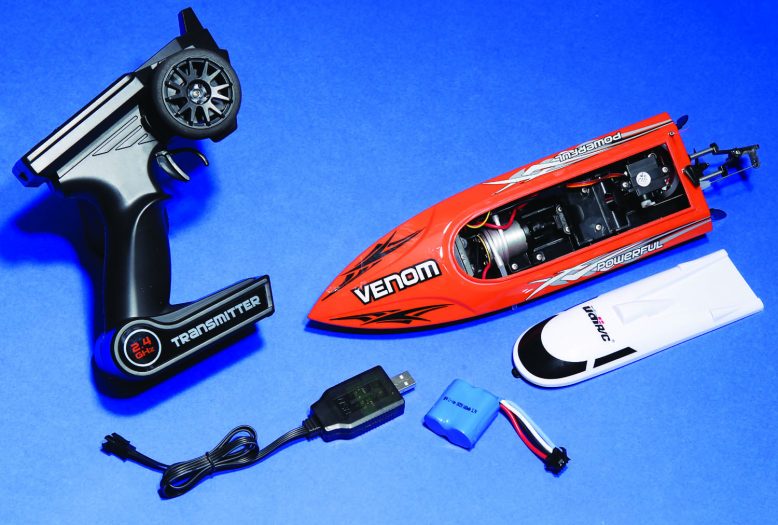 ELECTRONICS
The 2.4GHz receiver and ESC are tucked under the front of the hull. It looks as though the manufactur- er never intended for these components to be serviced or replaced. The brushed 370 motor is wrapped with a cooling coil that circulates water that is picked up under the rear of the hull then is ejected out the side. A 2-cell Lithium-Ion battery snaps into its holder just behind the motor. A USB charger is included and will work in any USB port. A micro steering servo is secured at the rear with a linkage that reaches through the hull to the rudder.
The 2.4GHz transmitter has the basic trim functions. It is also features a couple of alarms that will come in handy. One alarm lets you know that the battery voltage has dropped and it's time to bring the boat back to shore. Another alarm warns the driver if the boat is close to getting out of range.
FEATURES
One of my favorite features is the self- righting ability. This means if you happen to flip the boat and it comes to rest upside down you can flick the trigger forward then back quickly and the torque of the motor will get the boat sunny-side-up and you can continue on your merry way. A built-in safety feature prevents the motor from running unless the hull is sitting in water. This is great for when the boat is used by younger enthusiasts but makes it difficult to do any bench testing.
ON THE WATER
When I arrived at the pond I turned on the transmitter and plugged in the freshly charged pack. As intended the motor would not operate until I placed the boat in the water. After a slight visual trimming of the rudder I sent the boat on its maiden voyage at full throttle. I experienced more speed than I expected from a brushed motor and once up on plane the rooster tail was trailing behind at about two feet high and four or five feet long. One thing I noticed was that when going in a straight line the boat was tilted slightly to the right. This didn't have any adverse affect on performance but it caused it to turn extremely sharp to the right. Left turns were much wider. I tried my best to flip the boat onto its lid to test out the self-righting function but was unsuc- cessful. That's a good thing. But I wanted to test it so I brought the boat in and simply tossed it about 20 feet out into the pond. It still landed right side up, even after several tries. I eventually gave it a gentle toss a few feet out to make sure it landed upside down. A quick blip on the throttle, reverse then forward, and the boat was up on its way again. It worked perfectly. After about 10 minutes the battery alarm started to warn me that it was time to bring the boat in. I had not noticed any decrease in power at this point so I continued another two or three minutes before bringing it in.
PROS
• Quick, especially in terms of brushed systems
• Solid, well-built construction
• Self-righting ability
CONS
• Some electronics seem too difficult to reach should maintenance be required.
REVIEWER'S OPINION
A well built little boat, perfect for small bodies of water or larger swimming pools. The self-righting feature is a huge plus that lets you enjoy it without the fear of capsizing. There is a lot of speed for a brushed motorboat of this size that makes it fun for anyone to wishing to be a pond pilot.
WRAP UP
This is a fun boat in a small, convenient pack- age with a street price of just over $100. I would not hesitate to put the controls in the hands of almost any beginner with enthusi- asm for RC boating. Adding the Udi R/C Power Venom to your RC collection is not a big commitment to RC boating and will pro- vide a fun change of pace from your land- based vehicles. The boat is available through GLX International, Inc. at glx-inc.com
Links
GLX, glx-inc.com
Udi R/C, udirc.com