I love that these little vehicles come fully loaded so that when you purchase one you'll need absolutely nothing else to get going. Not a one size fits all platform, the varying body styles look great and are sure to please a wide variety of people to boot. Additionally, making a brushless power system a standard feature in such a small vehicle, and keeping it at a great price point makes it darn near impossible to pass up  as you can see from our video.
So after 5 days of vehicle week under our belt, here are our PROS & CONS
+ Sealed pinion and spur gear
+ All versions are well detailed and look phenomenal
+ Very quick and efficient brushless motor
+ Great price point for a 4wd brushless rtr
+ Everything needed in just one box
+ Mini hex adapters help prevent rims from stripping out
+ Waterproof electronics package
– Time to upgrade the battery connector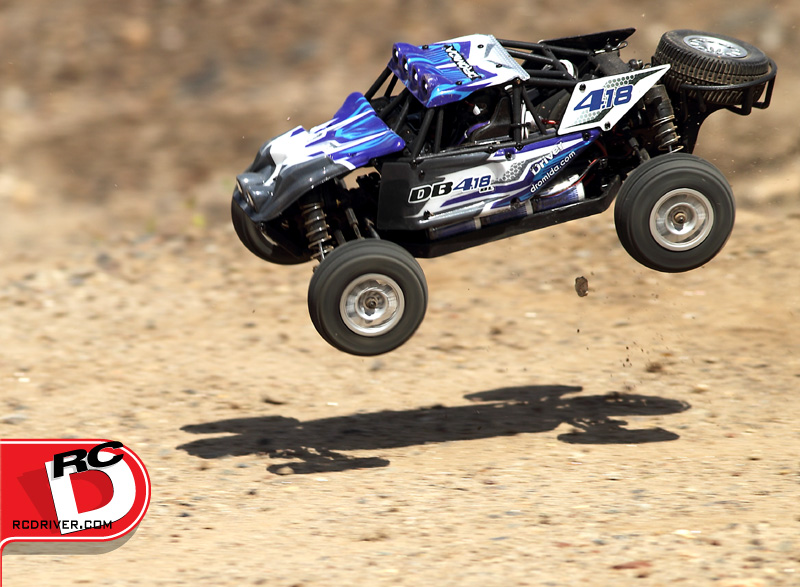 THE LAST WORD
There are four simple steps to success with any version of the 4.18BL vehicles from Dromida. Simply pick your favorite body style, take it home, charge the battery and have fun. They need little upkeep and unless you drive into something head on at full speed the likelihood of any major damage from general use us next to nothing. Being waterproof wet grass and a puddle from time to time are not going to end a day of fun prematurely and all the goodies Dromida already has on the market for the 4.18 series will bolt right on to this brushless series. With their speed, size, looks, price and all-around performance they are just the right amount of fun for just about anyone looking to bet a vehicle without breaking the bank. We hope you enjoyed Dromida Vehicle week and make sure you bookmark rcdriver.com for more vehicle weeks and non stop RC information.
LINKS
Dromida, www.dromida.com
DROMIDA 4.18 BL ARTICLE SERIES
Click the following links to see the other articles in this series on the Dromida 4.18 BL vehicles
UNBOXING (with video)
FEATURES
PERFORMANCE
HOP-UPS