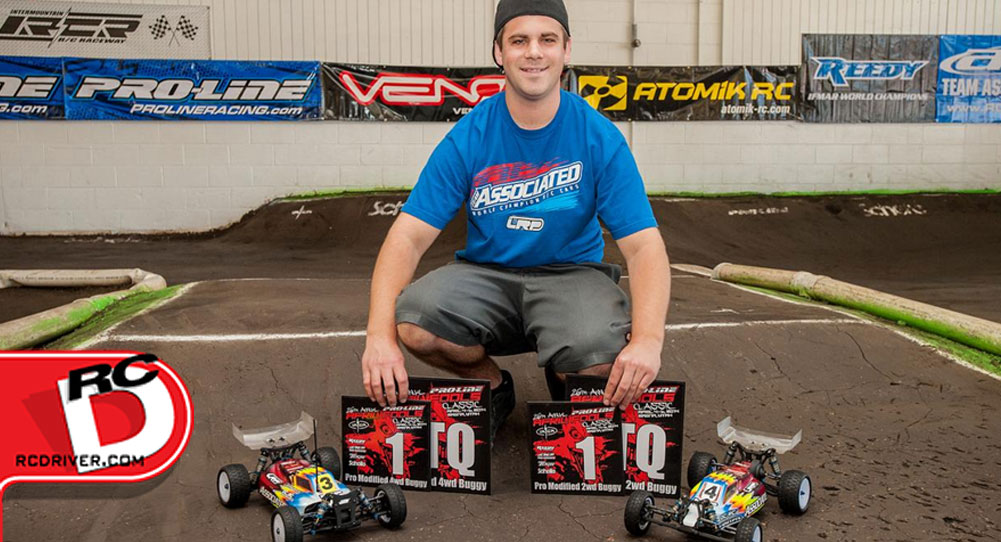 The 26th Annual April Fools Classic took place over this past weekend with World Champion Steven Hartson making his first trip to Intermountain R/C Raceway just outside of Salt Lake City, Utah. Boasting the "Greatest Dirt on Earth," the IR/CR facility packed over 275 entries into the three-day event. With all the major teams sending in representatives, the competition would be highly contested. In addition, the split of 2WD and 4WD Modified into Open and Pro assured every skill level some time in the spot light. However, in the the Pro classes, the spotlight shined on one driver: Team Associated's Steven Hartson.
With his newly released RC10B5M, Hartson was clearly the class of the field. Steven set the TQ in three of the four rounds of qualifying and started on pole for the triple A Mains. However, Steven took the first two main events and sealed the victory in Pro Buggy and took the first major title for the RC10B5M. Also taking the victory with his RC10B5M in the Open 2WD Buggy was Richard Lake, while Carl Hyndman completed the RC10B5M sweep, taking the victory in Stock 2WD Buggy.
In Pro 4WD Buggy Hartson didn't have the dominant qualifying effort, but still started on pole. With wire-to-wire victories in both A1 and A2, Hartson found the flow to take his second title of the event with his B44.2 Factory Team. In the 4WD Open class, Kyle Wrigley took the win with his B44.2 Factory Team buggy, making it a sweep of both classes for the Team Associated 4WD buggy.
Taking the sixth and seventh titles and using a Team Associated T4.2 Factory Team was Ron Reid in the Masters class and Chris Boice in Stock Truck.
Congratulations to all the champions, and "thank you" to Intermountain R/C Raceway for the hospitality and hosting a great event.
Link: www.rc10.com