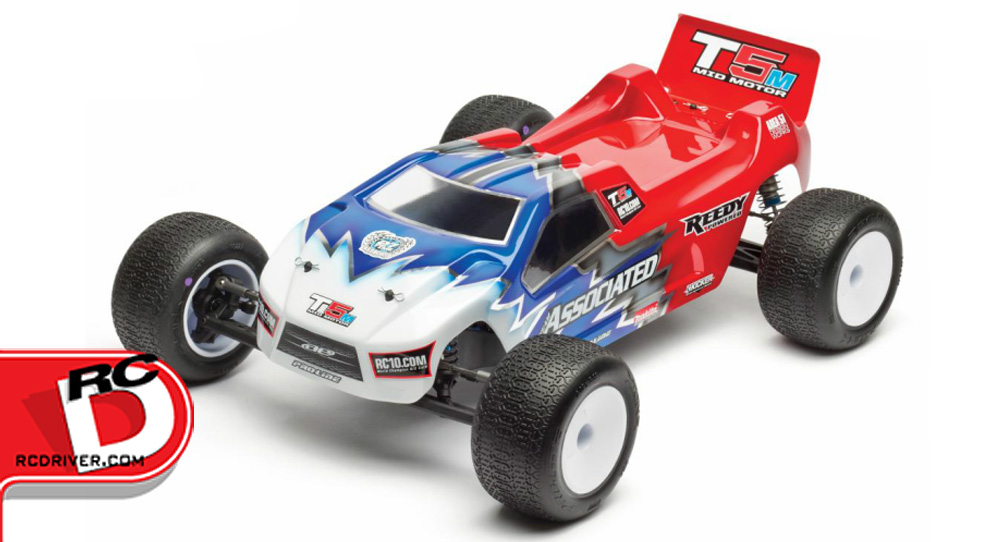 Ok, let's have a show of hands as to who is surprised by this release? If you put your hand up, it's time to get outside! The A-Team's B5 and B5M have been huge releases in the RC industry, paving the way for the release of a new ST truck.
The T5M is based on Team Associated's awesome B5M, mid-motor platform. A new chassis, some new arms and a few support parts later and you have what will honestly be the next generation of awesomeness in the stadium truck class.
Let's take a quick look at some of the features of this truck:
• Advanced mid-motor design developed and applied to the race-winning RC10T truck platform
• Narrow, hard-anodized aluminum chassis with centralized mass and mid-motor position for improved handling on high-grip offroad tracks
• Chassis fits R.O.A.R.-approved 2S saddle packs and 2S short packs using optional foam insert
• Factory Team V2 12mm Big Bore-threaded aluminum shocks with 3mm shafts and low-friction O-rings
• Four-gear transmission with lighter aluminum top shaft, stronger gears, precision ball bearings, and a 14-carbide ball differential for increased life and torque capacity
• Adjustable front suspension mount angle (kick-up) options of 25 deg. and 30 deg.
• Pro-Line T5M clear body and spoiler included
• Aluminum rear ball stud mount included
• New inline front suspension features heavy-duty steering and caster blocks, while the insert system allows for easy caster and trailing axle adjustments
• One-piece front axle/hex adapter and larger front wheel bearing for added durability
• Full bearing steering system with horizontal ball studs for finer Ackermann adjustments
• Heavy-duty ball cups and ball studs allow for maximum suspension travel while reducing binding and friction
• Rear hubs feature larger bearings as well as the quick and easy insert system to adjust camber link position and rear toe-in
Who wants one? Well, get in line because I've had my hand up since the B5M came out!
Link: www.rc10.com